Jesse Perez - 2003 AWD Chevy Silverado SS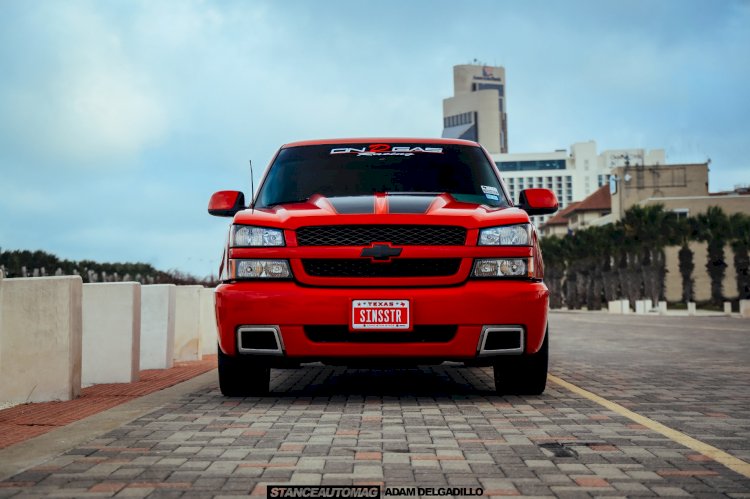 These are all of our Linx, please check below for the right link to contact, Join or Follow us:
All of our Useful LinX can be found HERE.
More Images in Slider Above
Jesse Perez,
2003 AWD Chevy Silverado SS
Instagram: @Sinister_SS_03
Photographer: Adam Delgadillo / @oadam7
Facebook: @SinisterSS03
Youtube:jay35088
I am 28, from Corpus Christi, TX. I am an automotive technician.
I've always liked to tinker and mess with cars but when the first fast and the furious movie came out it just opened my eyes to so much more possibilities. Going from messing with cars to pass time to making it a lifestyle and finding a group of friends that grow into family and help each other with their builds. Pretty much sums up where I am today. I've always been a chevy guy whether it be cars or trucks. Don't get me wrong I love imports and all kinds of other builds too, but trucks suit me better for a few reasons!
My current project/daily is a 2003 AWD Chevy Silverado SS aka "Sinister SS". It was always a dream of mine to one day find a clean unmolested SS, I could modify and put my own personal touches on. One of the big reasons I have always wanted one of these trucks is because of their smooth, yet aggressive body lines, plus the fact that the first few years these trucks were produced were AWD, which surprisingly, not a lot of people knew. For me it's just a big wow factor, not many people expect a full-size truck to ever be AWD from the factory and that's what makes this truck so unique and a great platform to begin building on.
This build started when I was browsing the Facebook marketplace, and I came across an ad for a 2003 Silverado SS from a local Chevy dealership I used to work at. After browsing the ad it seemed a bit suspicious for being too clean of a truck for the year and mileage. I called my buddy, John Aldrich that worked there, for his opinion on the condition of the truck. After talking to him and hearing what other people were saying I got the impression this was a very solid truck. I got the keys from him and test drove the truck. I immediately fell in love and felt right at home behind the wheel.
The only issue was that another customer had made an appointment to test drive the truck and do a credit application to potentially purchase the truck. I slowly began to feel like this truck was slipping away before I even owned it. I gave my contact info to a salesman at the dealership and told him to call me if for some reason the customer did not show up or did not like the truck. I walked out with very low expectations of getting a call back at all.
I told myself "if it's meant to be, everything will just fall into place" The next day I got a call from that salesman saying the customer did not show and if I still wanted the truck, I should get my ass down there as quickly as possible since there was a high possibility the truck was going to be sent to an auto auction. I got down to the dealership to close and sign on the truck shortly after getting off the phone with the salesman.
Fast forward a few weeks later, I got a call from the same salesman that had helped me get the truck. He informed me that the previous owner of the SS was there and would like to talk to me. I ended up meeting the previous owner that same day. I gave him the address of the shop I was currently working at. He got out and pulled out a big box from his back seat of his brand new 2019 chevy Silverado RST. Inside the box were a bunch of brand-new parts he had that he never got to install.
Also inside the box was a thick folder that contained the original window sticker, documentation, and service records on the truck dating back to the day it rolled off the dealership lot back in early 2003. At that point, I knew I hit the jackpot and bought the perfect truck. I was the 2nd and proud owner of a properly documented and maintained AWD Silverado SS. Since the truck was entirely bone stock it was a great platform to build on, I did not have to worry about trying to fix anyone else's mistakes. This truck came factory with a pretty stout drivetrain, which included a 6.0L LQ9 that was begging for some performance parts.
Engine/Transmission Performance mods
Speed engineering 1 7/8 long tube headers

Speed engineering cat-less y pipe

Borla XR1 exhaust

Trailblazer SS intake manifold swap with bigger 50lb injectors

Ported and polished LS3 throttle body with x link harness

MSD 2 step/launch controller

OEM electric fan conversion with Nelson performance harness

Cold air intake

Transgo HD2 shift kit with Sonnex billet super hold servo

Tru cool 40k trans cooler with Glenn's auto performance bracket kit

Custom Volatile Performance 93 octane street tune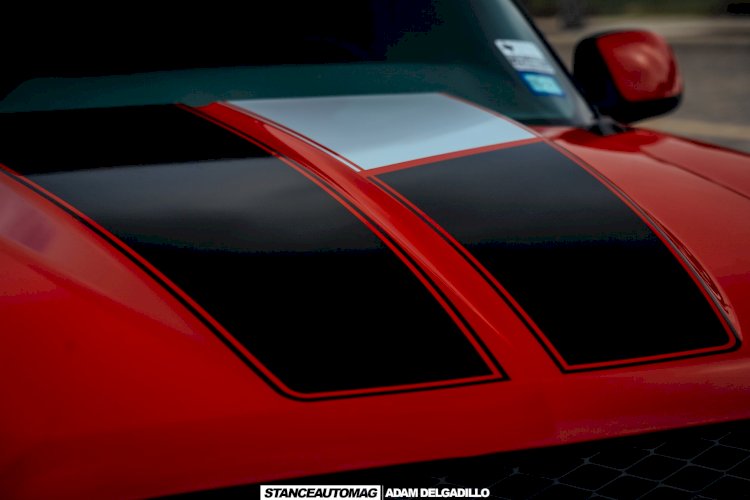 Cosmetic Modifications
Steel 2-inch cowl induction hood

Custom designed racing stripes cut and laid by Tim Sheets of

@ghostcustomsgraphics

Led tail lights with matching led third brake light

Custom moulded 3-piece wing by

@mandospaint

Custom painted front bowtie (blackout)

Custom painted grille and bumper mesh (blackout)
Interior modifications
Custom upholstered red & pewter leather seats with custom red SS logo embroidered in the front and rear of the headrest

Kenwood double din touch screen radio with backup camera custom mounted in tailgate handle bezel

Custom ported under-seat box with 4 8" skar audio VD8D2 subs

DS18 pro audio 6.5" mid-range speakers front and rear with 2" DS18 super bullet tweeters in front doors
Wheels, Tires & suspension
22x9.5 6x5.5 +24mm offset machined face with silver barrel Strada Perfetto wheels (special thanks to Rico over

@Stradawheels

for hooking me up with these wheels)

275/40R22 white letter Nitto 420V tires

2/4 drop kit which includes 2-inch front drop spindles, 2-inch drop shackles and 2-inch drop hangers for the rear along with belltech street performance drop shocks
As far as future plans go, just shortly after Adam Delgadillo worked his magic behind the camera Lens I ordered a Texas speed cam kit and Circle D 3200 stall converter, which hopefully by the end of April these parts will be installed in the truck along with a new set of 243 cylinder heads. I will then be, close to or exactly where I want to be for this truck. I will continue to daily drive the truck while still being able to take it to the drag strip on the weekends!
If you would like your Car and Story or Your Business Featured like this, Please
Email: Admin, or Submit it through our Forms.
All the Cars in the Online Version of our Magazine will eventually appear in our Fully Printed Magazine, the cars with the most Views, appear sooner.

Our site contains links to third party websites. We are not responsible for the privacy policies, practices and/or content of these web sites. Their use is at your own risk.