1995 Nissan 240SX - Keegan Washington - Competion Winner
There are faster, or more reliable drift cars out there, but the 240sx in general (for me) has that fun factor that I have yet to match in any other car. My first "true" competitive drift car was a gutted and caged sc300 with a 1jz swap.
1995 Nissan 240SX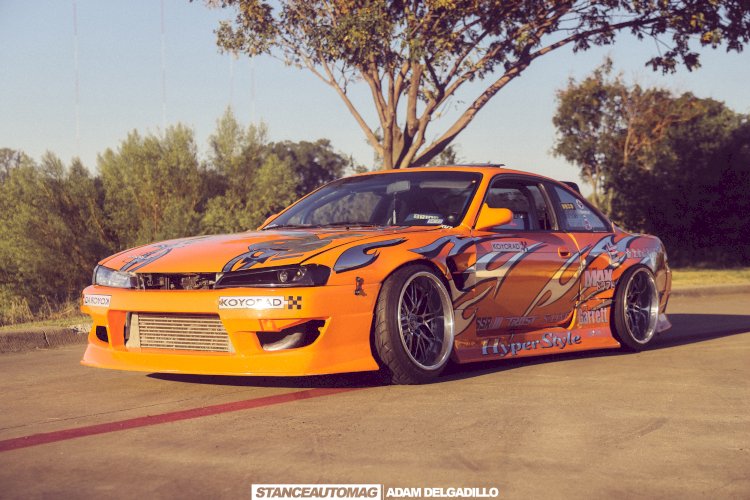 Join Our  Facebook Group, Give Our Facebook Page a Like, and Follow us on Instagram
These Photographs are supplied by the  Photographer named, check their Link for Bookings.
!!! Please Order Your Monthly Printed Magazine From HERE !!!
!!! Please Order The 1 Off Specials From HERE !!!
More images are in the slider above
1995 Nissan 240SX
Keegan Washington
Instagram: @keegless
Photographer: Adam Delgadillo 
Instagram: @oadam7
Power 490 whp with 455 lb-ft of torque
.
Keegan won a competition for a Free photoshoot at a recent car event in his area held by Tuned Originals make sure to keep an eye out for more comps held at shows by our photographers to have a chance at a free photoshoot, to be featured in our printed magazines.
Tuned Originals Dar Show: Who runs the World? Squirrels!
.
Instagram: @tunedoriginals
Instagram: @oadam7
October 1, 2022,
Lewisville, Texas, USA
Hi all I'm from Frisco Texas and I am an Engineer for Toyota, why I got into cars as a kid I would constantly take things apart, modify them, put them back together, and see what worked and what didn't. 
This led to the natural progression of cars as I got out of high school, which led to me becoming a master tech at Audi. Almost by accident, I landed in an Engineering position for Toyota, which is where I currently work and plan on being for quite a long time. Towards the end of high school, I started becoming friends with the "car guys" of my school, which got me into the local meet scene, where we became friends with people that had drift cars, and the rest is history. 
We are all still great friends over a decade later, and all are still into drift cars to this day.  It's also great to think about the fact that in high school, we had no real experience (my car was a 2001 Audi with a chalkboard-painted hood and an open downpipe), and now we (the friend group) have cars that we never would have dreamed possible. It also is great that I was able to turn a passion into a long-term career that I enjoy daily. 
As the years have gone on, and with drifting being my main passion in life, I have owned, bought, or traded for maybe 15 drift cars in my life, and I always find myself drawn back to the s chassis. There are so many variances from chassis to chassis, but the 240sx has that iconic "feel" when you drive it. There are faster, or more reliable drift cars out there, but the 240sx in general (for me) has that fun factor that I have yet to match in any other car. My first "true" competitive drift car was a gutted and caged sc300 with a 1jz swap. This was one of my "dream" swaps, as the JZ is known for being reliable, but specifically the 1jz, non-vvti motors can have plenty of power and abuse thrown at them and not skip a beat. As the season and years went on, the chassis was damaged to the point where I felt it was time for a replacement.
The drivetrain was pulled, put into an s14 for a year, driven daily as well as at the track, or at our "secret" drift spots every weekend pulled again, put into an s13 coupe (this car was hit on the street and totalled), put into an s13 convertible, and finally made its home in another s13 coupe that I had designated to the back of the shop, to get to "eventually" (and we all know how that goes) In the meantime, I went from chassis to chassis, trying built HR 350zs, turbo E36 BMWs, and the like, when one day the previous owner of one of my cars, posted this s14 as his new project.
This particular car was owned by multiple friends of mine, and at one point was a built SR car. As it made its travels from owner to owner, the swap was pulled, parts slowly disappeared, the title was possibly lost, and it was now an incomplete well-worn shell. I went ahead and made a deal, left after work, and made the 7-hour trip into the night to get the car. At this point, I was not entirely sure what to even do with it, but I happened to have the weds, which fit just about perfectly and still had my favourite 1j sitting collecting dust. Out the 1j came again, as it's proven its reliability over the years, the chassis was updated, and parts were sourced. Unfortunately, I had to undo a lot of the various multiple owners' work and ended up just dropping all the suspension out, cleaning everything, and starting from square 1.
It received all new parts as needed, the 1j was placed in its new home, and as the wiring is my speciality (personally and professionally), the engine harness was built from scratch and married to the OEM body harness. This is always a task on the s14 chassis, as the wiper harness/various inputs to the body harness, are integrated into the ka24de harness, and I did not have one on hand. So a quick call to a friend sourced a JDM s14 sr20de harness, and several diagrams later, the car started right up, and we had most of the systems working. 
As these vehicles age, they are coming to the point where small parts are becoming hard or impossible to find, so I spent a few weeks sourcing all of the interior panels and trim that was missing or damaged, as this was still going to serve its use as a street car. All the interior was completed thanks to Turn5, and I went ahead and installed all new audio components, coupled with heat shielding, and sound deadening, to keep it manageable on the street. 
What do you think?
Please leave your comments in the comments section at the bottom of the page
Build List
Engine 
1JZGTE from a 1994 Toyota Soarer, 
Walbro 450 fuel pump, 
USDM 2jzgte injectors, 
Aeromotive FPR, 
Custom fuel lines to relocate everything due to the swap, 
Equal length t3 manifold, 
Tial 44mm external wastegate, 
GTX3076r, 
Toyota Aristo cam swap, 
Greddy intercooler with custom piping, 
Turbo-back exhaust to dual 4-inch tips (all made by me), 
Koyo radiator, 
Custom oil cooler, 
SPAL high output track fans
Custom "in-house" engine harness
Drivetrain:  
JZX100 r154, 
"Stage 5" Comp clutch (4 puck, unsprung) 
1pc steel driveshaft, 
Cube short shifter,
Welded diff, 
350z axle conversion 
Engine Management, 
Ecu Master EMU Black, 
Footwork & Chassis Fortune Auto 510 Digressive coilovers, 
5 lug conversion
Front: 
SparkyBuilt shortened subframe, 
SparkyBuilt tension rod power brace, 
Sparkybuilt Stage 2 steering rack, 
Powered by Max Limit Break front lower control arm/tension rod, 
Solid steering column and rack bushings, 
GKTech High clearance adjustable swaybar, 
Corsa custom shortened and dropped front knuckles
Rear: 
GKTech  v2 drop knuckles, 
Godspeed upper camber arm, 
ISR adjustable traction arm, 
Godspeed adjustable toe arms, 
Powered by MAX Subframe risers, 
Prothane Polyurethane lower control arm bushings, 
Unknown upgraded rear sway bar  
Brakes:
OEM Z32 Front brakes, 
Hawk HPS pads, 
OEM z32 configured in dual rear calliper, 
Hawk HPS pads for the rear foot brake callipers, 
Organic pads for the hand brake callipers
Wheels & Tires: 
Weds Kranze Borphe, 
Front - 18x11 +5 with a 12mm spacer, 235/40R18 Valino Greeva 08D. 
Rear - 18x12 +7, 265/35R18 Kenda KR20a
Exterior: 
DMAX Type 3 front bumper, rear bumper, and side skirts, 
Super made Instant gentleman-type SL front fenders, 
Origin Lab Type 2 rear overfenders, 
Dodge "Ignition Orange" paint, 
Circuit sports LED taillights, 
Unknown roof wing, 
Origin Lab Combat eye driver side, 
OEM Kouki headlight passenger side, both retrofitted with sealed projector lenses and LED bulb conversions. 
Custom livery by Austin Rateliff at 144Racing
Interior: 
Bride LowMax Seats, 
Custom seat rails, 
Cusco bolt-in cage modified to include door bars, 
NRG cam lock harnesses, 
Zenki Leather rear seats, 
Titanium shift knob, 
Custom gauge housing by Turn5 Fabrication, 
Speedhut gauges, 
Retained OEM fuel level gauge, 
144Racing steering wheel, 
NRG hub, 
NRG 2.0 Quick release, 
RGB Headliner lights  
Audio Sony BT3000p, 
4 channel 400w amp, 
2 channel 1000w amp, 
Dual 12 kicker comp C12, 
Sealed box, 
3-way pioneer 6.5 speakers in the rear deck, 
Hifonics Zeus 6.5 components in front doors
Currently, the car is still used in demo driving as well as the occasional track days at local events, but as always, this takes a toll on the car cosmetically. This winter the exterior will be stripped back, the fibreglass and bodywork will be done, and the car will be repainted, and a new livery applied. I haven't quite decided on a colour, but it will still be a loud colour as any fun car should be. I have also completed a personal challenge that was partially documented on Lone Star Drift's youtube channel, where we built another backup drift car in 10 days for as cheap as possible, and that car has proven extremely fun to drive, so I may drive that car next year, and keep this one clean to just enjoy on the weekends. 
Please leave your comments in the comments section at the bottom of the page
'The future is bright as long as we can still Smell the Fumes'
Stay Up to Date Check Out Our Google News and give us a Follow
All of our Magazines can be found on Amazon, they Print and Deliver worldwide, Stance Auto can not be held responsible for the final print, and all complaints and returns must be directed to Amazon.
UKTM no: UK00003572459