Christina Williams - Nissan 350z - Ned the Zed
The Nissan 350Z is a popular sports car known for its affordable price, stylish design, and fun driving experience. While the stock 350Z is already a great car, there are many ways to modify it to improve its performance, style, and overall driving experience.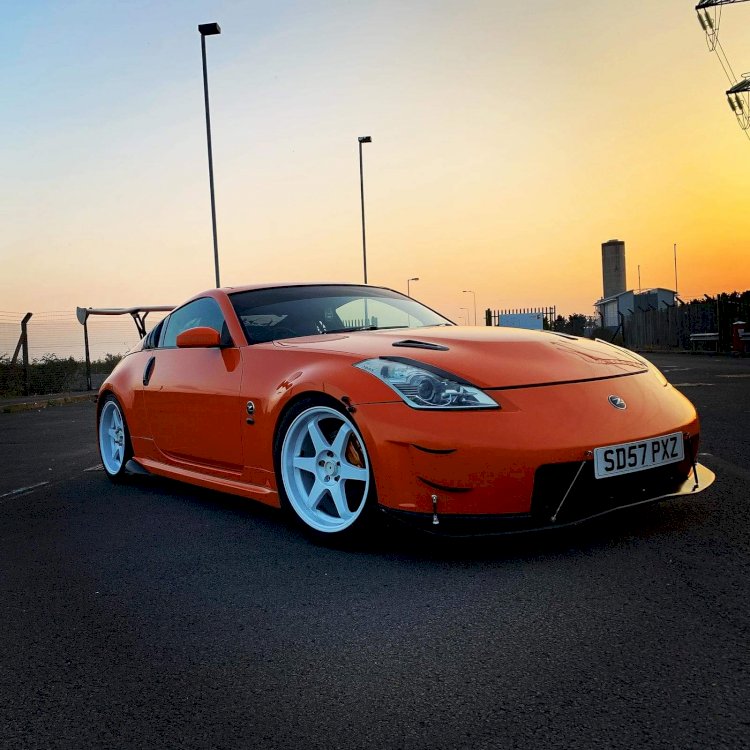 Join Stance Auto Mags Group Like our Facebook Page Follow us on Instagram
Check out our MERCH STORE
More images in the slider above
Christina Williams
Instagram: @sprouty92 
Nissan 350z - Ned the Zed
I'm 28 years old and I'm from Port Talbot, South Wales. 
I'm unemployed due to being registered as a full-time carer to my beautiful disabled daughter however I did complete Btec Level 3 in Motor Vehicle in Tycoch college before my daughter's disability got to the point where it became impractical and impossible for me to return to work. 
I have to admit I wasn't really into cars when I was a kid, I was all about 2 wheels instead of 4. Every Sunday without fail me and my amazing step mum would jump in the car and take a trip to the local Yamaha dealership and we would spend a good 2 hours there looking at the bikes. 
I'll never forget the day my dad gave me food poisoning, my stepmother took me for our usual Sunday outing however I spewed all over a brand new R1 and a little scooter leaving my stepmother in an awful position of cleaning up my spew whilst she has a horrifically weak stomach herself. I'll never forget or live that day down!
What really sparked my interest in cars was my partner when I first met him I had not long passed my test and was in the process of saving for a car. I was going to be sensible and get a little run around to get me back and forth work, he had different ideas. When I had around £500 saved we started having a look, we came across a bright orange Micra k11 that had been converted from a 1L to a 1.3 turbo. It was proper max power style, ridiculous bumpers, side skirts, blacked-out windows and lights, oh and bright orange bucket seats. That was it, I was in love. Every day I was off I was cleaning the car or fiddling. But one day it started misfiring and I panicked like hell as I didn't know what was going on, that's when my partner said to me 'right you can clean a car, now time to learn how to maintain a car' we bought a full-service kit and he talked me through each step and at the ripe age of 19 I completed my first service and absolutely I was chuffed with myself. 
After my Micra had a 200bhp Ibiza Cupra but it wasn't really for me, I'm a jap girl, simple as that so the Ibiza had to go! I have owned 3 Subaru Impreza Classic wrx and 1 Subaru hatchback wrx. However, when my daughter joined an amazing special needs school, I needed to get diesel as I'm doing 250miles a week just on the school run. That's when I decided that my Subaru Hatchback needed to go, plus it was ridiculously loud, and a lot of the children could cope with the noise. I've always had a soft spot for a 350z so I thought to sod it, I have a sensible daily time for mama to have a 2 seater car and have some fun! 
So the other half got on the marketplace and he came across my boy. Yes, I'm a saddo the name of their car. So everyone meets Ned the Zed! He is a standard colour of solar orange.
Spec list: 
K&N Air filters, 
Stillen gen 3 induction kit, 
Ark performance grip stainless steel twin exit exhaust, 
Air horns, 
Front upper strut brace, 
Nissan skyline r35 carbon vents fitted to the bonnet,
Nismo v3 front bumper, 
Canards on front bumper x4, 
Eyebrows on headlights, 
Sun strip, 
Side window louvres,  
Nismo side skirts, 
Carbon side skirts rear extension blades,  
Rear tinted window in dark smoke, 
Chargespeed rear bumper, 
Smoked side repeaters, 
Carbon fibre rear diffuser on the bumper, 
Ducktail spoiler, 
Japspeed wing rear spoiler mounted to ducktail, 
19-inch calibre wheels 8.5 front, 9.5 rear, powder-coated in white,
TGR wheel nuts, 
HKS brake lines 
Tein super street lowering springs, 
Hitchhiker's 24mm front and rear anti-roll bars
Kenwood double din head unit, 
Pioneer under seat subwoofer 
Sparco bucket seat, 
D1 slimline boss kit, 
Sparco extreme control deep-dish steering wheel. 
When it comes to mechanical work that I can't complete myself or my buddy Martin then Rhodri in Dave Coe located Gorseinon, South Wales is my main man, even though my car is a standard colour for any of my painting needs I go to Matthew at Paint by Sanders, Neath, South Wales and when I'm feeling lazy or I haven't got the time to give the car a detail  Joseph Roberts at @JR_Detailed, Treorchy, South Wales is the guy I turn too. All very talented men who are very trustworthy. 
Over the winter I want to retrim the interior roof and put lights in the liner, I know my daughter will just adore it, she loves going in the 'orange car' and begs to go for a spin every weekend so I think she will get a right kick from the lights. Apart from that, there isn't much that I want to do to the car apart from maintenance as I love the car as it is. 
I do have a goal, I doubt it's achievable however a girl can dream. I would love to have a Nissan Skyline GTR R29, one of the most beautiful skylines ever created!
Unfortunately, I have to admit I am not a fan of the car scene, especially over the last few years. People always have something negative to say about other people or what they do and I'm not about that. 7 years ago I was part of a club that the admins didn't want to be a part of anymore so I took over if I'm honest it's the best thing I've ever done.
here are rules to be part of the club, I'm very particular who's in the club, it doesn't matter if you're my best pal or if I just met you, the rules must be followed by all. Sounds a bit of a dictatorship but I find by having these rules it keeps the 'bad apples' away and the members agree. Every three months I have a purge night and delete inactive members, I'm not about numbers. I would rather have a club of 30 people who join in on conversations, meets and shows than a club of 1k members. As much as I hate to say it as it's so cliche, but we are an adults club, and we are like a little family. We all look out for each other, all help each other out and the majority of us have children and my main priority is making sure we all feel safe and secure around each other. There are not many clubs out there I affiliate with however there are two clubs that have always been very welcoming and very understanding of my daughter's conditions and they are Team Osaka and Superior Rides, I highly recommend those two clubs.

If you would like your Car and Story or Your Business Featured like this, Please
Email: Carla,  Shannon, Andz or Admin, they would love to hear from you.
Our site contains links to third party websites. We are not responsible for the privacy policies, practices and/or content of these web sites. Their use is at your own risk.