Shaun Easton - Mazda RX8 - Lilbrap
Then one day, about a year later, a car passed me that looked really good and sounded even better! I did my research and discovered it was a Mazda RX8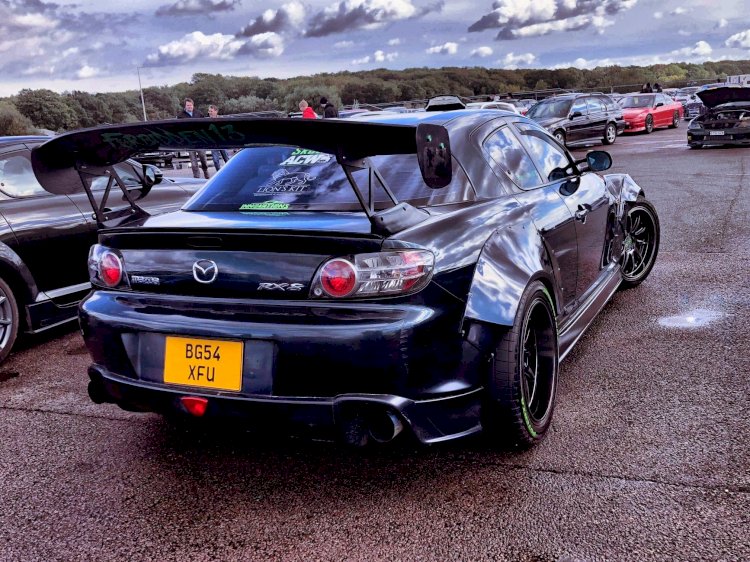 Remember to check out our other sections in the CAR SCENE
More images in the slider above
The Journey to LilBrap#2
Instagram: @lilbrap_rx8
My name is Shaun Easton, I am by trade an Electro-Mechanical Engineer and I caught the motor bug while sitting on my Dad's knee driving a Triumph Dolomite at 6 years old. Not something you can do anymore. I grew up surrounded by interesting vehicles courtesy of my mechanic uncle, helping him out as I got older, reseating head valves at 10.
My first car was an MK2 Ford Fiesta XR2 in Rosso Red, seriously cool for a first car. I was 19 and went to the Boongate McDonalds in Peterborough where I stumbled across a group of people gathered about, chatting over their clearly non standard cars. Modifying cars wasn't something I'd come across before, I was fascinated! I introduced myself and ended up meeting them every weekend and spending my free time researching the world of modified cars.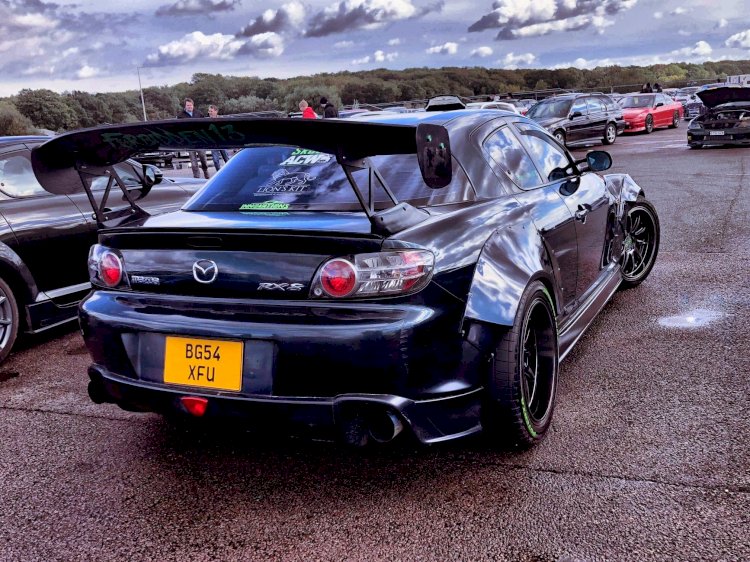 I threw myself into the car scene, attending drag race events and going to meets. A few years later I replaced my Fiesta with an Astra GTE 1.8 in black, which in turn got replaced with another Astra GTE 2.0 16v in Aubergine. This was the first car I really modified, I bored out the engine to 2.1l, added kent cams and QED electronic throttle bodies and added a straight pipe exhaust with a silencer. It was scary fast and a lot of fun.
I was gutted when I had to sell it for financial reasons and didn't have a car at all for nearly 3 years, then I got a new job which would open my eyes and spark a whole new inflated passion for modified cars. It was 2002 and the job was with Fujifilm (FFIE) and my position took me to Tokyo. Whilst on a tour of Fujifilm at their Mount Fuji complex I was introduced to their employees who were eager to show me their cars and subsequently invited me to an illegal street drifting/Wangan event. Seeing these insanely tricked out cars and the driving skills blew my mind. Which was only accelerated (pun intended) when I was taken out in an R32 GTR.
Returning to the far more subtle UK car scene left me with a craving for a Japanese car of my own. My hunt led me to a Nissan 200SX S13, my first RWD and I loved it! All I changed was the exhaust and some gauges.
At this time, I was in a relationship and my partner was pregnant. I was overjoyed, so excited to be extending our little family. As the pregnancy progressed the scans showed that our baby girl was not well. Several consultations later, the earth-shattering decision was made to terminate the pregnancy. The shock gave way to grief, my relationship disintegrated, I had to move out. I had lost my baby, my home, my family, my partner. I was a wreck. A total write off.
Then the engine blew on the S13 adding insult to injury. I had a couple of uninteresting run-arounds while I tried to put my life back together. I moved to Woking where I found myself an immaculate S13 rolling shell, in silver, for £200! So I got my first Nissan, the only thing left from the wreckage of my old life, hauled halfway across the country to be stripped out and repurposed in the new shell. I didn't realise it at the time but, I couldn't fix my relationship, there was nothing I could do for my baby girl, I was drowning in depression, but I could fix this S13!
I completely rebuilt it, Rota alloy wheels, new suspension, bigger injectors, bigger turbo, aluminium radiator, FMIC, recarpeted, cream leather interior, Japspeed 3in exhaust, stainless manifold, Nistune ECU, EPRacing body kit, 3 pod gauges, aftermarket steering wheel and tinted tail lights. It took 4 years of love and hard work during which I met up with local car clubs and the 200SXOC and started attending events at Santa Pod, Silverstone etc.
My depression had over time become overwhelming, like a festering ulcer and for reasons I can't explain, after all the time, love and work I agreed to a swap for a Subaru WRX which had been RWD converted. I almost instantly regretted it and although the other owner was happy to reswap the Nissan back to me it would've meant returning to the area where my life had erupted and it was more than I could deal with. So I kept the WRX. I changed up the interior, put Greddy M1 coil overs on it, bought a wide arch body kit but never fitted it. I just didn't have the love for it.
Then one day, about a year later, a car passed me that looked really good and sounded even better! I did my research and discovered it was a Mazda RX8. It sparked an almost lost passion and I was straight on to AutoTrader! I found an RX8 dealer in Bracknell, I went over there to view one only to find somebody had already put down a deposit on it. But as with so many dealers, he had just had another come in. A Nordic Green beauty. A few days later it was mine.
Driving a rotary for the first time was a true driving experience. It was love at first drive and put a long forgotten smile on my face. I was quickly onto Longlife Basingstoke to get a custom 3in exhaust. Quickly followed by some satin black 3SDMs
Another relationship ended and I moved back north, and as I was working on my new front bumper I met my wife who had little to no interest in cars, knew nothing of the car scene or car culture, but supported my passion. So much so that she became one of the co-founders of our club, Collective Perfection Uk. Something that we are insanely proud of.
The RX8 became affectionately named Lily-May after my daughter, and has been through many changes in the last 7 years. About 5 years ago, with a combination of genuine and replica parts it had a Mazdaspeed body kit all round. It had 4 different front bumpers, changed out the interior, added HSD coil overs and had various cosmetic redesigns. This car didn't need fixing but I wanted to turn her into something unique, beautiful and fierce, everything my daughter would've been. I still hadn't dealt with my grief or depression until my wife pushed me and supported me through a tough process. Slowly the RX8 became less of a shrine and more of an ode to my daughter and became known as "Lil Brap''.
Then disaster struck, the sills and chassis had rusted through. I felt my heart begin to break, I was ready to give up completely and once again lose the one thing that made me feel a connection to my daughter. And then there was my wife who asked "what CAN we do?", it snapped me out of an emotional spiral, made me consider my options and a few short days later we had a new rolling shell on its way.
It's been a long process moving all of the mods over to the new chassis and is currently two tone as the shell was black, but thanks to an incredible network of friends and CPUK members including Paul Vernon, Aiden Easton, Alex Dodd, Jake Maloney amongst others, we are almost up and running.
As far as plans for the future go, firstly I want to get her back on the road and in one colour! Dressing up the engine bay is underway with green and black accents. Looking to get it remapped by Ryan Rotary Performance. Definitely looking to bring back the old school Max Power / The Fast And the Furious feel. Working on new decals with Cosford Customs. Considering adding a turbo in the more distant future.
For the first time I have a clear idea of where I want to get my car to and although it will take time, it is all starting to come together. Our club motto is "Everybody's idea of perfect is different" and in my mind I can see it finished and to me it will be perfect.
Specs:
13b Renesis Engine
D969 coils
Modified AEM replica induction kit
Relocated battery, to boot
Fabricated Engine tray (made by Aiden Easton (no relation))
Ultra Racing Strut Brace
Engine Loom Tuck
Full set green engine hoses ( Stoney Racing)
Carbon Fibre Bonnet gas struts
HSD Coilovers
Fully Undersealed
XXR 527Ds (Staggered Fitment. Front 18 x 9.5, Rears 18 x 10.5)
Bridgestone Potenzas (Fronts 265/35/18, Rears 295/30/18)
PZ Wing Mirrors
R3 Rear bumper
Grams Styling Wing
Lions Kit Wide Arch body kit
Abmax Side Skirts
MazdaSpeed Front Bumper (again)
R3 replica tail lights
Vented Carbon Fibre bonnet
Longlife 3in exhaust system
Evolve interior, beige alcantara
Metra System
10.1 inch head unit
Eonon ESP
Links:

StanceAuto Mag Group members receive 10% discount on new QUOTES join us TODAY
If you would like your Car and Story or Your Business Featured like this, Please
Email: CARLA, SHANNON, ANDZ or ADMIN, they would love to hear from you.
Our site contains links to third party websites. We are not responsible for the privacy policies, practices and/or content of these web sites. Their use is at your own risk.