Joshua - 2006 Mazda MX-5 Base model "Ricercar"
I like the fact that despite all the different styles and takes and makes us all, at a very fundamental level, can be summarized by the statement we just love cars.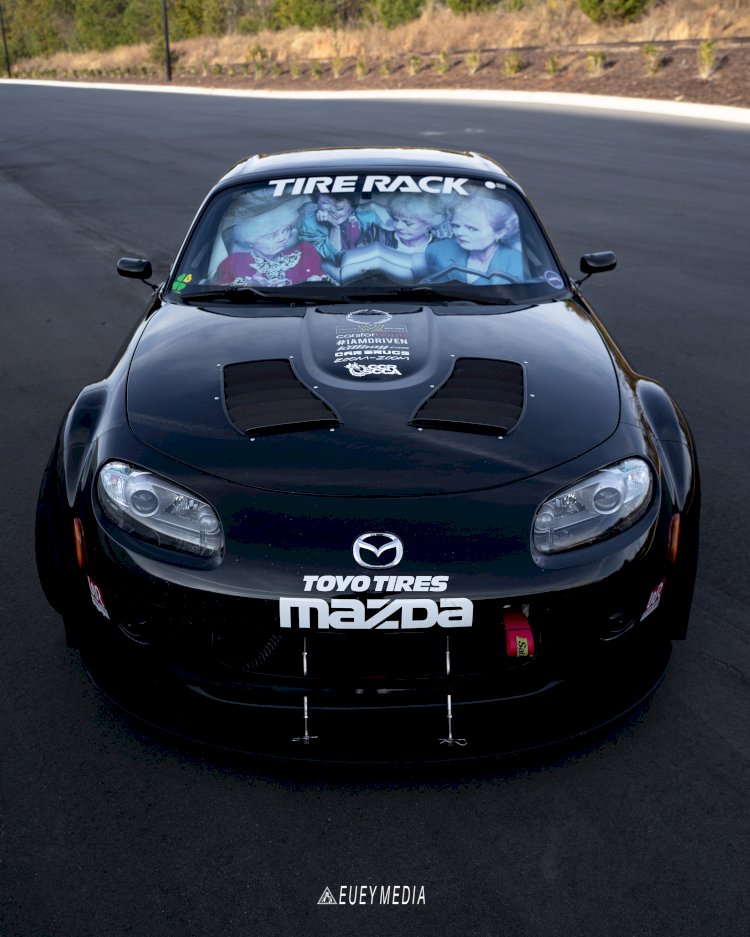 Join Stance Auto Mags Group Like our Facebook Page Follow us on Instagram
To Buy Our Printed Magazine Check out AMAZON and our MERCH STORE
More images in the slider above
Joshua,
2006 Mazda MX-5 Base model "Ricercar"
Instagram: @jelksautox
Photographer: @eueymedia
Most people know me as Frodo. I'm a short boy and my friends don't let me forget it. It's fine though...kids clothes ain't cheaper which means more car part money. North Carolina born, raised, and residing. A Mazda dealership technician who thinks he could make it as a racecar driver when he's daydreaming on his lunch break.
Growing up I was never really into cars. Yeah, I loved my Hot Wheels and stuff, but until I bought my own first car I was indifferent. I was much more into video games and books and Legos (all of which I still love.) Started with a '95 autotragic Integra LS that the previous owner riced out and I was too dumb to know better. But it was a yellow car for some reason I had to have it. Was all downhill from there. Three cars and 15 years later I'm in my Miata. Went from a high school idiot in a riced out Integra to an adult mechanic in a ricercar Miata who plays being a racecar driver on the weekends.
We have more Car News HERE
I like the fact that despite all the different styles and takes and makes us all, at a very fundamental level, can be summarized by the statement we just love cars. Whether you're a muscle car fan, a donk lover, a VIP/stance aficionado (definitely not me), or a race/performance driver (me) you can almost always find something about someone else's car that you like. Even if just a small detail. I've made some incredible friends, some incredible memories and definitely lots of connections that without cars I'd never have made.
So this is my 2006 Mazda MX-5 Base model "Ricercar". Her name is Xion; all my cars have been named after female Kingdom Hearts characters haha. A literally daily driven, heavily autocross, and frequently thrashed on in the mountains/touge car. I initially didn't want this car. My previous car, a gutted "race car" 2006 Mazda 3i Sedan (Naminé) was totalled and it was time for me to finally get a Miata. I looked at a bunch of different NA's and NB's. But none of them really made me want to buy them. And working as a Mazda dealer technician I knew what to expect problem wise from the NA/NB, which also didn't appeal to me. I used to be an NC hater...until this car. We took it in on trade and were going to send it to auction because everything wrong with it (90% interior cosmetic) would make it unsellable to a normal customer. But mechanically it was perfect, just needed a new top. The GM of my store said to me 'You want a Miata. You know this one is mechanically great. Everything messed up about it you're going to gut and throw away anyways. And we'd rather sell the car to you than at auction.' Told 'em to throw the price of a new soft top in the deal and I became a Miata owner.
Tips for buying an NC? Pretty similar for buying any car really. Check fluids and suspension components for wear and tear. Mechanically they are pretty damn reliable. And any engine/transmission failures/problems are usually user errors on these cars, not bad design. The coolant overflow tanks are more prone to cracking with age, but can literally be replaced in maybe 5 minutes. As with any convertible, check for leaks in the top and clogged top drains. They can back up easily if not checked. I will tell anyone who's looking to buy an NC that parts aren't cheap. Even on the older ones like mine. So prepare for more expensive repairs as they come up. And get a manual. The autotragic in the NC's is just awful and depressing. If you can get one with the LSD then do so.
Do you fancy having your car featured follow this Guide
I find driving this car is heaven for me. Honestly, nothing else in this world gives me the satisfaction and happiness that driving does, especially in this car. I can safely say that if it weren't for this car and the last car that I would probably not be here. That I would have done something drastic and permanent. All I'll say about that. Driving in this car is a sense of freedom and peace. I'm in my own world and everything else just goes away. I'll spend hours just driving to keep that feeling. I'll drive 3.5 hours each way for day trips to the Dragon just because I can. The way she accelerates or how precise she turns in or the just instant bliss of a perfect heel-toe...nothing better.
Owning this car is interesting, to say the least, haha. The car stands out. Constantly, CONSTANTLY catching people staring at it as I drive whether they're in traffic or on the sidewalk. I'll park somewhere and half the time someone will track me down to just ask about the car or tell me how cool they think it is (I honestly don't see it), watching little kids point and get all excited seeing it is a really cool thing. Other Miata owners seem to really love it, I can't count how many NA/NB owners have told me they're reconsidering the NC after seeing mine. Car meets and car shows are always interesting because it's definitely not a show car, but it always draws lots of (presumably) positive attention. I remember one time at a local Cars and Coffee that I ended up parked next to a Lamborghini Huracán (maybe?). Regardless it was some newer Lamborghini. Anyways I saw more and more people checking my car out and taking pictures of it and talking about the ricercar Miata instead of the gorgeous Lamborghini parked next to it. The Lambo guy was maaaaaaaaad. Idk why though...he gets to go home in his Lambo with his VERY attractive wife. And he was salty about some Cars and Coffee "clout". Idk...but it's never a dull time owning this thing. Everyone appears, it seems, to love it.
In the grand scheme of Miatas and "racecars'' (mine's really more like a ricercar), it's not really that unique or different. The one thing that I think is cool about it though, is that it's an NC Miata, the redheaded stepchild of the Miata name. Everyone "does up" NA's and NB's. And even the ND has more people tinkering on them. Not many people really mess with the NC platform because it gets so much hate for being a "boat" when in reality they're not really any heavier in stock form. And people hate on the NC's styling big time. Most NC's are kept in garages by your grandparent's bingo friends and they drive it once a year. So the NC gets an even further bad rap. Which is a shame because it's such an excellent platform, especially for racing. Outside of racing the NC just hasn't been as looked at as a car to do up, but that is changing. Of the four generations of Miata the NC is the worst Miata...but the best car. And I'll fight over that statement.
I took a completely stock Miata and completely went full send doing everything I think the car should be. It's gutted. It's stiffer than hell. Loud, obnoxious and not comfortable for most people. Everything that has been modified, added, or removed is purely for the sake of making the car drive better. If it doesn't do something to make the car turn harder, brake later, accelerate faster, just perform better than it's not done. If "Function over Form'' was a car design, it would be this. The A/C will be coming out once it breaks and I can then justify that removal is the cheaper route. Further weight reduction as I find places that I can. And hopefully, maybe, a full roll cage. It's not advisable to daily drive a caged car for obvious reasons, but I'm so beyond rational thinking with this car and my love for it that I don't care. "If he dies...he dies." Haha
I've done a lot of the work myself. Definitely had some help for sure, not gonna lie. Working in a shop with lifts and people who've been working on cars as long as I've been able to walk is a plus. But compared to my last car, I've done most of the work for this one.
The 2021 autocross season is fast approaching. Looking to start doing track days and hill-climbing in the car as well. And as many trips to the Dragon and mountains as I can manage and as often as possible. Will be upgrading from the current rear spoiler to a full-fledged aluminium adjustable wing very soon. And gonna have to upgrade the safety equipment in the car to meet Hillclimb/track day requirements as well. Other than all that, just keep burning through tires, brakes, and gas.
Interior:
LRB Speed Aluminum Door Cards,

Winding Road Racing Spec MX-5 Center Console delete,

Winding Road Racing Spec MX-5 Radio delete panel,

Max Pappis Innovations Miata Wheel Hub,

Max Pappis Innovations 12.75" Suede Steering Wheel,

NRG Gen2.0 SFI Quick Release,

Joes Racing Roll Bar mounted steering wheel hook,

OMP HTE-R driver seat,

OMP TRS-E Passenger seat,

PCI Seat bracket & mounts, Schroth 4-point Anti-Submarine Harnesses,

HardDog Double Diagonal RollBar w/ harness bar,

Beatrush Harness Bar,

5 Panel Wink Rear View Mirror,

GRacing Short Throw Shifter,

Blackline Titanium "ARC" shift knob,

Center console mounted fire extinguisher,

Near completely gutted interior
Engine:
MotoEast Cold Air Intake,

Racing Beat Mid-Pipe,

Racing Beat Header,

RoadsterSport Race Single muffler,

Flyin' Miata Polyurethane exhaust hangers,

TrackDog Facing Header blanket,

Flyin Miata Stage 1 Clutch,

Flyin Miata 8-pound Flywheel,

AWR Race Engine Brace,

AWR 95 Duro Engine Mounts,

RoadsterSport Braided Clutch Line,

RoadsterSport PPF/Diff Brace,

DaveFab PCM cover,

VersaTune
Exterior:
LRB Speed Undertray,

LRB Speed Aero Panel,

CCP 14 pounds Fiberglass Racing Hardtop w/ Treasure Coast Miata Lexan window kit,

APR GT3 Carbon Fiber Mirrors,

Blackbird Fabworx Lexan Adjustable Spoiler,

Singular Motorsports Hood Louvers,

Race-bred Components 5" frame-mounted Splitter,

Race-bred Components Tire Spats,

APR Adjustable Splitter Rods,

AWR Brake/Cooling Ducts,

Sabelt tow straps,

NC2/3 Tail Light swap,

Rolled fenders
Wheels/Brakes:
17x9 +45 +38 Enkei RPF1 in Bright Silver

,

255/40/17,

Toyo Proxes R888R,

Techna Fit Stainless Steel Brake Lines,

G-LOC R6 Front & Rear pads,

StopTech Slotted front rotors
Suspension:
Tein Flex Z Coilovers,

Progress Technology Front & Rear Sway Bars,

AWR Heim Joint Front & Rear Endlinks,

Energy Suspension Polyurethane Master Bushing Kit,
BHP: All of it. If it makes 130 I'd be impressed. She's a 'slow car fast'.
All the Cars in the Online Version of our Magazine will eventually appear in our Fully Printed Magazine, the cars with the most Views, appear sooner, the Magazine is sold the world over through Amazon, making it easier and faster for people around the world to get their copy. UK and Ireland use our store stanceautomag.com

If you would like your Car and Story or Your Business Featured like this, Please
Email: Admin, they would love to hear from you.
Our site contains links to third party websites. We are not responsible for the privacy policies, practices and/or content of these web sites. Their use is at your own risk.