Liam - 2001 Lexus IS200
So today I own a 2001 Lexus IS200 which I have done endless work too
Check out our other sections in the CAR SCENE and our MERCH STORE
More images in the slider above
My name is Liam,
I'm 30 years old (still doesn't feel like it) from Nottingham UK and for a living, I'm a class 2 driver.
If you'd like to follow me insta it's @the_white_lex.
2001 Lexus IS200
So a little about how I got into the car scene, well, it started from a very young age, my Dad has always worked/fixed cars from home, and me being a little devil child, (hence the 666 number plate) I would always be outside with my dad, taking tools or touching things I shouldn't, oh and breaking things too. Growing up I remember playing Driver on the PS1, I'm sure a lot of you will remember the dreaded tutorial, and then moving on to the world famous Need For Speed Underground 1 and 2.
Around the same era was when the first fast and furious film dropped and I was 100% hooked on the car scene. I loved the outrageous body kits, underglow, wheels, nitros, sound systems and so on. Again I'm sure a lot of you were in the same boat. In my teens I always used to spend my pocket money on Red Line, Fast Car, Max Power and I believe it was called Revs magazines. Going to the back pages to see what was for sale, I also have a pile of Max power mags I got off a friend quite recently, and the back pages are a little different than I remember as an "innocent" teen.
Which leads me on to my 1st car, I passed my test when I was 17, 1st time with 10minors. I bought a Red Mk1 Fiat Punto, 1.1l, I still even remember the reg, M108HRH, which I put a 4inch back box on and thought I was the dog's dangles. Needless to say I wrote it off after 4 months. In the 4 months i had the car it needed a head gasket and new gearbox, this is where my knowledge of cars began, because no way I was paying a garage to fix my £400 p.o.s car, so I'd fix it myself, with the help of friends and my Dad of course. Good ol' Fiats. Since then I've owned a couple cars including, Corsa B & C, Peugeot 106, Astra G (with Gsi Kit) and currently have a VW Touran 1.9 TDi as a daily. My 1st proper build was on my Corsa C SRi with a full bodykit, neons, interior, sound system, exhaust and much more. Yes I know it was a Corsa but we all start somewhere right? This leads to my current car, my Lexus IS200. I bought the car back in Jan 2015 for £800, at the time it was totally bog standard. I'd grown tired of my Corsa and wanted something Jap, after driving my friend's IS200, I was sold on it. I put my Corsa up for sale and bought the Lexus 2 days later. Then the fun began.
So today I own a 2001 Lexus IS200 which I have done endless work too. At the time the cars were on sale they were a stylish, business man's car, that Lexus introduced to compete with the BMW E46, hence the straight 6 engine and RWD, however nearly 20 years later they lack a lot in the performance department. So what have I done to this car, well,
it has a DIY supercharger setup,
running aftermarket fuel return,

FPR,

165mm pulley (biggest you can put on them in my setup) pushing around 10-12psi,

2in solid boost pipes,

HKS Bov.

Extra Pulley for the Alternator, reduces belt slip on the charger

3in Aluminium Radiator

Red Water Hoses

Bonnet Pistons

25mm Rear Spacers

Pillar pod with Boost and AFR gauge,

BC Racing Coilovers,

Lightened Single Mass flywheel,

LSD,

17in Wolfrace JDM alloys,

BGW (big gay wing),

Uprated brakes,

TTE body kit,

TRD side skirts,

Short shifter,

ECU with plug and play loom (EMU Master Black) made by

@Phoenix_engine_management

,

Custom built sub box made by

@Subtronixcaraudio

,

Front Strut Brace,

Snap Off Steering Wheel,

Split and Painted Headlights,

Cobra exhaust which I've changed the tip on it to the old Cossie style rolled tip,

Wrapped by my good friend with my assistance (it's being rewrapped pearl white in the near future),

Fog light mod, which make the fog lights work as tail and brake light,

Rear light covers,

tints from

@tinttech_nottingham

.
Most of the interior is standard, as they have a very nice interior to start with. I'm sure there's also little bits here and there as well which I've missed. As I am writing this I don't yet have a BHP figure as I have just put a new engine in the car, as I melted a ring on my old one, along with the standalone, and it isn't tuned yet, its booked in for the 3rd of August at DWR performance in Chesterfield.
The engine is standard so won't be going for more than 300bhp, will hopefully get it safely to 270-80bhp. Anyone that knows these cars will know the OEM ECU isn't mappable. Most recently, I have had to strip the fuel tank out and weld in new rear sills, as these cars suffer badly with sill root, due to the poor design internally, thankfully my Dad is a magician with a welder. 95% of the work has been done by myself minus the wrap and a few bits of welding, done by another good Friend Luke Shires @Speedy Spanner in Stapleford. I would like to say that once it's been tuned and rewrapped that it will be complete, but I don't think it will be there's always something else that pops up.
I am a member of a fair few clubs clubs/facebook groups especially around the Nottingham area. I'm a moderator of the Lexus IS200 Supercharged Owners, and love to help and give any advice where I can. I also do a lot of work on friends' cars, mainly because I have the tools and more knowledge. Now what do I like to do with my Lexus, well I prefer to go to the big shows now over sundaycar meets, I've met a lot of good friends at both, but big shows is just where it's at for me now, my favorite show of the year is always Japfest at Silverstone, if you haven't been before I encourage you to go.
Being midlands based I tend to go to Santa Pod, Donington and Silverstone shows the most. Not missing out on USC, again great weekend fun, night time entertainment and topped off with a great group of mates. I've never really entered into any of the competitions when at the shows, I'm too busy walking around and talking to everyone and watching the racing/drifting. I do like to go out on the tracks too, which is more fun than being parked up in my opinion.
To finish off, if you want to know what my dream car is, I probably have to say either the Shelby GT 500, as I love Gone in 60 seconds, what a film. Or it would be Nissan Skyline 2000 GTR, you just can't beat the look of the old style cars. Thanks for reading, I'll update my instagram from my tuning, so if anyone is interested it'll be on there.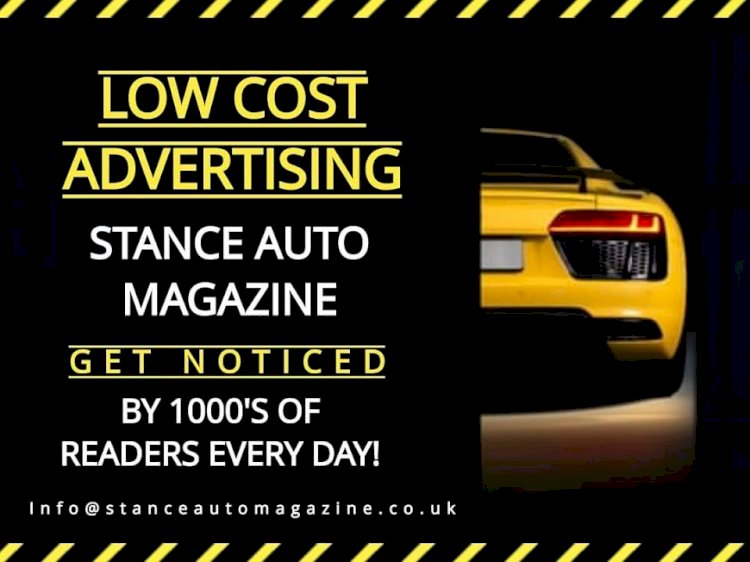 If you would like your Car and Story or Your Business Featured like this, Please
Email: Carla, Shannon, Andz or Admin, they would love to hear from you.