Craig - Honda civic mb2
The car is not finished, still more to go and I probably will never be finished as I'm always changing my mind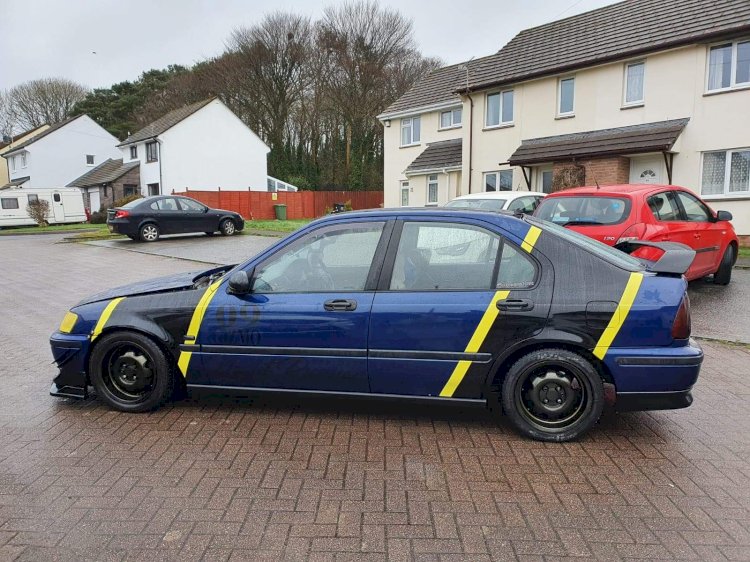 Please join the site and our new Facebook group, you can Post your cars there, this helps us find more HOT cars, Thanks.
My name is Craig blight.
I'm a Driver for a day center for disabled people. I'm a 33 father to 3 and 2 step kids.
Instagram tag is @craigmb2civic
I got into the car scene when I was 13 to 14 reading max power and fast car mags
This isn't the first car I've nodded. I've had 13 cars before this one and done bits to all of them
I currently drive my 2000 Honda civic mb2 83k miles and think it is about 90bhp but lots of fun. Spec list. Civic vtis front splitter. Universal lower splitter. Blue splitter bars. Universal canards. Cold air intake in fog light cover. EBay light bar. Jdm civic ek yellow fog lights. Front grill wrapped in black and yellow.
Headlights tinted yellow with black eyebrows. Black Checkered bonnet. Password jdm bonnet risers. Black checkered roof. Vortex roof fins. Mg zs boot spoiler. Rear number plate recuse lip wrapped black. Rear bumper holes. Civic vtis rear lip. Universal rear diffuser. Jdm heart train handle. Universal side skirt extensions. Bmw m6 wing mirrors.
Custom kanjo style wrap and stickers on the side. Tinted rear lights. Engine bay has. Alloy radiator. Aem induction kit for b16 Honda made to fit. Ash heat shield. Universal oil catch can. Civic ek strut brace. Password jdm Honda s2000 battery tie down. Password jdm radiator bracket. Password jdm bolts. Sticker bomb underside bonnet. Interior panels painted blue. Some panels wrapped yellow. A,b and c pillars and roof car completely sticker bombed. Gear extension bar with Dragon Ball Z gear knob.
Wide view rear view mirror. Blue and red dash lights. Kanjo mask on seats. Parcel shelf wrapped in blue and black checkered flag. Footwell neons. Gauge pods with water temp and volts in them. Ats cups with custom colour on them. EBay special coilovers. Brembo front pads. Hornet back box with rs style 4 inch tip. And lots of stickers
The car is not finished, still more to go and I probably will never be finished as I'm always changing my mind lol. I have different headlights to go in. I'm looking along the lines of making a custom set of rear lights for it. I have seen a 2nd spoiler I want for it but hard to find. And loads of other little bits to tidy it up and make it stand out
I've done most of the work myself. Coilovers were on the car when I got it but done a few sets on these cars. And had the back box welded on. Other than that I have done the work at home with help from my partner or friends. Didn't want to build a mb6 vtis rep and love kanjo cars and like to be different and stand out from the rest.
@get_reppin has helped out with the kanjo wrap and some of the stickers. @toxic_designs has done a few of the other stickers. Both very good to work with and good prices too.
The two main groups that I'm involved with is a local club called @unidentified_club and the other one I am an admin for is rule breakers. Both great clubs.
I have started going to shows and meets again. Went to bhp last year and tried to get to more unidentified local meets this year too.The only competition I have entered was on a civic forum for car of the month and I won it with my last car. I just build cars as I enjoy it and like to have a car that's different and you don't see often.
I have two dream cars that I could never pick between. One is a r32 gtr. Just love the way they look and sound. Would love a big powerd one but wouldn't say no to a stock engine version. And second is a Ford fiesta mk3 rs turbo. Not sure why there's just something about them for me.
If you would like your Car Featured like this, and can do a write up like or similar to this
Email: CARLA, SHANNON, ANDZ or ADMIN, they would love to hear from you.