Fred Alvarado - 2014 Shelby "THUNDER" GT 500
"It was in January 2014 when I finally located my Shelby, soon to be known as Thunder."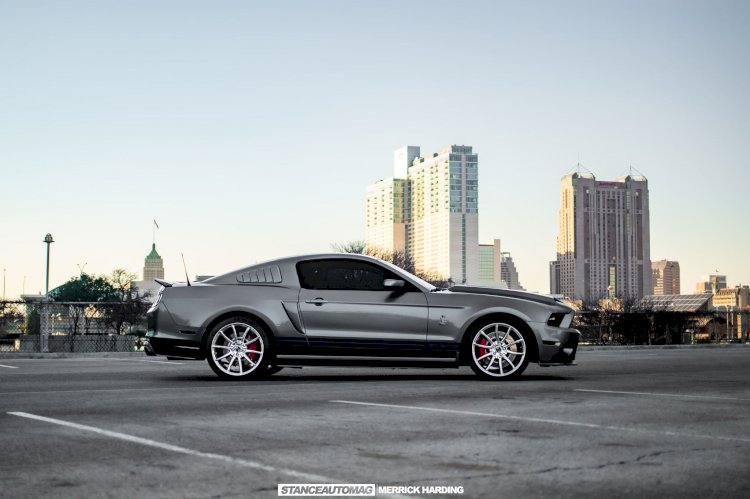 These are all of our Linx, please check below for the right link to contact, Join or Follow us:
All of our Useful LinX can be found HERE.
More Images in Slider Above
Thunder – 2014 Shelby GT500
Fred Alvarado
Photographer: Merrick Harding / @merrick_media
Facebook Page: Thunder by Fred Alvarado – 2014 Shelby GT500
I've been into high-speed muscle cars for as long as I can remember. My Dad grew up working in his father's car repair garage so, he knew a lot about cars. As a kid, I helped my Dad rebuild my grandfather's Ford Fairlane, engine, tranny and rear-end, the works. I loved it! In high school, my next-door neighbour's father was a mechanic and collected Jaguar XKE's. His backyard was littered with old Jag's he was restoring. I would go over to their house and watch him rebuild a 3.8 litre grey XKE convertible. I remember thinking what a beautiful, classy car and vowed that one day I would own one. When the rebuild was finished, he gave it to his son John as a graduation present and off John went in his XKE convertible to spend the summer touring Colorado.
Four years later I graduated from high school and bought my first car, a 1968 Dodge Charger R/T with a 440 Magnum engine. That car and I got into soooo much trouble! We'll just leave that right there! I was hooked! My life has revolved around fast cars, going through several Camaro Z-28's and a Jaguar XKR convertible.
I have always loved the looks and performance of the Shelby Mustangs. But, when in the Fall of 2013 I heard the 2014 Shelby GT500 would be the last of the big block supercharged V-8's, I just knew I had to buy a new one that was built to my specifications. I immediately started looking for my Shelby. It was in January 2014 when I finally located my Shelby, soon to be known as Thunder. I was in Munich, Germany attending a conference. Every night after the conference I would get online and search the internet for a Shelby that wasn't overpriced and had all the options I wanted. I finally found her in Tarboro, North Carolina, of all places.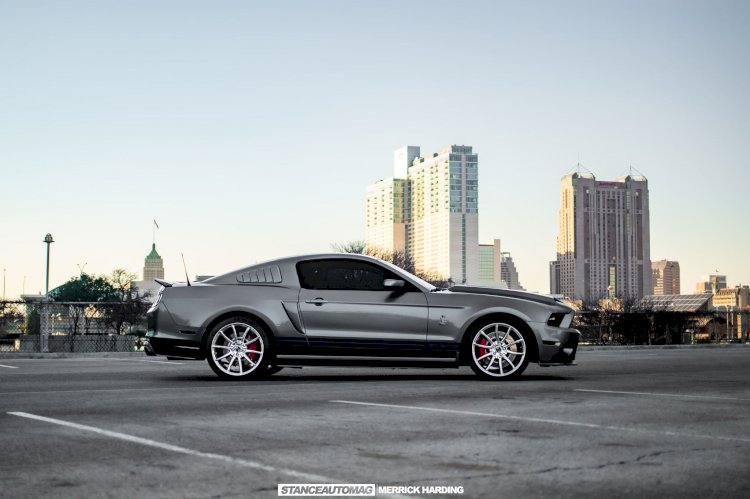 The car was one of 29 made in 2014 with this vehicle's options and colors listed below. Thunder is painted Sterling Gray Metallic with Sonic Blue metallic stripes that are painted on. This 2014 Shelby GT500 is #2488 of a build of 4816 coupes and is #309 of 600 manufactured in Sterling Grey Metallic in 2014.
The following is a list of modifications that I did to Thunder:
Special Features
Trinity 5.8L Supercharged Engine

700+ Horsepower

Sterling Gray Metallic/Sonic Blue Accents

Recaro Leather Seats

SVT Track Package

Electronics Package w/Navigation and Sirius Radio

3.31 Limited Slip Axle

Carbon Fiber Driveshaft

Shaker Pro Audio System

Factory Shelby Logo Car Cover
Performance Upgrades
VMP Gen III 2.65 supercharger

Revan Racing Power Package

Baer Extreme 15" Front Disc Brakes – Fire Red Calipers

Baer Extreme 14" Rear Disc Brakes – Fire Red Calipers

American Racing Headers Long Tube H-Pipe with Cats

Jet-Hot High-Performance Coatings - ceramic coated headers in Opalescent Blue

Corsa Sport Axle-Back Exhaust Mufflers – Black Pro-Series Tips

Revan Racing/Fore Innovations – Black Brushed Aluminum Fuel Rails
Bob's Ultimate Oil Separators – Passenger and Driver
Shelby American SVT Blue reusable air filter
Nitto 555 G2 Ultra High-Performance Tires – Nitrogen Filled
Appearance Upgrades
Custom Paint and Body Modifications – Extreme Customs-Woodbridge, VA

Patriot Auto Detail – Ceramic Pro 9H Platinum Package Paint Protection, Lorton, VA

Jack of Arts Studio– Custom Cobra under hood mural by Chuck Gamber, Ellicott City, MD

Cervini Custom Ram Air Type IV Hood

AutoBadges Inc. – custom body colour-matched Shelby Cobra Logos, Los Angeles, CA

Shelby Alcoa Durabrite Wheels – Fifty Years Special Edition

Shelby American Aluminum Brake Reservoir Cover

Shelby American Aluminum Battery Cover

Shelby American Aluminum Coolant Reservoir Tanks

JLT Custom Body Color Matching Fuse Box Cover with Logo

Billet Pro Shop - Custom Shelby GT500 Wheel Caps

Redline Hood Lifters – custom body colour-matched

RTR License Plate Surround with Body Color Matched Ducts

Roush Side Splitters – custom body colour matched

Rear Diffuser – custom made/body colour-matched

Shelby American Billet Aluminum and Carbon Fiber engine caps with blue highlights

Samco Custom Blue Silicon Engine Hoses – United Kingdom

JLT Custom Body Color Shock Tower Covers

Custom body colour-matched powder-coated SVT coil covers

Custom carbon fibre and leather steering wheel – SoCal Garage Works – Cerritos, CA

Tinted windows – MVP Motorsport – Chatsworth, CA

Smoked headlight and fog light lenses – MVP Motorsport – Chatsworth, CA
Initially, I wanted to track Thunder to see how she would do in a track environment. While I was able to get to a speed of 150mph, I ran out of track on the short straight away, she did suffer a minor hit to the heat exchanger by a rock. The resulting hole was a slow leak that was difficult to detect. When my factory vinyl stripes started to delaminate and my dealer refused to honour the warranty, claiming normal wear and tear, I decided to take Thunder to my custom shop to have the factory stripes removed and painted back on. When the shop did that, they removed all panels and glass so the painted stripes would not show a seam. As a result, the shop found the leaking heat exchanger and after 6 weeks and $2800, I made up my mind to no longer track the car. Instead, I decided I would turn Thunder into a unique show car.
So, to prep Thunder as a show car, the paint was completely colour corrected and covered in 6 coats of clear coat. The custom hood had a custom airbrushed cobra scene painted under the hood to represent the Shelby cobra logo. 6 coats of Ceramic Pro 9H paint protection were applied, which gives Thunder her constant just waxed look.
My thinking was to turn her into a unique, of kind show car and not to mimic other Shelby's that I would be competing with. That was the philosophy of doing the modifications that I did to this car. I wanted everything to be unique to Thunder, to differentiate her from other Shelby's at car shows. I absolutely love showing this car at shows and answering questions about her modifications. I am surprised at the number of people who see the amount of detail I put into this car. One of the biggest show stoppers is the custom painted Shelby logos, one on each fender, the front grill and the back on the faux gas cap. The logos are custom painted body colour and the scales are custom painted Sonic Blue to match the stripes.
Minor modifications, via a Revan Racing Power Package, were made to this Shelby to produce a rating of over 700+ horsepower. This 2014 Shelby GT500 is #2488 of a build of 4816 coupes and is #309 of 600 manufactured in Sterling Grey Metallic in 2014. Only 28 Shelby GT500's were made in 2014 with this vehicle's options and colours.
The custom paint and bodywork were meticulously applied by Extreme Customs, Woodbridge, VA by owner Chris Milleson and his crew. After the custom Cervini hood was installed, the entire body of the car was colour corrected to ensure uniformity. The stock Sonic Blue Pearl Metallic vinyl stripes were removed and then painted on. Six coats of clear coat were then applied over the paint.
The Cobra logo mural under the Cervini hood was designed and painted by owner Chuck Gamber at Jack of Arts Studio in Ellicott City, MD. Four coats of clear coat were applied to the mural and four coats of Ceramic Pro 9H paint protection to protect it.
All the stock Shelby Cobra logos were removed and sent to AutoBadges, in Los Angeles, CA, where owner Erick Valdez, and his highly skilled crew, painted the logos to match the car's body colours.
American Racing 1 7/8" long tube headers, with 3" catted H-Pipe, were custom ceramic coated, in Opalescent Blue, by Jet-Hot Performance Coatings in Burlington, NC. The exhaust system was finished off with Corsa Pro Series Black Tip Axle Backs.
Custom made Blue Silicon engine hoses were ordered from Samco Sport, in the United Kingdom. Shelby American aluminium radiator and intercooler overflow tanks were installed along with carbon fibre engine caps featuring blue highlights. Revan Racing/Fore Innovations Black Satin brushed aluminium fuel rails were installed for better fuel flow. Baer 15" Front and 14" Rear Extreme disc brakes, with steel braided lines, were installed with custom Fire Red callipers.
Custom carbon fibre and the leather steering wheel was ordered from SoCal Garage Works.
Finally a new in box, never installed, set of extremely limited edition Shelby Alcoa Durabrite, "Fifty Years" Special Edition, wheels were located in northern California. These forged aluminium wheels are sized 20x9 in front and 20x10 in the rear. The nitrogen-filled tires are Michelin Pilot Sport 4S Ultra High-Performance tires in sizes P255/35-20's on the front, and P275/35-20's on the rear. Billet Pro Shop provided the custom wheel caps.
All these unique modifications have resulted in numerous Best in Show, People's Choice, Kid's Choice and Best Custom Car awards for Thunder.
I have one last modification to Thunder, once the pandemic resides. I plan on having MVP Motorsport in Chatsworth, CA fabricates and install custom matching carbon fibre splitters and rocker panels all the way around the bottom of the car. The carbon fibre would match the carbon fibre on the steering wheel. I have no plans to get rid of Thunder anytime soon. I'd like to continue to show her as much as I can so, others can enjoy her as much as I have.
All the Cars in the Online Version of our Magazine will eventually appear in our Fully Printed Magazine, the cars with the most Views, appear sooner, the Magazine is sold the world over through Amazon, making it easier and faster for people around the world to get their copy. UK and Ireland use our store stanceautomag.com

If you would like your Car and Story or Your Business Featured like this, Please
Email: Carla, Shannon, Andz or Admin, they would love to hear from you.