Cristian Tyrell - 1988 Mazda RX-7 10th Anniversary Edition
"My point is to follow your dreams and dive in head first, and with enough hard work, sacrifice, determination and perseverance you can make it happen."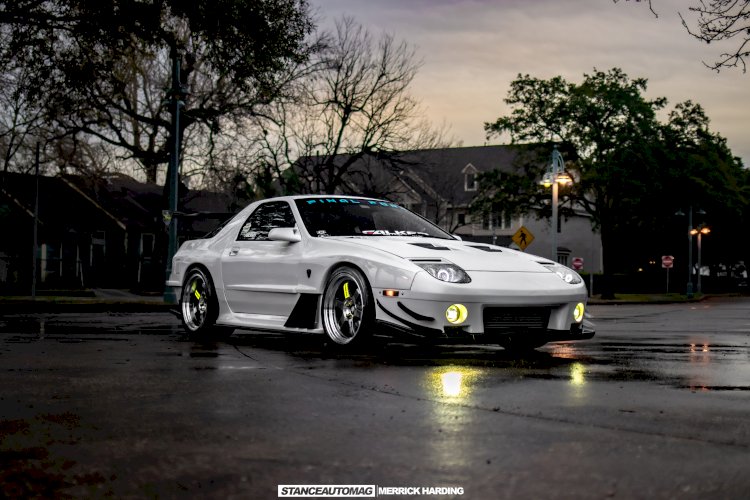 These are all of our Linx, please check below for the right link to contact, Join or Follow us:
All of our Useful LinX can be found HERE.
More Images in Slider Above
NAME: Cristian Tyrrell
LOCATION: SW Houston, TX
INSTAGRAM: @finalformfc
Photographer:@merrick_media
I drive a 1988 10th anniversary Mazda rx7, what actually first got me into cars was a lack of an outlet after an injury. I grew up skateboarding throughout my whole life and around the time I turned 18 I had broken my wrist for the third time in a row. I ended up having to get surgery for extensive nerve damage and my wrist has never been the same. Having my passion and creative outlet taken away from me I was in a state of depression, looking for something that would feel close to the same feeling without major risk of losing Use of a limb. I came across some old junk house videos of the guys in Chicago street drifting, the vibe was the same. I just felt that spark come back and the videography was so reminiscent of classic skate videos. A couple of the guys who drove FC's and illias, in particular, was a big inspiration to me in the beginning.
I went through a few chassis before I ended up on this one in particular. Having started with an 81 Corolla SR5 and knowing nothing about rotary I was approached by this guy at a gas station but was receptive since he was the first person id met that knew I had a corolla. I remember hearing " hey man nice corolla, you know what we do in Puerto Rico is throw in a rotary." I thought, "the hell is a rotary?!?!?" instantly went home and did my research, it was at this point, I was hooked. I watched countless videos dreaming of driving one, so I sold the corolla and got my first FC, a 1988 gxl, I remember I was so used to the slow corolla I tried drifting the first night of ownership and wrecked it. Luckily back in 2011 parts were cheap and available, unfortunately later down the line I was t-boned in that car and it was a total loss. On the bright side, the insurance money allowed me to upgrade to a turbo model. I didn't know anything about S4 or S5 model FC's, I just knew I wanted another 1988 white rx7 but turbo. Lucky for me, I found one in my budget only a few hours away in San Antonio. Come to find out what I bought was, a 10th-anniversary edition that only 1500 were ever made, and it was the best gut decision ever made.
This car though felt special I instantly bonded it was strange. This feeling from driving the streets learning the car and how it handles and how it sounds is unbeatable. I don't care how unreliable people say these engines are, there is no feeling like it, and that is priceless. Before I got serious about actually building it and just having fun I always had a vision in my head of what I wanted this car to look like.
Once my first engine blew, I attempted to rebuild the engine myself but that didn't turn out quite the way I wanted. I ended up hauling three engines up to Dallas to have the guys at Rotary Performance fix my errors of stubbornness. That kind of propelled everything since I wanted the exterior to match the engine build. I've gone through a lot of exterior looks and I've done 100% of my own work on the car, with the exception of building the engine and tuning done by Rotary Performance, and this most recent widebody and paintwork done by Infinite Worx.
In order to get the Tamon Kit, I actually had to have a friend befriend Shoji-San. Apparently, he hadn't made my pieces from that kit in over a decade. It's actually the seventh full kit ever completed and the first in North America. A lot of the molds had to be remade for my kit so technically it is the USA demo car for Tamon Design FC
The thing is, I'm not rich, in fact, I come from a broken family and never had anyone to lean on, I didn't even graduate high school because I had to provide for myself. So the only way to make my dreams become a reality was to do the work myself. My point is to follow your dreams and dive in headfirst, and with enough hard work, sacrifice, determination and perseverance you can make it happen. I'm the perfect example of how anyone can do this and you can start from nothing. I did, and I worked at a grocery store the entire time. I built this car while supporting myself and another person at the same time. You just gotta ask what are you willing to sacrifice to accomplish your goals than just make it happen.
Exterior:
Car Shop GLOW LED tail lights custom made 1 of 1

Tamon Design FC3S-GT vented hood with carbon fibre overlaid vents

Tamon Design FC3S-GT front fenders

Tamon Design FC3S-GT rear fenders

Tamon Design FC3S-GT rear bumper

Tamon Design FC3S-GT door mouldings

T

amon Design FC3S-GT Carbon fibre front under sweep

Tamon Design FC3S-GT Carbon fibre front fender diffusers (demo cars only)

Tamon Design FC3S-GT Carbon fibre side diffusers

RE-Amemiya Style FC2000 front bumper

RE-Amemiya Style FC2000 side sill extensions

RE-Amemiya Style Carbon Fiber Pro rear diffuser

RE-Amemiya Style Carbon Fiber Side vortex generators

RE-Amemiya Style Carbon Fiber Center air diverter

RE-Amemiya Carbon Fiber GT SPEC wing

RE-Amemiya Carbon Fiber Front Canards

Aerowolf ganador mirror visors

Lexan headlight covers

OEM Series 5 body mouldings

LED 4" headlights x4

LED 2" turn signals

Aero wolf ganador mirror visors
Wheels/Tires:
Volk Racing TE37VSL 2021 edition 18x9.5 +15mm, 18x11 +18mm Pressed Graphite

Falken Tire RT660 255/35/18, 315//30/18
Suspension/Brakes:
Powered by MAX Coilovers

Powered by MAX Upper pillow ball mounts

Powered by MAX Adjustable Camber Plates

Powered by MAX Solid subframe mounts

Powered by MAX Solid differential mounts

FD3S 4 piston callipers

Stop-Tech brake pads

Solid Aluminum motor mounts

Stainless steel braided brake lines
Engine:
333 BHP on 8psi

Street ported and built by Rotary Performance

BNR Supercars Stage 4 turbocharger

Apex'i Power FC engine management

Apex'i Twin Chamber blow-off valve (1 hot side, 1 cold side)

Apex'i GT Spec SS 3.75" cat-back exhaust

ACT 6 puck clutch

Greddy front-mounted intercooler

Koyo radiator

Kemetic Racing coolant

SuperNow oil cap

Blitz Racing radiator cap

Pineapple Racing Oil Pan

GReddy Oil filter

Idemitsu 20w50 Rotary Racing Oil

Banzai Racing FD3S to Series 4 jumper harness

Walbro 255lph fuel pump

Aeromotive Trick-Flow fuel pressure regulator

1680cc secondary injectors

Series 5 89-91 rotors

S4 to S6 Underdrive pulleys

Stainless Steel braided clutch line

Stainless Steel braided custom brake lines (from the master cylinder)

GM 3 bar MAP sensor

FD3S air intake temperature sensor

Custom trailing ignition system

Custom straight mid-pipe

Powder-coated Lower intake manifold

Powder-coated upper intake manifold

Powder-coated alternator

LRB Speed cooling plate

HKS 100mm Super Mega Flow Reloaded air filter (discontinued yellow)

Black Magic 160 electric fan

Tucked and simplified engine wire harness

Tucked chassis wire harness

Graphite Gray painted engine bay

Phaze2motortrend hood dampers
Interior:
Nardi 330mm deep corn rally steering wheel

Apex'i PowerFC commander

Banzai Racing PFC commander holder

Blitz boost gauge

Innovate MTX-L plus Wideband gauge

OEM Mazda RX-8 seats

NRG quick release

NRG short hub

Custom Arduino sequential shift like designed by chip peanut
I've gotten very close to my dream, there's so much I've done to the car, and the better question is, what haven't I done. Well, I haven't taken the carpet out yet, and that's about it. All jokes aside, I plan to revisit the engine bay again for an update to hold me over for my actual dream of throwing a 3-rotor on this chassis. The exterior is complete minus two pieces I plan on getting in the future and then there's the interior. I always said interior would be dead last in mods.
the Cars in the Online Version of our Magazine will eventually appear in our Fully Printed Magazine, the cars with the most Views, appear sooner, the Magazine is sold the world over through Amazon, making it easier and faster for people around the world to get their copy. UK and Ireland use our store stanceautomag.com

If you would like your Car and Story or Your Business Featured like this, Please
Email: Carla, Shannon, Andz or Admin, they would love to hear from you.