Jeff Nguyen - 1991 Acura NSX
My goal from the start was to modernize and make it more aggressive but while keeping the easily recognizable silhouette in tack.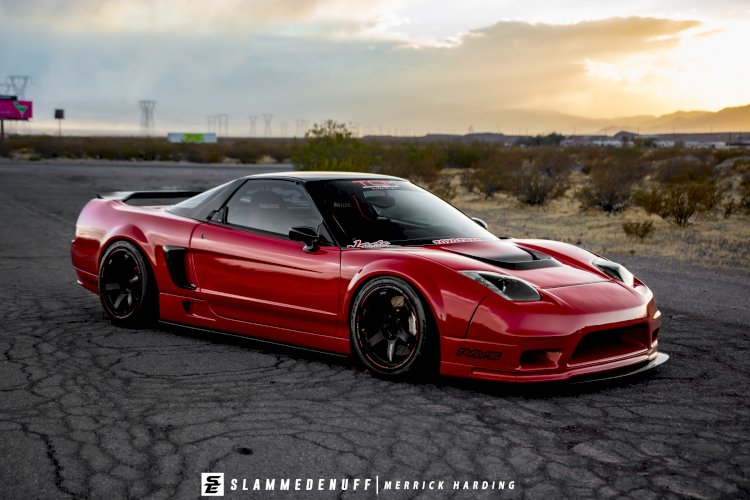 Join Stance Auto Mags Group Like our Facebook Page Follow us on Instagram
To Buy Our Printed Magazine Check out AMAZON and our MERCH STORE
More images in the slider above
Jeff Nguyen
1991 Acura NSX
Instagram: @jvnsx
Team: Jade Motorsports
Photographer: @merrick_media
I'm 37 years old, born and raised in Las Vegas, NV. I'm an entrepreneur and currently own and operate Dis & Dat Auto Wrecking. My car is a 1991 Acura NSX that I have been working on for over 12 years. The NSX has always been my dream car since I was a kid (being a Honda fan from the start, my first car was a 1993 Honda Prelude).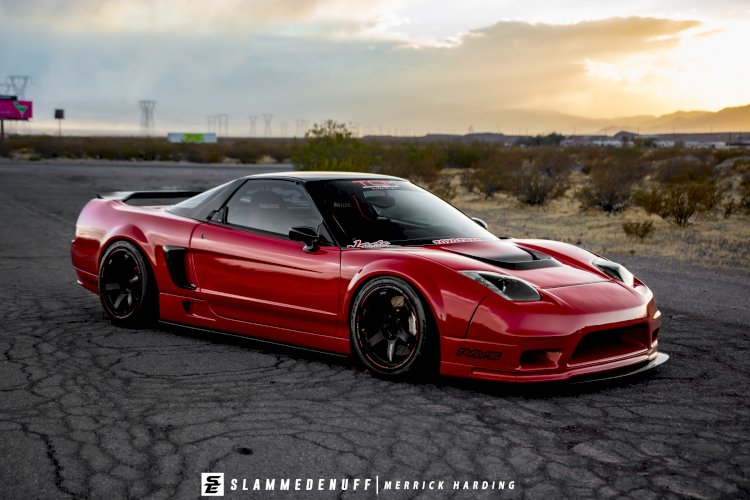 When I got the car, it was near stock with the exception of a 6-speed transmission (converted from a 5-Speed) and some aftermarket head unit. My goal from the start was to modernize and make it more aggressive but while keeping the easily recognizable silhouette in tack.
Out went the flip-up lights and swapped over the fixed headlights from 2002-2005 NSX (interior housing painted matte black). JDM tail lights were popped open and installed ARC Lighting LED boards. Downforce supplied the front bumper, front carbon lip, carbon side skrakes, carbon side scoops, carbon rear diffuser and carbon trunk decklid spoiler. Seibon provided the carbon hood, roof cap, trunk and rear valance. Pride Carbon wide front and rear fenders make the wheel arches wider. Wings West side skirts, APR front carbon splitter round out the lower portions. Ronne and Lou at TCM Japan supplied Do-Luck Mirrors and Spoiler. Everything around the exterior added just a little aggression and flair to each component. Ray and Raul at Evolution auto body did an amazing job with the paint and we did something very unique with the hood and trunk... fading the red paint into the carbon. Just the extra little details that help set the car apart. Andrew from BX Built colour corrected everything and laid down the CarPro ceramic coat to make sure the paint stays clean and healthy.
I've always been a fan of Honda high-strung naturally aspirated engines and wanted to add to it but without going with any sort of forced induction. Science of Speed's Individual Throttle Bodies system was perfect. Continuing with my theme of keeping things close to OEM as possible but adding a little extra to it. To top off the ITB's, Mazterpiece Automotive created custom titanium velocity stacks that are the centrepiece of the engine bay. A PasswordJDM Integra intake tube was added to provide fresh air, Injector Dynamics Injectors feed the engine fuel, exhaust fumes tunnel through Pride Exhaust headers, custom straight pipes and out the ARC titanium muffler and AEM Series 2 ECU keeps everything in control.
Brian at Mackin Industries suggested getting a limited set of TE37 Saga Time Attack to perfectly match the colour theme of the car. Stan at Toyo TIres provided the sticky rubber. Loren from Rotora provides the stopping power with their front and rear big brake kit. Tein Flex coilovers with air cups on the front suspension help the super low car get around speed bumps and driveways. I tried to stiffen up the already solid chassis with every bar that was made for the car: Foundry3 Titanium Rear Strut bar, Route KS front strut bar, GT Spec front and rear braces, Cedar Ridge tunnel brace, and STMPO front chassis brace.
Interior, an ongoing theme continues more carbon and titanium. Bun from @LotUSA supplied Bride Vios buckets (in the carbon of course) and Takata harnesses lock me in place. Mugen suede wheel that's linked via Works Bell hub and quick release. Pride Carbon, NC Auto and Euroboutique give the interior more carbon treatment (carbon door panels by Pride Carbon while the Carbon headliner, centre console lid, centre radio stack, A and B pillars are by NC Auto and the Carbon glove box is by @Euroboutique). Carbon Rear Mirror by Zoom helps view what's going behind the car. Chasing J's and Mazterpiece titanium hardware can be found throughout the car and @Moddiction provided the shifting via their Titanium shift knob. For sounds, Sony head unit power MTX speakers and JL Audio Sub that is also housed in a carbon enclosure.
Engine: C30A1 (3.0l DOHC VTEC)
Horsepower: 300 to the wheels
Torque: 210 ft/lb @ 6000 rpm
Engine Management System: AEM Series 2 EMS
Transmission: 6-Speed Conversion
Clutch & Flywheel: CT Engineering Power-Grip & Lightweight Flywheel
Exhaust:
Pride Headers
Custom Stainless Steel Straight Pipes
ARC Titanium Exhaust
Intake:
Science of Speed Individual Throttle Body System
Titanium Velocity Stacks (Mazterpiece Automotive)
Downforce Air Intake Scoop
PasswordJDM Carbon Fiber Intake Tube
Injector Dynamics 725cc Fuel Injectors
Science of Speed Crankcase Breather Tank
Coolant Tank:
Science of Speed Expansion Tank w/ Titanium Radiator Cap (Chasing Js)
Accessories:
KCMachine CNC Aluminum Battery Tray
Shorai Lithium Iron Battery – 5lbs
Titanium Radiator Panel (Chasing Js)
Carbon Fiber NSX-R Mesh Engine Cover
JEGS Fuel Pressure Gauge
NRG Carbon Fiber Torque Damper
SOS Oil Pressure True Gauge Kit
Valve Covers – Powder Coated Wrinkle Red
Mugen Oil Cap & Reservoir Sock Covers
Various Carbon Fiber Wrapped Items,
Gold Foiled Heat Shields,
Various Titanium Bolts & Washers & Nuts & Emblems
Exterior
2002+ Front End Conversion
OEM 2002 Honda NSX Headlamps – Custom Painted Matte Black
Downforce 2002 Front Bumper
Hood: Seibon Carbon Fiber NSX-R (faded paint)
Cowl: Downforce Carbon Fiber Windshield Wiper Cover
Front Lip: Downforce Carbon Fiber Sport Lip
Splitter: Custom APR Carbon Fiber
Fenders: Pride Carbon Fiber Wide Body Front & Rear Fenders
Mirrors: Do-Luck
Side Skirt: Wings West
Side Skirt Lip: Downforce Carbon Fiber Side Strakes
Rear Valence: Seibon Carbon Fiber Rear Valance
Diffuser: Downforce DF-R Carbon Fiber
Rear Spoiler: Do-Luck Carbon Fiber
Trunk: Seibon Carbon Fiber Trunk with Downforce Carbon Fiber Trunk Lip Spoiler (faded paint)
Engine Hatch Duct: Pride Carbon Fiber Hatch Duct
Roof: Seibon Carbon Fiber Roof with custom Carbon Fiber A and B Pillars
Vent: Downforce Carbon Fiber Sport Side Vents
Tail Lamp: JDM Tail Lights w/ custom Arc-Light LEDs
Accessories: SOS Radiator Shield,
ProCar Ceramic Coating, Tinted Headlamps, Titanium Bolts
Suspension
Coilovers: Tein Flex
Front Lift Kit: UAD Variable Ride Height Cup Kit – Stealth Setup
Front Strut: Route KS
Rear Strut: Foundry​3 ​Titanium Bar
Front Chassis Bar: STMPO Bar
Front Lower Brace: GT Spec Aluminum
Rear Lower Brace: GT Spec Aluminum
Rear Tunnel Brace: Cedar Ridge
Sway Bar: Comptech 0.875" Adjustable
Steering: SOS Steering Rack Bushing Kit
Wheels:
Volk Racing – TE37 Saga Time Attack
Front: 17 x 9 +21
Rear: 18 x 10.5 +15
Tires:
Toyo Tires – Proxes Sports
Front: 235/40r17
Rear: 265/35r18
Lug Nuts: Project Kics R40
Brakes: Rotora
Front: 4-Piston Calipers – Silver/ Airfoil Rotors / Red Hats – 332mm
Rear: 4-Piston Calipers – Silver/ Airfoil Rotors / Red Hats – 328mm
Stainless Brake Lines
Interior
Steering Wheel: Mugen w/ Titanium Bolts
Hub: Works Bell Short Hub with Works Bell Quick Release
Pedals: Autovation with Dead Pedal
Seats: Bride Vios III Carbon Fiber
Seat Brackets: Bride Type-FO
Harness Bar: Cedar Ridge Harness Bar
Seat Harness: Takata Drift III – Black
Headliner: NC Auto USA Carbon Fiber with matching A-, B- and centre bulk
Shift Boot: NSX-R Carbon Fiber
Shift Knob: Moddiction Anvil 2 – Titanium
Shift Stalk: NSX-R Shorten Shaft with Cedar Ridge Short Shifter Kit
Cluster: Titanium Cluster Trim (Chasing Js)
Gauges: AEM Air/Fuel Ratio (Bank 1 & 2)
Stereo: NC Auto USA Carbon Console and Sony XAV-AX7000
Speakers:Doors: SOS Speaker Panels with MTX 6.5" Speakers
Sub: JL Audio W2 10" in custom CF Enclosure
Navigation: JDM Navigation Pod with Alpine Screen
Door Panels: Pride Carbon CF Door Panels
Glove Box: EuroBoutique CF Glove Box
Center Console Lid: NC Auto CF Lid with
Mazterpiece Titanium "NSX" Emblem
Carpet: NSX-R Red
Mats: NSX-R Red
Mirror: ZOOM Carbon Fiber Rear View Mirror
Accessories:
SOS Double Din Bracket
Red Stitching on Dash
Various 3M Carbon Fiber Vinyl Wrapped
Autovation Aluminum Hell Guard – Galaxy Black
Autovation Aluminum Door Sills – Galaxy Black
Various Titanium Bolts & Nuts
At the end of it all, a certain theme kept emerging and that's carbon and titanium details. This is by far my favourite iteration of the car so far and I think I just want to enjoy it for now. I can't thank enough who helped me make this project come to the realization and also for all the friends I've met at meets, shows, drives and throughout the build.
Sponsors/Shout Outs:
All the Cars in the Online Version of our Magazine will eventually appear in our Fully Printed Magazine, the cars with the most Views, appear sooner, the Magazine is sold the world over through Amazon, making it easier and faster for people around the world to get their copy. UK and Ireland use our store stanceautomag.com

If you would like your Car and Story or Your Business Featured like this, Please
Email: Carla, Shannon, Andz or Admin, they would love to hear from you.
Our site contains links to third party websites. We are not responsible for the privacy policies, practices and/or content of these web sites. Their use is at your own risk.