Zachary - 2018 Dodge Challenger T/A 392
I currently drive a 2018 Dodge Challenger T/A 392 however, the Dodge was not my first car! My first car was in fact a manual transmission 1979 Toyota Celica LiftBack GT and I have probably owned around 20 cars throughout my life.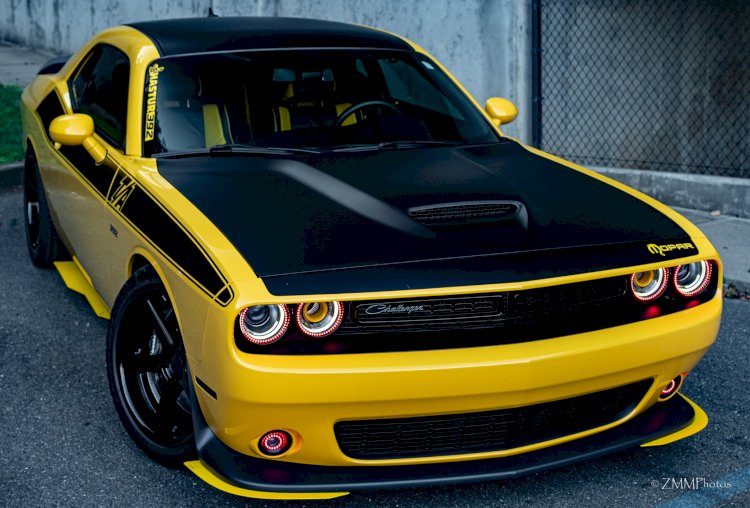 Join Stance Auto Mags Group Like our Facebook Page Follow us on Instagram
Check out our MERCH STORE
More images in the slider above
Hi all,
My name is Zachary Morse, from Dalton in Georgia, United States.
Instagram: @hastur392
I am currently studying in university to become a 'Behavioural Analyst'. I used to drive a Semi-Truck (in other words a 'Lorry') however, I had a bad fall and broke my back while on the job. I became medically disqualified after the incident so now, after recovery I am getting my degree.
I currently drive a 2018 Dodge Challenger T/A 392 however, the Dodge was not my first car! My first car was in fact a manual transmission 1979 Toyota Celica LiftBack GT and I have probably owned around 20 cars throughout my life. I have always loved and had an interest in cars and I would say my interest derived while growing up. I remember my father working on an AMC Javelin and his 1969 Camaro. I also recall going to drag races as a child and I never stopped being excited about cool fast cars since then!
When I was a teenager, due to the success of the Fast and the Furious movies, the JDM scene took of here in the states in the mainstream. It was then when I became aware how cool imports could be too! The Silvia, the Supra, S2000, E45 M3, Integra Type-R, 3000GT, XK8 Jags and so many more.
Unfortunately here in the States, high performance imported vehicles were almost impossible to get and those that did make it over the ocean were all prohibitively expensive so, I focused on the domestic US market for my choice of cars. To that, I have now owned five third generations F-Body GM vehicles (3 Camaros and 2 Firebirds).
As awesome as the JDM and European market automobiles are (and they ARE awesome), I have always gravitated towards big, overweight American cars! I love the long hood, overly wide width and of course the large displacement V8 rumble.
So, when the time had come to buy a new car, I chose the Dodge Challenger. I love this car! I think if your streets are wide enough and you do not paying for petrol, this car is an absolute blast to drive and I highly recommend owning one.
Challengers are common place here in the United States but from what I understand they are somewhat rare overseas however, Dodge did not make any TA392 cars and less than 600 in the colour code 'YellowJacket' so mine is pretty rare in the factory livery. In order to stand out from the crowd, I have been modifying the car to my personal taste since.
Modifying my car has been a fun endeavour but, doing this does not come without any problems! The biggest problem I have faced so far is the wheel fitment. I purchased aftermarket wheels and wider tyres and then lowered the car. I had to heat and reshape the fender liners so they would not wear against the tyres. It is a small issue but it is something of note to mention.
My Challenger is rated at 485BHP/470TQ from factory and has a ZF8 transmission. My modifications so far are as follows:
Katzkin Leather interior
Carbon Fibre interior overlay
Barton industries pistol grip shifter
Custom Floor mats by Lloyd Mats
Merrick Motorsports colour matched intake rings
Downforce Solutions aero kit
Zl1addons rear diffuser
Lightingtrendz RGB waterproof halo rings
XkGlow underbody lighting
E&G Classics Louvers
Billet Technology under hood engine accessories
Hydrodypz hydro dipped engine bay parts
Eibach Pro-Kit lowering springs
Petty's Garage rear strut brace
Razors Edge front strut brace
Ferrada FR3 wheels Staggered 20x10 +13 in front and 20x10.5 +20 in rear
BFG Sport Comp 2 A/S+ 275/40/ZR20 in front BFG 305/35/ZR20 in back
Kicker Solobaric 10" subwoofer in a ported box powered by an Alpine 600w amp
All the work in exception of the hydro dipping certain parts and installing the leather seats were all done by myself with the assistance of some friends.
I am not quite done yet with the car. I would like to add a custom carbon fibre steering wheel from @carbonsteer Vertical doors from www.VerticalDoors.com. I need to start working on my trunk, adding more speakers. Also, I would really like to change over to air suspension at some point. Eventually, I will have the heads ported, install a custom camshaft and get the car dyno tuned.
As far as shows and events go, as an administrator in my car club @southeastchallengers I plan events, runs, and attend shows with my clubmates. I have been somewhat successful this year in competition. I have earned awards for "best wheels" "kids choice," "best club," "1st place modern car 2000-2020," "top 5," and several "top 25, and top 50" awards.
Though there is an element of competition, I usually go to the events and shows just for fun. I do not go expecting to win anything. I just like to hang out with other car people. If I win something, that's nice. If I do not win, it is perfectly ok, I will still have fun
My dream car…..that is a hard question. There are so many. If I had to pick one, it would be a 1971 HemiCuda in Plum Crazy.
Thank you for reading my article,
Zachary

If you would like your Car and Story or Your Business Featured like this, Please
Email: Carla, Shannon, Andz or Admin, they would love to hear from you.
Our site contains links to third party websites. We are not responsible for the privacy policies, practices and/or content of these web sites. Their use is at your own risk.