Joseph Leoniy 1995 Toyota Supra
I enjoyed making things with my own touch, kind of an extension of me. My first real build at age 16 was a Volkswagen MK4 VR6 GTI 12V. Started as a bone stock grocery getter and turned into a near fully built, laying frame bagged monster.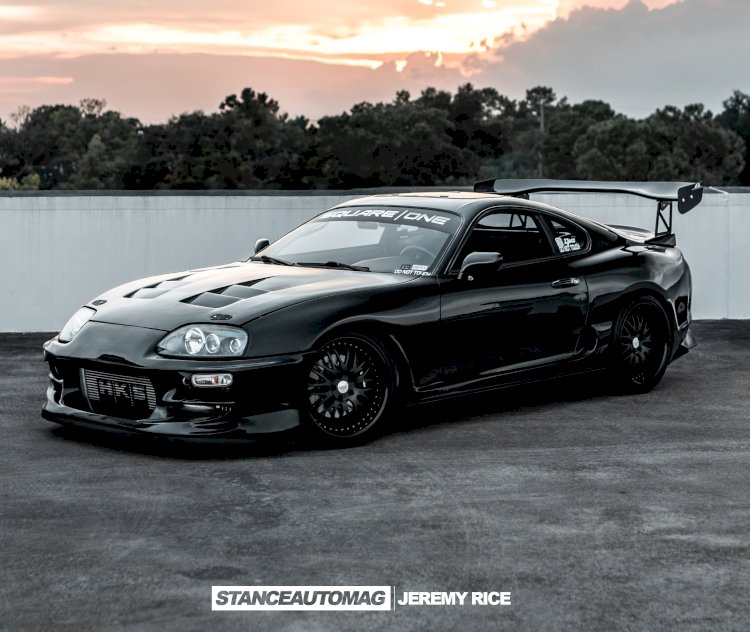 1995 Toyota Supra
Join Our Stance Auto Mags Group, Give Our Facebook Page a Like, and Follow us on Instagram Check out our MERCH STORE
More images are in the slider above, These Photographs are supplied by the Named Photographer, check their Link for Bookings.
Order the Printed Magazine HERE!!
Joseph Leoniy
Toyota Supra 1995
Instagram: @_2joez_
Photographer: @Jrice_visuals (Our Media Team contact directly for Bookings)
Hi there, I'll start by introducing myself. My name is Joseph Leoniy from Houston Texas, I am a precision CNC machinist by day, but by night my real passion and hobby fall into building cars and photography of custom car builds!
What or who got you into cars?
I started into cars at a young age. After my first build, I was addicted to building custom cars. I loved turning nothing into something special. I enjoyed making things with my own touch, kind of an extension of me. My first real build at age 16 was a Volkswagen MK4 VR6 GTI 12V. Started as a bone stock grocery getter and turned into a near fully built, laying frame bagged monster. Ended up taking a few trophies with this build and was bit by the car bug big time. Next I built a 24v GTI,Ford Lightning,Lifted,f250,Hemi's,Lifted Excursion,s13 2jz swap and a few na-t is300's. After building the is300 na-t I knew the 2jz was the powerplant I wanted to run. The bang per buck, power, reliability and sounds are beyond addicting. I just needed to find the perfect chassis to marry it to.
Why this car?
At last, I found the car I wanted, my dream car growing up as a kid. The car I played with every day after school. The car I spent countless hours earning tokens in Forza to modify. The ultimate build of builds. The Toyota Supra MK4. A legendary platform to start from. After searching for months and travelling 13 hours one way to get it. I finally obtained a chassis to start from. She was rough around the edges with a blown motor and many other issues, but it was a Supra and I was up for the task of this build. A dream build.
Why did you build this car?
I chose the Supra because it has always been my dream car. From the looks and performance all the way down to the sounds it makes when you roll into boost. I tried to build this car like I would in Forza, not just a one-trick pony. A fully built and functional streetcar. The best of the show and go. I've always looked up to this car. There's just something special about a Supra that will never fade away.
What does it feel like owning this car?
Owning and driving one is quite the experience! I can't tell you how many necks this car breaks pulling out anywhere I go. Seeing the reactions is something I never expected from this build but they make it all worthwhile. I built the car 100% myself minus the paint and ECU tune. Anytime someone asks me about what's done I always love breaking down the build to them. The respect this car gets is unreal. I love seeing myself as a kid asking these same questions to other car builders, bringing back so many memories. I'd say the best part of owning this car is inspiring the next generation of car guys and girls. Hands down the best part.
If you enjoyed this Car why not read this ONE HERE
What makes your car unique?
I feel like my car stands out from the rest of the builds and other Supra's because I didn't follow any of the typical molds. I built the car pretty much how I pictured it in my dreams and how I'd build it in the video games growing up. I didn't want to build it as a one-trick pony. I wanted an overall balanced build. A show car that can still hold it down on the track. I fully built this car from the ground up to achieve just that. Took me 5 years but was worth every bit. From a fully molded widebody kit, custom spec wheels, fully built r-154, to a big turbo engine. I sourced several parts from Japan that were discontinued. A lot of parts would take years to the source again. These small little touches make the car very unique, almost like a little time capsule from Japan. A car that I'll never walk away from without looking back at!
Spec List
Engine
Power Output:800whp/E85

Precision T67 DBB Turbo

2JZ GTE VVTI Swap

Driftmotion - 8 Manifold

Driftmotion IAC

K&N 4" XL Intake Filter

Precision Wastegate

Dump Tube

Tial Sport Q BOV

HKS Ti Exhaust

3" V Band DownPipe

HKS Intercooler

Mishimoto Radiator

APR Cooling Plate

Bosch 1000CC Injectors

Aeromotive FPR

Walbro Hellcat 525 LPH Pump

PTFE Lines

AEM Infinity 6 ECU

Flex Sensor

Tweaked Harness
Transmission
Marlin Crawler R154 Trans

Clutch Masters FX850 Clutch

MKIV Torsen 4.11 LSD

TRD Strut Tower Brace

Tein Control Master Flex Coilovers

TRD Front & Rear Sway Bars
Wheels-Brakes
I Forge Custom Wheels

Custom Finish Lip's & Faces

Yokohama S-Drive Tires

Michelin Pilot Sport Tires

19x9 /285x30x19

19x12 / 315x25x19

HRE Hubs/Muteki Lugs

Brembo GT Big Brake Kit
Exterior-Interior
Top Secret Vented Hood

Custom Front Lip

Top Secret Rear Diffuser

Vortex Center Generator

APR GT300 Carbon Fiber Wing

Molded Rear Bomex Spats

Molded Bomex Skirts

Bomex Front Bumper

Toyota 020 Black Respray

TRD Strut And Sway Bars

AEM CD5 Carbon Digital Display

Many More Unlisted Modifications
Who did the work?
I built the entire car myself minus the paint and tune. I had a shop in Dallas paint the car and my buddy Lawrance Shipman tuned the car. He's a phenomenal 2JZ builder. It took me over 5 years to turn the car into what you see. Tons of blood sweat and tears, biggest of all time. This car took me the longest to build out of any of my builds because I did not want to cheap out on any of this build with a do it once, do it right mentality. This car taught me a lot. Not only about the car but about myself. Countless days working on a frame-off build comes with its challenges. Sometimes you'll hit several roadblocks that will make you want to call it quits. You have to remember why you started in the first place. Persevere through the hard time's, learn and follow your dreams! Anything is possible.
Future Plans
Any car enthusiast knows the build is never complete. There's always something you want to change, fix or modify. It's part of who we are as car enthusiasts. My next big plan for the car is air ride suspension. I held off doing bags based on 800whp but after talking to a lot of people with bags I've got the confidence now to really give them a go.
Advice/Tips
If anyone was interested in building this car the one thing I would recommend is to save save save. This is by far the most expensive build I've ever done. These cars come with a steep Supra Tax. The car is 100% worth it but boy does it add up fast. Another thing I've learned is don't cut any corners. Do it once. Do it right. Also, don't use cheap parts, you get exactly what you pay for. Remember fueling is the most important part when doing a standalone turbo build. You always want to overpower your fueling system vs what's required.
Looking for a new club? Have a look at the ones featured on our site HERE
Groups/Clubs
Shout out!!!!
What did the car scene bring you?
My favourite thing the car community has brought me is friendship and the bonds we share over our builds. The amount of friends I've made in the car scene is unreal. All of them are unique in their own ways. We all have one common interest and we're always there ready to help each other out no matter what the issue, from flat tires to engine swaps. We are a family.
Dream Car
Luckily I own my dream car. My 1995 Toyota Supra but if I were to build something next I'm going to have to say an s14 big turbo 2JZ/T56 swap. I've always had a soft spot for Silvia's.
Check out our Google News give us a Follow
What do you think? leave your comments in the comments section at the bottom of the page.
All the Cars in the Online Version of our Magazine will eventually appear in our Fully Printed Magazine, the cars with the most views, appear sooner so keep sharing your articles with the share buttons at the top of the articles, or copy the web link into Bios, Posts on Social Media and the Internet.
All of our Magazine can be found on Amazon, they Print and Deliver worldwide, Stance Auto can not be held responsible for the final print, all complaints and returns must be directed to Amazon.
UKTM no: UK00003572459