Mark Stockings - Cupra K1
After looking at many options I wanted something a little different and what would be a wolf in sheep's clothing.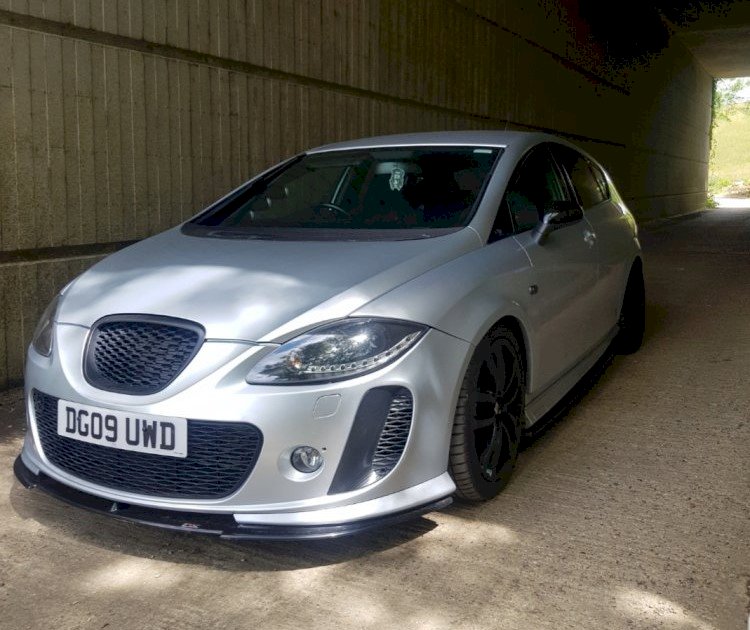 Join Stance Auto Mags Group Like our Facebook Page Follow us on Instagram
To Buy Our Printed Magazine Check out AMAZON and our MERCH STORE
More images in the slider above
This Car is also in our Printed Magazine
My name is Mark Stockings,
I'm 42 years old, from Suffolk. I am a full-time tattoo artist.
You can find me on Instagram on @K1boostaddict
From the age of 18, I've always been obsessed with the modified car scene. My first car was an Orion 1.6 Ghia. Which, for my first car, back in the day wasn't too bad really! I did a few modifications such as performance exhaust, air filter, wheels, suspension and headlights. However, I soon got bored, as power has always been my fixation.
After selling this, I bought my first turbocharged car, and that is when the real addiction to power started! I went all out with this car. After not having much idea with tuning, I wound the boost up and blew the engine up within 2 days!!! I decided here that I needed to do it properly.
I researched lost and found a leading Fiat tuning specialist that did high spec road fast and rally engine builds. The downside was, they were all the way in Somerset. After thousands of pounds and a long journey, they built me their 2nd fastest road-legal Uno Turbo. Which was a bit of an animal, at 240 breaks, and weighing under a tonne!!
I spent a few years having lots of fun in this car but after being troubled by the police on a daily basis I decided to move on to something else!! My next project was a Toyota Celica GT4 ST185. I managed to pick up a limited-edition Carlos Zane model in standard form. Same story as the Uno, I went all out with a full engine build and big turbo conversion. Stripped out the interior, bucket seats, roll cage, making over 450 bhp.
After lots of problems with tuning, I decided to move on to something a bit more modern. After looking at many options I wanted something a little different and what would be a wolf in sheep's clothing. I purchased a standard Cupra K1, there were only 300 of these made! From day 1 the list of mods and projects has never ended! Here is the current spec list:
Engine
Milltek non-res exhaust system
Trackslag 3.5 decat
Ramair oversized induction kit
PCV delete kit
R8 coil packs
Airtec Stage 2 FMI
MTC hose kit
Aircon delete
Autotech HPFP
R-tech Stage 2+ custom map
CTS motorsport boost and discharge pipes
DVplus dump valve
Suspension
15 point damping
Raceland coil overs
Whiteline anti-lift kit
SW front and rear anti-roll bars
Polybush kit
034 motorsport engine and gearbox mounts
Ban Motorsport rear strut brace
Gearbox
Quaife LSD
AKS gearbox strengthening mods
Forge short shifter
Sachs organic clutch kit and flywheel kit
Tyres
Breaks
Vagbremtechnic C-Hook discs
Tarox road fast pads
Interior
Custom made door pillar pod
Pro sport boost, oil temp and oil pressure gauges
Push-button start
Double din entertainment system
Bodywork
Carbon fibre scuttle panel
Devil eye projector headlights
Honeycomb debadged grill
Side skirt extensions
Custom rear diffuser
Maxton designs front splitter
Wide arch vented wings
The car is currently running 370 brakes and 391 FLB torque. All work has been carried out by two of the best Vag tuners known, AKS Tuning and Rtech. I have AEM water meth and runner flap delete to fit. This will push stage 2+ figures to the max, hopefully around 390 BHP and 420 FLB. For daily road use it's fun, keeps you on your toes and shocks most higher-powered, more expensive cars on the road and track.
I did a half-mile rolling start track day, where I hit 140 MPH. The speed was impressing cars with over 500 HP! This was also before I had my LSD and gearbox build.
This car is definitely a keeper! Just for the shock factor. The reaction I get when I take people out or race somebody is the best thing about the car.
Future plans include; Revo lightweight wheels, Stage 3 - either hybrid turbo and run around 420-430 HP or full forged engine build with Nortec turbo kit and 500+ HP.
There is so much more to come from this car and I don't know if I'll ever stop tuning!
All the Cars in the Online Version of our Magazine will eventually appear in our Fully Printed Magazine, the cars with the most Views, appear sooner, the Magazine is sold the world over through Amazon, making it easier and faster for people around the world to get their copy. UK and Ireland use our store stanceautomag.com

If you would like your Car and Story or Your Business Featured like this, Please
Email: Admin, they would love to hear from you.
Our site contains links to third party websites. We are not responsible for the privacy policies, practices and/or content of these web sites. Their use is at your own risk.