Nick Cosentino - 2012 Audi TT RS
The TT RS was unique with it's 5-cylinder engine and uncommon in North America, which made it appealing for me!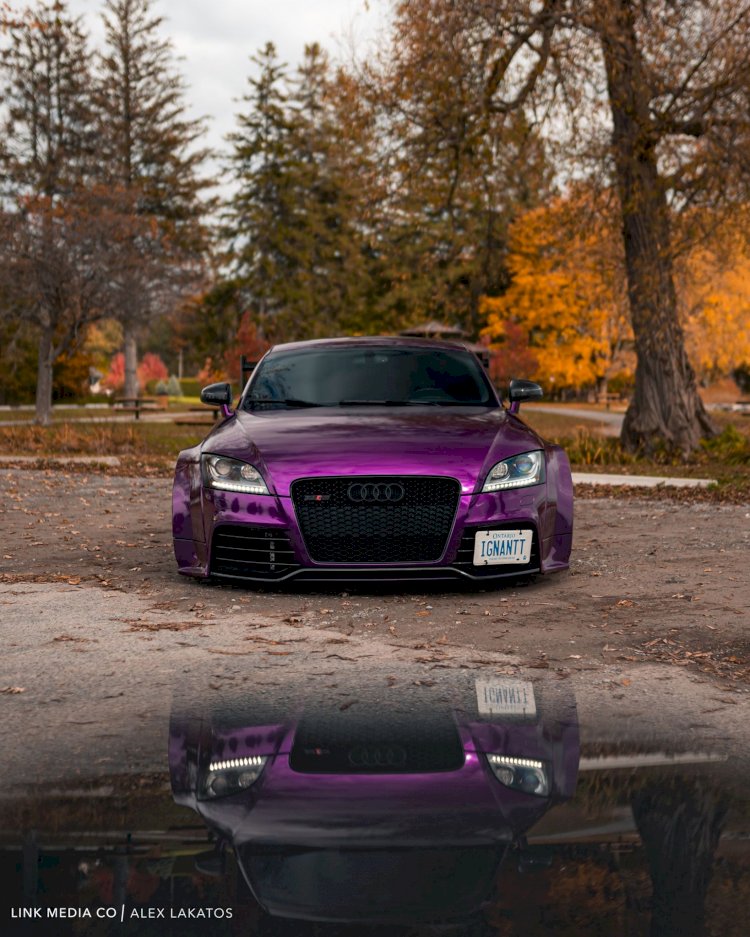 Join Our Stance Auto Mags Group, Give Our Facebook Page a Like, and Follow us on Instagram
These Photographs are supplied by the Photographer, check their Link for Bookings.
Order the Printed Magazine HERE!!
More images are in the slider above, SLIDE LEFT>>>>>>>>>>>
Hi all,
My name is Nick Cosentino and I currently work as a Software Engineering Manager.
Instagram: @ignantt (on all social media platforms)
I've spent the last 8 years of my life helping create some of the world's leading digital forensics software. When I'm not working, I'm at the gym, with my pups, or out and about with the car!
Ignantt is a 2012 Audi TT RS, or what's left of one. I really loved European cars once I switched over to them, and coming from a small BMW 135, I wanted another car that was small with a bit more kick to it. The TT RS was unique with its 5-cylinder engine and uncommon in North America, which made it appealing to me. It was my first move into the Audi family, and I certainly fell in love as soon as I had the opportunity to drive it.
What got me into the car scene? Let's just say it was all accidental. I never thought I would have spent this much of my life invested in cars, the car scene, and meeting all of the people both locally and internationally just from cars. When I purchased my TT RS, I knew before I bought it that I wanted it in mat red. I was set on that! I didn't care what colour the car came as because it was going to be wrapped mat red as soon as I bought it. The wrap shop asked if they could show off the car at a car show when it was complete, and I thought that would be an awesome way to help give back for the work they were doing.
I guess it's not right to say "and it was all downhill from there", but the phrase fits in terms of momentum. From that first car show, the itch needed to be scratched. Wheels. Suspension... it was sort of game over really. Getting to learn and be part of the culture was a really awesome experience.
I would absolutely love to provide the details regarding the car stats here, but we're right in the middle of a motor refresh and about to drop in the Syvecs ECU. The turbo setup we run is good for 1000 (thousand!) bhp, so we'll likely have it set for daily driving around the 700 bhp mark. From other big-turbo TT RS drivers I've spoken to, the 700 bhp mark seems to be a sweet spot in terms of awesome power and daily driving.
Full Spec list:
Custom 3 piece wheels from Incurve (IF-M10). 20"x11" up front, 20"x13.5" in the rear. Carbon fibre lips. Custom powder coating by JP Powder Coating.
Custom 2-tone & personalized branding callipers by JP Powder Coating.
Custom straight pipe & resonator setup into Armytrix exhaust
Iroz Motorsport downpipe
Iroz Motorsport high-pressure fuel pump
034 Motorsport catch can
Wagner EVO3 intercooler
Fully built engine
CTS Turbo air intake powder coated purple by JP Powder Coating
Xona Rotor 95-67 turbo
Iroz Motorsport manifold
Iroz Motorsport secondary fuel runners
Syvecs S7PLUS ECU
APR GT wing with custom large end plates and custom wing mounts
Custom one-off wide body by 'Chopshop'
OSIR Design quad-tip carbon fibre rear valence
OSIR Design carbon fibre engine bay trim
OSIR Design carbon fibre grill fins
OSIR Design carbon fibre front lip
OSIR Design carbon fibre door runners
OSIR Design carbon fibre glove box trim
OSIR Design carbon fibre instrument cluster moon
OSIR Design carbon fibre centre console trim
Custom carbon fibre air vents
Custom carbon fibre dash ends
Luxmats custom floor mats
Engine block and components powder coated purple by JP Powder Coating
Lightning Trendz under the glow
Lightning Trendz galaxy wheel rings
Lightning Trendz footwell lights
Alpine PDX amplifiers (1.1000 and 4.150)
Kenwood head unit
2 x JL 12w6v3 subwoofers
Rear seat delete by 'Chopshop'
Custom trunk set up by 'Chopshop' illuminated by audio-activated LED strips
Dual air tanks powder coated by 'JP Powder Coating'
Air Lift Performance air suspension
VIAIR dual air compressors
Passionate purple wrap by 'Teckwrap'
Vertical door hinges powder coated by 'JP Powder Coating'
I can't take credit for a lot of the work that's been done on the vehicle, just a lot of the direction that it's taken. People that are close to me know that the past few years of working with this car have been a living nightmare for me facing a mid-season engine blow-up, the entire next season being lost to a delay in parts being fabricated, and more recently having to fully rebuild the engine a second time. This will be almost the third full season in a row that I lose out in driving this car and I think that it's a sign that we're done with it after it's finished up. At some point, it's more of a stress than it is something to enjoy, and I think about 2 years ago is when I passed that threshold.
I've made it my rule to only speak positively about experiences and omit sharing negative experiences so as to not play a public blame game. I don't think that's fair for anyone! I had 'Chopshop' based near Hamilton/Cambridge area in Ontario do a lot of the work on my vehicle. The owner Kevin was always able to give me a lot of support in getting things put together. He's known for putting together amazing air setups, so I was fortunate enough to have him on board to get mine done up.
I've had a local wrap shop called 'Limitless Wraps' help tremendously with the vinyl, and at different points in time the wrappers there have helped me out when operating under different names. They've always come in clutch for me. Another local shop called 'Niko Signs' and 'Grafx' has also helped out when I've needed it, so I really appreciate both these shops being there for me.
'JP Powder Coating' has done all of my powder coating work and certainly added some awesome touches to the car. When people saw the purple block or got a chance to see the custom two-tone brakes upfront that's where they start to realize the detailed effort put into the car. More recently 'Lavigne Motorsports' is assisting with rebuilding the engine. The owner Eric has been a great help with explaining what's going on as the rebuild progress has commenced.
The Audi was not my first car, in fact, my first car was a 2003 Chrysler Intrepid however, the Audi is the first one I have probably spent too much money on! I wouldn't consider the car finished yet! Maintenance and colour changes will happen after this. I haven't been able to truly enjoy this car for almost 3 years now. There's too much time missing now and I can't get it back. I'd like to just enjoy what I have once it's running properly again.
I've done quite well at car shows in Ontario. The car generally catches a ton of attention because of the bright exterior, but the trunk setup is generally what really gets people when they come up close to check it out.
For the past few years I haven't been able to enter many shows because of the downtime with the car.
The big ones in Canada for me are:
Berlin Klassik: European enthusiast show over multiple days
Eurokracy: Multi-day euro show in Montreal
Driven Canada: Run quite well with multiple locations
Importfest: Extremely popular with lots of event coverage
ImportExpo: Run quite well with multiple locations
What's my dream car? Question of all times! There are plenty of nice cars I'd love to have for different reasons. Next purchase will be something "spooky", but I'll be saving up for quite some time still. I'll leave it at that!
Thank you for reading my article and don't forget to follow me on Instagram!
Nick.