Joseph Pritchett - 2013 Dodge Challenger SRT8 392
In 2015 I bought a 2013 Dodge Challenger SRT8. I had a goal of making the Challenger a car that I had fully designed and did all the work on.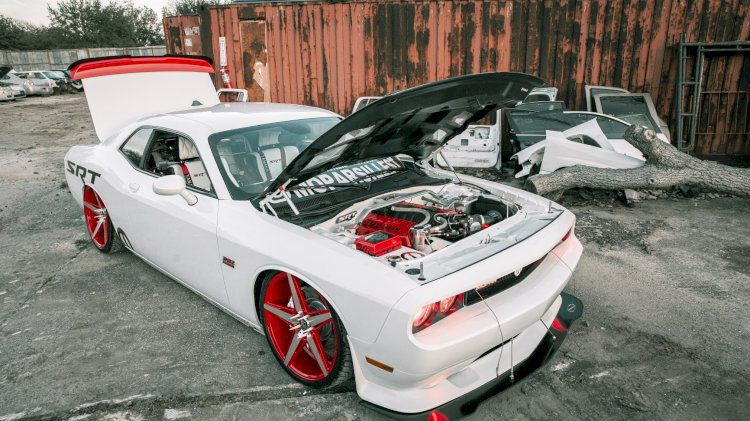 Join Our Stance Auto Mags Group, Give Our Facebook Page a Like, and Follow us on Instagram
More images are in the slider above, These Photographs are supplied by the Photographer, check their Link for Bookings.
Order the Printed Magazine HERE!!
Joseph Pritchett
2013 Dodge Challenger SRT8 392
Instagram: @moparsillest
Photographer: Juan Lomeli @jlomeli_photography
My name is Joseph Pritchett originally from Norman, Oklahoma but after serving in the Army I settled in Houston, Tx. I started customizing cars when I was sixteen years old. My first car was given to me by my mother. The car was in bad shape and we didn't have the money to get a better car or to even fix the one I had, so I took a Vo-tech auto body paint and repair class that was offered as part of my high school classes. I then took the skills I learned from the Vo-tech and started customizing my own car.
Over the years I have customized multiple vehicles cars, trucks and SUVs. I was able to trade a car that I had customized for a 1937 Dodge D5 which will be my first full car restoration build specifically built for car shows. It's definitely a must for me to go to car shows to get ideas for new builds. These ideas constantly just flow through my head. I can spit out an idea and my wife is just stunned and as excited as I am to bring these ideas to life. Customizing is more than just a passion for me it has turned into a way of life. We had customized so much that my wife and I decided to start our own company called Dead Bird Customs that will eventually be a customs build shop.
In 2015 I bought a 2013 Dodge Challenger SRT8. I had a goal of making the Challenger a car that I had fully designed and did all the work on. It would be my show car. In 2016 I took my Challenger to its first car show in Dallas, TX called We Are Mopar and then to two more shows that year before changing the car completely for a whole new look!
All the work on my car, I have done myself outside in my driveway, with the exception of the front seats, which were done by Chinos Custom Interior in Houston, TX. I have staggered 22" Elegante Luxury Wheels so to make them stand out more I painted them red with a silver face. I also continued the same red on the spoiler, tailpipes, engine bay, and interior. I wanted to make sure that all the colours on the car are all the same colour and not variations of red. I painted all the interior dash pieces to give it a clean white glossy finish and had the seats done in white leather with unique red double-diamond stitching.
The exhaust has electric cutouts which open up right after the catalytic converter to give it a deep growling rumble. I had also customized the trunk and took out the back seat to make one large area to display the Airforce Suspensions air ride kit and custom hard lines. Two 12 inch DS18 Subs with led lighting, Two DS18 6 inch mids, and two DS18 8-inch mids, and two DS18 tweeters all powered by two DS18 amps. Underneath a Carbon Creations full carbon fibre Viper Hood, I painted the half covers with the same matching red and black lettering for the 392 HEMI. The fuse box has also been customized with a clear glass face cut out finished with the red paint. I had installed a Killerglass clear radiator hose, a brushed aluminium strut tower brace, the brushed aluminium catch can, overflow tank and caps. I also installed a K&N Blackhawk Performance Cold air intake.
If you enjoyed this Car why not read this ONE HERE
I have also added additional various upgrades for car shows such as new two-toned 392 side badges, from American Brothers Design, brushed aluminium door-sill plates, white LED SRT Windrestricter, an MFR Engineering wickerbill, white spiked lug nuts, along with Oracle wheel lights and halos, Engine bay, underflows, and grill lighting, and X-Lume illuminated badges on the front grill and in the trunk.
At the beginning of 2017, I took the car to the Heat Wave car show where we won our first trophy which was the first place in Muscle Car class. We are attending car shows almost every weekend to show people what my company can do. I feel it's important to show people that you can have a daily driver and a show vehicle at the same time. You can express yourself in the car you're driving no matter what year you make or model. In 2018 I went back to Dallas for my 3rd We Are Mopar car show and won Best of Show for the modern vehicles. This was a huge reward for me because it shows that my work has been noticed and that people really liked it.
In 2017 I co-founded a Mopar car club called Blacklist Mopars and became the Vice President. After having a few bad experiences with other clubs we wanted to create a club that was family-friendly with a crew who can appreciate the passion we have for our cars. The club then grew with new chapters being created in Georgia and Florida. Also, in 2017 I was invited to Dallas to have the car put in a video for the X-lume commercial for their illuminated badges then in 2018 Oracle lighting technology put my car in their 2019 catalogue. In 2018 I was also asked to have my car be featured in a music video for Kendal Untamed with Untamed Media. In 2019 I was invited to SEMA in Las Vegas, to have my car featured in the XM booth
Exterior:
X-lume Mopar and SRT illuminated logos on the front grill.
Oracle halo lights in the headlights, and fog lights
Oracle wheel ring lights,
Oracle under glows.
Real Carbon fibre Carbon Creations Viper Hood with a floating Hood kit.
MagnaFlow exhaust with exhaust electric cutouts.
Custom painted red spoiler with an MFR wicker bill and red exhaust tips.
GT Styling tail light covers.
Mopar hood pins.
Air force suspension air ride setup.
American Brothers Design emblems.
Interior:
Custom painted dash.
Custom white leather seats with red dual diamond stitching.
Tanaka racing seat belts.
3gcustomz door props.
Wind restrictor.
The back seat has been removed which now opens up to the trunk and makes it one area. You can now see through the front windshield all the way into the trunk. The tank for the air ride is where the back seat used to be, with custom hard lines running to the trunk area.
Wheels:
Staggered 22" Elegante luxury wheels,
Custom painted red with a silver face.
Staggered tires 265 in the front 295s in the rear.
White Spiked lug nuts and spiked valve stem from true spike lug nuts.
Drilled and slotted rotors from SP Performance rotors.
Trunk:
Air force suspension aluminium air tank.
Two Viair air compressors.
Custom aluminium hard lines.
Two 12" DS18 subwoofers
Two DS18 8" mids
Two DS18 6" mids
Two DS18 amps.
Custom trunk moulded box in white leather.
RGB lights in the trunk.
Two 10LB Nitrous Outlet bottles custom painted red.
Engine Bay:
Under the hood, there is a Drake strut Tower brace bar.
Billet aluminium caps and catch can.
Custom painted motor accessories.
3gcustomz ABS cover
The firewall cover was painted to match the car.
K&N Black Hawk Performance cold air intake.
Dead Bird Customs clear and lighted fuse box.
Painted valve covers.
Killer glass radiator hose.
American Brothers Design.
Nitrous Outlet HEMI plate kit
Big show purge kit.
Lomeli Films
https://jlomeliphotography.mypixieset.com/
Questions? Contact jlom.mtz5@gmail.com
What do you think? leave your comments in the comments section at the bottom of the page
'The future is bright as long as we can still Smell the Fumes'
Check out our Google News give us a Follow
All of our Magazine can be found on Amazon, they Print and Deliver worldwide, Stance Auto can not be held responsible for the final print, all complaints and returns must be directed to Amazon.
UKTM no: UK00003572459