Shanna Rinaldo - 2019 Subaru Crosstrek
I chose my Crosstrek because I was living in VT and the ground clearance for the winter weather and road conditions was ideal. I always had a love for the WRX, but I never wanted to sacrifice my ground clearance living in the Northeast. So, I bought the slow Subie's for a while and loved every second of it.
2019 Subaru Crosstrek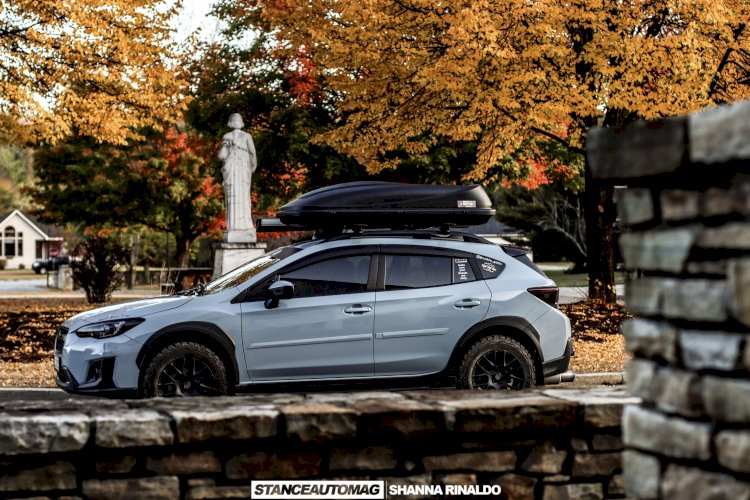 All the Cars in the Online Version of our Magazine will eventually appear in our Fully Printed Magazine, the cars with the most views, appear sooner so keep sharing your articles with the share buttons at the top of the articles, or copy the web link into Bios, Posts on Social Media and the Internet.
More images in the slider above, These Photographs are supplied by the Named Photographer, check their Link for Bookings.
Shanna Rinaldo
2019 Subaru Crosstrek
Instagram: @gh0st.wrx
Photographer: @untilnexttime.photography
My name is Shanna and I recently moved from VT down to NC. I work as a System Administrator for our County. I enjoy many different hobbies in my downtime and am someone who likes to be out and about unless it's a rainy day. I, my girlfriend, and our pup like to go hiking/for walks when we can and we also enjoy biking, kayaking, and many other outdoor activities. You can find us many weekends out in our driveway washing the cars or installing parts. I also enjoy vinyl wrapping parts when I can and am actually in the process of wrapping my dirt bike. I like all things car-related, and spend a decent amount of time at shows/meets, as well. Beyond that, I also do photography in my own time and am out and about getting photos quite often. We're still learning our way around NC, but so far we love it and we can't complain about the gorgeous warm weather down here!
What got you into cars?
I've been a motorhead since a young age. My parents got me on 4 wheelers as a child, and eventually to dirtbikes, as well. I used to spend hours riding around on my 4 wheeler and that just translated into cars once I was old enough to drive. My mom had a couple of sports cars growing up and no matter what she had, she would spend hours on the weekend detailing it, and I think that also manifested my love/obsession with my vehicles and them being spotless. Like a lot of people my age, I also spent time as a child playing video games like Need for Speed and Midnight Club and those games only added to my love for all things cars. Being able to modify the cars down to such detail, just made me dream more and more of what I would want someday. From a young age I was always drawn to the JDM tuners, and that has stuck with me into adulthood. I grew up admiring cars like the Mitsubishi Eclipse and Toyota Celica, and once I was old enough to drive, that started to shift into the Subies. I am now on my third Subie and counting, and my love for cars, specifically JDM's, is only growing more and more with each one.
Is this your first car?
I learned to drive on an '03 Chevy Impala that was my grandmother's. The sentimental value I had in that car was a hard one to let go of, but I eventually did in order to move up into something newer. At 18 I bought my first brand new car which was a '13 Toyota Corolla S. By no means fast, but it was a 5 speed and my first manual, and what I actually learned how to drive manual on. I did some minor modifications to it, like headlights, exhaust, etc. for a couple of years before trading it in. I was living in VT still at the time and big into Snowboarding, so I wanted something AWD with more ground clearance to get me to and from the mountains. So I traded it in on my first Subie, which was a '15 Subaru Crosstrek 5 Speed. This was the first car I really started to work more on myself, forcing myself to start to learn more about the cars and be able to modify them on my own without help. I installed quite a few different things on that car before trading it in a few years later on a '19 Cool Gray Khaki 6 Speed Subaru Crosstrek. I mean who could pass up that colour! At this point, I still have yet to own anything fast, but my '19 Crosstrek has been one of my favourite cars to date. It was slow but so versatile. I put AT tires on it and enjoyed it every day I owned it! Very recently I traded that in on a '20 WRX after moving down here to NC where the Crosstrek's ground clearance really wasn't needed like it was in VT. I finally have my fast car, and I am completely in love with it. However, I wanted to write this up about my Crosstrek, because that car was special to me and I think really advanced my love for the car culture even more.
Get Your Car Featured Follow This
Why this Car?
I chose my Crosstrek because I was living in VT and the ground clearance for the winter weather and road conditions was ideal. I always had a love for the WRX, but I never wanted to sacrifice my ground clearance living in the Northeast. So, I bought the slow Subie's for a while and loved every second of it. The Crosstrek specifically attracted me because it is that perfect blend of sporty and versatile. They look good, drive well, and can go a lot of places, without having the extra height of a lot of SUV's that take away from their handling abilities. I also loved that I could get a standard, because to this date ever since buying my first 5 speed at 18 I haven't been willing to give it up. I've definitely become a fan of Subaru since owning them, but I really wasn't a crazy Subie fanatic at the time. It was just what was the best option for me with everything I wanted. Now, though, I'm not sure if I see myself buying anything else any time soon.
Why did you build the car?
I decided to build my Crosstrek as much as I did because it is something that brings me happiness and is an outlet and escapes for me. I had modified my cars before it and so I just continued on with that, because I love being able to have a vision for a car when you buy it and see it come to life. One of my favourite things was being able to look back at where I started once I had the car where I wanted it, and just see the crazy difference in the way it looked. I think there are different types of people who modify cars, some people look to other builds for inspiration, and some just buy it and immediately have a vision. I bought that car and knew immediately where I wanted to go with it. Living in the northeast, the AT Tires and the off-road style build just made sense, and I just dove into building it that way and never looked back. I tried my best to incorporate some street style parts, though. Some people felt that was odd, that it had these big BF Goodrich tires and side skirts, but I like to be different. I don't want a cookie-cutter car, if I did, I wouldn't modify it at all. I like to be different and blend all different styles into one car, to create something no one else does.
What does it feel like owning and driving your car?
Owning and driving the Crosstrek was truly amazing. It wasn't your typical build you expect to roll into car shows and I think that was something I loved most about it. It was slammed on the ground and it wasn't lifted up 3 inches either, it was a stock height car with some aggressive tires and a bunch of other mods added onto it. I love being able to bring something different to the table, though, and I actually enjoyed making people question why the different styles mixed into one. I think it's cool to think outside of the box and try to force others to join you out there. Our builds are an expression of ourselves and I think the Crosstrek was a perfect expression of my personality. I loved being able to have little kids see something different because maybe some kid will take the uniqueness of my build and run with that someday when they have their own car and not be afraid to be different.
Advice/Tips
Do it, lol! Seriously, though, if you're an outdoorsy, adventure-loving person, the Crosstrek is such an amazing car. It'll take you so many places, and it is so versatile. The one complaint I had was the same one everyone has, they're slow. I think it's important to note, they weren't built to be fast, though. Hopefully, someday we'll get a little more power in them, and Subaru is heading that way with the new 2.5 Liter Sport/Limited, and we can all dream of a Turbo Crosstrek someday. I also would recommend to anyone wanting to modify it, to do it, and just try stuff yourself and force yourself to learn. The Crosstrek is a pretty easy car to mod and there isn't a whole lot of complexity to them. And, if you have questions, there is an entire community of people willing to help, and likely someone has the answer you need!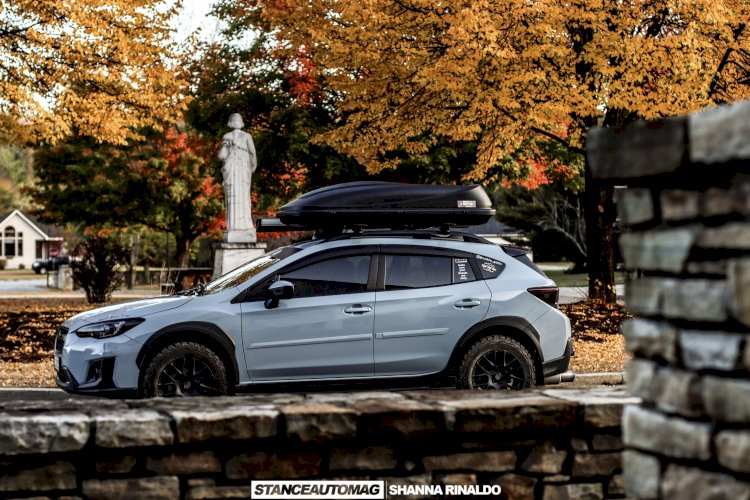 If you live somewhere like I did in VT or you want to go hit some trails, I would recommend the BF Goodrich KO2's be one of your first investments. I know, I know, so predictable, but they really were amazing tires and I would recommend them to anyone with a Crosstrek or any other Subie they want to take offroad. Also, if you want to add ditch lights, light bars, etc. I would also recommend the Trigger Controller be one of your first investments and to wire all of your lights to it. I had a lot of issues with my battery until finally investing in the Trigger Controller and what an amazing little system it was! Simple install and worth every dollar I paid for it. My awning was also another investment that I wish I had made sooner. The awnings are so versatile, whether you're at a show or out on the trails. The ability to have an awning set up in minutes is such an amazing asset no matter what you're doing.
If you enjoyed this Car why not read this ONE HERE
What makes your car unique?
I think what makes the Crosstrek unique is that it was this blend of Street and Offroad. I didn't have the AT Tires so I could climb up mountains like most people. I put them on so I could navigate the rough winter road conditions with ease and not have to keep swapping my setup back and forth. No one buys aftermarket wheels to look at their car 6 months out of the year and hate how it looks, so I fixed that with tires I could run all 12 months with my rims I wanted. Because of that, I had stuff done that people didn't expect. I had side skirts from Down Force Solutions and at one point a Front Splitter. I also installed underbody glow on it, because it was something I had always wanted since I was a little kid playing Need For Speed. To some people, the mods seemed maybe random, but to me, it was just me building my vision and installing the things I wanted. Since I did that, there was no Crosstrek that I feel you can say looked exactly like mine. I wanted it to be unique, and I feel I was able to achieve that.
Spec list
Interior:
Billetworkz Rainbow Splash Shift Knob

Crosstrek Door Sill Plates

Blue Interior Footwell Illumination

Rockford Fosgate Speakers/Amplifier

CupHolderHero Cup Holder Liners (Black w/Blue)

Carbon Fiber Vent Trim

Carbon Fiber Climate Control Trim
Engine/Performance:
Invidia N1 Custom Fabricated Dual Catback Exhaust

K&N Cold Air Intake
Engine Bay Cosmetic Modifications:
Mishimoto Battery Tie-Down (Painted Peekaboo Blue)

Alternator Cover (Painted Peekaboo Blue)

Fuse Box Cover (Painted Peekaboo Blue)

Misc. True Burned Bolts by Dress Up Bolts

Misc. Compressive Tuning Black Replacement Clips
Lighting:
OneUpLighting Underbody Glow Kit

LED Guys Blue LED Interior Lights (Map/Dome/Cargo)

LED Guys LED License Plate Bulbs

LED Guys LED Reverse Bulbs

LED Guys H11 RGB LED Low beam Bulbs

LED Guys 9005 LED DRL/Highbeam Bulbs

@branden_sti

LED 3000K Yellow Foglight Bulbs

@branden_sti

Dual-Colored Switchback LED Front Turn Signal Bulbs

Nicoko 4" LED Ditch Lights w/ RGB Halo
Wheels:
225/65/R17 BF Goodrich KO2 Tires

17x7.5 Matte Black Sparco Pro Corsa Wheels

Volk Racing Rays Hex 12x1.25 Black Close Ended Lug Nuts
Exterior:
Roam Adventure Co. 6.5' Awning

Sickspeed Super Loud Horns (Painted Peekaboo Blue)

Custom Euro Plates Custom European Style License Plate

Rally Armor Mud Flaps

Front Quarter Window Black Window Louvers

Down Force Solutions Side Skirts

Custom Front Splitter

20% Front Window Tint done by Tint My Ride VT

Subaru OEM Side Window Deflectors

Thule Aeroblade Extended Crossbars

SportRack Cargo Box

Rhino-Rack 38" Wind Fairing

Subaru OEM STI Roof Spoiler

Rhino USA Black Tow Shackle

JDMFV Rear Reflector Overlays

Vvivid Vinyl Dark Smoke Tail Light Tint (Tinted by me)

Vvivid Vinyl Light Smoke Headlight Tint (Tinted by me)

Black Subaru Badges with Carbon Fiber Overlays
Carbon Fiber Wrapped Parts:
(All Carbon Fiber Wrap done by me)

(Carbon Used: Vvivid Vinyl Black Dry Carbon Fiber)

Grille Winglets

Side View Mirrors (Half Wrapped)

Side Window Deflectors

Window Pillars

Thule Extended Crossbars

Rhino-Rack 38" Wind Fairing

Side Skirts

Front Splitter

Hatch Liftgate Trim

Headlight Amber Delete
Have you done the work yourself?
I did all of the work on my Crosstrek with the exception of mounting the rims to the tires and installing and installing the exhaust, as the exhaust required custom fab work/welding that I was not equipped to do. Everything else on that car was installed by me, from small stuff to my Cold Air Intake. I did everything I could myself because I like to learn. I approach it with the attitude that you learn by doing, and if I break something, it's my car, I'll learn from it and continue to get better. At this point, I can confidently install my own parts without second-guessing myself, which is something I love. Back a few cars ago when I would install stuff, there was a hesitation that came with it. Now I'll take my brand new '20 WRX apart and not think twice, which is growth that I love and I hope everyone takes the time to learn and grow the same way. My advice to people would be to not be afraid, and that the best way to learn is to just work on your own car and look up videos if you need to in order to double-check what you're doing.
Future Plans
The Crosstrek, unfortunately, was traded in a few months ago on a 2020 WRX, but that is why I wanted to take the time to write this up and share my Crosstrek's story. That car holds a special place in my heart, because, like any enthusiast, I spent countless hours in the garage working on it, and had a lot of blood, sweat and tears into it. That car got me through a rough time in my life where I was dealing with a lot of things. I spent more money on it than I probably should've at the time, but it brought me happiness and allowed me to escape for a bit from everything I was dealing with. I think that's something that people outside the car community looking in don't understand. They don't understand that it's an escape for us. We don't drive around at all hours of the night to be annoying, we do it because it's our escape and our way to reset. At one point or another, most of us only felt free behind the wheel. We have a connection with our cars that most cannot understand. If I had kept the Crosstrek most of my future plans were minor details. Swapping out bolts for Dress Up Bolts, getting it tuned, and some small stuff. My future mods list for the WRX is endless, though, at this point.
Groups/Clubs
I wasn't part of any specific groups or clubs with the Crosstrek, but I was sponsored by my friends at @rumble.1 and they became family. I have a mindset of support those who support you. I know they would have my back if I ever needed it, and Chris has been willing to jump on custom stuff for me whenever I have asked, and I can't thank them enough. I'm a bit introverted when you first get to know me, so groups can be a bit overwhelming to me. My hope/plan is to join one with the WRX, though, once I have more done with it. Until then, I will continue to support my Rumble family, and recommend anyone who hasn't checked them out to do so! You can't ask for a brand run by a more real/amazing couple.
Looking for a new club? Have a look at the ones featured on our site HERE
The Car Scene has opened me up to so many things. It has taught me so much and I have gained so much knowledge and so many friends from it. The Subie Community really is amazing, but I have met some awesome people who drive all different vehicles and I love how we can all come together. I believe it shouldn't matter what you drive, we all have that same passion. The Car Scene also helped me to find my love/passion for photography. I started by taking photos at shows with my iPhone, I then moved to a camera my mom had, and my gf then got me a Canon Rebel SL3 which I really learned to hone my skills on. Recently, I upgraded to the mirrorless side with my Canon EOS RP and I am absolutely in love. It has been incredible to look at where I started with my cars and my photography, and where I am today. The car community is filled with people who support you and help you out when you might need to lean on someone else for knowledge about a specific part. I wouldn't be who I am today without the car scene, and it will forever be a huge part of who I am.
Dream Car?
I currently own one of my dream cars with the WRX. I reached a goal when I bought that and I am excited to see where it takes me. My ultimate goal will always be a GTR, but after the WRX I hope to get myself into an STI. For now, my dream is to build out the WRX exactly how I want it. I have a vision for this car, and I cannot wait to make it come to life.
I am a part of the Stance Auto media team
Email: killington8@gmail.com / untilnexttime.photography@gmail.com
Check out our Google News give us a Follow
What do you think of this Motor leave your comments in the comments section at the bottom of the page?
All of our Magazine can be found on Amazon, they Print and Deliver it, Stance Auto can not be held responsible for the final print, all complaints and returns must be directed to Amazon.
UKTM no: UK00003572459