Steve Chandler - Lexus IS200 1GFE turbo
The good Car enthusiasts out here are all about helping and passion for the scene.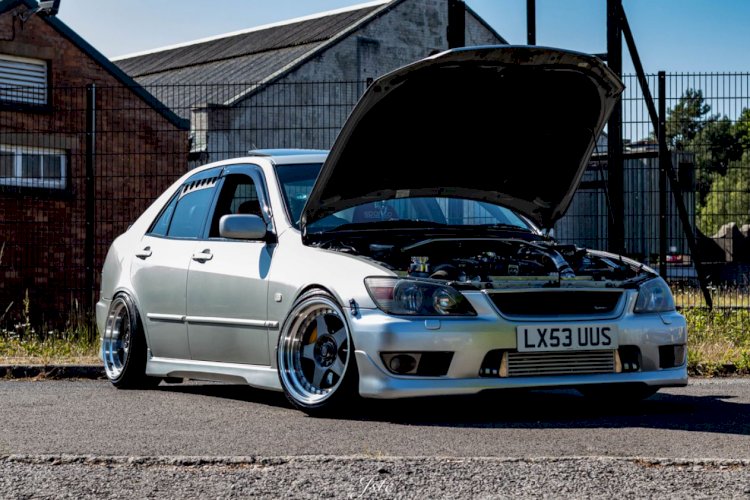 Join Stance Auto Mags Group Like our Facebook Page Follow us on Instagram
To Buy Our Printed Magazine Check out AMAZON and our MERCH STORE
More images in the slider above
This Car is also in our JDM Printed Magazine
Steve Chandler
Lexus IS200 1GFE turbo
Instagram: @Bingbloke
I'm a Design Engineer. I'm a 41-year-old petrol head – aka: "Boomer" as my kids call me, married to my wife Nicky (who still puts up with my "spannering") and have two awesome kids Ellie 14 & Hari 12.
I have always been into designing and making things, which early on progressed into my career in Engineering and then spilt into other areas like the car scene. Soon as I could drive at 17, it was my passion to modify/change and upgrade anything I could afford to at the time.
This has led me to undertake many car projects and to my latest one.
My Dad & My mates pretty much got me into cars and the car scene, The Car scene has changed for me along the years, but always stayed a positive outlet. Growing up it was about being with a group of mates, all aspiring to do the craziest modifications or most complicated mechanical fixes/upgrades.
Everyone respected each other's builds and shared in this common passion. In later years when my kids were born, my car funds suddenly switched to the "kids funds" lol. I didn't mind as my priorities changed and I let go of the car thing for a few years, just doing bits and bobs to keep me sane. When my Son was older (around 7 or 8) he too took interest in fast cars and things I did mechanically to repair people's cars or my own. This kicked off the Car scene again for me and now included my son this time around... He is now as much a petrol head as me I think, and both now enjoy cruising to car shows. Even my daughter Ellie who appears "too cool" to care about cars, secretly enjoys the attention the car brings.
My Dad was a clever Engineer who sadly passed away when I was young. As a kid, I remember he could somehow fix practically anything & he also had a passion for motorbikes, cars, mechanics & anything that he could build or go-fast in. He inspired me a lot, which also led to me being a hands-on petrol head & DIY Mechanic/engineer.
So, I currently drive this Lexus IS200 1GFE turbo.
My great mate Grant Journeaux has a blue is200, which we swapped the engine out from a standard 1GFE straight 6 to a 1UZ V8… then turbocharged it. It's insane!! It wasn't long before the JDM bug got me and I had always loved the aggressive look of the is200! I was getting one!!! I had by this time also done a few paid drift sessions & RWD was the way forward for me. So much fun!
What makes my car unique is that 90% of the modifications made to it, have been designed and made myself. There may be similar cars out there but to that point none the same! I like to be a bit different, but try and keep the is200 vibe similar. So a tasteful and interesting build I hope.
Spec of the car so Far – all work carried out by myself:
Rota Kyusha 17" alloys – 9.5J ET12 all round.

BC Racing Coilovers

Wax oiled all underneath

Polybush anti-roll bar

Drilled and vented discs all round

Front adjustable top camber arms

Rear adjustable toe arms

Painted callipers

Rolled arches

Metal sport trim and pedals.

LED Ring Rear lights and fogs (homemade)

Ducktail spoiler painted and fitted

Bonnet catches fitted and genuine Nissan GTR bonnet vents fitted.

TRD Bumper splitters and side skirts painted and fitted

Sparco Red Bucket seats with 4-point harness (home-made runners)

Harness Bar (designed and Home Made)

Pop up sat nav converted to hold my AFR and Boost gauges (designed and Homemade)

AEM AFR Gauge and Prosport Boost Gauge

TRD speedo face (home-made)

Bride gear gaiter

Solenoid fitted to fuel flap to open with electronic push button (homemade)

Starter button and ECU port installed in centre console (homemade)

Race steering wheel

Full 2.5" stainless exhaust system from turbo back (Home Made)

LSD differential

Full Turbo conversion + intercooler etc (fitted/installed Myself)

Modified Sump

HKS Turbo Timer

1zz fuel injectors

Fuel Pressure regulator and modified return/fuel pump

Det3 programmable piggyback ECU – Dyno Mapped to 8psi / 267BHP

Alloy Engine bay strut brace

D1 Oil catch can

Stainless braided hoses

Alloy power steering tank

Majority of engine bay bolts are replaced to stainless.

Alloy intake pipe and intercooler pipework with black silicone hoses.

Alloy ECU Lid (homemade)

Rear window Vents (designed and homemade).

Japspeed thick Rad

RAM Air induction kit with steel heat shield box (homemade)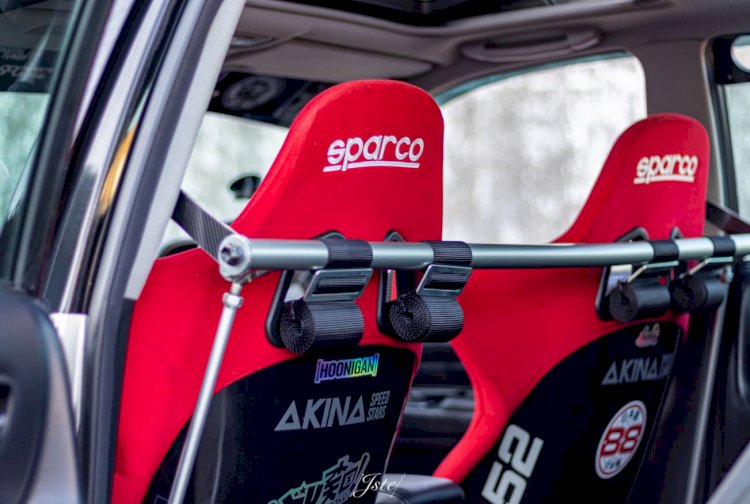 All the work on this car (fabricating / welding/painting/making/fitting, was carried out by myself.
Dyno Mapping was done by Lloyd Specialist development, @lloydspecialistdevelopmentswho is Awesome!
The Cool Photos are by an amazing photographer James (@JSTE Photography) – such talent! Also, hat off to my main guy Grant @grantjourno too, who has always been my spanner happy wingman.. (What's worse than a petrol head..? TWO CRAZY PETROL HEADS! Hahahaha)
My very first car was a Vauxhall Astra Mk2. It was a hideous colour & remember the number plate ended in KFC !!! haha, It was a good car to start practising bodywork, electrical & mechanics on when I first started out. I did a lot of bodywork repairs/painting & remember making and installing a Sub Box/boot build. My first go at a sound system. The car got written off when a Van smashed in the back of me at a junction. The rear was squashed right up apart from the indestructible bass box I made which survived lol.
I was never much for social media back then and even now I've only just joined Facebook this year lol Instagram has been a good way of posting the progress on my car and getting feedback from others. One or two have even been able to use my posts to help with their own builds which is cool.
The good Car enthusiasts out here are all about helping and passion for the scene.
Since joining Facebook I am now part of - Lex Nation- who are a great bunch and all about things Lexus! Grant introduced me some time back... If it's Lexus. Get involved!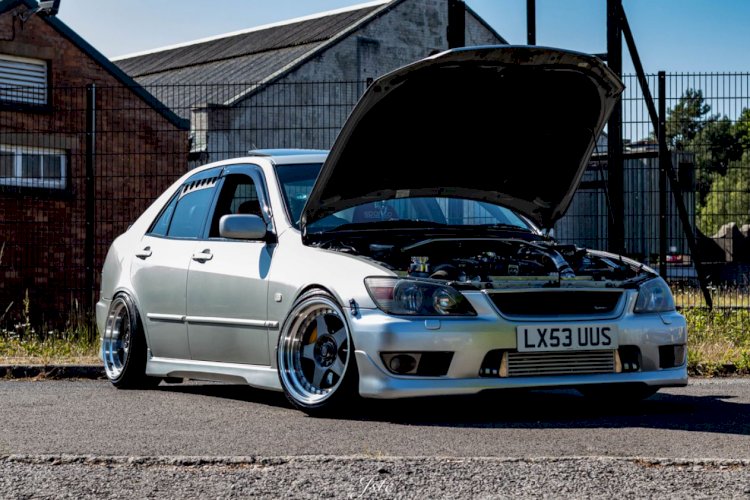 I used to do quite a few cars meets back in the day. These days I take my son and generally do more local bigger events. Castle Combe forge action / JDM combe / Spring action are the common ones I like to attend. Most of the events I have been lucky enough to sit on a club stand in the main circuit.
Dream Car… what a difficult question for a car guy lol. I guess it is a bit like fashion and depends on the occasion. In a nutshell, I would have to say, I respect the supercars out there, but for me, it's an old school Japanese Grunt and power. This would include cars from 180sx / 240sx up to the S15 & R34 skylines. My favourite car then is not specific, but most vehicles that have been built to go SIDEWAYS!!!
All the Cars in the Online Version of our Magazine will eventually appear in our Fully Printed Magazine, the cars with the most Views, appear sooner, the Magazine is sold the world over through Amazon, making it easier and faster for people around the world to get their copy. UK and Ireland use our store stanceautomag.com

If you would like your Car and Story or Your Business Featured like this, Please
Email: Admin, they would love to hear from you.
Our site contains links to third party websites. We are not responsible for the privacy policies, practices and/or content of these web sites. Their use is at your own risk.