Glen - Poppy The Subaru
Stand easy soldier now on duty with gods Angels #LestWeForget #LeeRigby 
Join Stance Auto Mags Group Like our Facebook Page Follow us on Instagram
Check out our MERCH STORE
More images in the slider above
Hi, My Name is Glen
Instagram:@PoppyTheSubaru
I am an Ambassador for a Registered Military charity called #Hull4Heroes and studying as a gas engineer from , Hull ,East Yorkshire.
I am The Proud owner of #PoppyTheSubaru what is fully airbrushed paying respects to our past, present service men and women of Great Britain but also a personal tribute to my family members who served in different regiments from world war 1 all the way through to current times in the prince of Wales own regiment, now formally known as the Yorkshire Regiment.
She also bares their names of my family on either side of her rear spoiler with pride.
How poppy come about is that I wanted to do something a little different than I normally seen at car shows , many kind hearted people raise funds for many different charities on the car scene which is of no surprise as car enthusiast around the UK and indeed the world have a big Heart when it comes to helping others and everyone knows that.
So I had my Subaru sat there and it just come to me one weekend that having her Airbrushed with something close to my Heart and that can help others is a must .....from there the military was a must and a tribute to my family who served and also lost lives on active service come to mind so that's when Poppy The subaru was destined to be Born.
I set about looking through probably what was 2000 plus images on google from many different topics of our British armed forces but it was clear not every one of them was going to make it onto the car.
I realised I needed to keep it simple, respectful but most of all wanted her to capture people's hearts and remember the sacrifices that was given to us for us to have out today and 5 years ago this November 2015 on remembrance sunday when she was unveiled at the Cenotaph in Hull she has been doing just that up and down the country ever since.
Attending many car shows around the uk and military events having proudly leading the #RideOfHonnour and the #YorkshireRideOfRemembrance every year escorting over a 1000 motorbikes , quads,scooters ,trikes around #Yorkshire to the cenotaph to lay a wreath every remembrance Sunday is something special .having support from overseas, been the pride of many clubs who support the charity and Poppy from #ScottishSubaruOwnersClub #ExtreamBHPMotorsport #TheLestWeForgetVeichelGroup #CumbrianScoobs #ScoobyFestUk you name it they have shown support.
Even 2 years ago the well established #HullMotorshow in poppy's home city of #Hull made the Event in Aid of the charity and raised a massive £4000 on the day to help the veterans and their families who the Charity Hull 4 Heroes support on a daily basis. Again people traveled from all over the uk to attend.
In fact one of the organisers simon come to me and said the public are turning up in their 100s not asking where the usual GTR or Ferrari is they wanted to meet the veterans in attendance and see the #MilitaryModified stand that had been created by myself and with the help of Scottish subaru owners club rep Paul Gills specially for the event with Subaru's, Porsche GT3, even 1 of only genuine 5 Robin reliant that was used in the #OnlyFoolsAndHorses series was on our stand , a Subaru called Dext was specially built for the event too that traveled from the isle of bute.
Local car clubs, from Hull scoobs as they was known back at the start, Hull modifiers the list is endless and , to poppy having her own following of 1500 people just on facebook and people carrying the #TeamPoppyMotorsport Stickers on their pride and Joy's means so much.
So yeah the support has been Huge and now you guys and girls of #StanceAutoMagazine can only generate that further needed support towards poppy and the charity that helps so many veterans day in day out to adapt into civilian life when leaving the armed forces.
As a charity we are finalising the plans and have been given a 22 acre site which sits on the border of The Hull city council and East Riding council domain.
This site will boast the world first of its kind #TheVeteransVillage with 42 dwellings ranging from shared accommodation to 2 bedroom houses all the way to 4 bedroom houses as a transitional project into civilian life from leaving the armed forces.
It will have a horticultural centre, learning and development centre, garden centre where fresh produce grown by our veterans will be on sale to the public , a nice welcome centre for the wider public to come and engage with everyone on site and have a nice cup of tea or coffee and perhaps something to eat , a nature reserve where local schools, colleges, and again the community can come and visit and take advantage of the facilities available the list is endless what will be generated on the site and building will start in 2021.
Now back onto poppy she is far from standard however she doesn't not hide away that usual TD04 turbo that many think is under that bonnet.
She is as many say the Dreaded T reg 1999 sport
that needs a starting handle to get her going lol,
but that sport engine has taken quite a transformation in simplicity and catches many people off guard .
She runs bigger injectors, has a fuel pressure regulator that is optimised at 4 bar on the fuel pressure itself , has unequal headers on the manifold, that runs a 3inch pipe through to a ninja back box with a resonator in the middle to just keep that nice bubble of a flat 4, she runs a pro drive ECU that also has been chipped , doesn't make much BHP but hey not everything revolves around the ponies you can produce right?
However she produces around 200bhp and many of the lads will tell you she will happily leave a wrx off a standing start giving them a sweat to hit 3rd gear in full boost to pull level again and stop them having a nervous breakdown but in turn gives me the right to say at the finish line.....dude I almost had you
Her cold air intake runs from a carbon dynamic Airbox straight from the offside front wing. Air con is none existent because who needs fresh air on a Hot summer's day right.
She has custom samco hoses in blue,
lightened flywheel ,
cosworth gaskets,
Updated assin water pump ,
and timing belts along with auxiliary belts and pulleys.
Custom metallic blue coolant overflow bottle and the same with the oil catch can which is finished in a moonlight metallic blue.
Poppy rides on GoodYear Eagle f1s on a 18"Gun metal bola rim but again as many know she always has new shoes and these are just one of many pairs she sports through the show seasons.
She runs on standard shocks with a 30mm lowering spring now as the BC coilovers did not do much help for ones back travelling the country to many events lol so the suspension is no frills but my god is it comfy to drive.
She has two 11" DVD screens in the rear to keep my little sons occupied on them trips and with a standard double din pioneer screen in the front for them important road trip tunes we all crave. Her interior is a factory red leather which only 12 sets was ever produced as an optional extra costing an eye watering extra 1700 at the time.
Poppys shell design consist of the near side paying respects to our #RoyalAirForce and #RoyalNavy the legendary #Spitfire flying over the white cliffs of Dover with a #Hurricane and spitfire hunting a #messerschmitt Just behind. In the centre we Have the Euro Typhoon and to the rear door we have the pride of the fleet #AircraftCarrier #HmsQueenElizabeth with a #35jet taking off from her bow.
To the front wing we have a young looking #WinstonChurchill with a Lancaster flying in the background and a spitfire to his left with his famous words.
We will never surrender.
To the offside we have the desert storm theme which consists of a #FoxHound patrol vehicle and a ww1 tank. In the centre we have a communication troop landing two chinooks in the background.
On the rear boot we have a special piece which is dedicated to the #NormandyLandings it's a view from the landing craft in black and white which depicts the landing doors opening the craft as they approach the beach to the soldiers covering their eyes as they see the flashes of light before them.
I need say nothing else on that these boys become men in the space of 5 minutes but for me this is a real sense of why we must keep that promise of the #LestWeForget I'm sure many will agree.
Now to the bonnet we have a #LancasterBomber flying above the famous dam with a field of poppies at the bottom with the 3 brothers in arms silhouettes.The one in the middle is clearly injured whilst his brothers carrying him signifying pride , passion and belief. The roof depicts a very special soldier many of us know as Riggers.
It's of #Drummer #LeeRigby we have a close connection to Lee and his family and at times working alongside the #TheLeeRigbyFoundation and the charity car #RiggersTheSubaru is a regular occurrence but the image on the roof holds sentimental values for both us and lyn , ian and his family.
We attended a family event unknown to the family at the time as a surprise, they hold the family day in Middleton Lee's hometown every year where the image was flown above poppy on a beautiful hand made flag on a pole from poppy as we entered the show alongside to park up with #ManchesterSubaruOwnersClub.
It is the same image on the roof that is on the flag that is framed and mounted in the family home. We had this done as a gift for lyn on mother's day a couple of years back and to keep that promise he will not be forgotten.
Stand easy soldier now on duty with gods Angels #LestWeForget #LeeRigby
And we come to the rear quarters where they are of the Hull 4 Heroe logo depicting silhouettes of snipers and troops ascending from an Apache helicopter. To the left of the image has a pilot walking towards his aircraft to depart. I think we all get the just and it means so much to so many and I hope she brings the same to many others to come . I may be the owner on the V5 but poppy belongs to everyone and she is and always will be the people's car.
A special thank you to the editors at StanceAuto for this write up , also #SubaruPartsHull #A1s mark and simon sands for all the hard work they have done for poppy over the years at times dropping other work to make poppy fit and ready for shows and events at such short notice.
For further information please search @PoppyTheSubaru on Twitter, facebook and insta for regular updates from the team at #Hull4Heroes #www.Hull4Heores.org and Hull 4 heroes on Twitter facebook and insta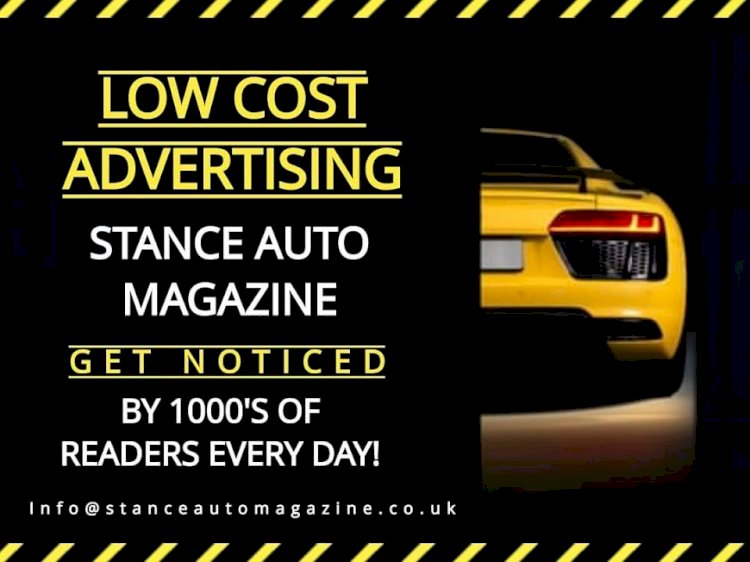 If you would like your Car and Story or Your Business Featured like this, Please
Email: Carla, Shannon, Andz or Admin, they would love to hear from you.
Our site contains links to third party websites. We are not responsible for the privacy policies, practices and/or content of these web sites. Their use is at your own risk.