Dean Spurle - Audi A3 8L and B5 S4
At the end of 2018 I got offered to get an Audi A3 8L, it was quite cheap and thought I'd spend a bit of time on it and do it up to a point where I could show it. 
Join Stance Auto Mags Group Like our Facebook Page Follow us on Instagram
Check out our MERCH STORE
More images in the slider above
I am Dean Spurle
I'm 26 years old, from Yeovil, Somerset.
Instagram:@s4_deano
Audi A3 8L and B5 S4
I have always been into cars and think my obsession is currently at its peak. It all started off in a Corsa C, which was my first car, I made a few modifications to it but was limited with my knowledge and didn't really know what I was doing. I recall adding the Old Halfords ripspeed air filter and a cherry bomb exhaust, at the time I thought it was the best thing ever. Little did I know this was the start of a great passion.
After passing my test and entering the car scene I also started a new job and met a now good friend, Darren Walker. Darren (@dazz27) had a bagged Volkswagen Lupo, that he still has to this day. Darren was taking his car to all sorts of shows: edition38, players, ultimate dubs etc. After spending time with Darren and being around his car at shows I knew that my small car obsession was a shared passion and something I wanted to get into seriously. I got myself a Volkswagen Bora TDI. Initially I started modifying it. It had a full R line kit, coil overs, wheels remap and a Dark Side intercooler. All usual stuff, following that I had a few other cars, three mk3 Golfs, a Mk4 Golf Estate, V5, a Jag, a Mk 2 Ibiza, and a couple of others.
At the end of 2018 I got offered to get an Audi A3 8L, it was quite cheap and thought I'd spend a bit of time on it and do it up to a point where I could show it.
The Audi A3 started off completely standard, I started making changes and fitted a S3 front bumper, S3 wings, S3 rear spoiler, and S3 rear bumper. I got my dad to paint them all up for me, he is not a painter by trade but he's pretty handy with a spray gun. After fitting all of those parts I then got a set kW coilovers and the verein club one wheels.
At this point I was quite happy with how it looked but felt there was something missing. During this time I had also been to a couple track days, not actually racing myself but to watching other cars, and decided that I wanted to go down the route of a road legal track car.
From this I went on the search for a set of Cobra Evo 2 bucket seats with TRS harnesses, nardi steering wheel, a boss kit short shifter, and a harness bar. I loved the car, how it drove and looked but when Darren showed me a few designs of the old Audi touring car I was desperate to come up with a concept for the A3. We came up with a design and went to our local vinyl shop sign workshop, where we then spent the whole weekend adding the design to the car, exactly how I wanted it.
We put all the stickers where I wanted them and it turned out perfect, exceeding my expectations. During this time period I also got myself a half cage which, again was painted by us, we fitted it and also stripped the full back of the car out, including all the sound Denton and spare wheel.
After these changes were made, I took the car to its 1st show, edition38, and as I had hoped, it got quite a bit of attention as it stood out and was so unique. After edition38 I started having some running problems with it, annoyingly it kept overheating. The plan was to swap the engine out and put a new one in but never got round to doing this due to other side projects.
This is when I got my B5 S4. One day I was just mindlessly scrolling through Facebook Marketplace and saw the S4 pop up, this has been one of my dream cars since I can remember. I know it's not a typical dream car like a Ferrari or lambo but I've always had a soft spot for the B5 S4, the sound of them, the look of them, everything! I decided to go and have a look at the car right away and fortunately everything checked out. Without hesitation I made a purchase- I had bought my dream car!
Since getting the car I have made a few modifications and emptied my wallet a fair few times!
I've replaced BC racing coilovers,
H&R front and rear anti-roll bars,
brembo 18z brakes with Mercedes ml55 discs up front.
The wheels are still the ones that were fitted when I brought it, although the plan is to change them.
The engine is 2.7 v6 Bi-Turbo it sounds incredible and has plenty of power and grip thanks to Audi's quattro all-wheel drive system.
Engine wise i've changed the Wagner side mount intercoolers with carbon fibre shroud,
full exhaust system including decat,

034 Silicone Hose kit,

034 oversized Bi pipes,

034 short shifter,

RS4 injectors,
RS4 clutch and a BMC panel filter with the airbox mod I got it mapped at Stage 2 switch gave me 352bhp with launch control and no lift shift. I am planning on going k04 for with this just need to get a few more things first RS4 throttle body 4 bar Map sensor and a few other bits.
The exterior itself has not had too much done to it, I put maxton designs front splitter and side skirt extensions, the rear spats are from eBay as I thought the maxton one was too aggressive. It also has a genuine RS4 spoiler and the bottom grills on the front bumper have been cut out and honeycombed to match the top Grill on bonnet, status auto detailing sunstrip, set of gel pressed plates and that is about it on the outside.
Interior is pretty standard full leathers all round Bose sound system 034 weighted gear knob and AEM boost gauge.
I am really happy with the condition of the car for the age seeing as it was made in 1999 the paintwork is really good and as always kept clean and polished buy Jack Norris at status detailing.
Future plans for the car as I said before will be going k04 at some point also will be looking to get a set of wing backs as well for this interior and also a different set of wheels once I find some that I like and will clear the front brakes the rear brakes will be getting upgraded to at some point to Twin callipers.
I would like to say thanks to Darren Walker for getting me into the car scene and continuing to help me with the builds and also to Jack Norris at status designs always keeping the car clean and helping me out when I need it. And finally sorry to my bank account….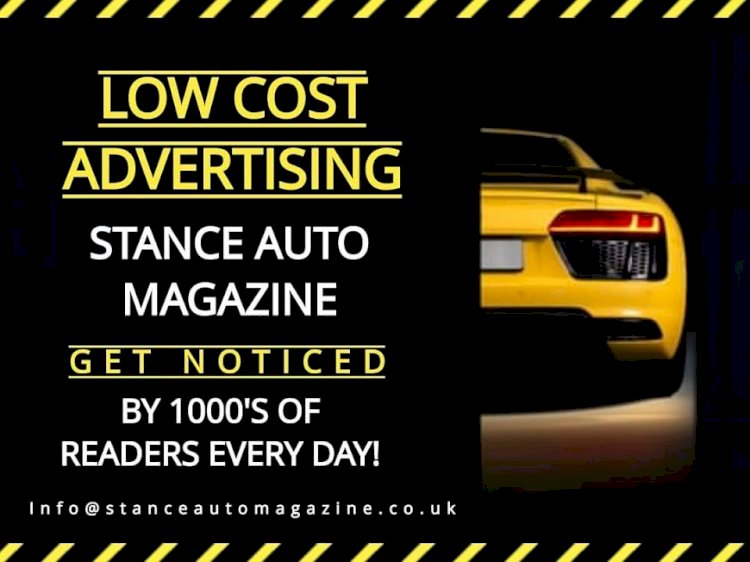 If you would like your Car and Story or Your Business Featured like this, Please
Email: Carla, Shannon, Andz or Admin, they would love to hear from you.
Our site contains links to third party websites. We are not responsible for the privacy policies, practices and/or content of these web sites. Their use is at your own risk.