Justin Arthur - Acura TLX
My TLX stands out because there really aren't that many on the road and when you do see them they are hardly ever modified.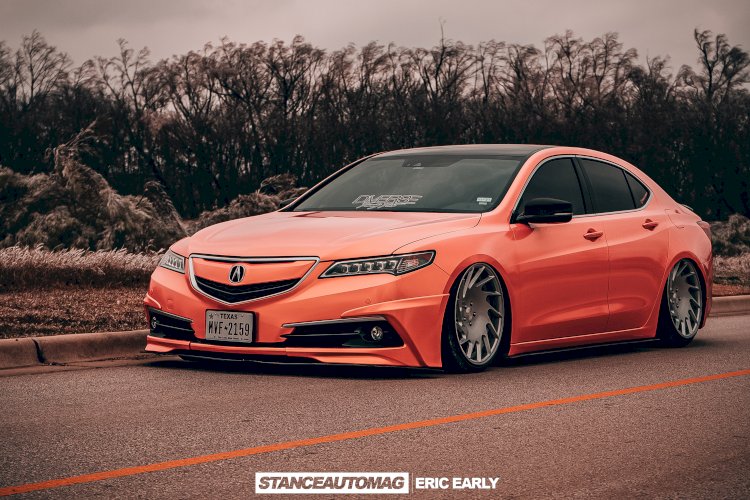 These are all of our Linx, please check below for the right link to contact, Join or Follow  us:
All of our Useful LinX can be found HERE.
More Images in Slider Above
Name: Justin Arthur 
Car Model: Acura TLX 
Instagram: @Coral.Baskin 
Photographer: Eric Early / @momentummediaatx
I'm Justin, currently living in Austin, TX and I am an IT administrator for a commercial real estate company. I moved to Austin a little over a year ago from Oklahoma City, Oklahoma where I had lived for the last 15 years and really got into the car scene there. I have always loved cars since the very first time I played a Need for Speed game and really got into after the NFS Underground series. Once I started modifying my first car (99 Plymouth Neon lol) it instantly became an addiction. I have had lots of cars over the years but currently, my car of choice is a 2015 Acura TLX V6 Advance.
I am in a pretty well-known stance scene car crew Team DiVerse which started in Oklahoma in 2011 and the club has inspired me to always be different and to have a very high-quality build. I have always liked the older Acura Integras, Preludes and TL type-s so when the TLX launched in 2015 with those awesome jewel eye headlights I instantly saw the potential of the car. The first few years I had it really didn't grab many people's attention but as I added more and more mods it became the attention grabber it is today. I wanted it to really stand out so I went with some limited edition Vossen wheels and a colour that screams look at me! I wasn't really a fan of pink or orange but when I saw the Coral Peach colour option from Teckwrap it just said dude send it! I love taking my car to all kinds of meets and overall I get a ton of attention and compliments from up and coming younger kids in the scene all the way to supercar owners because of the uniqueness of the build. I couldn't be happier with how the car has turned out thus far. 
The car scene has been an absolutely huge part of my life. I have made lifelong friends and it has connected me with some of the best people I know. Moving down to Austin I did not know anyone and our car club didn't have any other members here but I quickly made friends by just showing up to local meets. My car is always a conversation starter and I love to talk to other people about ideas for their own builds and happy to share any advice I can about my experience with different products. With Team DiVerse our motto is family first and that is exactly how we treat each other. Always helping and always growing not only with our cars but as humans.
If anyone is interested in getting a TLX I highly recommend the car as it has been very reliable and overall easy to modify even though there are limited options for the car. It is a fairly heavy vehicle so I would go with the v6 option (no longer available) or when the new TLX type-s 3.0t launches grab that one! The biggest advice is always to start with suspension first! It will help immensely with your wheel options and fitment and fitment is key. 
My TLX stands out because there really aren't that many on the road and when you do see them they are hardly ever modified. Honda/Acura people always absolutely love my TLX because of the overall aesthetic I have achieved with the brightly coloured gloss wrap, unique wheels and my custom circuit board hydro dipped engine bay.
Spec List: 
Engine 
3.5L/290-hp/267-lb-ft SOHC 24-valve V-6 
Engine bay LED lighting remote controlled 
Custom hydro dipped engine bay in Techtron silver circuit board. 
Exterior
Teckwrap Gloss Coral peach vinyl wrap 
Custom black trunk spoiler 
Gloss back vinyl wrapped roof 
Custom LED Acura jewel eye headlights with 200 colour shifting modes 
Interior
Advance trim level to include Dual-screen infotainment 
Woodgrain 
Heated and cooled premium leather seats 
Acura chrome kickplates 
Custom Acura symbol door lighting 
Airlift 3P controller. 
Carbon Fiber trim 
Diamond Stitched Leather floormats 
Wheels 
Vossen VLE-1 Limited Edition
20x10.5 Square +25
Suspension
 Airlift performance struts with Airlift 3p 
Dual Viair 444c compressors 
I and various members did 90% of the work on this car were done by me and various members from Team DiVerse. We all help each other out, and everyone knows different things, so it's a great collaboration. The engine bay Hydro dip was done by OKC Hyrdrographics in Oklahoma City, OK. The wrap was installed by Cloaked LLC in Austin, TX. 
All the Cars in the Online Version of our Magazine will eventually appear in our Fully Printed Magazine, the cars with the most Views, appear sooner, the Magazine is sold the world over through Amazon, making it easier and faster for people around the world to get their copy. UK and Ireland use our store stanceautomag.com

If you would like your Car and Story or Your Business Featured like this, Please
Email: Carla,  Shannon, Andz or Admin, they would love to hear from you.