Matthew Sheridan - 2011 Mitsubishi Lancer Evolution X MR
I was always a big fan of JDM from a young age playing racing games from 4 years old on the Nintendo 64 and I especially loved the Evolution VI-X.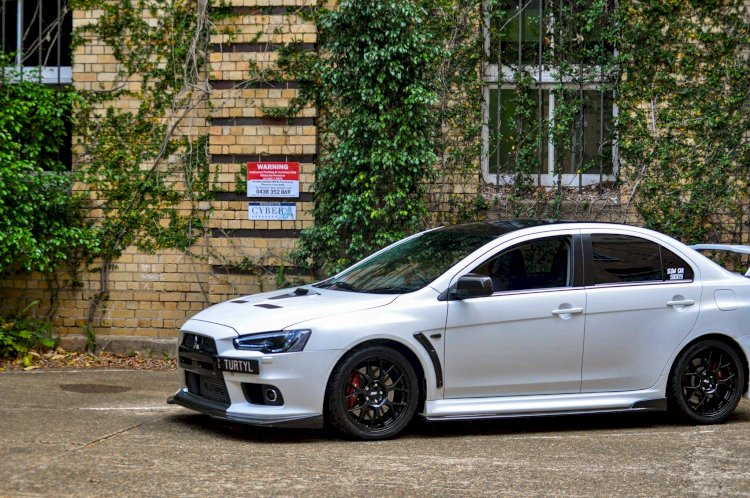 Please join the site and Facebook group below, this helps us find more HOT cars, Thanks.
Hi all,
My name is Matthew Sheridan, aged 25 I work as an Electronics Technician, residing in Brisbane Australia.
Instagram: @turtyl_evox
I currently drive a 2011 Mitsubishi Lancer Evolution X MR and I bloody love it!
What got me into the car scene? Funny enough, this car specifically got me into the actual scene however, I was always a big fan of JDM from a young age playing racing games from 4 years old on the Nintendo 64 and I especially loved the Evolution VI-X.
In terms of car stats, the Lancer is currently pulling a healthy 286 BHP and doing an incredible 0-60 in 4.5 seconds!!
Full Spec list:
Invidia Turbo Back Dual N1 Ti Tip Straight Cut Suit Exhaust
Plazmaman Intercooling + Piping Kit (Upper and Lower Piping) (Upper Piping Powder Coated White)
3Port Boost Solenoid
Stock BBS Forged Rims Custom Painted Gloss Black
Tein Flex Z Coil overs
Whiteline Front and Rear 27mm Sway Bar with Links
Rear Spats Painted Pearl White
Carbon Fibre Side Skirts
Carbon Fibre Front Lip
Carbon Fibre Fender Vents
Carbon Fibre Hood Scoop
Carbon Fibre Hood Vents
Carbon Fibre Mirror Covers
Ralliart Carbon Fibre Style Front Bumper Panel
Hella Horns – White
VLAND Smoked/Blacked out Headlights
Depo Smoked/Blacked out Tail Lights
Smoked Side Indicators
Smoked LED Rear Reflectors
Roof Wrapped 3M Gloss Black
Sony XAV-AX5000 Apple Car Play Android Auto Head Unit with adaptor for Rockford Fosgate Sound System
STMTuned Power Steering reservoir
Driven Fabrication Catch Can/Coolant Reservoir
Aluminium Valve Cover Powder Coated White
RAY57020B Oil Cap Ralliart Edition
Evolution X Design EXD Firewall Heat Shield V2 Black
Evolution X Design Coil Cover Black
Evolution X Design Tubular Manifold Heat Deflector Black
Evolution X Design Mivec Solenoid Heat Shield Black
Evolution X Design EXD Brake Reservoir Heat Shield Black
Evolution X Design EXD Cam Angle Sensor Heat Shield Black
Mishimoto Radiator Cap 1.3 Bar
GFB Blow Off Valve
Cobb Air intake Pipe 2.5"
Cobb SF Intake + Air box
I currently have the following parts sitting in my garage at this current time and I will be looking to have these fitted in the near future. Once installed, I will ensure that the article gets updated to reflect same:
Radium Fuel Rail with Fittings
Turbosmart Fuel Pressure Regulator (FPR-800)
TOG Tubular Exhaust Manifold
With regards to the work undertaken on the car, apart from the Exhaust, intercooler and coil overs, I have put everything else on the car with the help from a few mates. I knew basically nothing about the mechanical side of cars previous to owning this car. To be honest I didn't even know how to service a car myself. I wouldn't say I can rebuild an entire motor now but I definitely feel more confident with tinkering and installing more parts myself. Just have to give it a go!
'AKRacing' is the tuner/mechanic to go to for all Ralliarts and Evos in Brisbane. They are very well known to be one of the best, if not the very best servicer/tuner for SSTs in not just Brisbane but Australia. I have 100% faith in their abilities to maintain/upgrade and install any parts that are way out of my skill range.
I also want to shoutout to two Brisbane Evo X Youtubers who have posted and continue to post really informative videos of their own Evo X on modifications and general maintenance.
Jackson Strain: https://www.youtube.com/channel/UCjvX2Dti3nLYGsg1FKWnJwg
Instagram @phantom_evox_ Juzzie Evo X: @juzzieevox
AK Racing Website:
The Lancer was not my first car, it is in fact my 3rd car! The first car I owned was a 2006 Toyota Corolla Hatch and then a 2011 Suzuki Grand Vitara Sport.
I still plan on upgrading the SST and giving it a proper tune with a new turbo and injectors to make it more powerful and reliable. AK Racing have a custom 10 Plate SST package available which I will be getting next however it isn't cheap but that is the cost to upgrade the SST because of how complex it is. After that I'd be looking at a flex tune because there isn't many e85 petrol stations in my area so I have the option of using 98 fuel still.
I am apart of @QLDCJOwners and @StreetSyndicate. I am also the state lead for Queensland for the international car group @SlowCarSociety.
Facebook Groups:
I enjoy doing show and shines which is mostly what I would prefer to do even though I could take the car to the track. Ultimately I want to take care of the car and enjoy it for a long time to come so reliability is number 1 priority.
QLDCJOwners conduct a meet once a month where Mitsubishi CJ Lancer Owners gather from around South East Queensland and catch up for the day cruising around and grabbing some food. Always a great day to see other people just as invested and love their car as much as me.
Street Syndicate is a new group I have started catching up with. A lot of fun to be around and seeing different cars other than Lancers is good as well because each car is unique and its really awesome to see what people do to their cars to make them their own.
I've always loved the Evo X however the Koenigsegg CCX is my dream car from a young age because of how futuristic it looked back in the day compared to a Ferrari or a Lambo. It just stood out to me from a young age.
It was by pure chance I bought this Evo. I met the previous owner on a course and found out he was thinking about selling his Evo. I said to him in that exact moment "Give me a month to sell my Vitara and I will buy the Evo." He agreed but he was from Sydney which is 900km from Brisbane.
He was nice enough to leave the Evo in Brisbane in a secure carpark to avoid putting more KM on it until I was able to sell the car. 4 Weeks later on a Tuesday I did have a bit of interest on the Vitara but no solid buyers. The previous owner messaged me he was coming to Brisbane and was flying out Friday morning to Bali for a 3-week holiday with his girlfriend and I'll be honest, I was pretty stressed to sell my car. Thursday afternoon rolls around, its 2pm and I get a phone call from one of the people interested in my Vitara. They agreed to purchase and pick it up within the hour. 2 hours after that, I was meeting with my mate to buy the Evo and drove away with it that night.
Thank you for reading my story and don't forget to follow us on Instagram.
If you would like your Car or Business Featured like this, Please
Email: CARLA, SHANNON, ANDZ or ADMIN, they would love to hear from you.
Our site contains links to third party websites. We are not responsible for the privacy policies, practices and/or content of these web sites. Their use is at your own risk.