Kevin Tweedy 97 Honda Prelude
During my time in school I got a job at a local Toyota dealership and have worked my way up to a Toyota master technician over the past 11 years. I've had plenty of hobbies over the years but the main one that stuck was cars. I love the outdoors, camping, hiking, kayaking, anything outside
97 Honda Prelude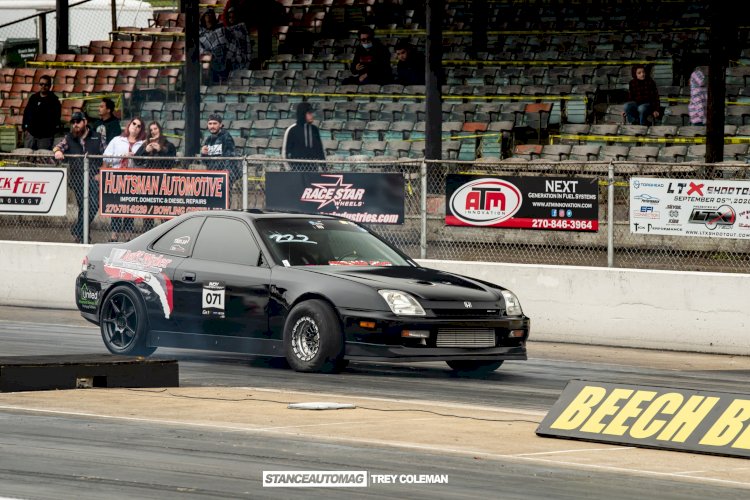 Join Our Stance Auto Mags Group, Give Our Facebook Page a Like, and Follow us on Instagram
More images are in the slider above, These Photographs are supplied by the Photographer, check their Link for Bookings.
Order the Printed Magazine HERE!!
Kevin Tweedy
97 Honda Prelude
Instagram: @h22preludedude
Photographer: @trey.coleman.photos
I am 31 years old from the small town of Georgetown in southern Indiana about 25 min outside of Louisville Kentucky. I currently live in the Charlestown/Jeffersonville area of southern Indiana a lot closer to Louisville. I went to school at Vincennes university and got my associates degree in automotive technology. During my time in school, I got a job at a local Toyota dealership and have worked my way up to a Toyota master technician over the past 11 years. I've had plenty of hobbies over the years but the main one that stuck was cars. I love the outdoors, camping, hiking, kayaking, anything outside. I used to skate pretty often when I was younger and snowboard when I can. I've always been fascinated with reptiles and had a large collection of boa constrictors at one point. Currently, I have been collecting bourbon and making new friends in that community.
What got you into cars?
I'd have to say the main thing that got me interested in cars and showed me that they could be modified and made to be something out of this world would be the same as most my age, the movie Fast and the furious! I was 10 or 11 when it came to theatres and I remember my grandma taking us to see it and I just blew my young impressionable mind haha. After that, I was obsessed with all the need for speed games. I think my favourite out of all of them was Need for Speed Underground 2. I couldn't begin to imagine the number of hours I had invested in that game. There was so much freedom to customize whatever vehicle you wanted
Why did you choose this Car?
It isn't so easy to say why I picked this car to modify. Well, then again it is... It was the only car I had, it was the first car I've ever owned. I remember car shopping when I was around 15, you know, looking through Autotrader from the local grocery store. That's how we had to do it back in the good old days. I always liked being different so what better platform than a honda prelude
What made you Customize this car?
Originally I wasn't interested in performance. I wanted something that looked crazy and flashy for the attention I would receive. Some of the first things I did to the car were those neon tubes I put under my seats and dash, new radio and some subs. At one point I had laid down my back seats and had 4 12" subs in that little car haha.
If you enjoyed this Car why not read this ONE HERE
She was a blast cruising around in! But then again coming from a smaller county town the car scene at school was mainly muscle cars (fox body mustangs). All everyone cared about was going fast. So I jumped on board. I spent a lot of time on the car domain which you can probably still find on my profile if you search kttskater90 I saw all different types of preludes there, show cars, track cars and drag cars. From my surroundings I wanted a drag car. Something that would keep the v8 guys from running their mouth.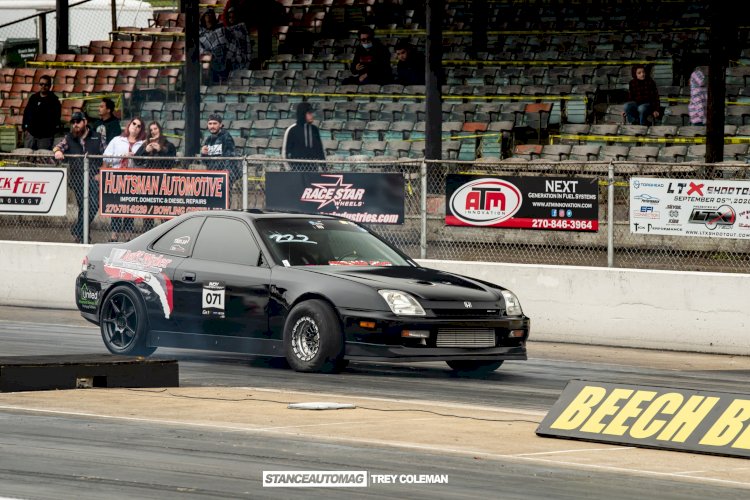 What does it feel like owning this car?
The car wasn't put together overnight. It's had years and years of changes and tweaks to get where it is. There is an insane amount of pride I feel for this car. I'm not someone that likes to give up on their goals and it's taught me that perseverance pays off. I'm humbled by all of the different people that compliment me on the car. Older guys, import guys, muscle guys, they can tell it wasn't easy and respect the work I've invested. When the car is running and I do get to enjoy it, it's so high! riding around in a dream. I love the attention the car gets. It makes me feel good. And 40 psi is a wild adrenaline rush that can't be beaten!
What do you think makes your car unique?
The main thing that is unique about the car is the chassis itself. The honda prelude isn't a popular platform to modify for speed. It's one of the only preludes currently running 1100hp and a dogbox straight-cut transmission on the street. Another visual thing that makes it unique is the custom fabricated headlight intake, which I call the eyeball
SPEC LIST
Ecu-
Haltech Elite 1500
1088 hp and 716 ft-lbs at 43psi (has seen around 50psi off dyno)
Engine-
Golden Eagle sleeved and copper O-ring h22a4 block with Aries 10.5:1 pistons with ceramic coated skirts and Manley turbo tuff rods
Arp head and main studs
4 piston CNC ported cylinder head with ferrea valves, springs and retainers
Skunk2 Pro2 cams
Kstuned balance shaft delete kit, timing belt tensioner, and cam gear/trigger kit
Ati crank pulley
Autosports Engineering dual injector custom lower intake manifold with skunk2 ultra top hat and 1L spacer
90mm Ross Throttle Body
Custom t4 top mount turbo manifold with dual tial 44mm wastegates
Precision Gen2 7275 BB turbo
Custom 6" thick intercooler
Innovative mount motor mounts with custom solid aluminium inserts
Transmission-
Few H22 Crew billet AWD bell housing (currently running Fwd)
GearX H series Dogbox gear set.
Mfactory Helical LSD
Driveshaft Shop 5.9 level axles with upgraded hubs
Driveshaft shop intermediate shaft
Competition Clutch Twin Disk Clutch and Flywheel
Custom CNC mid-plate brace that bolts to traction bar
Fuel-
Ignite red race fuel which is 114 octane and 90% ethanol
ID1050 primary injectors and ID2200 secondary injectors
Sumped factory gas tank
Weldon 2035 external fuel pump
Weldon fuel pressure regulator
Radium fuel pulse damper
-10 AN feed lines and -8 AN return
Track Wheels-
Belak series2 13x9 single bead lock with titanium hardware
M&H slick 24.5x9x13
VMS Racing BLACK HAWK skinnies 15x3.5"
M&H front runner 3.6-24x15
Street Wheels-
Enkei TFR 17x9 +40 5x114.3 in Gunmetal Front and Rear
Toyo Proxes RR 255-40-17
Suspension-
Koni yellow adjustable shocks with ground control Coilover sleeves
Eibach springs with custom spring rates
Energy suspension Poly bushings where available
Innovative mounts traction bar with custom 100lbs weight plate welded to the front
Adjustable upper ball joints
Megan racing rear toe bars
Interior-
Completely gutted cabin
10 point roll cage
AIM digital dash
2 Kirkey aluminium racing seats
Racequip 6 point harness
Carbon fibre sunroof plug
Have you done the work yourself?
From the very beginning of owning the car when something would happen to the car or I would mess something up or do something wrong on it I was the only one that would work on it and fix it. I couldn't afford to pay anyone to work on it so I had to learn and teach myself through trial and error. Without this car, I wouldn't be where I am in life today being a successful mechanic at a Toyota dealership. I've rebuilt a few engines myself, manual swapped the car and had to rebuild countless manual transmissions.
As for how the car currently is, the block was assembled by a golden eagle, the head was assembled by 4 pistons and I put everything else together myself besides any welding. I've had to have a few others do a lot of welding and custom fabrication on the car. Deff wants to give a huge shout out to Wade Hill and Eric Sanchez they have been The main contributors to the fabrication of the car. The one other thing I don't do is tune the car. Dynosty has helped with the car for many years and couldn't thank them enough for all of the hard work they have invested. The car currently gets tuned at Haltech in Lexington Ky
Are there future plans?
As a race car there are always things that I plan to do, change, and improve! The most significant thing coming up in the future will be converting to AWD. S1built just released an AWD rear trailing arm subframe kit to fit on the 5th gen prelude and that's high up on my list. I already have we go diff, k series transfer case with ppg gears and wago viscous coupler. With that being said the fuel tank will have to be removed and a custom fuel cell made so that a drive shaft can be utilized.
Advice/Tips
I love the prelude and anyone that owns one will tell you they are special. As far as performance modifications it isn't the best chassis unfortunately. They are heavy cars and honestly not a whole lot of aftermarket support. So many things I've gotten for the cars I had to be part of group buys and have other things modified to fit or custom made altogether. If you do end up making some good power the stock manual transmissions are pretty weak. I've probably broken 20 of them over the years ripping around on the street. Definitely look into the Gearx synchro gear set
Looking for a new club? Have a look at the ones featured on our site HERE
Groups/Club
First I want to share my personal YouTube account. I'm trying to get a good following so check it out and follow along with the progress of this wild car. Can also be found by searching H22 Prelude Dude
https://youtube.com/user/ktt2009
Adding some links for 2 of my main sponsors who have helped me acquire some parts
https://wyler.com/
https://www.teamufg.com/
One of the main prelude groups that are very supportive
https://www.facebook.com/groups/117491091732243
What did the car scene bring you?
The car scene has brought me tons of new friends and a sense of community, local and nationally. I get to talk to and educate people from all over the world. It's a small niche of people that own preludes and we all pretty much know each other and can usually always count on one another for help or advice
Dream Car
I'm driving it
Pretty serious tho.. as like a killer daily probably a white right-hand drive type S 5th gen prelude.
What do you think? leave your comments in the comments section at the bottom of the page
'The future is bright as long as we can still Smell the Fumes'
Check out our Google News give us a Follow
All of our Magazine can be found on Amazon, they Print and Deliver worldwide, Stance Auto can not be held responsible for the final print, all complaints and returns must be directed to Amazon.
UKTM no: UK00003572459