Andrew Williams - R34 super widebody Skyline
The result of all the engine work that's been carried out is 726bhp on low boost and over 900bhp on high boost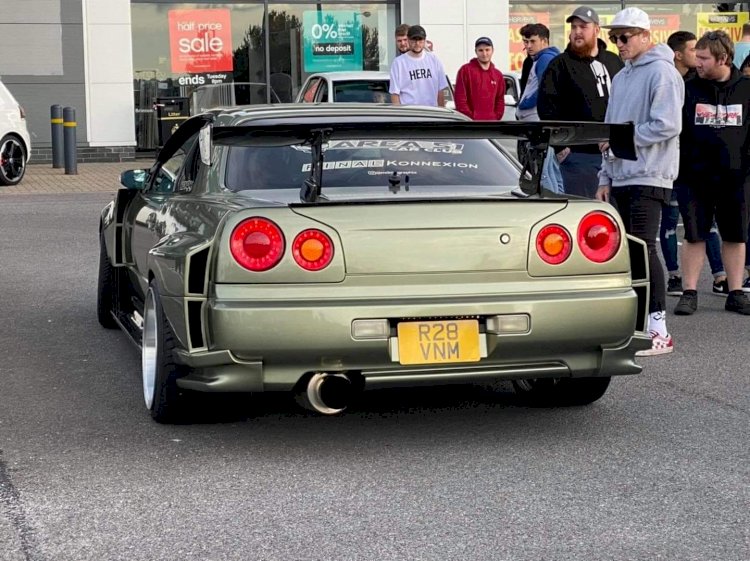 Join Stance Auto Mags Group Like our Facebook Page Follow us on Instagram
To Buy Our Printed Magazine Check out AMAZON and our MERCH STORE
More images in the slider above
Hiya my name is Andrew Williams,
Instagram @the_venom_r34
R34 super widebody Skyline
I'm 42 years old and I live in Port Talbot, South Wales. I'm unable to work due to ill health.
At 17 I got my licence and my first car was 1.8 injection mk2 cavalier, at this time I worked in a local sports centre and I met a guy by the name of John Powell who drove an absolutely beautiful mk4 escort van with a full rs body kit and an rs turbo engine, we became good friends and before I knew it I was looking at my first set of alloy wheels. So it was the influence of John and his van that gave me the bug that would cost me thousands over the years.
I also grew up in an environment where my parents loved their cars, they mainly had little MG sports cars and one car that really sticks in my memory is my father's bright orange cortina 2200e which my father put a bubble kit on, chrome wheels and radial tyres and even today in their late 70's they are still into cars.
Currently, I own an R34 super widebody Skyline that's known as Venom. I imported the car via a company called @japwestmods 5 years ago and when it arrived in the country it was all black and now it's a millennium jade. The car started off as a black completely stock R34 GTT auto and a company called Final Konnexion bought the vehicle to build it as a demo car for their company and made its debut at Tokyo Auto Salon. They completely changed the look of the car, they replaced the rear quarters and wings with custom carbon fibre overfenders, they created a Frankenstein bumper by blending an east bear and s-tune bumper together to compensate for the width on the body kit that was fitted, slammed it with Tien coil overs and custom made 20inch AME shallen wheels which were originally 9.5j front and 10.5j rear but ended up being 10.5jfront and 11.5j rear. The final touch was wrapping the car gloss white.
Joy's importing a car, the car didn't come with much paperwork and what I did have was all in Japanese. I've done a lot of research on the car to find out who did what and when however I was unable to find out who completed the engine conversion. I'm assuming that the build had something to do with Brain Crower as every part of the engine internals are BC.
The result of all the engine work that's been carried out is 726bhp on low boost and over 900bhp on high boost When the car arrived in the UK, I purchased a set of red type R seats, painted the car millennium jade, changed the wheels and fitted a top-secret spoiler. Here is Venoms current
spec list:
Engine
Brian Crower 2.85 stroker kit

Brian Crower 87.5 Forge Pistons

Brian Crower 4.782" 625+ connecting rods

Brian Crower forged 79mm Crankshaft

Brian Crower Stage 4 Camshafts

Brian Crower valve springs

Brian Crower Titanium retainers

Brian Crower head gasket

Legal Super R Ported and Polished Head

Greddy T88r-33D turbo

Greddy external wastegate

Screamer pipe

4" Custom downpipe

Fujitsubo Exhaust System

Twin z32 maf

Twin RamAir induction kits

Apexi Stainless Turbo intake

NKGR Plugs

OEM coil packs

Mobile 3000 10/40 semi-synthetic race oil

HKS high flow oil filter

Stainless Sump Guard

1200cc injectors

7th injector regulator

5bar FPR

Walbro Fuel pump

Nismo 35L fuel tank

HPI inlet

3.5" Steel hard pipes

5.5" Blitz Front Mount Intercooler

Greddy Oil Cooler

Evolve ally rad

Twin cooling fans

Apexi FC Ecu

Greddy boost controller
Running Gear
Custom 1 off built 5speed manual

R34 GTT Bell housing

Custom top-secret final drive

Nismo short shifter

6Puk Nismo clutch

Nismo 2 way LSD

Brembo 330 4pot front callipers

Brembo 300 2pot rear callipers

EBC Disks and pads all round
Suspension
Tein Coilovers

Cusco chassis brace

Trust upper strut brace

Trust rear strut brace

Ally lower arms

Custom adjustable steering arms

40mm front and rear anti-roll bars

Full polyurethane Bush conversion
Wheels
ROTA GTR-D

Front 18x10.5 245/40/18

Rear 18x12.5 295/30/18
Exterior
OEM Millennium Jade

1 off Carbon Superwide body built by apache racing for final konnexion.

1 off carbon side skirts

1 off carbon triple winglets

Carbon boot lip spoiler

Z tune Carbon bonnet

Carbon gander wing mirrors

Full carbon Top Secret Spoiler

Bonnet lip extension

East bear bumper modified to fit

Limo tint rear glass

Smoked xenon headlights

Smoked indicators

LED Nismo rear lights

F1 style repeaters
Interior
Full Cusco Roll cage

RECARO Red Reclining seats

Sparco Subframes

5pc tailored mat set

Sparco harness pads

Nismo gear knob

Centre console custom painted Nismo red / Metallic

GTR pedals

KODE steering wheel

D1 snap off boss

6x defi gauges

Boost

Oil pressure

Oil temperature

Fuel pressure

Water temperature

Exhaust temperature

All recordable with playback

Sony Double din head unit

Cd / Mp3 / Bluetooth / DR

2 x 10" in phase Subwoofer

1800w 4channel amplifier

Private plate R28 VNM

(Rb28 venom)
Besides the fact it's an R34 skyline which you don't see many of, all my modifications are custom and are a 'one off'. One thing I know for sure, my car can never be replicated. I'm in the process of further modifying the rear suspension but I'm basically where I want to be with this car, when I met my wife 10 years ago I said my dream would be to own an R34 and my dream came true in 2015.
Any detailing work I need completing that I can't do myself, Joseph Roberts at JR Detailed, Treorchy, hooks me up. My paintwork is done by Matthew at Paint by Sanders, Neath, South Wales and so far all mechanical work that's been needed has only been service and maintenance so that has been completed by friends and family. Also, a buddy of mine who helped me get venom into the country, getting it's through its first mot and looking after the car whilst it was registered for UK ROADS, Matt Kayo Kervin, he's helped me so much over the years and I will forever be grateful for everything he has done and no doubt will do in the future.
With regards to the car scene, especially the scene local to me I'm not that happy to be involved with but I really do enjoy attending the major and local shows, for example, the motor madness show in Aberystwyth and Area 51 Car Club Wales which both held monthly meets that I used to look forward to but covid has put a stop to those clubs doing meets, Cruise Culture, Castle Combe, Santa Pod and Silverstone are all places I enjoy attending. I'm more about driving than showing off. I would rather be taking my monster for a spin than park up in a local car park.
I help run @Area51CarClub alongside my wife. It's a club where I can really be myself, be around people of similar age to myself and most importantly be around like-minded people. I previously attended shows with Superior Rides, they are a great bunch and are so welcoming. I highly recommend them both.
All the Cars in the Online Version of our Magazine will eventually appear in our Fully Printed Magazine, the cars with the most Views, appear sooner, the Magazine is sold the world over through Amazon, making it easier and faster for people around the world to get their copy. UK and Ireland use our store stanceautomag.com

If you would like your Car and Story or Your Business Featured like this, Please
Email: Carla, Shannon, Andz or Admin, they would love to hear from you.
Our site contains links to third party websites. We are not responsible for the privacy policies, practices and/or content of these web sites. Their use is at your own risk.