Drew King 1995 Nissan 240SX - Form or Function?
Who says you have to be one or the other? Why not be both. Over the years, the car community has changed drastically. From the late 60's and early 70's big body, big engine muscle cars, to the late 90's and early 2000's JDM style tuners. Everyone seems to adapt to times, but I think it is safe to assume that the car community is still battling the age-old question of what is better, Form or Function.
1995 Nissan 240SX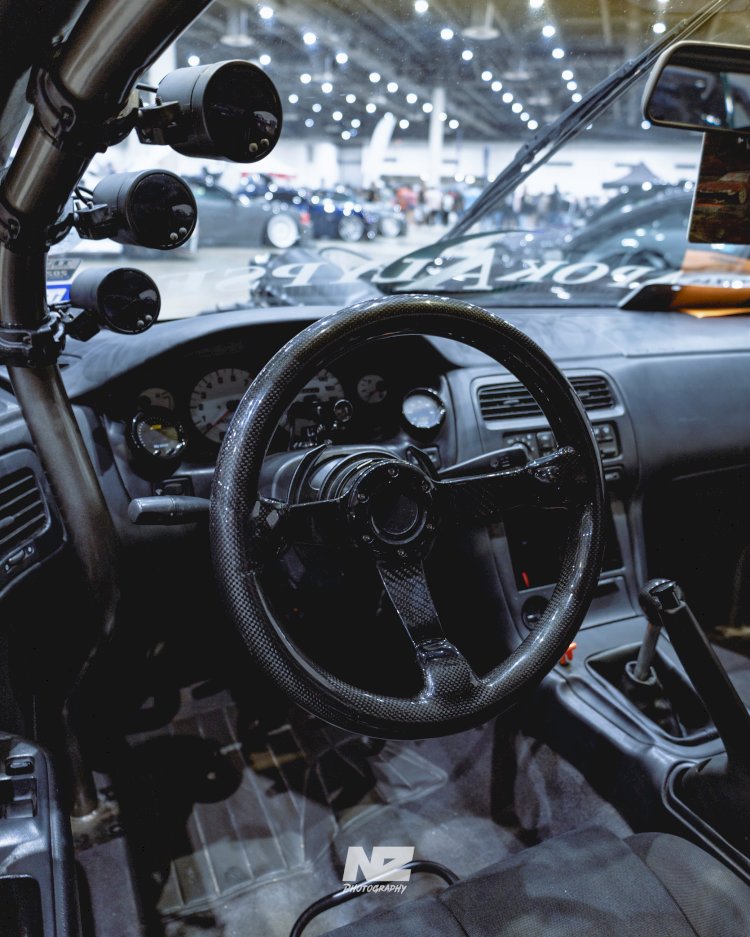 Join Our Stance Auto Mags Group, Give Our Facebook Page a Like, and Follow us on Instagram
More images are in the slider above, These Photographs are supplied by the Photographer, check their Link for Bookings.
Order the Printed Magazine HERE!!
Drew King
1995 Nissan 240SX
Instagram: @drewking96
Photographer: @nicolasharper
Youtube: www.youtube.com/isthisabadname
Form or Function?
Over the years, the car community has changed drastically. From the late 60's and early 70's big body, big engine muscle cars, to the late 90's and early 2000's JDM style tuners. Everyone seems to adapt to times, but I think it is safe to assume that the car community is still battling the age-old question of what is better, Form or Function. You got half of the car community on the Form side of the equation arguing that low and slow, and frame bangin' is the way to be cool in the streets, whilst on the other end of the spectrum, you have the Function guys who argue speed, acceleration, and the pinnacle of performance is the better way to go. What is this.. politics? Who said you had to settle on one or the other?
How did we get to this point? The beginning of the story starts in 1996. The year I was born. My mother had just bought a 1996 Camry in April, and 6 months later I came into this world, and on my way home from the hospital, I rode in the back seat of what was going to become my first car. Fast forward 16 years, and like any other teenager thinking about their first car, I was looking at either MK4 Supra's, WRX STI's, Nissan 350z's, and other cars that my parents were not going to get me as my first. So you guessed it, I was stuck with the Camry. With almost 250,000 miles on the odometer, it had its fair share of issues. The struts were blown out, silly plastic pieces were breaking on the daily, and the transmission about had enough of life. After becoming a successful "YouTube Mechanic", and replacing struts, and fixing leaks, I decided to start venturing into modifications with things like coilovers, wheels, and aero.
Of course, after rims and a drop came more intensive mods like 5-speed manual swapping the Camry and building a turbo kit for it as well with a little cheapo welder from Harbor Freight. All of that was fun, don't get me wrong, but at the end of the day, it's still a FWD Camry. I wanted more. I had the itch to be faster than 90% of the vehicles on the road around me. Also, I live in Houston, and if you have ever heard of TX2K, you know that Houston is where it is held every year. It would be safe to assume that Houston is the street racing capital of the world. For that one weekend in March, there is more HP in the streets of Houston on one given night than there is probably in the entire state of Rhode Island. Don't quote me on that though! But after hard thought, I decided it was time to transition into another build. (Instagram is below if you are interested in what the Camry looked like).
I ended up parting out the Camry and got enough money to get my hands on a 1995 Nissan 240SX on Craigslist for a whopping $3500. Yes, that's running and driving, and that is also with a ton of mods like a Kouki front end, coilovers, wheels and other extra goodies. Good luck finding something like that in this market, we all know drift tax is hitting hard right now. I always wanted a 240sx as they were cheap, good looking, and easy to work on with a lot of aftermarket support. Something I did not have with the Camry. Anywho, after losing timing chain guides, and just not being overall happy with the stock KA24DE 4 cylinder, the time had come to put another heart into the beast. I had debated long and hard over what to do.
Do I be loved by the 240sx community and do a hot boi SR20 swap? Do I want to fork out the change and put in a godly 2JZ-GTE? Or do I do what almost everyone despises and put in a "basic" LS based powerplant? I did the unthinkable. I went to my local LKQ Pull-A-Part and yanked out a 5.3L V8 (LM7) from a 2003 Tahoe. I became what they call, a "basic b**ch". To be quite honest with you, I really am not sure why everyone hates LS swaps. They make great power, are super reliable, and the best part yet, whenever you break something, you can go down to your local auto parts store and get a truck the same day FOR CHEAP! It's overall a win-win-win.
I went with a 5.3L V8 from a truck, mated up to a 1999 Camaro SS T56 6-speed transmission. The Borg-Warner S475 75mm turbocharger had a very good power band and paired well with the BTR stage 2 Turbo camshaft. Overall, the car ran and drove very well for being self-tuned on the street with a laptop hanging on for dear life in the passenger seat, but something was missing. I needed something to prevent the car from getting sideways when I did not want it to. At the time I was running on stock Nissan 350z wheels with a little 225/40 tire.
Needless to say, even on 6psi, the car would easily light up the tires with partial throttle going down the freeway. Fun, but super sketchy. Looking into a new tire setup, I realized that in order to get the power to the ground I needed something wider. Much wider. But, I was not able to fit much more of a tire on the rear end with a stock body Kouki. Oddly enough, the same day I was looking for tires, I found a 2F Performance Super Doof body kit with Origin Type 3 front (+45mm) and rear (+55mm) over fenders for a really good price on the FB marketplace. I bit the bullet and I scooped the widebody kit up, ruined the car by cutting off my stock quarter panels, and now had the problem solved of not having room for a wider tire.
"Yeah, yeah, 240sx + LS swap + turbo.. your basic", you may be thinking. Well, yes, you are right. Everyone and their mom have a 240sx. They are rare, but they are everywhere. It's very hard to be different with a 240sx after all the legends that are either still kicking or have come and gone, but I had to figure out something that would allow me to stick out... or should I say something to stick the car to the ground? DING! In came the drag slicks. I have never seen a 240sx on a tire WHILE also keeping the Form side of the build. All 240sx's that are on radials are ones that are strictly for function and function only. I went with Weld Racestar wheels wrapped in Micky Thompson ET Street SS's for the rears, while also keeping it hot boi upfront by running Tripple Chrome Concave Kranze LXZ's. This allowed me to put the power down functionally to the ground, keep the car straight, and keep the form styling with the 3pc wheels in the front.
Overall, the car is an absolute blast. It turns heads wherever it goes, and I am happy to stand in the middle of the "Form vs Function" argument. After almost 5 years of owning it, and multiple lump sums of money, the car puts a smile on my face. It has seen multiple different colours, engines, turbos, all in hopes to find that "perfect setup". I am the type of person who likes options. I like the fact that if I want to slide the car at a drift event, all I need to do is put some stock tires on the back and the car gets sideways. If I want to drag race the car, the stickies go on the back. If I want to show the car, all 4 Kranze get put on to 'fender to lip' fitment.
The options I have with the wheel and tire setup alone are fantastic, not to mention the air ride as well. I believe the way the car sits now is in its final form. This was the goal that I had in mind while in the process of building it. I'm not saying it's done, because it is far from done by all means, but the wackiness of an engine sticking out of the hood and being aired out tucking a drag slick just feels right in my book. The car can sit pretty at a show and get down and dirty in the streets. Or as I always like to say "tuck-in tire, spitting fire". We will see what the next mods are for this thing.. at this point the sky is the limit.