Emma Louise 2012 Fiat 500 Abarth
I always wanted a fiat Abarth, but I had to start from the bottom somewhere so I decided to get a standard fiat 500 first to see if I would like them. Then coming across a campovolo grey one local in the area was a bonus!.
2012 Fiat 500 Abarth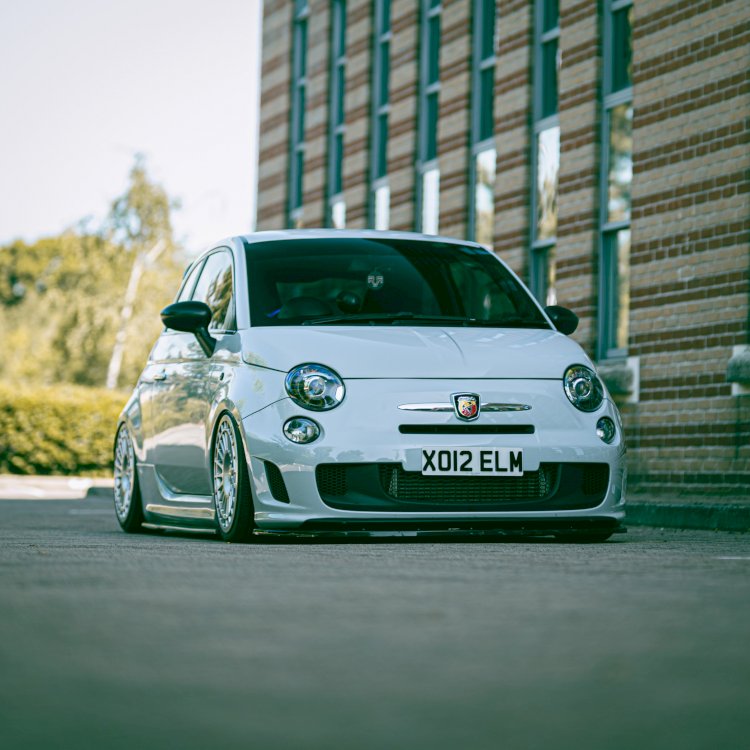 Join Our Stance Auto Mags Group, Give Our Facebook Page a Like, and Follow us on Instagram
More images are in the slider above, These Photographs are supplied by the Photographer, check their Link for Bookings.
Order the Printed Magazine HERE!!
Emma Louise
Fiat 500 Abarth 2012
Instagram: @abarthqueen12
Photographers: @ntm_automotive
Photographs courtesy of: https://ntmphotography.uk/
Hello, My name's Emma im from Stroud, Gloucestershire. Currently in the powered access industry but only for another 2 weeks, as I move on to a transport admin. Which I'm very much looking forward to. My hobbies are of course cars lol!. I spend my weekends with my partner, attending shows all over the county, taking part in show and shine, and also on trade stands. When there isn't a show on a weekend, we tend to get the car up together looking clean ready for the next show. As a lot of people may know, we do like to clean cars regularly (every weekend).
Who or what got you into cars?
The person who got me into the car was my partner. And now I'm worse than he is with cars. haha! I was also watching the Fast and Furious films as well. Which I'm sure a lot of people can relate to.
Why this car?
I always wanted a fiat Abarth, but I had to start from the bottom somewhere so I decided to get a standard fiat 500 first to see if I would like them. Then coming across a campovolo grey one local in the area was a bonus!. The fact I wanted an Abarth was it had more power but was still compact and small. This one was one of my dream cars for many years.
What made you build this car?
Seeing I got into cars a lot more and knowing I had my dream car, I thought let's try and mod it. Starting with the small mods of course like rear wiper delete etc, but then after a while went to larger-scale mods like air ride lol! Which we all know is not the cheapest of mods these days. After growing throughout the years it became more and more obsessive, getting into the car scene a lot more and people recognising the car a lot. And till this day it's still an ongoing project
What does it feel like owning this car?
Well like with everyone who else that parks up and then turns around to have a look or even take a pic! When people notice the Abarth at shows and take the time to get photos, tag you on Instagram etc really makes you think all the time and effort was really worth it. And like I always say, I appreciate everyone who does take the time for pictures, and even come up to us at shows to have a chat about the car and how clean it looks. Makes me feel so good and it's very rewarding.
If you enjoyed this Car why not read this ONE HERE
What makes your car unique?
It stands out by its looks, and the fact everyone knows we spend a lot of time and money on cleaning the car making it look up to scratch. Everyone mentions how well the wheels suit the car and the way it sits. (air ride). I am quite well known on Instagram, well the car anyway haha! But this is because I'm always interacting and attending regular shows every year. Also having a great rapport with companies.
Spec List
Engine -
Forge blow-off valve,
Forge intercooler,
Forge induction kit,
Re-map,
Battery and fuse cover,
Aluminium oil cap and coolant cap,
Coolant cover.
Many more things will be added soon.
Exterior -
Maxton side skirts and front splitter,
Full respray,
Lexus style rear lights,
Aftermarket front lights,
4d plates (front plate is removable) tinted windows,
Small Arial,
CHD gloss black spoiler extension,
Rear camber plates.
Interior -
Rear seat delete,
Aftermarket steering wheel from kode,
Aftermarket gear stick from wearelikewise,
Simple boot build with tank showing,
Custom car mats,
Wheels -
Fifteen52 deletors in silver
Suspension -
3p airlift currently running standard brakes for now.
Who did the work?
I and my partner do the smaller things as we don't have much room in the garage to do the bigger stuff. My air ride was fitted by the Motorworks in Gloucester. Full respray was done by vehicle solutions in Cheltenham. Wheels fitted by Chris Mullins in Gloucester.
Future Plans
Oh yes, it will never stop, currently planning mods for show season 2022 so keep your eyes peeled. Follow me on Instagram @abarthqueen12
Shout Outs
So my biggest shout out would be mirror image car care for everything they have done for me over the last 4 years. The support and help are truly appreciated. They know how much I appreciate these guys. :) Thank you, Nick and Aegean. @mirrorimagecarcare
Next up was the one and only epic photographer around NTM automotive, first met at the beginning of the year he was my go-to for the reveal of the car and the photos just blew me away. Ever since we have had many other shoots done and I can't thank Anthony enough for his support and help with such amazing shots. @ntm_automotive
And finally not forgetting forge motorsport, the guys at forge are always supportive, if you're needing help or advice they are always there to help. It's a bonus as their HQ is local to me. And I just want to say thank you to Forge for their support over the years. @forgemotorsport
Looking for a new club? Have a look at the ones featured on our site HERE
What did the car scene bring you?
Meeting new friends, trying new things out like applying for show and shine etc and having that confidence to finally do it! Having great rapport with companies etc like Forge motorsport, deadly etc. Never in my life can I say I've won a few things especially this year having won the best paint at modified nationals, and then coming 3rd at Trax for show and shine was unexpected.
Dream car
I have so many.... but it would still be a mustang.
What do you think? leave your comments in the comments section at the bottom of the page
'The future is bright as long as we can still Smell the Fumes'
Check out our Google News give us a Follow
All of our Magazine can be found on Amazon, they Print and Deliver worldwide, Stance Auto can not be held responsible for the final print, all complaints and returns must be directed to Amazon.
UKTM no: UK00003572459