Molly - F56 Mini JCW
I am massively passionate about Mini's and love the passion their owners have for their cars like if someone has a Mini 9/10 times they will give it a name and most of the time they will have owned more than one!
Check out our other sections in the CAR SCENE and our MERCH STORE
More images in the slider above
Hi all,
My name is Molly, I am based in Walsall in the West Midlands.
Instagram: @xmollyd
You will most likely see me at meets with the West Midlands Mini Owners Group as I am one of their admins so, most of our favourite locations are West Midlands based. You can also find us on Instagram on @westmidlandsminiownersgroup and also on Facebook under West Midlands Mini Owners Group.
I originally became a part of the club after having my car on display at a British Mini club event on show & shine. It was actually the first and last competition I have ever entered my car into. I have also been keen to throw support behind the group rather than demand all the spotlight on my car, so at the Mini shows I will attend with the West Midlands Mini Owners Group and then attend all the brand shows with my car. From that original show & shine event in Stafford it has massively helped me get into the car scene and get out talking to like-minded people whether, it is at shows or on social media. It went from taking a few photos of my car on Instagram to attend dub club meets both at their original open to all venue to their exclusive invite only Fargo Village venue now!
Big shows like Roll Hard, Mini at Home, Mini in the Park to small local shows with British Mini Club and local meets at Caffine & Machine, The K I Café to then having thousands of followers on Instagram, getting companies approach me for features or sponsors and featuring in performance Mini Magazine, once last year and again this year!
I am massively passionate about Mini's and love the passion their owners have for their cars like if someone has a Mini 9/10 times they will give it a name and most of the time they will have owned more than one! It probably comes as no surprise that I have worked for Mini in car sales since 2014 and based at Rybrook Mini in Wolverhampton. I get to drive a Mini as a company car which is great because it keeps the miles off my second car.
I also used to drive a Mini One R56 as a daily with a sport pack, upgraded black alloys rose gold and matte black stripes that I de-chromed. At this point it will again also come as no surprise that I own a F56 Mini JCW 3 door hatchback that is most recognisable by its chrome rose gold wrap. I had originally only seen a convertible wrapped in rose gold and from then onwards I knew when I swapped my BMW X3 35D that I wanted a Mini JCW next. I ordered by JCW from brand new in Midnight Black with the CHILI pack, Navigation Pack, DCT Gearbox, Piano Black Exterior, Kardon Hi-Fi Sound System. It was one of the first produced as an LCI JCW with the newest badges, Union Jack Rear Lights and front LED halo lights but, also one of the last JCW's produced before Mini took a production break to look at the Co2 emissions on the JCW to ensure it complied with the WLTP regulation.
When it arrived I quickly started modifying my vehicle by getting the rear genuine diffuser fitted at PDI. I then sent my car up to Autowrap in Manchester to have its most recognisable modification which is the rose gold wrap. It was there for a total of around five weeks, originally there was a delay on the wrap as the first batch that had arrived had a join in the middle meaning there was a backlog of several weeks on the second batch that was sent from Teckwrap in America. Once it was complete it went back a further two times due to blemishes on the bonnet. This meant that the bonnet didn't match the rest of the car for few months and in some of the original photos of the car it does show.
The next change was the wheels. It originally came with 18 cup spoke alloys so these were changed for team dynamics pro race 1.2's in gloss black 18 x 8. I had a matte black set but the stud pattern didn't fit so these were quickly sold on and exchanged for a gloss black set. Due to the size of the alloys I also had a tyre change and had an issue with my tyre pressure sensors resulting in them giving wrong results and then simply not working resulting in them being replaced.
The MINI was then lowered with Eibach lowering springs which I'm looking to change soon to set of KW coil overs to get that ideal ride height. It has also been modified with a remapped Dervtech to 300bhp with a forge induction kit & fitted with a JCW pro exhaust which the back box has then removed by MIJ Performance Walsall who also fitted the larger exhaust tips. Also fitted with a rear seat delete kit and stern performance kit in black with red stitching.
Exterior wise the lights and rear tail lights have been tinted and the front crash bars wrapped red with additional red accents on the front bumper grill and it also has a front AC Schnitzer front splitter, Maxton design side skirts, MINI Customised side scuttles, spoiler extensions, all de-chromed handles, black badges, belt line and fuel flap. I've also fitted a Kill All Wipers rear wiper delete and black badges and have a static front plate. I've had the interior dash trim hydro dipped in Black with Copper glitter which also matches the under bonnet engine bay covers along with a front strut brace.
Interior wise I have interior JCW door sills with illuminated lights, craven speed handbrake in the same chrome sport design as the chrome pedals along with black dial surrounds, black steering wheel decal and re-trimmed steering wheel. One of my favourite modifications is my steering wheel which was re-trimmed by Royal Steering wheels with Alcantara top & bottom, perforated leather at the sides with 12 o clock red stitching and a flat bottom design. It was fairly priced I felt with great communication and turn around. It adds to the sporty feel of the car and I went for the flat bottom design because I'd previously appreciated the flat bottom design in my other half's Audi's.
I'm also really pleased with my exhaust and how great looking the exhaust tips are both with the size and colour! I'm a fan of anything shiny and glittery but you'd probably guess that looking at my car. They were fitted by MIJ Performance in Walsall and they provided a really and knowledgeable service. They were originally recommended by several friends. My dad and my other half tend to be the go to's for helping with modifications including the majority of the modifications I've listed above.
My dad is amazing at always offering to help with any parts that need fitting. We were never big sport fans in my family but my dad got us into Formula One and as kids it was a regular occurrence to watch the highlights of qualifying on a Saturday and the race on Sunday with a bacon sarnie. My dad is into his cars and I presume I get my passion for cars from him. I've not always had MINIs like I've mentioned above. My first car was a Volkswagen Polo that was OEM or stock as I'd call it now but at the time it was a great first car. I've also owned a BMW X3 prior to my MINI JCW in the 335D engine and really loved the torque the 3.0 Diesel engine offered. My dad's currently got several BMW's including a 1M and M2 with carbon strut brace, CS wheels, and individual alcantara seats and has owned BMWs in the past for years.
My mum has a MINI Cooper S and my sister a Cooper. Both are de-chromed and have challenge viper stripes. Now rather than watching the formula one we're normally messing about with the cars, that's when we're not working!
Another person that is also a help with mods other than my other half Dan or my dad, is my best friend Mitch who is also a photographer most known by @24sevenphotography. He's always helping get my car out there and letting me know about meets or shows! Not only is he on hand with any advice but he's always happy to shoot my car or attend any meets we need any photos taking along with Chris Garner at @klearkapture.
I'm looking forward to show season next year and I'm hoping to attend as many shows as possible including with the West Midlands MINI Owners Group. We've just reached 800 members on Facebook and have regular loyal members that will attend meets & shows with us. We recently attended Wheels on Wednesday at Spetchley Gardens and turned up in a convoy of around 20 MINIs. It was a great meet to attend with an array of cars! One of my favourite shows to attend is MINI at Home in Oxford. Everyone from all over tends to attend and there's trade stands there including SMPS2012 who we have a great relationship with at WMMOG. Not only are they helpful and great at what they do but they are genuinely nice people aswel.
It's always great to speak to like-minded people who love the brand and also a great way to meet new people & catch up with those we haven't seen in a while. As part of the admin team we found the challenge of trying to organise meets to help everyone's sanity while also making sure we were complying with lockdown rules quite hard to get used to with all shows being cancelled that we planned to attend including Trax and local MINI show Standford Hall.
I've got a few plans for my car including a change to the wrap colour which I haven't decided on yet as I still want something that stands out! I'm also keen to get a GP3 big spoiler fitted in the near future so other than coil overs that's the next thing on my list. The problem with modifying your car is that it's addicting! Always looking for the next itch to scratch, the next part to buy!
I'd love to get a collection of MINI's, I'm ideally keeping my eye on a MINI GP2 as I do have a soft for them and if I didn't work in such a time consuming job I'd love a classic but I just don't have the time or space for that kind of commitment.
What I love about my car is that I've personalised it to my own taste and wants and yet it still turns head! I love the fact that kids at car shows want to have photos taken with my car. Not only that but without my car I wouldn't have made all the car friends I've got now.
Thank you for reading my article.
Molly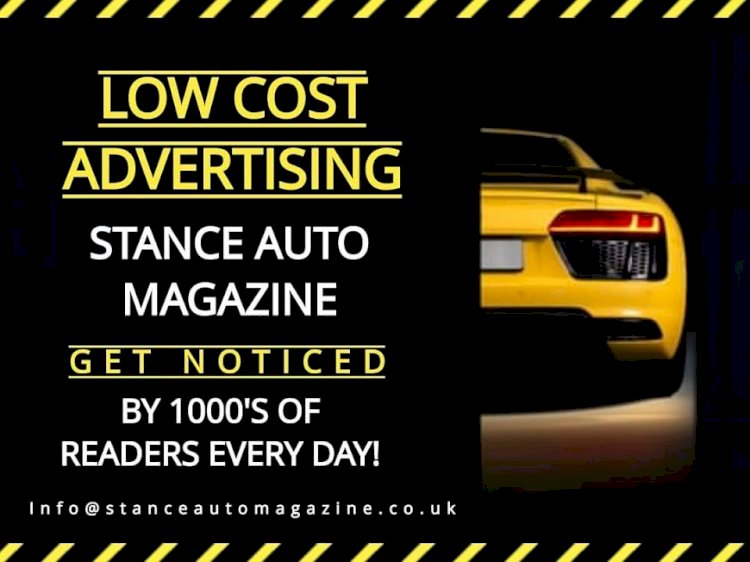 If you would like your Car and Story or Your Business Featured like this, Please
Email: Carla, Shannon, Andz or Admin, they would love to hear from you.
Our site contains links to third party websites. We are not responsible for the privacy policies, practices and/or content of these web sites. Their use is at your own risk.