Alice Briggs - Ford Fiesta MK7 2009 Zetec S
I know everyone will have different tastes so she won't be liked by everyone but that's why you modify cars so that you can showcase your art, your design.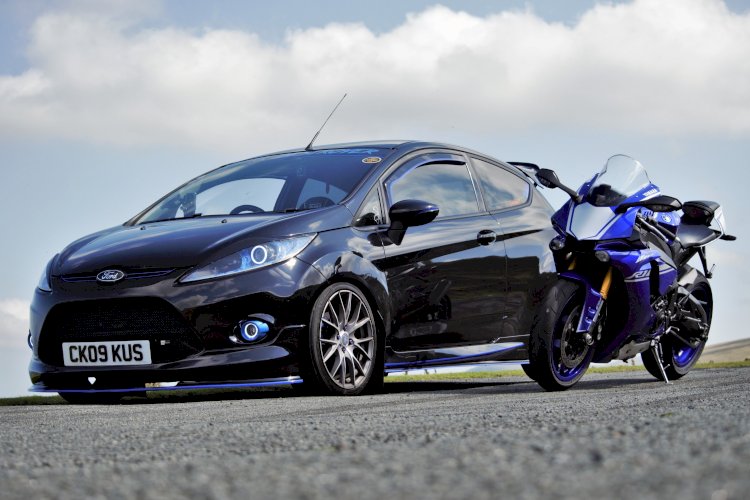 Join Stance Auto Mags Group Like our Facebook Page Follow us on Instagram
To Buy Our Printed Magazine Check out AMAZON and our MERCH STORE
More images in the slider above
Alice Briggs
Ford Fiesta MK7 2009 Zetec S
Instagram: @Brigzy97
I'm a 23-year-old web developer living in South Wales but from Nottingham. I grew up with little to no interest in cars, and none of my family has any interest in cars either but my ex-boyfriend was into cars. However, it was really the first show at Castle Combe and watching the drifters that really piqued my interest in cars.
My first car was a white 1.0 Corsa D 62 plate that I bought to learn in. Very subtle mods happened on that car, changed the steels for black alloys, tinted side repeaters, black spoiler, cone filter etc. Nothing performance-wise because let's be honest what can you do with a 1.0 N/A. However, it did the job, I passed my test and did my first year of driving in it. Then I decided something bigger and better was needed but still couldn't go too crazy as I was 19 with 1-year driving experience. That's when I found my girl, my Dede (Dark Destroyer) completely standard bought from a nice couple not far from where I live (if only they saw her now).
She's my only car although I did have a daily 2.0 Leon FR for some time which I managed to keep standard somehow. I love the looks and the turn of heads she gets when I'm driving around and while I love the appreciation she gets, it's important to me to know that I've built her for me and no one else. I know everyone will have different tastes so she won't be liked by everyone but that's why you modify cars so that you can showcase your art, your design. This I think is key in being part of the car world! Where possible I've done the modifications myself but I'm no mechanic so have had help from companies in the case of the conversion of friends when it comes to fitting parts but if I can do it myself I will!
The main group I am part of is @cargirlculture which has been massive in my car journey. I never thought I would have a car that brought any attention and it wasn't till I became part of that group that I realised she did. They are a massive support to everyone who is part of the club!
I think the main thing that makes her stand out is there's not many that have taken the same route I have especially with such a commonly modified car. Not only that, people tend to be surprised when a girl gets out of a car like this! I've been big on making sure that it doesn't look female-driven so they don't expect me to get out.
My dream car? Corvette C7 ZR1 all day every day, although the new C8 is pretty tasty too!
History/Modifications
Ford Fiesta MK7 2009 Zetec S 118bhp. I bought it in 2017 completely standard. My girl needed some work as she had a dent in the door and was missing the side skirts as part of the ZS kit. Once a new door was fitted and side skirts added she looked back to showroom standard. Then came the modifications. ST alloys were fitted as the old ones were buckled and had flat spots, lowered on Eibach Pro Sport lowering springs, fog light surrounds sprayed blue, callipers painted blue, interior painted gloss black and Matisse blue, and the diffuser was painted gloss black too all before I put her on the road.
Now it was time to make her my own. First came the name Dark Destroyer (Dede for short) which just happened by chance and it stuck. Then the colour scheme, black and blue originally to keep it subtle, so the alloys were powder coated in Sapphire Blue and blue pinstripe added. TRC full low line kit and eyebrows, as well as a Maxton Designs spoiler lip was added to give and all over sportier look, and of course more scope for more pinstripe.
Then to brand her with her own name, custom sun strip was made up and fitted. Also, custom gel badges all round in black and chrome. Ford for front and back and Brigzy for the steering wheel. Then some extra lighting was added with blue footwell lights. Auto beam V3 Halos have just been installed to add to the look. Tinted windows, as well as lights, make the Dark Destroyer even darker. RallyFlapz were a necessity where I live and they help keep her clean.
Other than that there were just a few finishing touches, gas struts were installed for the bonnet, TGR wheel nuts in gunmetal grey with blue inserts, kick plates, hydro dipped covers for the coolant tank and fuse box were added, all finished off with a short shifter and spoiler raiser.
My girl then got a J1 induction kit, custom backbox delete with DTM tips and a remap bringing her up to 134bhp (not bad for a N/A).
Then came some new MSW25 wheels, which I haven't seen on any other Fiesta, making her stand out that little bit more. Along with some HSD Monopro coilovers as she just wasn't low enough before and wanted to make her more suitable for the track. She now comes with custom hydro dipped lights to make her unique and look even meaner! Then came the big decision to get her ST180 converted. The remap and induction kit just wasn't good enough for me and I have big plans for her.
This conversion included the following:

Engine
Gearbox
Driveshafts
Radiator set
Gear shifter and linkages
Gear gator and knob
Exhaust
Fuel lines
Fuel tank
Abs pump
Brake lines
All wiring harnesses
Modules such as clocks and ECU and others.
Push to start
Door cards
Radio
Steering wheel
Wing mirrors
Intercooler
Door wiring harnesses and modules
ST180 front and rear brakes
Black St headlining and all trims/interior lights
ST centre console
ST Heater control
Sony DAB radio
Other modifications I have done are as follows:
Pumaspeed MaxD 2R map
J1 Induction kit
Custom Turbo-back sports cat 3" exhaust system with interchangeable rear section
Full TRC Splitter kit
Zunsport Grille
OMP Bucket Seats
Sparco 4 point harnesses
Fully stripped out rear
As well as other visual modifications
Since the conversion I have now taken her up to stage 2, with a stage 2 R-Sport intercooler, R-Sport hard pipe cross over, Pumaspeed breather pipe, Summit front strut brace, Forge recirc, and Airtec short shifter. I've also changed out the alloys for some 2forge ZF1 alloys in gunmetal grey, delta styling front splitter, rear strut brace and of course a harness bar.
I have loads more planned for my girl, next will be stage 3 but it won't stop there. I want her to be the quickest PFL MK7 as I can possibly make her. Already stripped out ready for a half cage, nice little boot build to cover the wheel well, and not to mention a big break kit to cope will all that power! The track show car is the plan, she has the looks and now it's time for the power. Showing the car world that girls can do it just as good as the men.
Sponsored by DRS Cornwall
Insta: @Brigzy97 – Follow to see the progress