Faizal Rajie 2004 Lexus IS300
When Faizal bought the IS300 in 2018, it had a knock on the rear end, but he had a vision of how he wanted the Lexus to look and was determined to get it to the way it looks now in 2021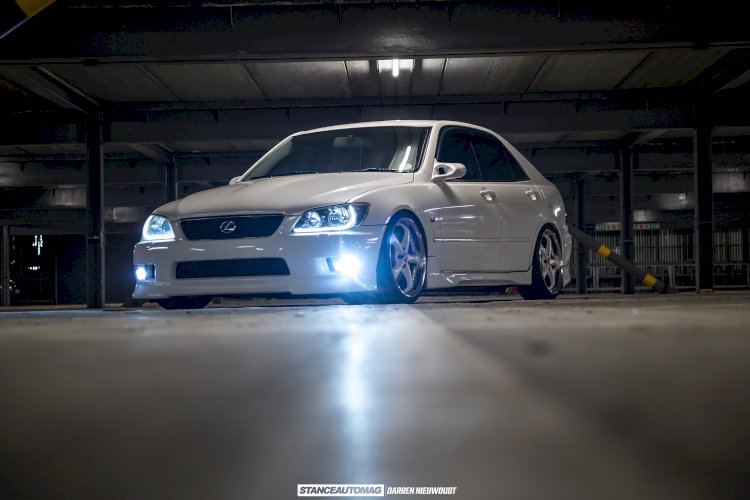 2004 Lexus IS300
Join Our Stance Auto Mags Group, Give Our Facebook Page a Like, and Follow us on Instagram
More images are in the slider above, These Photographs are supplied by the Photographer, check their Link for Bookings.
Order the Printed Magazine HERE!!
Faizal Rajie
2004 Lexus IS300
Instagram: @mr_lexus007
Photographer: Darren Nieuwoudt / @incogmedia
Faizal is currently working for a petroleum company in the IT department. He resides in Cape Town, South Africa. He says "I like to drive around to different locations, park my car and take pictures with my phone."
"I won't change from Lexus, it's a value for money and a brilliant car. If you drive it you will know. The build quality is amazing and comes with great performance"
When Faizal bought the IS300 in 2018, it had a knock on the rear end, but he had a vision of how he wanted the Lexus to look and was determined to get it to the way it looks now in 2021. It comes with the legendary Toyota 2jz naturally aspirated engine. It is the non-turbo version. A TRD body kit has been fitted which was imported from a company called carbon sports. The car has been resprayed in a pearl white which is the same white as the later Lexus model.
What got Faizal into the car scene was he joined a Lexus group where he started to go to car shows and events with the group. His vision was not to go to events and be competitive and win trophies or be on a stage. To quote Faizal " I have a passion for cars and a passion for sharing cars with other people, letting kids sit in the car, take pictures and taking people for a drive in the car. That's a win for me and not a trophy at a car show. That drives me to share the passion and the car. It's about the brand, not me"
SPEC LIST
Engine
3.0l inline-six-cylinder non-turbo
Exterior:
TRD Bodykit

Ganador Mirrors

Custom Headlights and Taillights

RIMS AND SUSPENSION

18-inch JDM Work VS-KF Rims, 45 offset

10mm spacers

Tein Coilovers
Interior
Custom Lexus Gear lever

Custom Sprayed Dashboard Trim

Pioneer Double Din
If you enjoyed this Car why not read this ONE HERE
When asked, why Lexus. Faizal bought his first Lexus in 2004 but previously owned BMWs and Toyotas. He sold the Lexus and got another car but went back to Lexus. Faizal bought the Is300 and an IS250 convertible, which is also a daily driver and a head-turner. "I won't change from Lexus, it's a value for money and a brilliant car. If you drive it you will know. The build quality is amazing and comes with great performance"
Faizal has some advice for newcomers to the car scene:
" It's not a sprint, it's a marathon. Don't rush, take your time with your build and enjoy every minute"
" Do you, when I fitted the front lip, side skirts and rear, someone told me not to fit it but I did fit it because it's my car. You can take someone's advice but you must have a vision for your car. Do it your way, as long as you are happy with the outcome
What is your dream car?
My dream car is a Lexus LC500. It`s luxurious, stylish and has great performance
What do you think? leave your comments in the comments section at the bottom of the page.
'The future is bright as long as we can still Smell the Fumes'
Check out our Google News give us a Follow
All of our Magazine can be found on Amazon, they Print and Deliver worldwide, Stance Auto can not be held responsible for the final print, all complaints and returns must be directed to Amazon.
UKTM no: UK00003572459