Rob Ferro - 2017 Mercedes-Benz CLA 250 4Matic Sport AMG package
I inherited much of the passion for cars, however, I  didn't follow my dad's steps. I wanted to be different, and I was raised to be number one.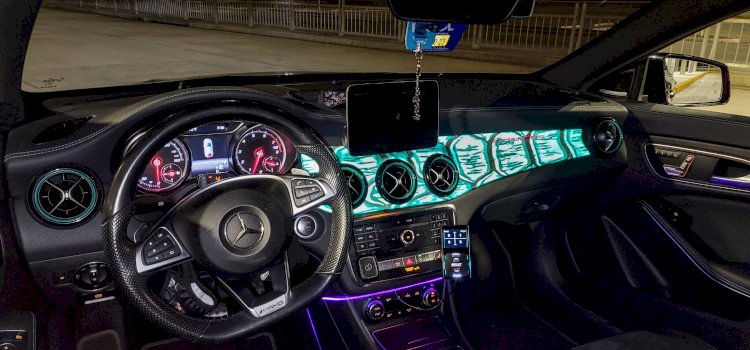 These are all of our Linx, please check below for the right link to contact, Join or Follow  us:
All of our Useful LinX can be found HERE.
More Images in Slider Above
Rob Ferro
2017 Mercedes-Benz CLA 250 4Matic Sport AMG package
Instagram: @mrds18_robferro
Photographer: @nilsongraphy
My name is Robert Ferro, aka Rob, or Mr DS18 and I am your car audio specialist directly from Miami, Florida. Since I have memory I've been involved in the car scene, and I wouldn't expect less coming from a family that was, and still is crazy about cars. My dad was an exotic and race car restorer and mechanic, which gave me a childhood full of fun experiences and beautiful sights.
I inherited much of the passion for cars, however, I  didn't follow my dad's steps. I wanted to be different, and I was raised to be number one.  I wanted to be the focal point. And at a very young age, I realized that car audio was everything I needed for such a purpose. Sure, you can trick someone's eyes with flashy mods however, you won't ever trick their ears.
Through years of hard work in Colombia, I made quite the reputation and from being a car enthusiast, I became a Car audio connoisseur.  Lots of car shows, car meets and several prizes during those years. I had my hands full but always trying to grasp and do more. I realized then that my ambition was far too great to stay where I had lived for the first half of my life. I moved to the United States where DS18 kindly opened their doors for me. (DS18 is an electronics manufacturer specializing in Mobile, Marine and home Electronic equipment with its headquarters in Miami, FL, USA.)
They knew that my experience could make a difference in the game and I became their car audio specialist. It's been a long journey, and I have not stopped growing ever since we started to work together.  Not only did they offer me a career in what I love, but gave me the opportunity to be part of something way bigger than anything I've ever been part of.  It hasn't been easy though. The DS18 team and I  keep growing exponentially, and we are learning how to deal with the success we are having in such a powerful and demanding industry.
Alongside DS18, we have brought my ideas to realization with some crazy builds. And I've gained notoriety in the truck and jeep scene with some extravagant set-ups. To keep up with my ever-going ambition and love for vehicles, I decided to build up a new car with the experience that I've stacked in the past years.
Throughout the years I've had several custom cars that have represented a stage of my life. Ranging from a 1991 Honda Prelude to a 2005 Honda Accord. All of them have a special place in both my history and my heart. But what I am presenting to you here is a representation of what I am and how far I've come until now.  My custom 2017 Mercedes-Benz CLA 250 4Matic Sport AMG package is a real head-turner, an easy-to-spot vehicle, and the usual nuisance for the haters. And, on a side note, even though haters are going to hate me, I don't do anything of what I do because of someone else. I do it because that is just who I am.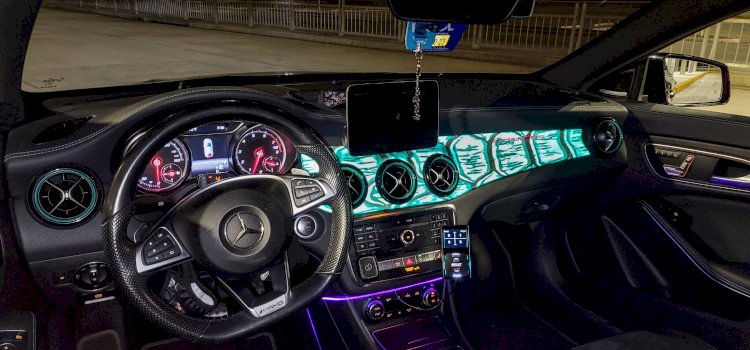 This car brings to life my ideas and part of my experiences. I wanted it to be a sports car but not a coupe because I am a family man and family comes first. And I wouldn't be here if it wasn't because of my family; my always-supporting wife and the engine of my life, my son,  Mathy.   However,  I wanted this car to represent the different sides of me; my devotion to my family, my character, my passion, and my love for what I do. With Ernesto Camba from EC Wrapz, we created the most ostentatious wrap portraying exactly that. The custom-made IllumiNITE wrap has many details drawn from my own life that mean something personal. It features a jester, a medusa, butterflies, jellyfish, and many things more. However, the most important detail is the seven stars, which is the same tattoo I've got on my skin representing my seven siblings. 
The car looks better than I had imagined and it took approximately six months to put it together. Being a car audio specialist, the sound needed to be at the same level as it looks. With the help of Kenny Alcala, from KK Customs and Diego Navarro, from DS18, we created a theme-based sound system that features: 8 Elite Z Subs powered by a Hooligan KO2. The doors have Pro X6 Series mids and  TWC Tweeters all in factory locations powered by an EXL SQ 600.4 amplifier. And all the system is controlled by the new DSP8I Sound processor.
 All these DS18 products put together make up for a great concert that not only sounds loud and clear but also looks great. Furthermore, the car features a custom made license plate, True Spike Lug Nuts, Mercedes-Benz 20x9.5 rear and 20x.8.5 front AMG rims. And we added an AirLift Performance suspension kit, so the car can almost kiss the ground when parked.
Exterior:
    Complete Arlon graphics illumiNITE wrap
    Megan Racing Cat-Back exhaust
    StopTech Street Axle Drilled Brake System
    The works body kits, front lip, side squirts, and rear window wing
    Mercedes AMG 20" wheels double dark black staggered
    Lexani LX-Twenty tires
    True Spike lug nuts
    Airlift Performance Suspension
    Mictunning C2 Led Kit
Interior:
    Arlon graphics illumiNITE
    Lotus ambient led
    DS18 sound system
    Air Lift Management Control
    Ds18 Eagle bbx2 dashcam
    Whistler Radar Mfu440
    Recaro Seats
Performance:
    K&N Air Flow intake system
    Forged Motorsport blow off valve
    Injen Technology X-Pedal Pro
In its first-ever show, thanks to all the collective effort to take my car to its full expression, we won the Best Paint or Wrap Award at the SoFlo Season Opener Clean Culture event held at the Palm Beach International Raceway. It was a total success and I can't wait to see what the future will bring. 
Every morning I take five minutes after I start up my car to carefully select the playlist that is going to take me to my job, and then I become one with my car. It is a feeling of sheer happiness. 15 minutes, that's what the car is. 15 Minutes of peace of mind. A journey that disconnects you from the world. Behind the wheel and out these doors there is nothing that can get my attention. Because that's what all is about. The only time of the day where I just am, and nothing else matters. If this is the only thing that I truly own might as well make it an extension of who I am. 
I'd like to extend my most sincere thanks to StanceAuto Magazine for sharing my story, my wife and son for the continuous love and support, and everyone who has been part of my journey, from my parents, to my friends and colleagues, and all the people that thought I would never make it to where I am today. I promise you that I have just started and the best has yet to come.
Follow me @mrds18_robferro for updates, giveaways, and upcoming projects. And feel free to check out the people that have been part of this and others insane set-ups:
Thank again to my wife and son for the continuous love and support #theferrogang
All the Cars in the Online Version of our Magazine will eventually appear in our Fully Printed Magazine, the cars with the most Views, appear sooner, the Magazine is sold the world over through Amazon, making it easier and faster for people around the world to get their copy. UK and Ireland use our store stanceautomag.com

If you would like your Car and Story or Your Business Featured like this, Please
Email: Admin, they would love to hear from you.
Our site contains links to third party websites. We are not responsible for the privacy policies, practices and/or content of these web sites. Their use is at your own risk.