Timo - 99' Honda Civic Hatchback
The Beginning of my project was a 99' Honda Civic 1.4iS with 90hp, the Main Color was red.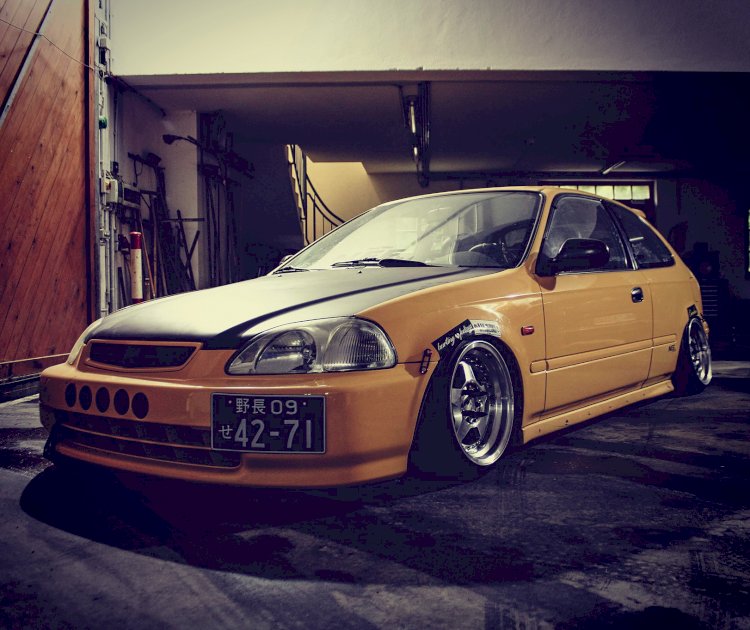 Please join the site and our new Facebook group, you can Post your cars there, this helps us find more HOT cars,
Stance Auto Mags Facebook Group
Hey there my Name is Timo,
I'm 25 years old, come from Bavaria Germany. I'm a normal guy working for a big Tobacco Company. Me and the Crew NEF cars, represent Stance since 2014 not only from Germany the members come from all over the world: Italy Japan, England, France and More. I'm Glad to Show you my 99' Honda Civic Hatchback, the whole project is selfmade, every part, any change and details, that's what NEF is made for.
The Civic is not my only car, I have a few more attractive rides in the Garage, you can see on Instagram if you are interested.
Profile: timo.sick_cylndrs
The Beginning of my project was a 99' Honda Civic 1.4iS with 90hp, the Main Color was red. First a Friend of mine painted the whole Car in his own Mixed yellow/orange Tone. We made air intakes in the Front and the Rear bumper. Next I took DTS Line Black coilovers all around and grounded them about 3cm, so the Civic lay down 1cm over the ground. Then I fitted a Camber Kit with 12 degrees on the back and took the Japan Racing JR6 8jx15 et10 around the Car on Maximum Stretched 165/45/15 Nankang Tires. Time After Time i fixed a lot of JDM Specs To the Civic.
Spoon Exhaust

Password JDM backhook

Password JDM bumper fixes

OMP steering wheel

OMP front tow

Mugen short shifter and shift knob

Takata 2" 4pointers

Blox Lugnuts
This project is built for a Show like our own Event "Meet Grill" you can find Videos on YouTube if you want to take a Look at the Crew's other Cars and the Last Events.
Stay True guys ! and keep the Scene alive
Timo
Credits
If you would like your Car Featured like this, and can do a write up like or similar to this
Email: CARLA or SHANNON or ADMIN, they would love to hear from you.