Santos -1999 Chevy Silverado 1500 Regular Cab
There's always been something about red Corvettes that have caught my attention. They say red turns heads and it's true. Well, I decided to sell my truck and use that money towards the purchase of the Corvette. I searched and searched until I found the one for me, a 2007 Red Z06 Corvette.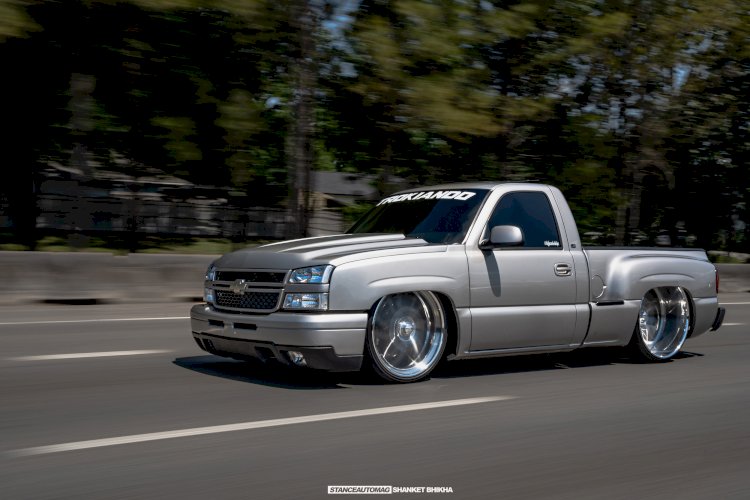 1999 Chevy Silverado 1500 Regular Cab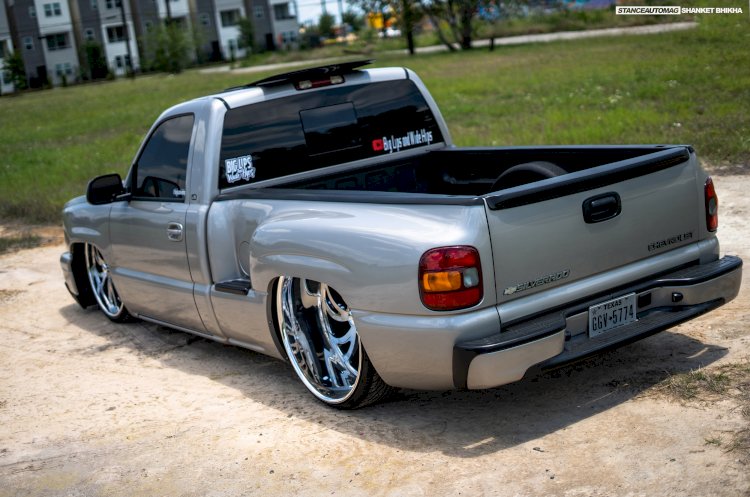 Join Our Stance Auto Mags Group, Give Our Facebook Page a Like, and Follow us on Instagram
These Photographs are supplied by the Photographer, check their Link for Bookings.
Order the Printed Magazine HERE!!
More images are in the slider above, SLIDE LEFT>>>>>>>>>>>
Santos
1999 Chevy Silverado 1500 Regular Cab
Instagram: @biglipsandwidehips
YouTube: Big Lips and Wide Hips
Photographer: Shankey Bhikha - @sbhikha__photography
Website:- https://sbhikhaphotography.net/portfolio/
I am 32 years old, and I am from Houston, Texas. I work for an Oil and Gas company that makes a variety of products ranging from gasoline and diesel to different grades of plastic and rubber. I enjoy the constant challenges we face in our line of work, but also the opportunity that this company provides us to develop our knowledge and skills.
I've had a passion for cars as far back as I can remember. Like a lot of kids, I grew up wishing one day I could own my dream car. I eventually purchased my dream car, but we will get to that part of the story in a bit. I was introduced to the truck scene by two of my buddies Alex and Robert in 2010 and I was instantly hooked. I remember being at my first truck show and admiring the sick builds that were showcased.
That's when I knew I wanted to build a truck. At that point in my life, I could barely afford to pay my bills let alone purchase a truck and build it. But I knew that with hard work and dedication I could accomplish that and more. In late 2010 I totalled the vehicle I was driving and what seemed like a huge setback ended up being a blessing in disguise because it gave me the opportunity to finally purchase my first truck.
A 2008 GMC Sierra Single Cab. We continued attending local shows all while slowly building the truck to my liking. Fast forward a few years later and that stock Sierra was no longer stock. It had a new front end, a new suspension, and Intro Billet Wheels. At last, I had the truck I always wanted. But do you remember the part about owning my dream car? I've always been a fan of Corvettes, I mean who isn't, right?
There's always been something about red Corvettes that have caught my attention. They say red turns heads and it's true. Well, I decided to sell my truck and use that money towards the purchase of the Corvette. I searched and searched until I found the one for me, a 2007 Red Z06 Corvette. I purchased the car but had no clue how to drive a manual transmission. So, a buddy of mine and I made the trip to pick it up and he drove it home for me. My thought process at the time was one of two things, either I burn the clutch, or I learn how to drive a manual. Luckily for me, my employer at the time had manual trucks so every day I would borrow a truck and practice.
After stalling the truck a few times and watching a few "How to drive a manual transmission" YouTube videos, I felt comfortable enough to take the Corvette out. I was finally able to enjoy my dream car, but even while owning it, deep down inside there was something missing. If you guessed the single cab, then you're right. Who could miss a truck when you finally had the car you have always wanted? I don't know if anyone else would, but I certainly did. After a couple of years of owning the car, I decided to sell it and get back into the truck scene. So, my quest for purchasing my next truck began. I knew I wanted a single cab step side. Recently they are becoming harder to find.
There are a lot of sick fleetsides built in Houston and around the country but there are only a few step sides on big wheels. I wanted to build something different. I wanted to stand out. I eventually found the perfect truck. My 1999 Chevy Silverado Step side single cab aka Big Lips and Wide Hips. But what if I told you that BLWH never happened? The day Alex, Robert, and I went to look at what would transform into BLWH, the seller and I could not agree on a price, so the seller drove away. We sat in the Hobby Lobby parking lot trying to decide if I should bite the bullet and keep looking or if I should just pull the trigger and purchase it.
The seller wasn't even home when I called him to try and agree on a price. Eventually, we agreed on a price and the deal was made. I was finally heading home with my step side. Since that day I knew I wanted to slam it and slap big billet wheels on it. I knew that in order to fit big wheels on the truck, it would require major suspension modifications. So my search for a suspension shop began. Thanks to YouTube I was able to find a local shop that specializes in custom suspension for cars and trucks. I contacted Julio at Reklez Suspension Works and discussed my plans for the truck.
We talked about different suspension options, and I finally decided to have bags installed for the front suspension and to have fully adjustable QA1 coil-overs installed in the rear. Now the only thing left to do was to decide what size and style of wheels I wanted to purchase. They say everything is bigger in Texas, so I decided to go with 26x9 and 28x12 reverse with a 10-inch lip Houston II's by Intro. The build began at the beginning of Covid and despite the obstacles, Reklez faced during the first few months of the pandemic, Julio and his crew knocked it out of the park. It's been pure enjoyment since the day I picked it up from the shop. It turns heads everywhere I go and it's constantly complimented. I am extremely happy with the way it came out. What's next for BLWH you may ask?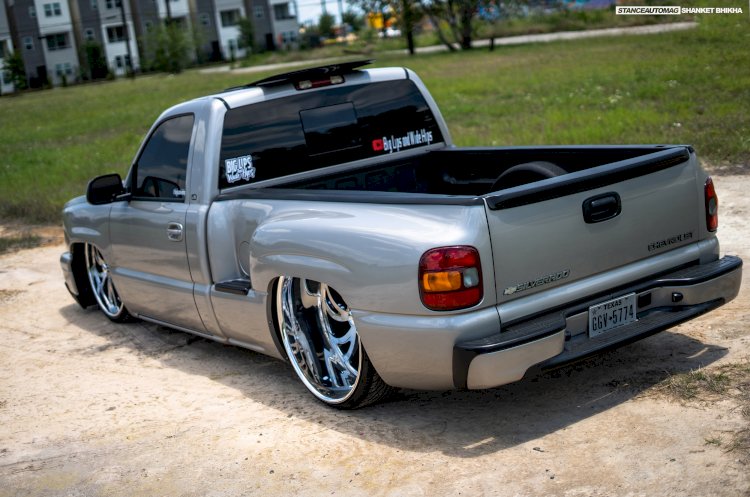 I have plans to make some performance and interior upgrades. Maybe a Whipple supercharger or a turbo. We'll see what the future has in store. A definite must is to upgrade the brakes with Wildwood big disc brakes. BLWH is also equipped with a Comp custom grind cam, Texas Speed Headers, and a Carven exhaust. If you enjoy the sound of an LS engine popping popcorn at any time of the day, then you should definitely check out my videos on Instagram or on YouTube. It's like music to your ears!
If you enjoyed this Truck why not read this ONE HERE
This entire process has been a blast. I've had the opportunity to meet a lot of dope people. Whether it's been at shows or when driving BLWH around town. I've been extremely fortunate to have been able to build what I now consider my dream truck. To anyone wanting to purchase or build their dream vehicle, you can do it. Set goals for yourself and invest in yourself. Work hard and dedicate yourself to your craft and you will see that all your hard work will pay off. I am an open book when it comes to my build. If someone out there has any questions don't hesitate to reach out to me via Instagram DM. I enjoy sharing my journey with others, but also the knowledge I've gained.
If you would like to check out more of Big Lips and Wide Hips you can always check out my YouTube channel. I've documented the entire process from start until now. As far as the Z06 Corvette, hopefully, one day I'll own another. When that happens, both the car and the truck will stay for good. I would like to take this opportunity to thank everyone who's helped me along the way. All of the supporters, my family, and friends for the continued encouragement. And you for spending a few minutes out of your day to learn about my build.
Big Lips and Wide Hips Specs:
1999 Chevy Silverado 1500 Step Side with a 03-06 front end

2" cowl hood with colour-matched front end

Custom suspension fabricated and installed by Reklez Suspension Works

Reklez custom front airbag suspension kit w/air lift bags

Hydro boost conversion

Relocated battery, fuse box, & PCM

Upgraded hood strut kit

Front and rear tubs (rear tubs with dimple dies)

Reklez custom 3 link rear suspension

Rear QA1 adjustable Coil-overs

Air tank 7-gallon tank

Viair dual compressor kit

Reklez custom narrowed monster notch

Monster notch cover

26/28x12 reverse Houston II's by Intro Wheels
Audio system:
Deaf Bonce Apocalypse & Infinity Kappa door speakers

(3) JL Audio TW3 12" subwoofers

Rockford Fostgate T10001bd amplifier

Hannibal Deaf Bonce AHL-200.4 amplifier

400-amp Mechman alternator

Optima Yellow Top Battery
Engine:
Comp Custom Grind Cam

Texas Speed Long Tube headers

Carven Exhaust
What do you think?
Please leave your comments in the comments section at the bottom of the page
'The future is bright as long as we can still Smell the Fumes'
Stay Up to Date Check Out Our Google News and give us a Follow
All of our Magazine can be found on Amazon, they Print and Deliver worldwide, Stance Auto can not be held responsible for the final print, all complaints and returns must be directed to Amazon.
UKTM no: UK00003572459