Callum - 2005 Suzuki Ignis Sport
The Ignis overall isn't a very quick car, but its lightweight and high revving engine making it feel great to drive and honestly feel much quicker than the 125BHP out of the Swift Sport I had.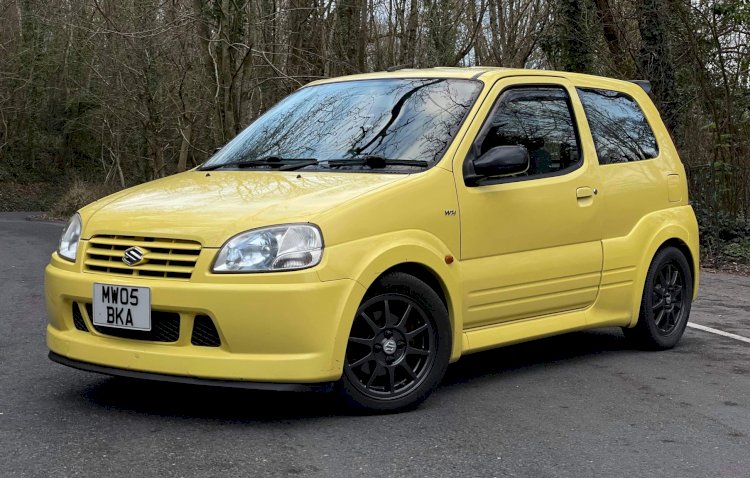 Join Stance Auto Mags Group Like our Facebook Page Follow us on Instagram
Join Our Facebook Group HERE
More Images in Slider Above
Callum
2005 Suzuki Ignis Sport
Instagram: @ht81s_baugh
I'm 19 years old and drive a modified 2005 Suzuki Ignis Sport.
I work as an ICT Technician for the local council and have done for over a year now, overall, I have always been into cars and the scene surrounding. When I was I used to point out the make of every single car that went by when we walked into town, and then I saw a 2002 Toyota Celica for the first time and I was hooked instantly. Now that I'm older the Celica isn't my first choice of cars but I think without that I wouldn't love cars like I do today.
I've been actively going to shows for around 3 years now, I first went to Cruise Culture in 2017 with my dad and have known since then I wanted to modify a car so when I passed my test in October 2020 it was a giant open door, I could actually start driving and modifying the car I drive. The first car I owned was a 06 Suzuki Swift in a really nice blue colour but that eventually rusted underneath, so when September 2020 rolled around, I picked up a 07 Suzuki Swift Sport. The Swift Sport was great, low and pokey and it didn't hesitate when it was being chucked around corners as it felt planted being so low, but I decided I wanted something I bit more unique and quirkier looking so in December I swapped it for my 05 Suzuki Ignis Sport in Suzukis 'brilliant yellow' paint. I knew since seeing one I wanted one, and it had to be in yellow as it really stands out and is not a car you would miss in traffic and I think that's what I really love about it, it stands out.
The Ignis overall isn't a very quick car, but its lightweight and high revving engine making it feel great to drive and honestly feel much quicker than the 125BHP out of the Swift Sport I had. The Ignis comes out of the factory with 107BHP but with a couple of changes such as a power flow exhaust system, Monster Sports head gasket and a JDM spec ignis ECU that came standard with 115BHP it can quickly reach 120-125 making it quite a head-turner. I've done a few bits to the car in my 4 months of ownership such as 35MM H&R lowering springs and 20MM spacers all around, the full list is below:
Spec List
15" Enkei's all around

ProRam Air Intake

AC Delete

HEL Braided Brake Lines

Camber bolts

Green Stuff brake pads

Grooved brake disks

20MM Spacers all around

35mm H&R lowering springs

Upholstered interior (Suede on Recaros, gearstick & gator and leather/suede steering wheel)

Powerflow Exhaust System

Front Lip

Small touch-ups such as tow eye covers, fuel flap and boot lid.

De-Wiper and De Badge on the rear.

Silicone pipes for cooling systems.

Monster Sports head gasket

JDM Ignis ECU.
These modifications were done by a mixture of me and the previous owner, standard the car does 0-60 in 8.9 seconds which is the same as the 07 Swift Sport although I'm unsure of what it will do now. The plan is for it to make 160BHP by the end of the year, and I will get to that by the turbo kit which is currently being made by Empire Motorsport who are the people I originally got the car off. Personally, I want the car to be show ready by summer next year and for that to happen I've got a few plans for it such as:
Rear strut brace from Empire Motorsport.

Full car respray in canary yellow, with the wheels in white.

Vertex steering wheel

Black suede headliner

Rear Seat Delete

Turbo kit from Empire Motorsport, being manufactured by Gizfab.

BC Racing Coilovers

Advan RG1 Wheels

Suzuki Sport optional grille and amber fog lights.
For the largest amount of work, I've taken it to the garage to be done, things like the head gasket and springs just aren't possible with the tools me or my friends have laying around, however, things such as spacers, air filter and brakes were done by me and my friends on the drive as I'm sure most project cars are. The first modification that was done to the car by us were the spacers since then I really haven't stopped doing little bits to it and I think that's the same for the majority of people who began modifying cars, once you've got the bug you don't want to stop. The garage I take it to is Wern Garage in Gilfachreda who do an incredible job with it every time and don't mess around with timing or your money, I couldn't recommend enough so if you're in the area and are looking for good work to get done give them a call on 01545 580050.
Building the car has been great not only because it's 'cool' to own a modified car, but it's also been awesome to finally share the passion with others in car groups such as West Coast JDM, Club HT81s and many others. Everyone has their own touch to their build so it's always awesome to see what people come out with, and it's great because there are never any arguments which are rare to see in any scene nowadays.
Im looking forward to shows being back open, not only because I can take my own car there for the first time but There's nothing like being surrounded by people with the same passion as you and we have been without it for so long that I think everybody is excited to get back to travelling hours and hours to tracks and events. I've only been to very few myself such as Motor Madness and Cruise Culture, but now I'm on the road Im looking forward to going wider to Japfest and Castle Combe and with a bit of luck getting the ignis on a stand. Japfest has always been one I've wanted to go to but never found a way there, so that is at the top of my bucket list for when it rolls around.
The ignis will always be in my fleet, but eventually, I want to branch out and knock some cars off my list, cars like a PS13, JZX100 Chaser and C33 Laurel are at the top so I've got quite a bit of saving to do but I will have them eventually.
What do you think of this Motor leave your comments below in the comments section?
All the Cars in the Online Version of our Magazine will eventually appear in our Fully Printed Magazine, the cars with the most Views, appear sooner so keep sharing your articles with the share button.
If you would like your Car and Story or Your Business Featured like this, Please
Email: Admin, or Submit it through our Forms.
Our site contains links to third party websites. We are not responsible for the privacy policies, practices and/or content of these web sites. Their use is at your own risk.