Callum Roberts - Rio Yellow Honda Civic Ep2
I came into the scene with a Limited Edition Vauxhall Corsa. This meant that not many people actually liked me as no one really likes them! Still made that thing look cool though…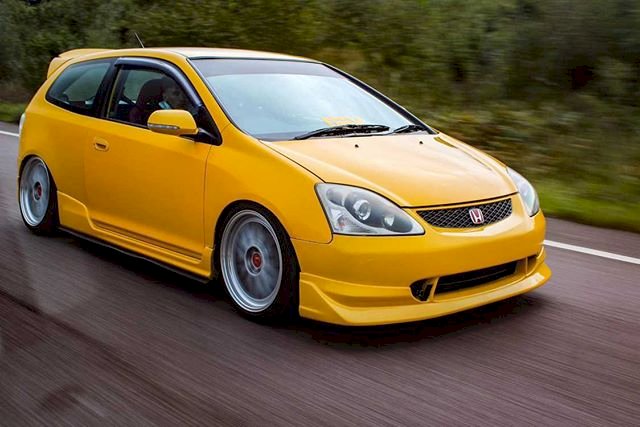 Please join the site and Facebook group below, this helps us find more HOT cars, Thanks.
Hi all
My name is Callum Roberts.
Instagram: @x.coby
I currently drive a Rio Yellow Honda Civic Ep2. The reason why I drive my car is because, I have always wanted a car that would stand out from the crowd.
I have been a fan of Hondas from a very young age! My mum owned a white Civic EG which are now quite popular builds and I was taught on Honda Motor-cross bikes therefore, I can say that Honda has been a big part of my life in that aspect!
What got me into the car scene? Well this is a funny one, as I came into the scene with a Limited Edition Vauxhall Corsa. This meant that not many people actually liked me as no one really likes them! Still made that thing look cool though…
To be quite honest, I only started working my way up when I bought the Civic. I bought the Civic with the engine completely untouched and stock however, the car had already been lowered and stanced which at the time, I hated! "It looked cool but impractical"
So regrettably, I sold the deep dish 17" I had on it at the time. Raised the suspension and put some black wheels on, so I could actually drive it. Which soon quickly changed as I went back to the "stance" or "scene" look. So you could say, I somewhat reverted it back to stock then started over again.
In terms of cars stats, they are rubbish. It's an EP2 not a Type R which everyone seems to take the micky out of however, I would never do the things I have done to a EP3 as it would be a waste to drive a fast car slow.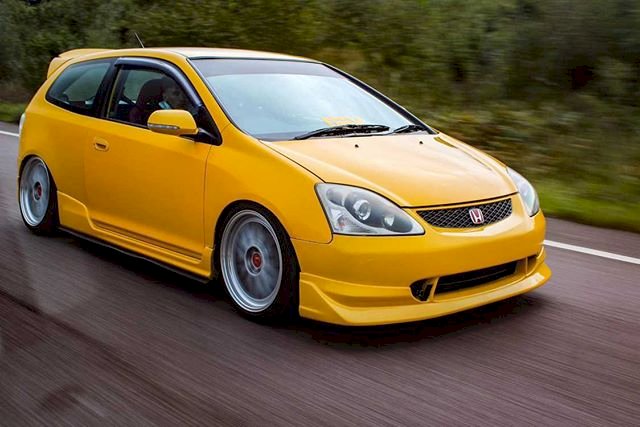 Full Spec List:-
Painted in a sS2000 Rio yellow
Red Integra dc5 recaros
Hard race rear camber adjustable arms
Bc Racing coil overs
Air walker front lip
Smoothed front bumper
Vetted steering wheel
Scroth 5 point racing harness
Boot build
Bbs lm reps 18"
3" centre pipe exhaust with 5" back box
Rare clear taillights
Side skirt extensions
Mugen rear wing
Rear wiper delete
Sun strip
Cool pikatchu sticker (favourite mod)
Mugen gear knob
Type r floor mats
When I bought the car it had been bodged. Even the exhaust was held up by cable ties when I came to change it! The front bumper was damaged badly so repaired that with fibre glass and filler. I did eventually fix car when it was driveable!
After a while I then missed how the car was when I bought it and decided to get it low and "tilty" as my mates would say, so I slowly and eventually got it back to being a show car.
In terms of work, I still have loads of planned for it. I will never get rid of it, it's so unique and most people love it and some may hate it however, most importantly, I love it!!
My dream car? Good question, I would probably say my favourite car is an Audi R8 V8 manual. It was the poster in my bedroom when I was younger and you definitely can't beat a manual.
I have only had the Civic a year, I was so excited to show this off at shows and manage to get through to some and then…. This pandemic happened and all of it went down the drain!
Thank you for reading my article and don't forget to follow me on Instagram,
If you would like your Car or Business Featured like this, Please
Email: CARLA, SHANNON, ANDZ or ADMIN, they would love to hear from you.
Our site contains links to third party websites. We are not responsible for the privacy policies, practices and/or content of these web sites. Their use is at your own risk.