Danny Barnett  Vauxhall Adam s
It's probably a bit of a weird choice for a bloke with a family to drive a little Adam, but I like it, I've always had a thing for little cars.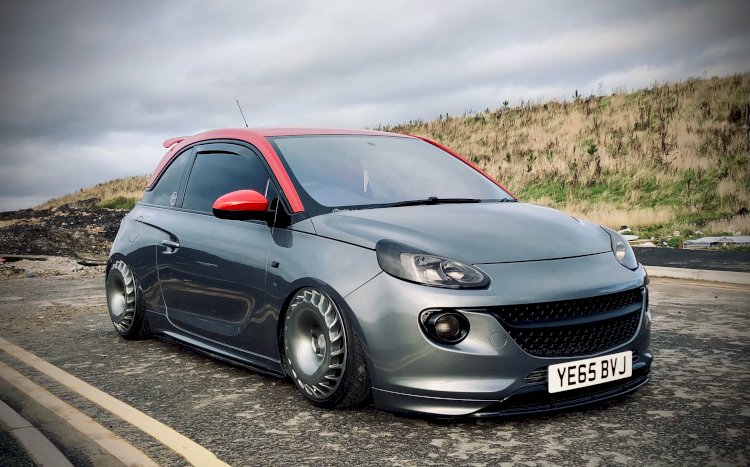 Join Stance Auto Mags Group Like our Facebook Page Follow us on Instagram
To Buy Our Printed Magazine Check out AMAZON and our MERCH STORE
More images in the slider above
Danny Barnett
Vauxhall Adam s
Instagram: @danny_j_b
Hi, I'm Danny. I'm 38 from West Yorkshire and I drive a little Vauxhall Adam. I got into cars from as far back as I can remember, every time my mum went shopping I insisted that she bought me a Hotwheels car! I think the fascination with cars came from my dad, he always had a different old banger car that he was constantly messing within the garage, I remember as a little lad my favourite thing to do was go looking around second-hand car garages with him for his next crap box of a car to mess with. I passed my test as soon as I could and my first car was a pug 206, I then got a fiesta 1.3 and that's when the modding started for me. It was the days of max power and the fiesta sported a massive body kit and a set of 17" wheels, they were classed as big back then haha! It used to go round the max power shows and the cruises back in the day! And I loved it.
It's probably a bit of a weird choice for a bloke with a family to drive a little Adam, but I like it, I've always had a thing for little cars. It was kind of an accident I bought the Adam, I used to have a modified Vauxhall insignia before the Adam and was originally looking for another insignia, but an estate insignia, when I saw it across the forecourt! and thought, that's quite cool, I liked the Adams anyway, and you don't see that many Adam s around. Anyway, I took it for a test drive and ended up buying it.
So the modding started. Originally I wanted to go down the track style performance route with it, so I got some coilovers some black bbs ch alloys and started doing engine bits, but, to be honest, the track car side of the scene didn't really do it for me, I'm definitely more into the stance/show side of modding, so I left the car at 185bhp and started with the stance, I found some Verein sport wheels that are generally a vw thing, but I've always liked them on the golfs. They went on with some stretched tyres, I also missed having a decent sound system, so with the help of Bret form sideline audio, I stuck two 15" edge pro subs in the back, I had to rip the back seats out to make way, Bret made me some custom door cards and put 4 hertz 8" spl show mids and a pair of Cerwin Vega tweeters.
The air suspension was something I've wanted to do for ages, it's quite hard modifying the Adam as there's not many off the shelf parts for them. The bags are from Intermotiv and are the stealth kit for a Corsa vxr, coupled with airlift 3p management. Being from Yorkshire I can be quite tight so I fit most of the stuff myself and this was the first time fitting air. If you can fit coilovers and wire a sub in you can fit air ride, it's not that hard!
So that's about it, up to now for the journey with Adam, I believe a car never finished and this is far from finished, There's always more stuff to buy and do. I'm also a moderator for Vx-Enthusiast, so if you've got a Vauxhall head over and join a great bunch of guys and gals! Also sponsored by GB Detailing, so if you fancy trying so good detailing products give them a try, use Danny J for a cheeky 10% off
Modifications
Engine/performance
Vaux pro induction kit with heat shield and cold air intake

Airtec intercooler

Tony Banks exhaust

Remap at WestYorkshire running

Short shifter

The engine covers hydro dipped
Exterior
Verein sport 18" alloys

Tinted windows all round including vision plus front window tint

Tinted front and rear lights

Tinted sequential side repeaters

All de chromed

Badgeless front grill

Self-made side skirt extensions

Self-made front splitter (cut down universal one)

LED headlight bulbs

LED license plate bulbs
Interior
Full leather Recaro seats

Red dash panels

Boost gauge in the air vent

Dyed black headliner

Retrimmed a/b/c pillars in black carpet

Retrimmed boot plastics in black carpet

Smd conversion

Custom door cards housing 4-hertz spl show 8" mids and Cerwin Vega pro tweeters

Rear seats removed to fit two edge pro subwoofers

Hertz 4 channel amp and a ground zero 3k amp hidden under the false floor.
Suspension
Intermotiv Vauxhall Corsa vxr stealth air suspension kit with 3p
All the Cars in the Online Version of our Magazine will eventually appear in our Fully Printed Magazine, the cars with the most Views, appear sooner, the Magazine is sold the world over through Amazon, making it easier and faster for people around the world to get their copy. UK and Ireland use our store stanceautomag.com

If you would like your Car and Story or Your Business Featured like this, Please
Email: Admin, they would love to hear from you.
Our site contains links to third party websites. We are not responsible for the privacy policies, practices and/or content of these web sites. Their use is at your own risk.