Javier Martinez - 2006 Honda Odyssey Ex van
This end of the year feature is a very special one for us here at Boxedlifestyle.com. You see, it's not only about the cars but also the people in our community and this story is about Boxed Lifestyle member Javier Martinez's "OEM plus" 2006 Honda Odyssey Ex van and most importantly what he had to overcome to achieve this incredibly clean van build.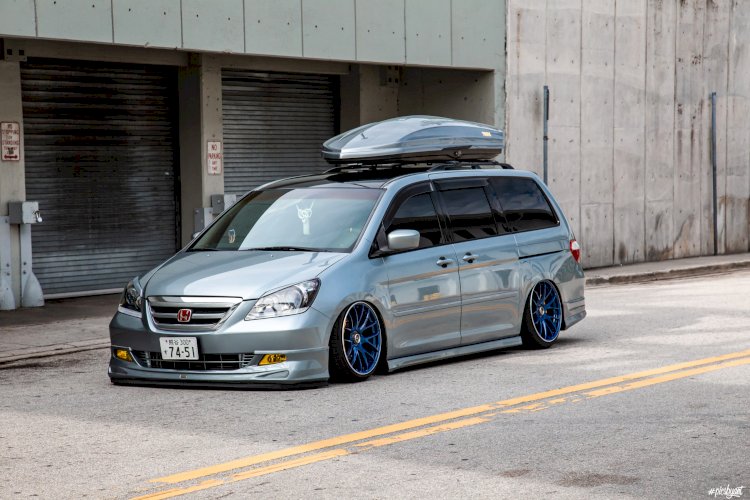 2006 Honda Odyssey Ex van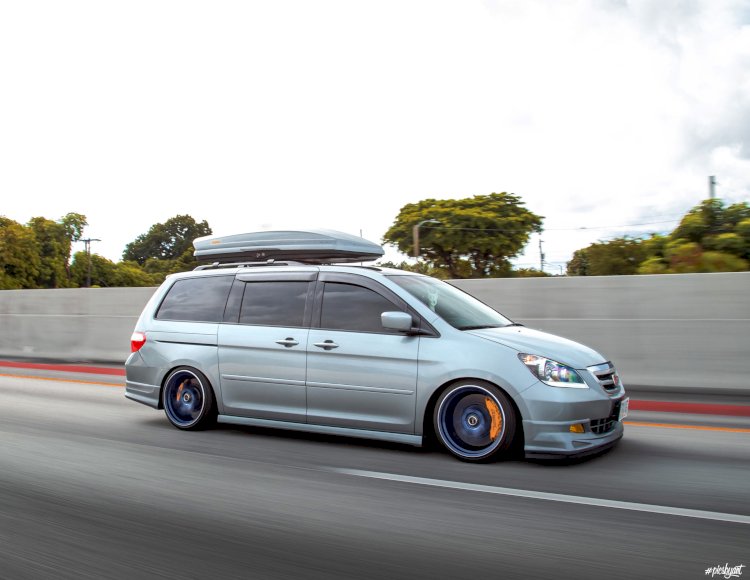 Join Our Stance Auto Mags Group, Give Our Facebook Page a Like, and Follow us on Instagram
More images are in the slider above, These Photographs are supplied by the Photographer, check their Link for Bookings.
Order the Printed Magazine HERE!!
Javier Martinez
2006 Honda Odyssey Ex van
Instagram: @Jserieshonda
Photographer @picsbyant
Author: Tu Le.
Instagram: @ogdrift
Club: Boxed Lifestyle / @Boxed_Lifestyle
It's been a while since I've submitted an article for Boxed Lifestyle and I'm sure we can all agree that we've been busy with life and dealing with this pandemic in our own way. Considering everything that has been going on, it's nice to reflect and escape to things that we all enjoy and for us, it's custom car builds.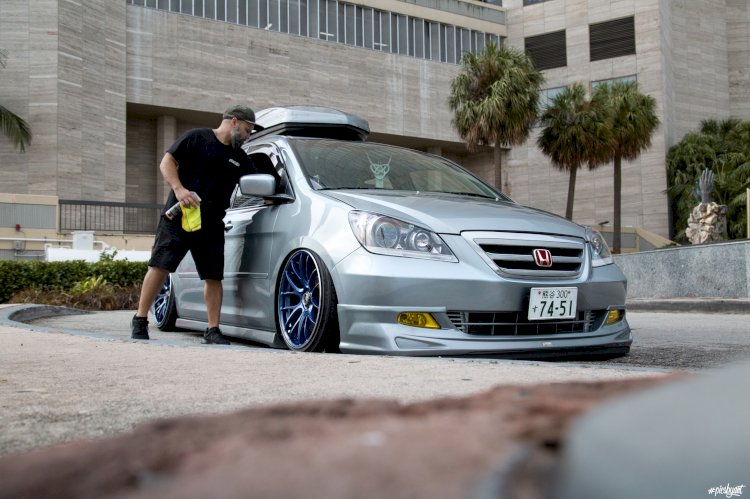 This end of the year feature is a very special one for us here at Boxedlifestyle.com. You see, it's not only about the cars but also the people in our community and this story is about Boxed Lifestyle member Javier Martinez's "OEM plus" 2006 Honda Odyssey Ex van and most importantly what he had to overcome to achieve this incredibly clean van build.
Javier is no stranger to the modified car scene. For as long as he can remember, his dad brought him to local race days and although he grew up around old school Toyotas and rotary swapped builds, Hondas had always been his go-to. Today, he also has an Element for daily use and another 2009 Odyssey van serving as a family vehicle.
There's a popular saying in the Honda scene that states, "Passion first, and the rest will follow." That passion started with a simple red 1985 CRX for Javier back in the day. Fast forward a couple of years, Javi was still into Hondas but this time, the Honda chassis of choice was an Odyssey van.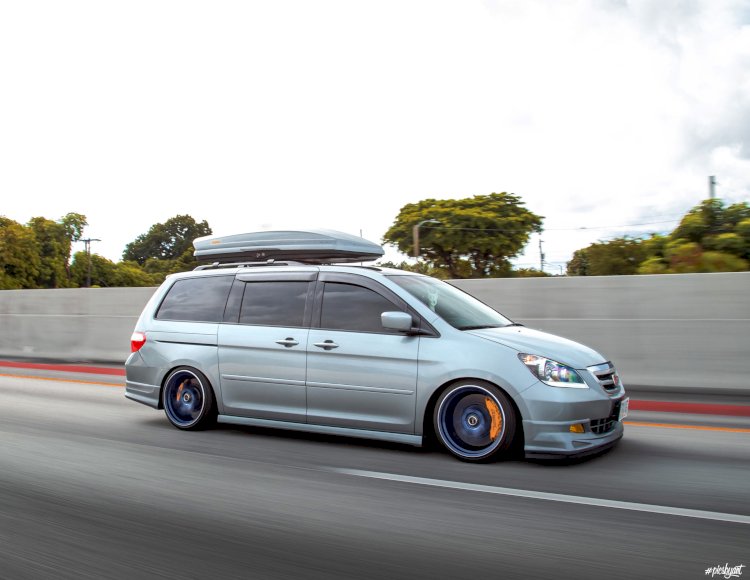 So why a Honda Odyssey van for such a Honda fanatic? Well, there's a scene called VANkulture in which old people can continue their love for car culture. I'm just kidding when I say, "old people," but rather it's a part of the aftermarket/car scene that is based on family values and van aesthetics. Just because some of us are married and have kids doesn't mean this passion has to end. The VANkulture movement was perfect for this and plus you won't be sleeping on the couch for that mid-life crisis purchase.
They say patience is a virtue, but would you believe this van build took over 8 years to complete? Taking longer than most marriages, Javier took his time in obtaining the right quality parts for his vision of the perfect van build. Just as the build was nearing completion, heartbreak happened and the original van was totalled. Javier was forced to take drastic action and in doing so, a Version 2 build took place and what you see today as a result of that commitment and passion.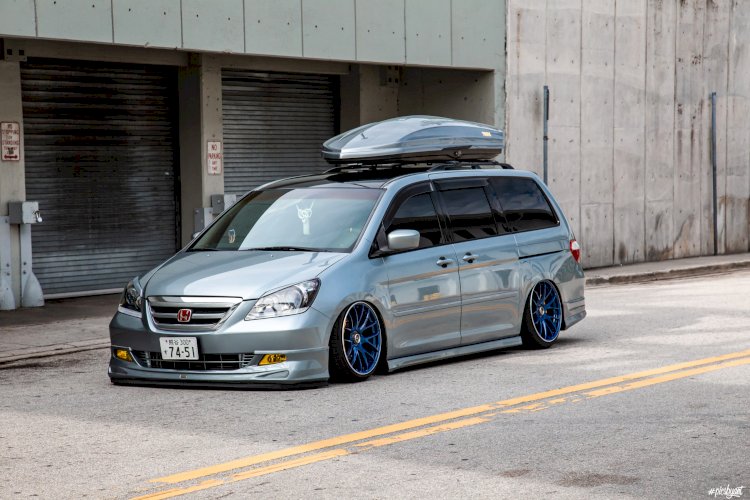 99% of us would probably set up a quick part out list on Instagram by now, but Javier was that 1% that decided to keep moving forward with his dream Honda van build. Luckily, a donor van was found only hours away and so began the process of Version 2.
From a totalled van to V2, would you believe the process took just over 4 months? Now before you say, "That's simple enough...just a few parts to change over," realize this was a complete engine/drive train swap also. The Rl3 Honda Odyssey Ex-model has a J series motor and even though we never got the 4 door Rb1 Honda Odyssey van here, we did get the extra cylinders from the Ex's V6 powerplant. This was very essential, along with the rest of the quality aftermarket parts that had to be transferred as well. Javier's original vision for this van was for an OEM plus look and if you look at the outward appearance, you will barely notice the subtle front bumper lip produced by City Kruiser, which lowers the front perfectly with the OEM side skirts and rear valance.
The ground effects are further emphasized with the addition of 20" Ray's engineering G27 forged wheels, that have been powder-coated a gorgeous mag blue "Volk Racing" colour. To go even further, reproduction wheel spec decals were even made to keep to the authenticity with the new colour. No wheel combo would be complete without a big brake kit peaking from behind its spokes and the huge yellow Rotora 4 pot callipers are hard to hide alongside the massive Rotora brake rotors.
During the build of Version 2, Javier had the entire air suspension redone. A first of its kind kit from Fitment Gurus was developed to replace the previous bag over the Coilover setup. Needless to say, the added adjustability from the new 32 dampening level struts with custom spherical ball upper plates and double bellow bags, definitely improved the ride quality and at the same time gave it that desired stance on air.
Just a couple of months into the rebuild of the Odyssey, what was the joyous birth of Javier's son was met with complications. It was at this time, that the support of friends and a GoFundMe page really helped pull Javier through. He could've easily postponed this project but through the support from loved ones and friends, the build of V2 continued.
Everything from the previous build continued to be transferred over to V2. This included the entire lighting setup which consisted of custom chasing VIP LED taillights imported from Thailand and a Q45 projector retrofit that Javier proudly built himself. Javier would claim that the appearance of the van is pretty tame and close to OEM but we think it's definitely on another level. As clean as the van looks, you will always notice the wheel setup and the stance with the subtlety of the ground effects shining through.
However, Javier being a professional electronics technician at Best Buy, Version 2 was all about the interior. The interior took heavy influence from the VIP scene over in Japan with many custom details.
Starting with a set of front and rear VIP tables done exclusively from Legit VIP, the Ex van's seats were also adorned in Clazzio diamond-stitched covers and there are VIP accessories from Junction Produce throughout the car. A sound system consisting of Alpine component speakers powered by an Alpine amp, and a Kicker subwoofer powered by an Audio Control amp, makes up for the entertainment. However, details such as the custom suede faux floor covered by an acrylic window with RGB lights, really add to the VIP interior aesthetics of V2. The Air Lift 3p management was also custom mounted in the trunk with LED accent lighting for that added VIP flare.
Just as Version 2 was about to be complete another obstacle came in the way. The unthinkable happened and Javier was struck with Covid. During this time Javier became gravely ill as he was admitted to the hospital.
What seemed like the rebuild of this van project nearing completion, Javier was now faced with the fight of his life. If it wasn't for the support of his friends and family, Javier might not be here today.
I like to go off on a tangent with these features but honestly, the promises of attending shows again with friends, along with prayers and support from family, really pulled Javier through.
They say climbing Mt. Everest is a great personal goal to accomplish, we here at Boxedlifestyle.com think that finishing a car build is just as important if not even more. A car build not only represents your creative vision but also friendship and values, and in this case, the support of friends and family proved to be a real-life saver.
With the help from friends and family, Version 2 was completed but most importantly, Javier lived to attend shows for another day and during these unpredictable times, this is perhaps all we can really ask for. Javier would also like to give a shout out to Ray's Auto Repairs for handling the engine/drivetrain swap and to his wife, Janielle, for her support since day one.
We here at Boxedlifestyle.com would like to give a shout out to Javier for persevering through this most challenging build and just for staying alive. They say what good is the victory if the obstacles weren't so great and, in this case, Javier climbed a mountain to achieve his build of Version 2. Congratulations on your accomplishments and we look forward to you representing in the show scene once again.
What do you think? leave your comments in the comments section at the bottom of the page
'The future is bright as long as we can still Smell the Fumes'
Check out our Google News give us a Follow
All of our Magazine can be found on Amazon, they Print and Deliver worldwide, Stance Auto can not be held responsible for the final print, all complaints and returns must be directed to Amazon.
UKTM no: UK00003572459