Jon and Astrid Madrid - 1980 Toyota Cressida Kaido Racer
The biggest mistake we see when people try to build a kaido racer is using the wrong chassis as their base. Having the right base will make it easier to achieve your goal, especially if you are new to building these cars. 1970-1980 are the ideal years for anyone looking to build one themselves, your base car is a make or breaks for these builds.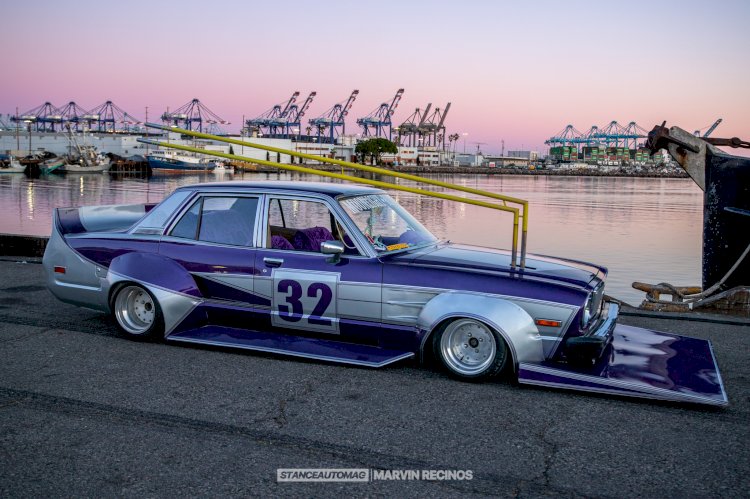 1980 Toyota Cressida Kaido Racer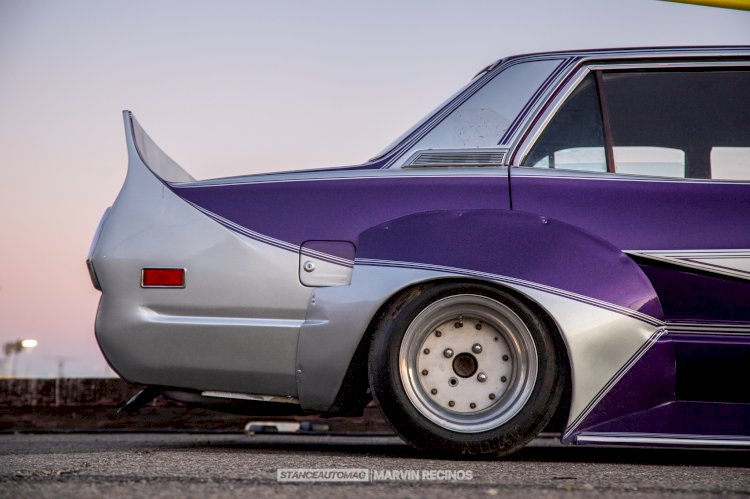 Join Our Stance Auto Mags Group, Give Our Facebook Page a Like, and Follow us on Instagram
More images are in the slider above, SLIDE LEFT>>>>>>>>>>>
These Photographs are supplied by the Photographer, check their Link for Bookings.
Order the Printed Magazine HERE!!
Jon and Astrid Madrid
1980 Toyota Cressida Kaido Racer
Instagram: @moonlightrunners
Photographer: Marvin Recinos - @mr2mivin
We are a husband-and-wife team, born and raised in Southern California. We grew up in the SoCal punk scene and drew many influences for our car styling from the punk culture that we still live in today. From Honda's to drifting, to VIP and eventually finding our love for old Japanese cars, we are very passionate and family-driven and involve our kids whenever we can with the cars. We hope to inspire people to build their own kaido racers and we love seeing this culture continue to grow outside of Japan.
Growing up in a city and neighbourhood where you can get in a lot of trouble, you had to find a way to stay out of trouble as much as possible, and for me it was cars. However, I still found myself attending illegal street races and canyon runs at the time and the adrenaline rushing experience is what drew Astrid into the car culture leading us to build our cars together. We remember stumbling on a Youtube video of kaido racers in Japan and instantly falling in love and deciding we had to build one for ourselves.
The more and more that we dove into the kaido racer culture, one car that really stuck out to both of us is the mx32 Cressida. It was a car that both of us decided we wanted to get when we first saw one in person but there were none for sale when we began looking for one to buy. We ended up finding a car in San Diego, which is a few hours south of where we live, and it was a one-owner car that was being gifted to the family's oldest daughter. His daughter thought it was ugly and didn't want it as her first car, so we traded him our daily for the mx32 and that's how we ended up with our first Cressida. There's just something about the overall body of the car that is so appealing to us. The Cressida chassis is something that we really really love, the way the body lines flow, the styling, it's an overall great car which is why we currently own three.
Before we even got the car, we knew we had to build a kaido racer, but we had zero bodywork or fabrication experience. Being drawn to the kaido racer culture of Japan required us to step out of our comfort zone and really dive into custom work. The styling is very outlandish which is what's also very appealing to us. Growing up in the SoCal punk scene, and already having that rebellious nature ourselves, this culture really drew us in.
We dressed and looked different because we wanted to stand out and SHOW we are going against social norms which are why this car culture hit on a personal level for us and went deeper than just car customization. It was worth us stepping out of our comfort zone and what really drives our passion behind why we build these cars, and specifically, why we built this car. With no readily available blogs or a "how-to" guides, we resorted to endless hours of watching YouTube videos, pausing, zooming in and then trying to figure out how certain parts were mounted or made.
It's always great taking the car out because it demands attention from every walk of life.
When we're driving on the streets people are always stopping, honking, giving thumbs up (or the occasional thumbs down), and breaking their necks just to get a look at the car on the road. Whether you're into cars or not, young or old, into supercars or your run of the mill tuner, people are always stopping and asking questions and are intrigued about the car and the style. The best part about it is the kids' reactions, we used to hear from the neighbourhood kids that we build Hotwheels haha.
This build is something we knew we wanted to build for ourselves before we even got the car. Seeing all of the positive feedback and appreciation for the car is amazing and refreshing. We never dreamed the car would be displayed at The Petersen Museum or have magazine shoots but are very grateful for the doors it has opened and has allowed us to work for ourselves by providing custom work to a growing community here stateside.
To our knowledge, it is the first full chibaragi style kaido racer built stateside. The 10-foot long exhaust pipes and the 5-foot deppa (chin spoiler) make for an eye-catching, attention-grabbing car at any meet.
Spec List
Engine:
Rebuilt 4M inline 6
Custom manifold to accommodate the hood exit exhaust
1.5" exhaust diameter
removable dual exhaust pipes
Exterior:
Savannah works flares custom-moulded for the mx32 body lines
Custom side steps
Custom deppa (chin spoiler) - also removable
Custom moulded 3 piece wing
Full shaved rear
Fender vents
Rear door vents
Custom Kandy purple
Moulded MR2 vent
Interior:
Purple crushed velour interior
Purple patlite
TSX-20 parcel shelf speakers
8" steering wheel
Wheels:
Original barrel 13x10 and 13x12 SSR MK1
Avon 9.0/20.0-13 and 9.0/21.0-13 tires
This version was attained after multiple mishaps and failed attempts on our part. As we stated before, coming into this build we had no skills or access to anyone around us to show us how to make our vision a reality. We didn't just want to take the car to a body shop because one, we couldn't afford it and two, we are very DIY with almost everything we do. This goes back to our punk roots which is why this build has seen many transformations throughout the years up until now.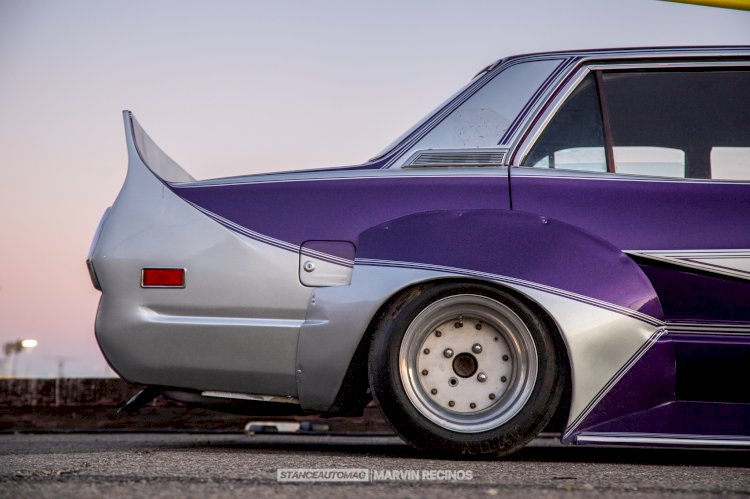 As we continue to push and persevere through setbacks and mistakes, we've been lucky enough to have encountered more and more people in the trade (body working, fiberglassing, paint etc) that have been willing to take us under their wing and teach us tips and tricks which has helped us further our knowledge. The constant repetition of working on these cars day in and day out, allowed us to start perfecting our own skills. Having done the work ourselves, with the help of friends, this car is a representation of our growth not only as builders but as individuals and as a couple.
We managed to finish the car in 5 weeks with many sleepless nights and friends helping when they could. Working a full-time job with a 1-year-old and a 9-year-old at the time was difficult when it came to completing the build. Once I finished the body working and fibreglass work, Astrid jumped in with helping prep for paint. It took her 60 hours to pull the tape lines, constantly measuring to make sure both sides of the car are symmetrical. Traditionally, the cars run thicker tape lines but having grown up around lowriders, we decided to add our own spin and pulled thinner tape lines, the paint job itself took 2 weeks to complete. This car is our interpretation of what we feel a kaido racer is with influences from our culture and upbringing. We finished this car in 2018 and have continued to grow and hone our skills since then.
If you enjoyed this Car why not read this ONE HERE
Future Plans
We plan on making a mould of the rear end and replacing it with a full fibreglass build and potentially doing a second spec in the future. For now, we have plenty of other cars we are building.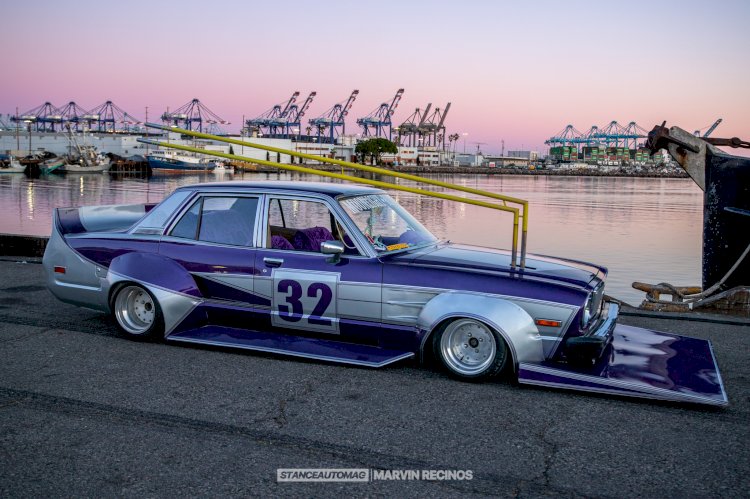 Advice/Tip
When it comes to buying an mx32 Cressida, you can't really go wrong. However, when it comes to wanting to buy a car to build a kaido racer, we highly suggest doing your homework to see which style you want to build. There are many different styles that originated in different prefectures in Japan and mixing styles results in a muddied build. The biggest mistake we see when people try to build a kaido racer is using the wrong chassis as their base. Having the right base will make it easier to achieve your goal, especially if you are new to building these cars. 1970-1980 are the ideal years for anyone looking to build one themselves, your base car is a make or breaks for these builds.
We have been able to have friends all over the world and have been able to meet people we otherwise wouldn't have all because of our cars and the car scene. We are extremely grateful and appreciative for everyone that supports us and cheers us on.
Dream Car
We don't really have a dream car perse; we strive to continue to modify these cars in the different kaido racer stylings and hope to continue to build on our collection.
What do you think?
Please leave your comments in the comments section at the bottom of the page
'The future is bright as long as we can still Smell the Fumes'
Stay Up to Date Check Out Our Google News and give us a Follow
All of our Magazine can be found on Amazon, they Print and Deliver worldwide, Stance Auto can not be held responsible for the final print, all complaints and returns must be directed to Amazon.
UKTM no: UK00003572459