Don Vo - 2000 Honda Civic Hatchback EK
Would I recommend people buying the same car as me? Yes, if they can even find them still clean like mine. Lots of people have asked if I want to sell my car.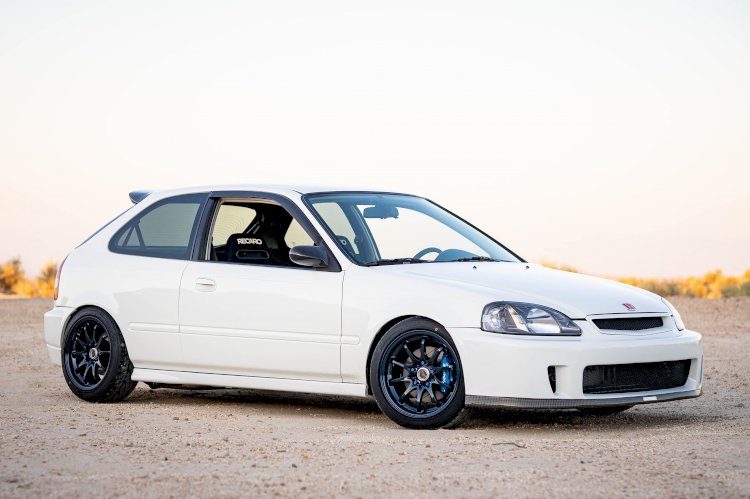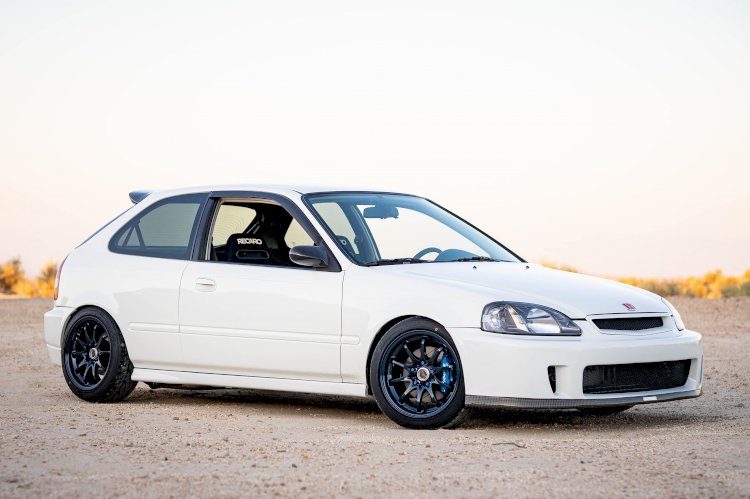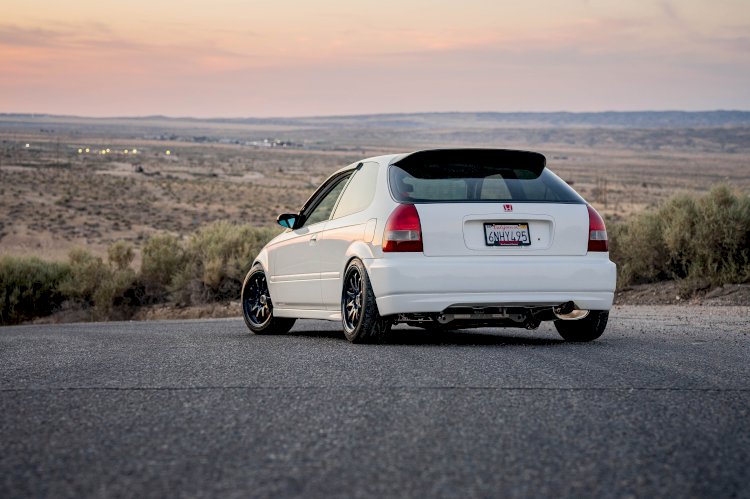 Remember to check out our other sections in the CAR SCENE
More images in the slider above
Hi all,
My name is Don Vo, from California USA.
I'm a stay home father, I do online sales here and there. My wife and I are owners of a local Nails salon called 'Passion for Nails' in Taft, California. Everyone knows us in this little town. People are very friendly around here, because it's so small everyone knows each other. Just stay away from the crackheads haha!
Instagram: @keldong322
I own 8 cars currently lol, but my 2000 Honda Civic Hatchback EK is what I'm Instagram known for. I LOVE this car, ever since I was in High School. It's a 2000 and I am class of 2000 also. I've known this car 3 previous owners back. It was one of my friend's friend car, he used it as a daily, but these cars get stolen all the time and he didn't want to worry about that anymore, so he decided to sell it to his friend, which I also know. So friend #2 kept it for about 2 years, fix the kinks and did some more stuff to it, his mother passed away and he had to move so he sold it to my friend. My friend is Son Tran at OnSite wheel repair. Very cool guy, a lot of people know him and his shop. He kept it for 2 years but barely drove it, he stored it inside his wheel repair shop and 1 day he offered it to me because I connected him to previous owner. A lot of people asked him if he would sell it to them while being stored in the shop, but he refused them all. One day we were just hanging out in his shop and he was telling me about people asking him to sell it to them, I asked him, well if you sell it how much would you sell it for? Then he told me I'm not really selling it, but to you because you're like a brother to me, I would sell it to you only! So I got him the money he wanted which was the same price he bought it 2 years ago from my other friend. That's how it happened.
What got me into the car scene? I've always liked cars, I remember in elementary school, I would buy those school folders with nice exotic cars. And I grew up in Orange County California, seeing all the fixed up cars growing up got me more into it.

Did I grow up in a family of petrol heads? No I'm the only ugly duckling that is into cars. My brother is a mechanic for 30+ years but he's not into cars. Just me in my family.
What makes my car unique and stand out from the crowd? I guess it's how clean and I fixed it up. I use only expensive high end known parts. I don't rice it out like others. I've been into Honda's ever since I was like 15, now I'm 38. So I have some experience in what to do and not to do when fixing up my cars.
My tip is Google everything you're about to do before you do it. There's lots of things that I didn't know. I just google it, but don't believe everything you see on google. Read more into it see if different pages say the same thing or if they're different things and dig into it to find out more about it. But it's Honda, many people have the same questions and answers.
My car is Made in Japan for the USA American market. So yes it's an import.
Would I recommend people buying the same car as me? Yes, if they can even find them still clean like mine. Lots of people have asked if I want to sell my car. I tell them this same thing what I'm about to say. If you're willing to pay me $20k USD it can be yours the way you see my car right now. $20k is a lot of money to some people. But to find all the high end rare part that my car has is priceless. You can't put a price on time and labour put into this car. It's so much it's priceless.
In terms of bhp, I don't know right now to be honest. I haven't tuned it, haven't dyno'ed it. I don't like racing others, to care who's the fastest and stuff like that, I strictly just like the fun and beauty of the car being nice.
This part is long...
2000 Honda Civic DX Hatchback
Engine bay area:
JDM B18C Type-R Motor w/
Motul 5-W30 Engine Oil
Type-R LSD Transmission w/
Red Line Lightweight Shockproof Gear Oil
2x Skunk2 Racing Cam Gears
New Gates Racing Timing Belt
New JDM B18 Type-R Valve Cover
New JB Tuned Clutch Cable
AEM Fuel Rail
AEM Fuel Regulator
RC 270cc Fuel Injectors
New OEM Honda Clutch Master Cylinder
New All 3 Innovative Engine Mounts
New OEM Acura Integra Type-R Air Intake Tubing
New CT Engineering Icebox
New CT Engineering Icebox Filter
TODA Racing 4-1 Header
SPOON Pre Gen Carbon Kevlar Spark Plug Cover
SPOON Front Strut Tower Bar
New SPOON Radiator Hoses
New SPOON Spark Plug Wires
New SPOON Oil Cap
New SPOON Radiator Cap
New SPOON Reservoir Covers x2
New Spoon Denso Spark Plugs Iridium IK24
New Skunk2 Racing Alpha Radiator
New Mishimoto Slim Fan
New Skunk2 VTEC Solenoid Cover
New K&N Vent Air Filter
New K&N Fuel Filter
NRG Fuel Regulator Pressure Gauge
New Interstate Battery 09/19
New Bosch Integra Starter (NOT Remanufactured)
Special 4 Gauge Ground Cables Set Kit $100
New OEM Honda Civic EM1 Throttle Body Cable
New OEM Honda Civic Em1 Throttle Wire Stay
Edelbrock 4789 65mm Throttle Body w/
New Throttle Body TPS Sensor
Skunk2 Pro Series Original Gen 1 (Looks OEM Type-R)
Interior:
New SPOON Steering Wheel 350mm
New SPOON Duracon 5 Speed Shift Knob
New SPOON Rear View Mirror
SPOON Rear Strut Tower Brace Bar
JDM CTR EK9 Rear View Mirror
JDM CTR EK9 Odometer Cluster w/ LED's Bulbs
New JDM CTR EK9 Shift Boot
JDM CTR EK9 Red Carpet
JDM CTR EK9 Door Panels
JDM CTR EK9 Rear Seats
JDM CTR EK9 Center Console Armrest
New BRIDE Seat Brackets
New BRIDE Seat Sliders
JDM SR3 RECARO Le Mans Confetti Seats
New OEM Honda Civic Floor Mats Black
New Spare Tire Cover Trunk Board
New Hybrid Racing Short Shifter
New Innovative Mounts Shift Linkage
New Energy Suspension Shifter Stabilizer Bushings
Mugen Power Sport Racing Pedals
New NRG Steering Wheel Hub
New NRG Carbon Quick Release V2.0
New Alpine ILX-650 Touch Screen w/ Apple Car Play
New Alpine KTA-450 4 Channel Power Pack
Polk Audio DB+ 6.5 Fronts
Polk Audio DB+ 6x9 Rears
Viper Remote Start Alarm 2 Way Paging Remote
Converted in power windows both doors
Titanium:
22x 10mm Bolts
22x 10mm Bolt Washers
Header Kit Bolts
Intake Manifold Kit Bolts
Distributor Kit Bolts
4x 14mm Shock Bolts
I've added a lot more since I made this list.

Suspension:
New TEIN Flex Z Coilovers 16 Way Adjustable
New ASR Parts Subframe
New ASR Parts Sway Bar
New ASR Parts Lower Control Arms Set L+R
Skunk2 Pro Plus Adjustable Camber Kits Fronts
Skunk2 Pro Camber Kit Rear
All 4 Fenders Rolled
New SPOON 4 Pot Twin Block Calipers
New StopTech Cryo Treated Slotted Rotors All 4
New StopTech Street Brake Pads Front and Rear All 4
Goodridge Stainless Steel Brake Lines All 4
JDM CTR EK9 5 Lug Suspension 32mm
Wheels and Tires:
Wheel Choices:
#1
New Volk Racing Rays Engineering CE28N Bronze 16x8 +30 5x114.3
New NITTO NEO GENS 205-45-16 Tires

#2
New Volk Racing Rays Engineering CE28N Magnesium Blue 16x8 +30 5x114.3
New NITTO NEO GENS 205-45-16 Tires

#3
New Volk Racing Rays Engineering Original TE37 Bronze 16x8 +30 5x114.3
New NITTO NEO GENS 205-45-16 Tires

#4
New Volk Racing Rays Engineering Original TE37 Magnesium Blue 16x8 +30 5x114.3
New NITTO NEO GENS 205-45-16 Tires

#5
Work Meister S1 Gold Polished Lips 16x8.5 +26 5x114.3
NITTO NEO GENS 205-40-16 Tires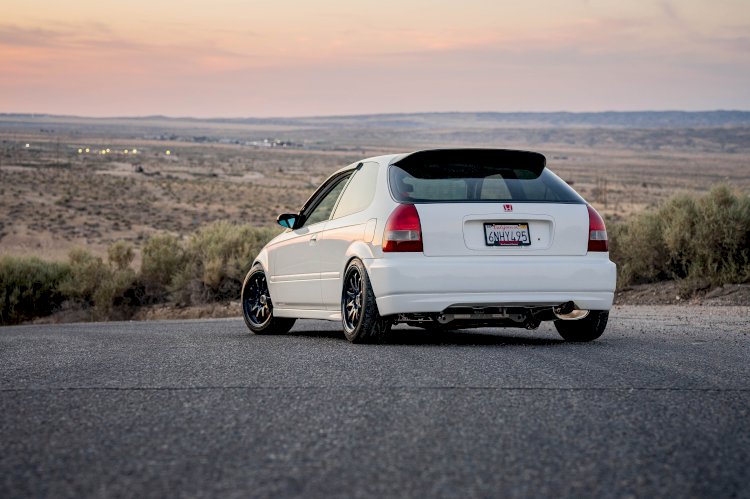 Exterior:
BYS Backyard Special Carbon Kevlar Front Bumper
JDM CTR EK9 Headlights
LED 6000k Headlights Hi & Low Beam
Sylvania Zevo LED Turns Signal Bulbs Front
Sylvania Zevo LED Reverse Light Bulbs
Sylvania Zevo LED Turns Signal Bulbs Rear
Sylvania Zevo LED Brake Light Bulbs
SPOON Sports Carbon Fiber Rear Tail Wing
OEM Civic Si EM1 Front Grill
JDM CTR EK9 Rear Lip
JDM CTR EK9 Door Visors
Carbon Fiber Side Mirrors
JDM CTR EK9 Front Red H Emblem
JDM CTR EK9 Rear Red H Emblem
Driver Side Door Deleted Keyhole
Antenna Hole on Roof Has Been Deleted Also
I do things myself when I know how. I usually get my mechanical hook up through my friend Fernando Mancilla. I'm not a mechanic so I can't do everything myself, but I can do basic stuff like changing air intake, bolt on stuff, even suspension work. But when it comes to something mechanical I always ask my friend to help me with it.
Would you recommend people for the work undertaken? This is more of an in-depth question. Because there's different people who specialize in certain things. But for example my alignment is either done by one of my friends named Ruben Garcia at Firestone complete auto care in Bakersfield, Ca or by my cousin Van Nguyen at Firestone in Fountain Valley, Ca. Wheel repairs is my friend Son Tran at OnSite Wheel repair in Garden Grove, Ca. He is very good, over 600+ 5 stars rating on yelp.
My very first car was an Acura Integra DA9 3 door hatchback and yes I fixed that one up too. I was 18 and had a job at Target making minimum wage. But I had brothers who worked at car places to get me deals on car parts. Back then everything I had on my car was from TENZO lol. I just lowered it with wheels, bolt on stuff and a really bad ass custom system inside with neon lighting back then neon lighting was cool, it was the shit to do haha.
I don't think you can ever completely finish a car. There's always new things that you can change on your car.
Nope, I do not form part of any groups and clubs. I don't like those kinds of things, because they usually end up bad. People always have to be better, faster than another, talk crap on who has the best stuff. It's too much for me, I've been there, not interested. I keep to myself. I do not talk down on people. I don't try to tell people how they should spend their money. Even though I'm older and know more than some of them. But you got to remember they don't make the same money as you, or maybe they don't like the same things as you. Let people build however they want to or can afford to build. Am I happy with my build sort of, but I'm not rich or came from a rich family to do things the way I would like it to be.
I've gone to different shows and car meets in the past, but because I have 2 kids now I don't really have the time anymore.
Well I think your dream can change as time goes by. Better models come out every year. Also what fits your needs at the certain time of your life. I don't think you can have only 1 dream car. You need several dream cars lol. But as a kid, I've always wanted a white Nissan Skyline R34 GTR.
Thank you for reading my article.

If you would like your Car or Business Featured like this, Please
Email: CARLA, SHANNON, ANDZ or ADMIN, they would love to hear from you.
Our site contains links to third party websites. We are not responsible for the privacy policies, practices and/or content of these web sites. Their use is at your own risk.