Jordan Ewing - 1969 Volkswagen Karmann Ghia
While the Karmann Ghia is the first car that I purchased, I have always enjoyed doing at least minor modifications to the dailies that I've had alongside it. This includes a MK3 VW GTI, a 1992 Toyota pickup mini, and even recently bagging my significant other's 2011 Toyota Corolla.
1969 Volkswagen Karmann Ghia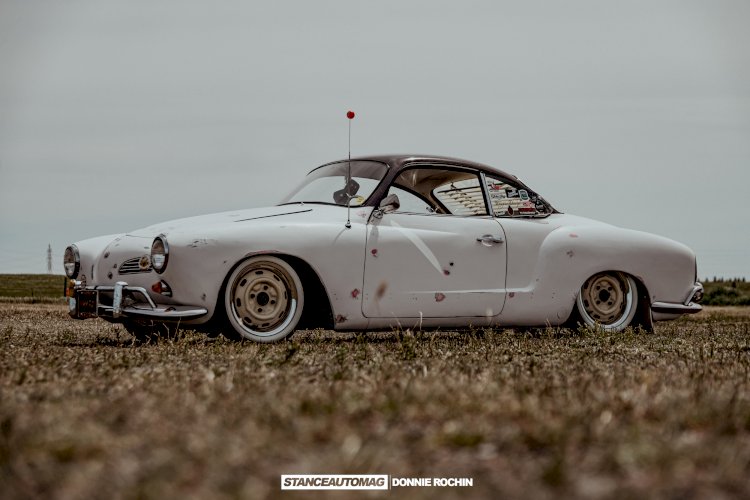 Join Our Stance Auto Mags Group, Give Our Facebook Page a Like, and Follow us on Instagram
These Photographs are supplied by the Photographer, check their Link for Bookings.
Order the Printed Magazine HERE!!
More images are in the slider above, SLIDE LEFT>>>>>>>>>>>
Jordan Ewing
1969 Volkswagen Karmann Ghia
Instagram: @airbentghia
Photographer: Donnie Roc
IG:r0cean11
FB:r0cean11 Photography
Website:r0cean11.com
" Drive 'em, don't hide 'em "
Hi, my name is Jordan. I am 33 and from Sacramento, California. I work in manufacturing and assembling systems for a carwash management company. When I'm not busting my knuckles on old, rusty car parts I enjoy taking care of both freshwater and reef aquariums. Both hobbies have been around for as long as I can remember but my first love is air-cooled VWs.
My interest in cars started with my father who, when I was a kid, owned a 1986 VW GTI Rabbit Wolfsburg Edition. I got to experience so much of the culture going with him to car shows up and down California. My brother got into VWs next and always had some form of old bug or Squareback, and then even the Ghia momentarily. I have always wanted a classic, air-cooled VW so when my brother played with the idea of putting the Ghia up for sale I jumped at the opportunity to make it the first car I owned.
While the Karmann Ghia is the first car that I purchased, I have always enjoyed doing at least minor modifications to the dailies that I've had alongside it. This includes a MK3 VW GTI, a 1992 Toyota pickup mini, and even recently bagging my significant other's 2011 Toyota Corolla. I've always felt that cars are more than just transportation.
Seeing my car in a parking lot or even opening my garage can best be described as "soul uplifting." I have to constantly fight back the urge to add to the hundreds of random, unused photos I have of the car. This is always going to be my hobby and lifestyle but getting to witness others being flooded with memories of their first car or learning to drive in a Volkswagen, or having people lean out of their own cars to see what it is experienced all their own. My passion for the car says it all in the feel-goods it brings to me- Happiness.
If you are looking for an eye-catching car that you don't see every day, a Karmann Ghia is the one for you. They are getting harder and harder to find so having a piece of history and keeping it going, keeps me going. Being that the car is 52 years old, it doesn't come without its challenges. Since not all parts are made for them anymore, you need to get crafty with how you find them- eBay, local VW swap meets, and other VW owners if you know any.
If you are interested in an older VW, something to look for would be rust. Wherever water can pool up or where the car sat for those years can tell a lot about the condition of the car. Most of these cars don't run when they are found but with a little TLC, they can be running once again.
The standout exterior feature is its rainbow metal flake roof but once people lean in the window they see the rose print kick panels on the speakers and the rear seat that were inspired by, in my mind, everyone's grandma's couch. It's a Volkswagen with a lot of stylings that come from my love of the low rider scene.
If you enjoyed this Car why not read this ONE HERE
Modifications -
Engine/Drivetrain Modifications -
Engine block crank and pistons from a Type 1 1966 VW Bu

1641cc dual port / dual carbs

Dual Kadron 40mm carbs 150 main jets 55 idle jets

PerTronix ignitor 2 kit

009 Bosch distributor with 7mm spark plug wires

Empi electric fuel pump

Scat style twist linkage

Empi style oil breather box with crankcase breather

Empi two tip glass pack exhaust - Seasoned

Freeway Flier transmission / IRS
Suspension Modifications -
Trade secret: Slammed static
Brakes/Wheels/Tires Modifications -
Disc brakes with upgraded 2 piston callipers/stock rear drum brakes

15x4.5 steel wheels - Continental EcoContact 145/65/15

Porta walls and beauty rings
Interior Modifications -
1962 Karmann Ghia front seats - cream colour vinyl

Rear seats - cream colour vinyl/yellow rose print

Original headliner

Black carpet kit from Jbugs

New black vinyl door panels and rear panels
Audio/Video -
Two 6x9 Alpine speakers

12" Kicker Comp Subwoofer
Exterior Modifications -
House of Kolor rainbow metal flake roof

Pure white single stage paint

US-style bumpers
All the work has been done by myself, in my own garage, with my lady @maltliquorslurpee as a second mind and spotter.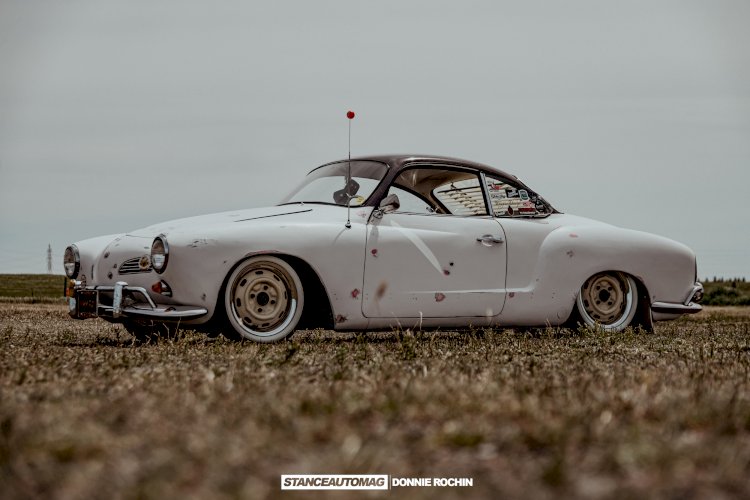 In the near future, I would like to get a set of wheels. I have been juggling the thoughts of keeping it stock steelies or going with a more modern upgrade but I am still undecided. I currently have a retrofit tail light LED board kit that I will be installing but, mostly, I would like to put it on an Airlift manifold and management system. This car is going to be with me forever so the list of plans has no end in sight.
I'd like to give a special shout out to @maltliquorslurpee - not a group or club but my 100% support system every day, through all the emotional ups and downs with my build she never doubted. The air-cooled VV Car scene has been really good to me. It's very inspiring being around like-minded people young and old. You get out what you put into this hobby. There will be ups and downs but the rewards make it all worth it.
This is my dream car. I could have every modification done and still find a way to move forward with it. It's going to be forever progressing and ever-changing. If given the opportunity to add another car to the fleet, I would choose a 1956 Lowlight Ghia to keep bone stock.
What do you think?
Please leave your comments in the comments section at the bottom of the page
'The future is bright as long as we can still Smell the Fumes'
Stay Up to Date Check Out Our Google News and give us a Follow
All of our Magazine can be found on Amazon, they Print and Deliver worldwide, Stance Auto can not be held responsible for the final print, all complaints and returns must be directed to Amazon.
UKTM no: UK00003572459