Jowell Gordo - 2017 370z full conversion V1 Nismo
The car culture and car enthusiasts here in California is huge.  I've always loved Nissan Zs and I'm inspired by what Z enthusiasts have done with them and made it their own - whether for track, stance, shows, or just a streetcar, etc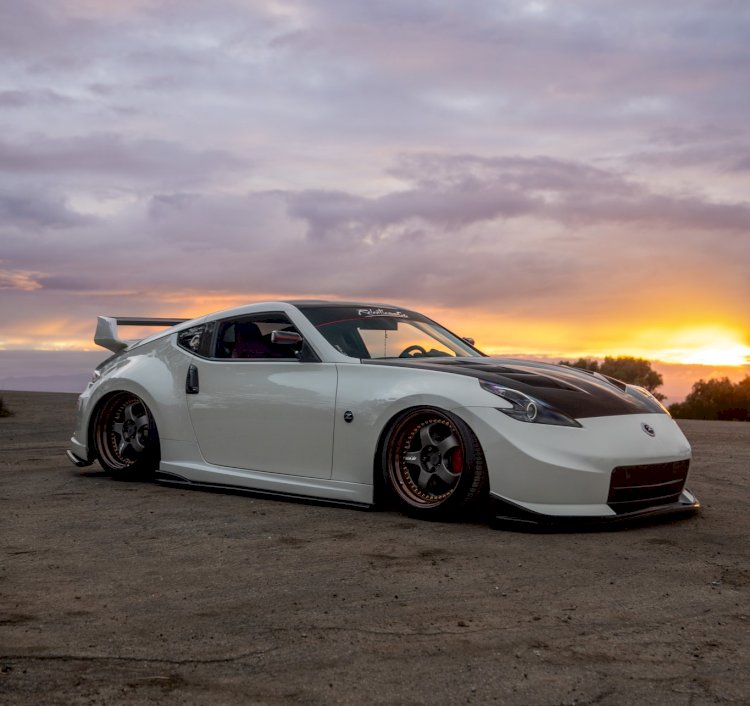 2017 370z full conversion V1 Nismo
Join Our Stance Auto Mags Group, Give Our Facebook Page a Like, and Follow us on Instagram
More images are in the slider above, These Photographs are supplied by the Photographer, check their Link for Bookings.
Order the Printed Magazine HERE!!
Jowell Gordo - 2017 370z full conversion V1 Nismo
Instagram: @jeproxs_z34
Photographer: Mr2mivin/ @mr2mivin
"Take your time and enjoy the process. Most of all, have fun & drive it!"
I'm a nurse here in southern California. I'm just an average, simple guy who appreciates all different types of cars, trucks, bikes. And there are so many beautiful builds out here. The car culture and car enthusiasts here in California is huge. I've always loved Nissan Zs and I'm inspired by what Z enthusiasts have done with them and made it their own - whether for track, stance, shows, or just a streetcar, etc. I was in the market for a new car and the 370z driving experience caught my attention. The 370z is beautiful just the way it is.
But as a car guy, we all know we always want to add a little something to make it our own. We crave that uniqueness. I've had and driven multiple cars. Some good and some bad. There were always used cars that I've worked on. I wanted this car to be special right out of the box. Like a clean canvas ready to be painted. I knew I was going to modify it regardless. At that time, the 370z had a lot of aftermarket support and I wasn't sure what kit I would want to change its look. The same goes for the engine work. And that's why I love this platform because I could go different paths.
I fell in love with the Nissan 370z sports package and I knew I wanted to tell a story about it. I've always loved the Nismo version. There was a version 1 or V1 and a version 2 or V2. They were both beautiful. It was 2016 and a brand new nismo would be a V2. They stopped making V1 Nismo in 2014 which, personality, I like better for my preference. To me, the body lines and the curves flow really nice. It was simple and clean. At that time, the markup for a new V2 nismo was about 15 to 20k more and with the research, I've done, I didn't want to pay that much for something minor changes and knowing I will modify the car anyway, plus that was over my budget. Unless you tend to buy it as a collective car, which I wasn't. Two things came to mind: the markup and not having the V1 nismo I wanted.
Through this journey, I was able to add parts, little by little. The 2014 V1 nismo bumper was the first to be added. The 2014 v1 nismo was special because it was the only year with the 4th brake light and some changes between the v1 and v2. You can definitely differentiate and recognize between other years. As time goes by, I started to add more parts, exterior and interior. These are OEM parts that people were selling that I was able to get. The crazy part is, I've gained good relationships with them and became good friends. To be able to have their parts on my build and have a good friendship out of it, I think that's the best part. I may not have bought the car as a whole of how I wanted it at the time, but each panel, bumper, side skirts, engine mods, interior mods, etc. all have a story from the people who shaped the car it is now and which today I can call them my friends.
If you enjoyed this Car why not read this ONE HERE
There has been ups and downs through this process, a lot of trials and errors, but we learn from it and we keep going. This car became what I wanted to be as I was going to buy a brand new car. This was it. A full conversion nismo. I was able to replace interior parts with the nismo trim: red stitching, nismo engine cluster, other nismo parts. Of course, I've added my modifications to make it my own V1 nismo, whether it's the engine mods, carbon fibres ascent, suspensions, brakes, wheels, seats, and so forth.
I've also added some details such as titanium parts. I aimed for the little details. My goal for this car is to keep it simple, yet clean and add a little bit of character to it. It's an all-around car and I'm able to enjoy just driving it. I've taken it to shows and I've done cruises with it. To me, it's all about the driving experience. This car came a long way I could honestly say. But I enjoy each moment with it. We all have a passion for something, so enjoy it. Have fun with it and drive it.
Modifications:
Uprev tuned w/ launch control
Exhaust system:
Motordyne shockwave full catback - true dual-pipe exhaust system w/ 4.5 inches burnt titanium tip
Motordyne ART pipe
Intake system:
Stillen gen 3 dual cold air intake
Wheels & tires:
Work meister wheels S1 3 piece wheels gun anodized powder coated in glossy bronze lip and gunmetal face w/ gold rivets combo
Custom work wheels centre caps
19s 11.5 rear offset +10 10.5 front offset +20
Falken Azenis FK510 305/30/19 rear 265/35/19 front
Brake system:
Akebono BBK w/ red callipers
R1 concept e-line brake drilled & slotted rotors w/ ceramic brake pads
Exterior:
VIS AMS carbon fibre hood
Amuse powerhouse spoiler
V1 nismo rear bumper
V1 nismo front bumper
V1 nismo side skirts
Craft square CF mirrors
Custom CF side splitters
Custom CF winglets
Carbon signal CF front lip
CF b pillars by alliance carbon
CF door handles by alliance carbon
Password JDM kevlar carbon cooling plate
JDM tail lights
Custom black housing headlights w/ RGB halos, CF wrapped reflector
Interior:
Sparco champion steering wheel w/ NRG quick release
Varis CF shift knob
Braum elite x series seats in maroon leather w/ planted seat brackets
Braum harness bar
Sparco 4 point harnesses
Full interior conversion nismo trim
Suspension:
Airlift Performance air suspension
Airlift management 3H w/ viair air compressors
Universal Air 5 gallon tank
Misc. / hardware:
Bolts: dress-up bolts
Titanium parts by Mazterpiece_automotive and chasing Js
Pioneer double din 6400NEX
Z1 engine bay silicone master hose set
If you would like your Car Products tested and reviewed by our team Please Email us
Future goals and dream car:
Like any other car, a person would say, "it's never finished." We always want to add something or change it up. I am waiting on some aftermarket fenders and I do want to change my trunk set up. Recaro Nismo seats or Sparco seats would be a nice upgrade. I want to do more research on turbo kits for the 370z and what's best suited for the long run in the near future. I wanted a white colour for the car when I first got it, but for quite some time and with the colour combo I've added, I've thought of the perfect wrap colour to go with it.
This car has been the favourite car I've ever owned and it's special to me. My very first car was a mk3 supra and I will always have that special connection for Toyota Supras. From video games, hot wheel cars, to the big screen. A mk4 Toyota supra has always been my dream car since I was a kid. So maybe one day. Until then, I'll enjoy driving my 370z fully converted to Nismo.
What do you think? leave your comments in the comments section at the bottom of the page
'The future is bright as long as we can still Smell the Fumes'
Check out our Google News give us a Follow
All of our Magazine can be found on Amazon, they Print and Deliver worldwide, Stance Auto can not be held responsible for the final print, all complaints and returns must be directed to Amazon.
UKTM no: UK00003572459