Kenneth De La Garza - 2014 Nissan 370z
When I first started thinking about getting a car to modify, I quickly came to the conclusion that I wanted a 2 door coupe, because I really didn't need the added room. But if I'm being honest, I just wanted something close to what DK drove in Tokyo Drift. I would've got a 350z like him, but my friend found a good deal on a 370z instead.
2014 Nissan 370z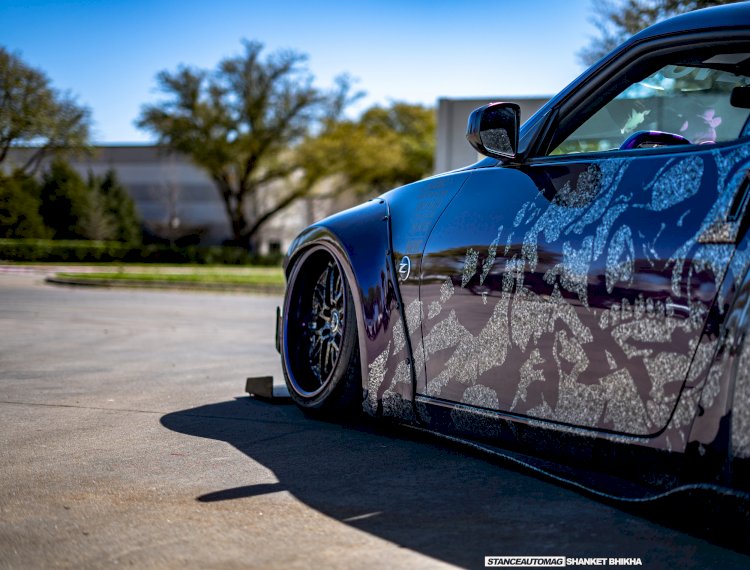 Join Our Stance Auto Mags Group, Give Our Facebook Page a Like, and Follow us on Instagram
These Photographs are supplied by the Photographer, check their Link for Bookings.
Order the Printed Magazine HERE!!
More images are in the slider above, SLIDE LEFT>>>>>>>>>>>
The Nissan 370Z has a 3.7-litre 332-horsepower V6 engine. Unlike its upgraded model the Nismo version it as a little less power but still delivers in style and drivability, this is a very popular car in the JDM community and so they are very customizable with lots of great models being spotted at all car shows and events, personally, I think these look great with some Itasha scenes blazoned down the sides, the car just seems to have that artistic look and screams Japanese culture.
Keneth has done a fantastic job on this model paying particular care to looks, detail and power, as he says there isn't a part of the car he hasn't touched and made to stand out that little extra from everybody else's models, this is what it's about, your car your ideas, take a read of his story and make sure to check out the fantastic photos from the photographer, he as made sure to show Kenneth's hard work off to best he can, and what a fantastic job he as done to achieve this.
Make sure to check out the full ALBUM HERE
Kenneth De La Garza
2014 Nissan 370z
Instagram: @SpecialK3n
Photographer: Shanket Bhikha - @shanket_bhikha
I am 34yrs old. I was born and raised in Irving, Tx. I lived there until I moved out to be on my own to Dallas, where I currently reside. Growing up I discovered that I had a passion for dancing. When I was about 16yrs old I joined a dance group that performed in Quinceneras. After dancing for a couple of years, I began competing in dance competitions. After competing in many dance competitions, I had the opportunity to compete on the tv show: So You Think You Can Dance…not once, but twice. I, unfortunately, did not make it to the finals either time, but I am forever grateful and humbled over such an opportunity.
After dancing for some time, my unique dancing style caught the eyes of many people that were not only in the dancing scene but the modelling scene. I was eventually asked to model for a photographer that was intrigued by how I made my body move in such a unique and almost unnatural way. After being photographed dancing, my unique look which consisted of tattoos and piercings and long hair caught the eyes of other photographers that liked my "edgy look." I did some local modelling but did not go further. I soon developed another passion…..me being on the other side of the camera; creating my own art.
I began teaching myself how to use my own creative eye to grasp the beauty of the world around me. I started out by taking pictures of friends and family and eventually made my way to take on bigger jobs such as weddings, special occasions and Quinceneras. I am now a professional photographer and videographer. I own my own business and am doing very well; my bookings stay booked. I have had the opportunity to meet interesting people along my way. I love meeting new people from all aspects of life. Meeting so many interesting people has contributed to me evolving into who I am today.
I have always been interested in cars, but I never really got into it until fairly recently. What mainly drew me in was the opportunity to express myself in a new way. I've always been an expressive person and I'm constantly searching for new ways to express myself. Dancing, modelling, getting tattoos and piercings, and photography are all things I love doing, and the connections that I made along the way allowed me to sort of break into the car scene. Modding my car has just been another link in the chain as far as expressing myself goes. If I'm being 100% honest, though, the real genesis of my obsession with cars started, like many others, with watching Fast & the Furious when I was 13 and playing Need for Speed Underground on my PS2.
These franchises really got me into cars and it became something that was always in the back of my mind as something I really wanted to do. I've always been a freelancer, so for a long time, I didn't have the money to really invest in my car, and make it how I had always wanted to make it. When I started really building my photography business I didn't spend my money very well. I would spend money on stuff that would only give me temporary happiness. I would go to the club, show off, buy my friends a section, alcohol (even though I don't drink) just flex and show off. Shoes, game consoles, jewellery, clothes, etc. I realized that this type of thing wasn't sustainable and I decided I would stop that and put my money towards something that I've always wanted to do.
When I first started thinking about getting a car to modify, I quickly came to the conclusion that I wanted a 2 door coupe, because I really didn't need the added room. But if I'm being honest, I just wanted something close to what DK drove in Tokyo Drift. I would've got a 350z like him, but my friend found a good deal on a 370z instead. From the beginning I always wanted this car to build on, there wasn't really a long period where I drove this car stock. I immediately started modifying it when I got it. It started with the body kit, and a custom livery, and quickly progressed from there.
I feel very proud to drive my car. It's quite a unique feeling driving every day in the car that I've wanted since I was a kid, the one I've been imagining and building in my head since I was 13. There's really nothing like it, and it's a feeling I can't get tired of.
Full spec list:
Exterior
Wide-Body Kit - Fiberglass Mafia
Big Ass Wing - Battle Aero
Chassis Mounted Splitter - Battle Aero
Fully Custom Wrap & Custom Livery - Recon Central
PJ's LEDs
Diffuser - Street Aero
Engine
Full Engine Bolt-On
HKS Exhaust System
Headers and Test Pipes - Z1
Manifold - Z1
Cooler Intakes - Stillen
Interior
Seats – KevMannz
Steering Wheel - VQ Carbon Customs
Custom Resin Shift Knob - Custom Shift
Custom Speaker Box - Richard Chapa
Starlight Headliner with Custom Purple LEDs - PJ's LEDs
Custom Purple Alcantara Door Panels - Recon Central
Interior Lighting - Recon Central
Custom Roll cage – Recon Central
Wheels
Wedsport Customized by Recon Central
Suspension
Air Suspension - Air Lift Performance
Oem camber arms
Oem camber bolts
Brakes
Big Brake Kit - Customized by Recon Central
I've been very privileged to have worked out a very beneficial working relationship with my shop, Recon Central, In Carrollton Texas. I do a lot of their media and manage their social media accounts.
Future Plans
I think the next step for me would be to add more power, either with a Twin Turbo set up or a Supercharger set up. Supercharger Kit, or Twin Turbo Setup
Tips/Advice
It's hard to pick out specific tips, especially with how the market is right now. When buying, definitely inspect the car well, and take it to a trusted mechanic before you buy. Try to look at smaller dealerships, as opposed to larger ones because generally, you can get better deals from smaller dealerships. Larger ones, however, generally have a better retail experience. Don't forget to browse offer up, and ask around friends/groups if anyone is willing to sell their car. Keep in mind that the prices of these cars are generally inflated, and parts prices are quite high too.
If you want to have some fun, the first thing you should do is get it tuned. During the tuning process, you can choose to tune for a more subtle outward experience but have more performance, or you can also put more focus on the "show" aspect with flames, pops, and two steps. My car was tuned by Jotech motorsport Dallas Texas, and I've been very happy with the performance. I purposefully built my car to be eye-catching. There really isn't a single part of my car that I haven't wrapped, modified, reupholstered, or generally improved upon. This obviously makes for a very eye-catching car. If I had to pick the most eye-catching aspect of my car, I get the most compliments on my custom forged carbon seats by KevMannz, @kevmannz_kevtec on insta.
Group/Club
My group is ABGHunters (@abghunters.tm) based in DFW, Texas, and I would absolutely recommend them. It's refreshing finding a group that really takes shows and builds very seriously. They hold their work to a very high standard, and I really respect that in a group. Being with them for the past ~6 months has been an amazing experience, making new connections, and constantly learning from other people in the group.
The car scene has done so much for me, It's hard to list everything out. To start, my current job at Recon Central in Carrollton, Texas, has been a wonderful opportunity that was only made possible by my entering the car scene and really getting serious about building out my car. Going to shows, talking to people, and really immersing myself in the community has been such a great experience and definitely something I plan on keeping up for a while.
What do you think?
Please leave your comments in the comments section at the bottom of the page
'The future is bright as long as we can still Smell the Fumes'
Stay Up to Date Check Out Our Google News and give us a Follow
All of our Magazine can be found on Amazon, they Print and Deliver worldwide, Stance Auto can not be held responsible for the final print, all complaints and returns must be directed to Amazon.
UKTM no: UK00003572459