Laurence Rose - Honda Civic ej2 Coupe
The car has been shown at some local events, such as the Festival of Transport on the Isle of Wight.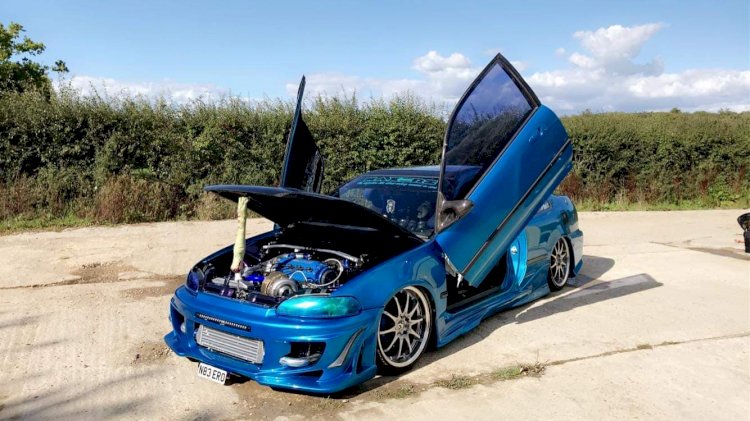 Join the Facebook group below, show us your cars, this helps us find more HOT cars, Thanks.
The Car is Now Finished Check Out The New Images Above
Laurence Rose,
Instagram: @thericedoutcivic2019
Maintenance Tech at MHI Vestas, on the Isle of Wight
1995 Honda Civic ej2 Coupe. Aka: The Riced Out Civic
Having always had an interest in cars since I was a kid & training up as a Mechanic as a teen in local garages... back in the 90's when the modified car scene was just taking off... locally the scene was developing with local meets regularly and the interest spiralled from there.
My 1st car, at 15, was a MK 1 Golf... can't complain it was a freebie!! Then I got an '86 Mini, followed by an Mk3 Fiesta 1.6 Sport... Then I learnt to drive (HaHa) in my Renault 5 GT Turbo...
I've owned & sold many, many cars over the years, but the ones I drove include Ford Escort XR3i, BMW E46 318, Subaru Impreza Wagon, Subaru Impreza WRX Sti 600Bhp, Subaru Impreza UK2000 Ed. Alpha R GTV, MK4 Golf 20V Turbo, Mercedes Vito Van (Don't Judge) Mk4 Golf GTI, Fiat Van (Again don't judge) Mondeo STI 220, Hyundai Getz (Don't ask!) Mondeo 2ltr, Citroen Saxo VTR, BMW e46 325, MK4 Golf GTI with R32 Kit, Audi A4 1.8 20V Turbo Estate, Astra SRI, Mazda RX8.... then another one cause this one broke! Golf Mk 2 GTI, VW T4 Camper... Then the purchase of the Civic, before buying the current daily which is a BMW e92 320d.... well it gets me from A to B & doesn't look too bad.
The history of the civic that I knew was the 1st highly modified show car on the Isle of Wight & it never got finished...The garage that had it closed down & the car seemingly disappeared. So when the opportunity came up in July 2017 to buy it, I couldn't pass it up. The chance to restore this iconic vehicle to her former glory.
Tens of thousands of pounds & hundreds & hundreds of hours of blood, sweat & tears have gone into restoring & modifying this car mainly by myself, but with some help with the engine rebuild;
Modifications so far to date:
Suspension & Brakes:
Hydraulic Suspension

Neo Chrome rear lower control arms, subframe brace & tie bar

New OEM Bushes, Rear disc brake conversion

Drilled & Grooved Discs, "Green Stuff" Pads & Braided Brake lines, front & rear
Audio:
2x 12" Vibe Black Death Hex Subs

4x 12" & 4x 10" Vibe Black Death Mid Speakers

4x 6.5" Vibe Black Death Component Speakers

6x 4" Vibe Black Death Tweeters

M21K Vibe Black Death AMP

Vibe Audio sound deadening throughout.

3x 2 Channel Amps

4 TVs: 2 mounted in sun visors & 2 in the boot held by a zombie.

Car is lined with Zombie Pin-Ups fabric throughout

Amp is housed in a custom-built Coffin with Skeleton
Engine Modifications & Upgrades:
Engine Bay flushed & Custom Painted with Purple Sparkle Pearl paint.

Chase Bays Brake line kit, Brake Booster, Fuel Line kit, washer reservoir, coolant overflow, power steering delete, & Clutch line kit.

K Tuned Clutch reservoir

Blue Engine Mounts,

Spoon strut brace,

Chrome Bonnet Hinges & Bonnet Catch.

Neo Chrome Twin Horns & washers for wing bolts.

AEM Fuel Rail

D16Z6 Engine swap

Wiseco 75mm piston heads & Max speeding rods

Arp 2000 Rod bolts, Head Bolts, Clutch bolts & Flywheel Bolts.

King Bottom End Bearing

Uprated Head Gasket & Engine Gaskets

Blue Bottom Pulley, Fuel Pressure Regulator, Fuel Rail, Oil Sandwich Plate, Uprated Cam Gear, Cam Belt, Samco Hoses, Nology Hardwire HT leads injector hats.

T3/T4 Turbo

Front Mount Intercooler

Tubular Stainless Steel Turbo Manifold

Blow Off Valve

External Wastegate

Screamer pipe

Cylinder Block Guard

Skunk2 black intake & Black 70mm throttle body

Mishimoto Fan shroud & Alloy Rad

Neo Chrome Oil Cap, Engine Nuts, Jubilee Clips, Solenoid Cover

Dense 330 fuel injectors

Uprated Alternator from 75amps to 285amps

Standard D16z6 Head & internals

Tenzo R Racing Rocker Cover, with Blue washers & Bolt Kit

P28 Chipped & Mapped ECU

Xtd lightweight flywheel & stage 3 Clutch.

Walbro 255 Fuel Pump

Denso Iridium Power spark plugs

Chrome Thermostat Housing

Standard Crank

Custom Chrome 2.5inch midsection exhaust, sports cat & 2x rear back box with 4" tips.
Exterior:
-Custom Paintwork: Candy Blue

-American imported Front & Rear Bumpers & -Chrome Ring Lexus Rear Lights

-Japanese imported Side Skirts

-Carbon Fibre wrapped Roof, Fuel Flap, Side -Trims, Spoon Mirrors, Boot Lid, Bonnet, Door -Pillar Trims, Canards & Honda Badges on wheels.

-18" Chrome Wheels

-Chrome Bumper supports

-Neo Chrome Wheel Nuts, Valve Caps & -Number plate Brackets

-Lambo Doors

-Tinted Windows

-3D Angel Eye Projector headlights: Custom -Altered by Custom Lights to include Day running lights with wing tucked rewiring.

-Smaller sized rear & import size front number plate.

-Perspex Rear Window

- Aerial delete