Matt Cant - 1989 bmw e30 325i sport
my addiction to motorsport was apparent from an early age and it would ultimately go on to become  one of my life's greatest passions besides my family.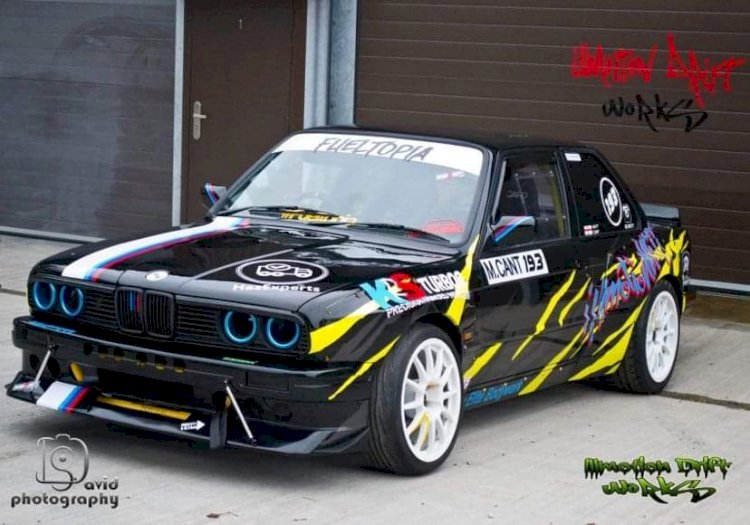 Join Our Stance Auto Mags Group, Give Our Facebook Page a Like, and Follow us on Instagram
These Photographs are supplied by the Photographer, check their Link for Bookings.
Order the Printed Magazine HERE!!
More images are in the slider above, SLIDE LEFT>>>>>>>>>>>
Hi I'm Matt cant
From rugby (midlands)
Mechanic by trade, European gymkhana championship, selfmade racer / drifter
Instagram @c4nty
Current drift car specifications.1989 BMW e30 325i sport
Engine...
Donor car BMW 540i m60 v8,
uprated Ford v8 injectors,
viscous fan delete,
uprated blue silicone hoses,
external water pump,
k&n air filter,
uprated radiator,
uprated oil cooler,
power steering cooler.
Transmission.
B40 5speed lightened flywheel & twin plate ttv racing clutch
lightweight prop shaft and welded diff.
Fuel system
Ford v8 injectors,
25L aluminium lightweight fuel tank,
2L swirl pot with two Walbro high-pressure fuel pumps.
Brakes...
Front EBC grooved discs with uprated pads,
Solid rear grooved discs with uprated pads
with inline hydraulic handbrake.
Suspension..
Hsd adjustable front coilovers,
Hsd rear shocks with adjustable spring height.
Wisefab lower arms & knuckles,
Polybush front & rear.
Uprated reconditioned steering rack.
Wheels...
Lightweight custom made
Team dynamics
Chassis
Lightened chassis with
space frame front end & roll cage.
body
Custom made fibreglass rocket bunny body kit..
bonnet/ front wings/ rear fenders and bumpers.
Polyurethane windows,
Ducktail rear spoiler.
Interior
Recaro front bucket seats
Sparco deep-dish steering wheel,
TRS race harness,
Born2drift custom gear shifter,
Fire distinguisher.
exhaust system
Custom made 3.5" twin side-exit exhaust.
ECU...
Motorsports electronic Me442 stand-alone ECU.
Daily family waggon...
2014 vw transporter 6 seater combi day van in bright green... called Kermit
Custom paint
custom interior
Remapped,
lowered on 22" alloys
my life story
Coming from a single-parent family I've never had a male influence guiding me into the world of motorsport as some do. But my addiction to motorsport was apparent from an early age and it would ultimately go on to become one of my life's greatest passions besides my family. Unfortunately, I spent most of my childhood on the wrong side of the law by getting into trouble with the police from the early age of 10 years old.
So I decided to turn my life around and with the help of a good friend and his uncle I spent years competing in many different karting competitions and motocross competitions, my bank balance could endeavour... from karting podiums to motocross podiums, with many trophies under my belt.
Later on in life at the age of 25, I overshot a motocross tabletop jump which caused me to crash & snap my bike in half, damaging my lower spine and resulting in me having to have a back operation causing me to think I would never get on a motorbike again..
After a couple of years of recovery thinking I was fixed I decided to go back to what I loved and get back into the world of motocross.. two years down the line I suffered once again with spinal injuries resulting in my second back operation with doctors telling me I may never walk again if I didn't change my lifestyle, ending my dream as I knew it... this bringing my passion for four wheels instead of two..
But As a mechanic by trade, I had discovered a different side of motorsport due to being asked to help out in the Ginetta g20 race series by a good friend as a pit mechanic, travelling to many race circuits around the country experiencing the world of circuit racing, auto solo and track days. Getting to race some seriously nice cars...
Overtime realising fun is not in a straight line I got into the world of drifting through another good friend Sean Franklin who recently past god bless his soul... becoming his pit mechanic at the monster energy 2015 Gymkhana grid finals @Silverstone Resulting in him taking a podium position. This encouraged me to invest in my first drift car.. I had a supercharged Mazda MX5 and ended up modifying that to compete and enter in the road to the grid for myself in the fueltopia drift championship in 2017. Finishing the 2017 fueltopia championship in 10th place out of 26 top drivers gave me the hunger to want more.
So In 2018, I entered again in the fueltopia drift championship but unfortunately, I lost my mother at the beginning of the race season missing out on vital race points I ended up buying one of my dream cars... shortly after returning resulting in fighting back after a number of car reliability issues.. engine rebuilds, clutch failures and still finishing in 10th place again out of 26 drivers so ending the 2018 season kept my passion alive, so with the winter break and the e30 BMW in the workshop and I modified it to the beast it is today. 2019 season I ended up finishing in 8th place so at least I can say I'm consistent , 2020 fueltopia championship cancelled due to COVID-19
Thanks again
What do you think?
Please leave your comments in the comments section at the bottom of the page
'The future is bright as long as we can still Smell the Fumes'
Stay Up to Date Check Out Our Google News and give us a Follow
All of our Magazine can be found on Amazon, they Print and Deliver worldwide, Stance Auto can not be held responsible for the final print, all complaints and returns must be directed to Amazon.
UKTM no: UK00003572459