Mazda RX-8 Evolve Special Edition
It was a great time to start owning cars, smack in the middle of the hot hatch revolution; cars and insurance were cheap and car crime and speed cameras hadn't been invented.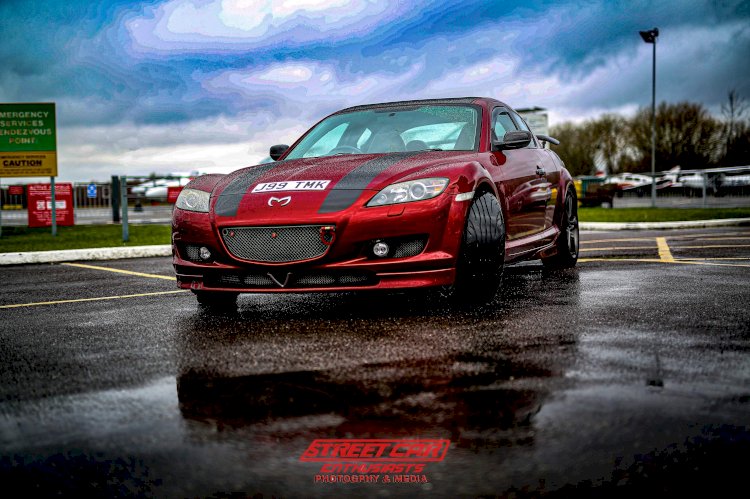 Join the Facebook group below, show us your cars, this helps us find more HOT cars, Thanks.
Jim - Mazda RX-8 Evolve Special Edition.
They say you never see the bullet that kills you, or the car that grabs your soul and won't let it go....
The first car I remember was my uncles mk1 Ford Escort Mexico he competed in back in the early 1970s and being a child of that decade, I grew up with these early performance Fords and by the time I passed my test jumped straight into a 1978 Fiesta , I couldn't afford the XR2 or even a SuperSport, so set about modifying my 950L and sourcing parts .....the journey as they say starts here.
It was a great time to start owning cars, smack in the middle of the hot hatch revolution; cars and insurance were cheap and car crime and speed cameras hadn't been invented.
The original hot hatches were a wonderful thing and I owned my fair share of 80s & 90s offerings , including 1 of only 2 Irmscher Astra Mk1 GTEs. , I doubt we will see their like again, a bit more power , better handling, alloys, matt black paint everywhere, a rubber spoiler, arch extensions , gauges and lovely lovely Recaros , maybe a sunroof and if you were really lucky an auto rewind cassette (that's one for the youngsters) simply glorious and what the budding young executive should been seen in (80s boy racer to me and you)
Life & the world moves on and since then I have been fortunate enough to have a number of very nice company cars , 30 years travelling the world buying and selling drinking glassware racking up 30000 plus miles pa so driving is a big part of my life.
Having an understanding wife is a real plus (she's almost like one of the family now) and has meant fun cars were always an option sometimes we had up to 4 in a 2 person household which was usual in the 90s.
The list of my car ownership over 35 years is too long to publish but I've been right through the card with performance , loads of XRs GTEs etc and from Japan MR2s, Supras Mx5s to German 944, 911s & Boxsters, did dabble with a TR7 convertible once but let's move quickly on ......sure there was a BMW or two on the list as well.
Have always researched never gone in blind, but then subconsciously I tend to make my mind up and then things happen , in 2011 I test drove an MX5 at FOS went out with my wife the following week to pick up an iron from Argos and somehow we came back with a brand new one as her daily, brownie points for me, everyone's a winner , she's had another 2 since then including her current 30th anniversary.
Have always been into the car scene but mainly as a club member , back in the day that meant monthly meets , car shows or factory visits and the odd treasure hunt (anyone else remember those).
I by-passed the max power generation as was doing the Porsche's thing but hope to get back into them someday, fantastic cars but do not take well to being modded unless for serious track or motorsport, they are wonderful but not cheap , I bought my first one a 944S2 after reading a magazine review "as fast as anyone needs to go on public roads" I thought that'll do for me, where do I sign. Didn't mod that but did restore it completely respraying the exterior and retrimming interior.
My air cooled 911 Carrera Targa was the one that got away....let's move on before I start crying like a girl.
So in a roundabout way that brings us to Mazda RX-8 hmmm.....I or should I say We have owned 2 of them both Evolve Special Editions and both in Copper Red Mica (far and away the best colour for an RX8) , nothing like being consistent.
You either know about rotaries or you don't, there is a lot of rubbish written about the 8 and one very unfair comparison, which is comparing it to the RX7 the 8 maybe the later model but it was not designed to be its successor, when launched in 2003 the top spec model 8 even with a few extras and accessories could be had for around £25k ,the RX-7 designed to which was designed to compete against the likes of Porsche cost around 40% more 5 years earlier,the 8 was very much a sports car built to a budget.
The biggest impact of our first 8 had nothing to do with the car itself but happened when some of the friends I met through the Owners Club decided to sell up and move on to other marques....what to do ?
I know let's start our own car club, that's an idea ! Let's have a crack at that.
The Wessex Car Club came into being in Feb 2011 , a local multi marque completely inclusive club and for my part I am the Club Secretary....it's mainly focused around local events, shows and track days with a yearly trip to the 'ring ...it's great fun.
So the first 8 came and went and the club started to grow , our Events Coordinator sorted some great events and convinced me to get into track days , at that time he had an 8 and is accomplished on track, I still remember my first passenger lap with him ...holy sh*t ....the world changed.
Right, I need a track car and I need one like yesterday
Wife to the rescue again , little 1.8T Golf for my 21st ( cough cough) birthday.
With a brand new company car coming along every 3 years or so, I hadn't picked up a set of spanner's in a very long time but the Golf got a good going over and I was able (allowed) do whatever I wanted to this car , it didn't have to go or get me anywhere or be presentable just for the track and nothing else - it was great fun and even managed a a jolly boys track trip to France
I know you're probably thinking I'm making some of this up but I've been really lucky and I still have absolutely no idea how buying my current 8 actually happened. I got home a bit early one Friday afternoon for no particular reason had a quick look on OC forum noticed a member who I'd know from a few past events was selling his 8 , I knew his cars were fastidiously maintained, so phoned him at 5.30pm he told me he was of on holiday at 6.30pm agreed a price jumped in the company car drove the 30miles, quick look around (no test drive) , my wife did the remote electronic bank stuff and arranged 24hour insurance left the company car parked on his drive and I was back by home with my 8 by 7pm.
Famous last words " a few track upgrades but no mods " hows that working out ?
Launched in 2006, the 'Evolve' was the first special edition for the UK. The new model was named after the original Mazda concept car seen in Detroit in 2000 and was limited to a production run of just 500 cars.
Based on the 228 hp (231 PS; 170 kW) high-power version, it had several unique exterior features. These include a choice of two exclusive exterior colours (Copper Red Mica 400 and Phantom Blue Mica 100), unique dark silver 18 × 8J alloy wheels, a polished aluminium Rotary crest on the front air dam, dark silver bezel headlamps, sports door mirrors, polished aluminium side air outlet fins, Rotary branded B-pillar trims, chrome exhaust surrounds.
Inside, the Evolve features unique stone leather and alcantara sporty seat trim, plus black leather-wrapped steering wheel, gear knob and hand-brake lever.
The car has fulfilled its brief as a track car and completed a trip to across Europe and 12 laps of 'ring without fault. I've had other cars to show but started to take it more and more to shows and rejoin the rotary community specifically FB group RX-8 Familia who are a great bunch and where the modding bug has bit
In the last 3 years it's been shown at approx 12 shows and countless meets both locally and nationally. Wessex Car Club has a strong local relationship with Beaulieu Motor Museum & Thruxton Circuit so the car is well known at those events.
Some but not all of the mods so far....
Machines Aluminium Gear Knob

Mazda passenger Aluminium foot rest

Sabelt Y harness

Fire Extinguisher

Lockwood grills front & back

PZ front centre grill

Aero front spoiler

Aero front mud flaps

Aero side deflectors

Aero rear mud flaps

Mazdaspeed rear spoiler

aluminium side vents

Carbon mirror covers

Carbon door handle covers

Custom front splitter

Carbon headlight eyebrows

Various carbon wrap panels & decals

Flip tow eyes front & back

Gunmetal alloys

Nankang NS2rs

20mm spacers

Stainless steel under tray

D585 Coils & Magnecor leads

Braided brake lines

Braided clutch line

D585 coils / red magnecor leads

Tein coilovers

Full PZ exhaust

Front & rear japspeed strut braces

Front grooved discs with Hawk pads

Rear grooved discs with mintex pads

D1 Spec catch can

Stoney racing silicone hoses

Under bonnet bling (loads)
So how does the 8 drive and what makes it so special, in my opinion there isn't a better track car out of the box for the money, prices are starting to creep up, so that may not be true in a year or so but it'll do for now.
The 8 isn't that quick in a straight line, but keep the revs up and the 8 does a better job with carrying its speed through the corners than most other sports cars I have driven, the car can handle everything the engine can throw at it, on a short track or on the twistys its incredible fun to drive, suicide doors, great chassis, fantastic handling and the sound of a rotary bouncing around 9500rpm is something else and truely unique.
Thanks to
Wrap'd & Tint'd
Street Car Enthusiasts (SCEcc) Photography
Murdoch's Rotary Specialist
RX8 Familia
If you would like your Car or Business Featured like this, Please
Email: ADMIN, we would love to hear from you.
Our site contains links to third party websites. We are not responsible for the privacy policies, practices and/or content of these web sites. Their use is at your own risk.