Sasha Johnston - 2015 Lexus RC350 F sport (AWD)
He is also unique because so few people in the scene had been modifying the Lexus RC 350 F sports platform that there was a lot of ground to be broken and new creative frontiers to be explored.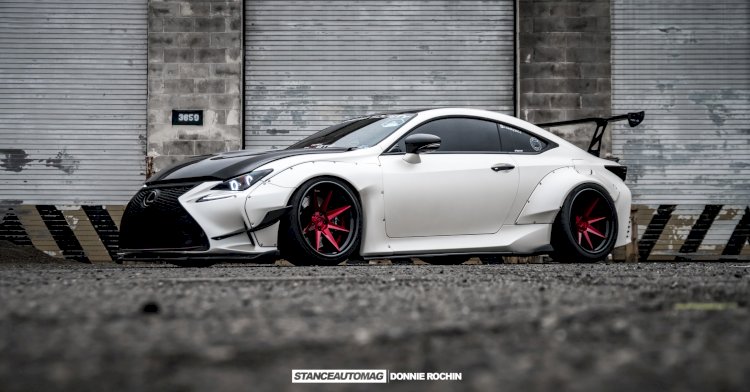 2015 Lexus RC350 F sport (AWD)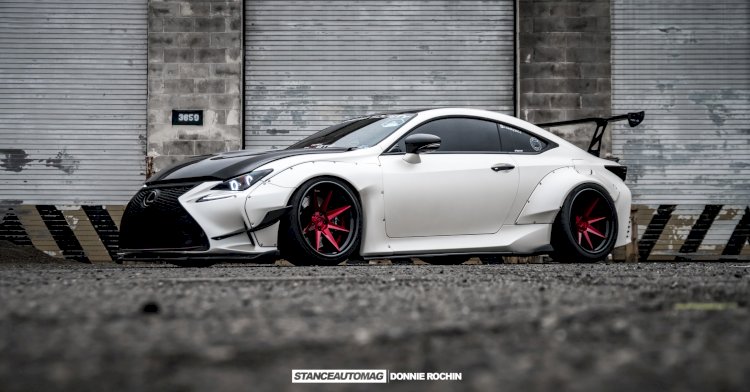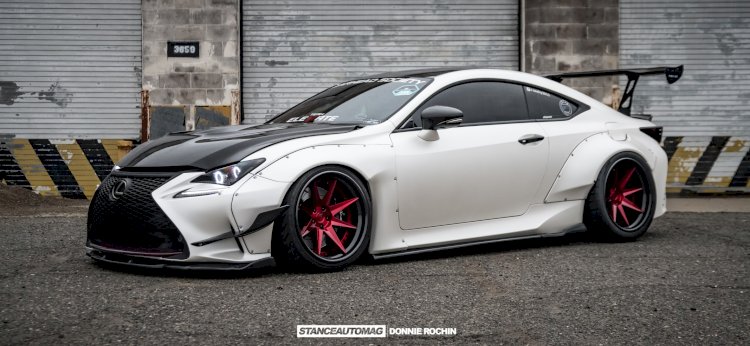 Join Our Stance Auto Mags Group, Give Our Facebook Page a Like, and Follow us on Instagram
More images are in the slider above, These Photographs are supplied by the Photographer, check their Link for Bookings.
Order the Printed Magazine HERE!!
Sasha Johnston
2015 Lexus RC350 F sport (AWD)
Instagram: @sashy2011
Photographer: Donnie Roc
IG:r0cean11
FB:r0cean11 Photography
Website:r0cean11.com

"build your car for you…"
~ Sasha Johnston
I am a 29-year-old Colorado Native born and raised. I work as a production manager for events and also am an office manager for an independent LLC.
I got into cars on my own when I was a little kid. I wasn't really the stereotypical "Barbie girl", I was always playing with hot wheels, Legos and PlayMobile, so I enjoyed the more automotive stuff early on in my life along with the technical and mechanical stuff as I got a little older. I would find new things that I could take apart and put back together to really understand the inner workings of it. I started getting way more into the cars themselves in high school when I took a welding elective. It taught me a lot more about the potential of what I could do, not just that I liked cars themselves. So that opened up a whole new door to things that I have never explored before.
So Larry (yes I named my car, but who hasn't?) was a bit of a surprise. I got him to celebrate graduating from Metropolitan State University. Originally I had built a few cars for myself online that were reasonable and I designed Larry, which I didn't think would ever happen. I had gone with my mom to go look at cars and even though I did not think it would ever happen I told her let's go look at the Lexus dealership and see what they have. Little did I know that my future car was going to be coming off of the truck as we arrived. When we got there as if by fate, the car that I had most wanted was being unloaded from the delivery truck, still wrapped in plastic.
I asked the sales rep if we could look at it and he said sure. As I'm looking out the window it had the sticker with all of the specs, absolutely everything was as I had designed it online and it was beyond perfect I thought that one of my parents had requested it to be transferred there or something because there is no possible way that it would have been there with the crazy number of specs that I had designed it with. Even the sales rep was surprised that there was one that came in like that with all the options and in the white exterior and the F-Sport red interior colourway. I had to turn to my mom and tell her that it was down to the last spec that I had designed and I wasn't gonna go anywhere else because it was fate, something told me that I needed to get this car. So I traded in my Honda Fit and got Larry right then.
My first car was a 2008 Honda Fit sport. I was and am insanely grateful to my parents for the opportunity to get such a new car at the time. It definitely was not modified beyond having a Pioneer Navigation system from car toys; which I thought was one of the coolest things ever! Larry was the first car that I actually ended up modifying. And honestly, I think it's better that it happened that way. I think that having my first car be separate from my first modified car made it better for me so I could truly focus on what I wanted to.
It is one of the humblest feelings when somebody either recognizes me or Larry at a show or when I am parked or driving somewhere. I absolutely love when people take the time out of their day to come to ask questions. It shows a true inquisitiveness and excitement and enjoyment not only on their part but I get incredibly excited to potentially help somebody with their build and help them create something that they can in turn answer questions for somebody else. It is such a monumentally grateful, humbling, inspiring, overwhelming feeling when somebody comes up to me or a kid comes up to me and says I want to be just like you, I want to build a car because of you, my kid wants to be just like you when they grow up or you have inspired me to create something that I want to build that might be out of the ordinary.
My goal with Larry was to build a car for myself first and hopefully and graciously dedicate it to inspire change and hope for other people to build cars how they want to know just to win shows. Because the passion behind your build shows and that is why I think that a lot of people are drawn to Larry because not only is he very unique in his style being a Stormtrooper but it's a very unusual twist on how the Stormtrooper build has been done. I want to inspire people to build their cars how they want and not let anyone tell them how they should or shouldn't.
The best tip I can give for any kind of purchase of a car is to take another set of eyes with you, especially if it's a make, model, or mods you might not be the most familiar with. Go with the mindset of finding things you dislike about it first, because odds are that you've already found what you do like about it before going. As far as modding tips go, take your time and don't be afraid of being patient. The best things happen to those who wait. If you cannot get that part that you want immediately, don't go get the cheaper/faster option that you don't actually want, just be patient and what you really want will become available, it might just take a little longer. But it will be what you want and the best for your build in the long run.
I think that Larry is quite unique because he is a story. It is a story from how I got him to his first mod of a matte carbon fibre wrap on his hood, roof and trunk, to his most recent mod of full reinforced carbon fibre wheels and the first-ever full carbon fibre trunk for the RC350F-Sport. Larry has had so many firsts in the world, that has made him quite unique in that fashion. He is also unique because so few people in the scene had been modifying the Lexus RC 350 F sports platform that there was a lot of ground to be broken and new creative frontiers to be explored. I am very grateful and thrilled to have been part of so many opportunities that had been presented to me or that I had searched out in regards to the platform while building Larry.
Larry is also quite unique because he has taken on a full personality all of his own. Right after I got him I had asked a college friend to help me name the car, I knew I wanted a male car name because so many people name their cars female names, so I was expecting something more along the lines of lightning or another generic car name that sounded cool. My friend told me he would think about it and he came back one day and said "I have the perfect name for your new car, it's Larry!. "Honestly for the first couple weeks I hated it, but it started growing on me so much that I couldn't help but love it. So Larry stuck and now people know him as Larry the Lexus or Larry the Stormtrooper Lexus. It is such an awe-inspiring experience to have someone come up to you and say "I've seen you and Larry at shows''! Or "my kid loves Larry!" Just knowing that your car has such an over-the-top personality that it can create such a lasting impact in people's lives and part of what becomes their lasting memories is beyond humbling and incredibly special.
Modifications:
Engine Modifications -
2 Dual Lined 100 Shots of Nitrous (200shot)
Custom MagnaFlow Street Exhaust + Tips -Takaeda Intake
Carbon Fiber Engine Bay Pieces (1 of 1)
Red Lexus Engine Cover
Suspension Modifications -
AirRex and kspek Bagged Suspension System (Fully Enclosed System) *1st in the world for the AWD RC350 Fsport*
Brakes/Wheels/Tires Modifications -
Brembo Big Brake Kit (RCF Conversion)
Custom SevenK KOMPAS Wheels (Carbon Fiber Barrel/Chrome Candy Red)
FRONT- 315/30/20 (20x12.5)
REAR- 335/30/20 (20x13)
Exterior Modifications -
RocketBunny Widebody Kit
Custom Color Changing Halo Headlights w/ Sequential Turn Signals
Varis Carbon Fiber Hood
Red Colorshift Carbon Fiber Hood Vents (1 of 1)
NRG Carbon Fiber Wing 69'
Carbon Fiber Mirror Caps
Carbon Fiber 3M Blend Wrap Roof and Trunk
Custom Carbon Fiber Canards
Carbon Fiber Side Skirts
Custom Red Colorshift Carbon Fiber Front Upper Lip
Carbon Fiber Front Lower Lip
Carbon Fiber Rear Diffuser
Red Illuminated Rear Lexus Emblem
Custom Carbon Fiber Accent Pieces
Interior Modifications -
Carbon Fiber Center Console
Carbon Fiber Door Panels Pieces
Full Carbon Fiber Dashboard (1st in the world/ 1of1)
Carbon Fiber Steering Wheel
Fully Custom Stormtrooper Reupholstered Interior (Red/Black Suede and White Leather, Custom Stormtrooper Headrest Embroidery)
Stormtrooper Shift Knob
Red Footwell Interior Lights
Custom Carbon Fiber Accent Pieces
If you enjoyed this Car why not read this ONE HERE
I attempt to do as much of the work as I can on the cars, but if I cannot do it myself I try to learn and get a better understanding of friends and people that have a specific skill set that I do not have. There has been a fair bit on my car that I have done myself at different stages of the build before the dash was real carbon, I wrapped it in carbon fibre myself without any prior experience wrapping. It was quite the undertaking for my first project in that medium but I think that it had turned out quite well. I definitely have utilized and greatly appreciate many of the people who I have and I'm now lucky enough to call friends in the car scene who have helped me with my build throughout these past seven years of Larry's transformation. I know that having their help has been an absolute game changer! I want to be able to give the proper credit to everyone who has helped me through my build so far. I am genuinely grateful for all of the time and effort spent working with me and Larry, whether a large piece of the project or something minor. You have helped build Larry into what he is today.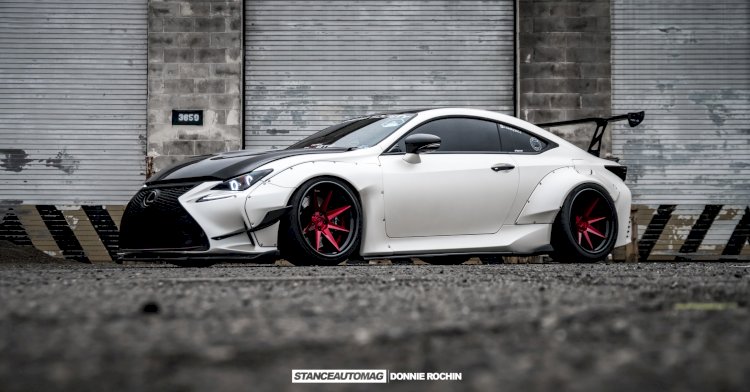 @tintz
Exhaust Pros
J&S Performance
I have a lot of plans for Larry. As far as I am concerned his build is never complete and I am always looking to improve upon what I have already done. Since the photoshoot and beginning of this article, Larry is going to have the first-ever full carbon fibre trunk for a Lexus RC 350 F sport in the world. I have a huge shout out to my boys out in California for helping me with that. There's also some major performance work that is going to be done within the next year that will completely change the game for the Lexus community. It is going to be so nasty and aggressive. No one is going to see it coming. A few other things that I want to do is get more carbon fibre obviously, and I would like to get the custom tail lights that are able to be programmed with different patterns. Those things are next on my list, it is just a matter of time, money and availability of products. I have never believed that building a car happens overnight and that creating the vision for the long term takes time and dedication to the build.
So car clubs are a fantastic way to include and connect with other people in the car scene who are not only similar to you in the fact that you both enjoy cars, but also that you can enjoy different cars but still connect on your differences. It is a way to bring people together not only just for cars but also to create new friendships and bonds that can last a lifetime. I am ferociously loyal to TEAM ELEVATE, even though I've only been a member since July, every single member in the Colorado chapter is family and there is not a single thing I would not do for them. I have made friendships that go so far beyond cars and it is such an honour to be able to call these guys and girls my friends.
This is my team, they are the people I would wake up in the middle of the night to go help with a flat tire in the middle of nowhere for and who I know I could depend on as well for anything. They are the people I spend countless hours laughing with and going to dinner with on the weekends because we want to grab hibachi and just chill. These are the lasting friendships that have turned into family, through my connections in the car community-Nationwide, Simply Society, Slush, Rocky Mountains Finest and countless other car clubs throughout Colorado and other states. We take care of each other and make sure that no matter what we take care of, there is always a support system.
For me, the car scene is a sense of collective belonging to something bigger than myself, a group of people with an insanely vast difference of interests and likes and dislikes, but brought together by the universal love language of cars, trucks and motorcycles. Having a community of people who can come together with such different backgrounds and share such a common interest is a beautiful thing. It allows for new ideas to be shared, the community to grow and for the passion of vehicles to be explored through different mediums. The car scene has introduced me to a large number of new friends and people who have touched my life in more ways than one. It has allowed me to work in creating car and music events while pursuing my passion for building and racing cars. I have met so many people within the car community that I now have friendships that are going to last a lifetime with, and I never would have met them if I didn't go to a meet or to a car show or to the track. I feel like I'll bring my own personality with my cars every time I show up to an event, I try to bring the positive energy that every build has something unique and special about it. That everyone and their build should be celebrated because it is an extension of them and their personality and their interest. I feel like the car community itself is a celebration of our uniqueness and our differences.
Looking for a new club? Have a look at the ones featured on our site HERE
My dream car is honestly Larry. I have changed him from a car that I was going to originally have as a daily driver and didn't really have any consideration as anything but that to now having him is an insane show car that has changed not only my life but has inspired other people to build their own cars like they want to, and to me, that's what having a dream car is. It's having a car that's something you're not only proud of having but can also be utilized to help create joy and spark imagination, be inspiring, make new bonds and positivity within not only the car scene but within other people and your community.
An inspirational quote that I would give to anyone in the car community and other builders out there would be: build your car for you, no one else should have the influence to tell you how you should build your car. Your car is an extension of you and your personality and you can do absolutely amazing things when you put your heart and soul into your car. As long as you enjoy it, that's what should matter at the end of the day. There is no need to build it for anyone else because it is something that you are doing for yourself.
Not everyone is going to love your build, and that's OK. The most important thing is that you love your build. If you truly are passionate about the build that you have made, other people will feel that and it will show through your hard work and dedication through your build. Create what you want to make and don't worry about the negative. Use that as fuel to make your build the best it can be. Because there is always going to be someone who doesn't like something, you will never make everyone happy, so focus on making yourself happy for your build. The rest will come.
What do you think? leave your comments in the comments section at the bottom of the page
'The future is bright as long as we can still Smell the Fumes'
Check out our Google News give us a Follow
All of our Magazine can be found on Amazon, they Print and Deliver worldwide, Stance Auto can not be held responsible for the final print, all complaints and returns must be directed to Amazon.
UKTM no: UK00003572459