2006 Mazda RX8 - Lee Pickett 
I've now owned RX8s for over 10 years, I've learned everything about them and have also had my group RX8 Familia since 2018, we do all the major shows and took 60 plus RX8s to Silverstone for japfest last year.
2006 Mazda RX8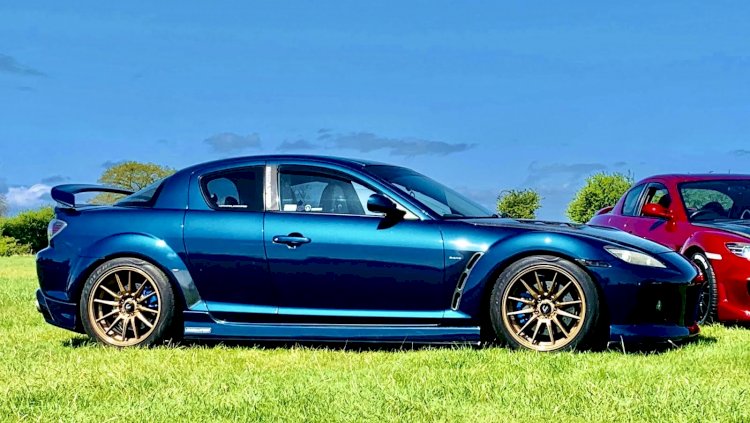 Join Our Stance Auto Mags Group, Give Our Facebook Page a Like, and Follow us on Instagram
These Photographs are supplied by the Photographer named, check their Link for Bookings.
Please Order Your Printed Magazine HERE!!
More images are in the slider above
2006 Mazda RX8
Lee Pickett
Instagram: @phamtom_mazdaspeed
Photographers: @ducky_17 @agbphotography @purpholo_photography
I'm from Malton near York, I'm a self-employed carpenter and joiner, and my hobby is cars, cars, and cars. I was around in the original max power days, I'd just started driving in the late 90s, obviously, the fast and furious movies had a part to play but I was always drawn to cars from a young age, I spent a lot of my childhood drawing cars and even designing my own.
I remember when I went to secondary school some old boy had two identical red RX7 FDs that he used to pull out of his double garage, clean them and out them back, not once did I ever see him drive them.
One day I stopped to have a chat with him and that's when I learned about the rotary engine. I was amazed and became slightly addicted. I went through near enough every jap car going before I finally ended up with my first rotary in 2014, I just saw it for sale on the side of the road and it was an impulsive buy, I've now owned RX8s for over 10 years, I've learned everything about them and have also had my group RX8 Familia since 2018, we do all the major shows and took 60 plus RX8s to Silverstone for japfest last year.
When this car came out in 2003 I hadn't been driving that long, I remember seeing one for the first time, a bright yellow one, I fell in love with it instantly, I remember thinking to myself I'll never be able to afford one of those, it's a very quirky car, from the suicide doors, the rotary engine, the abundance of rotary symbols on and throughout the car, it's giant rev counter where a speedo should be which easily revs up to 9.5k rpm,
Just the overall look of the car, the body lines the over-pronounced arches, the fact that people are scared to own one when in fact they're extremely reliable if maintenance is kept on top of and the fact you can literally go for a year without seeing another one on the road!
I like that it's a rare sight out in the wild.
This is my second RX8, this particular model is evolved in phantom blue which they only made 100 of so it's a rare model which I intend to keep for life and my son is still interested in cars when he's older I hope to pass it on to him, so with that in mind I wanted to make it one of the best 8's out there.
I always dreamed of having a genuine Mazdaspeed kit on my 8 and I searched for about 4 years and very nearly gave up, the rarity of a genuine kit is crazy, you can pay £1000 easily just for s front bumper but finding one is an almonds impossible task,
Until one day I happened to come across a listing on the marketplace of an imported jdm model with a full Mazdaspeed kit on, I could tell from the pictures that the side skirts were genuine but couldn't really tell I'd the rest was, anyway I took a punt for £550 and paid to have the car delivered, I couldn't believe I had just bagged a full genuine kit!! My 4 years of searching had finally paid off. I took the kit off and send it off for repairs and paint and stripped the rest of the car and sold the parts.
Owning this car is, well it's a dream, in all honesty, RX8s are obviously not everyone's cup of tea but the fact that I get stopped by someone every time I go out in it and end up talking for an hour means to me that people appreciate the car for what it is. There are plenty of much quicker cars out there but I honestly don't think anything comes remotely close in the handling department. Get this car on the country lanes and you realise what a phenomenal driver's car this really is.
I didn't build this car for anyone but myself, I'm not into big massive wings and loads of stickers, I'm more an own + kinda guy, I've always said if you don't look back at your car after parking up then you own the wrong car, I still love it as much as the day I bought it, it's gone from a stock sorry looking motor to a full-on show car, I built it entirely by myself apart from painting the kit, I think you get a more emotional attachment that way, it's like part of the family.
The car is certainly unique as it is one of two Mazdaspeed phantom blue evolves in the UK, I know the owner of the other one and although they are both Mazdaspeed evolves they are very different cars.
What do you think?
Please leave your comments in the comments section at the bottom of the page
Full Spec
Engine
1.3 rotary engine,
AEM cold air intake,
RRP mk3 ignition coils,
Hydro dipped carbon engine covers,
RRP lightweight pulleys,
Chromed OEM strut brace.
Sohn kit,
Exterior
Siebon carbon fibre bonnet.
Full genuine Mazdaspeed body kit
Racing beat exhaust system
LED tail lights
Wheels
Cosmis R1 racing wheels in hyper bronze
Suspension
Lowered on tein adjustable coilovers.
Interior
Custom boot build 2 x 10" subs.
Custom gauge set up
Touch screen
PS2, obviously with juiced playing
Interior has some very rare and sought-after items including a light-up gear knob, a flat-bottom steering wheel amongst other things.
All the work has been carried out by myself with the exception of painting the body kit. So everything else you see I've done. I've always been into cars and just learned along the way, I'm not afraid to get my hands dirty and if you make s mistake it's all a learning curve. You don't learn unless you get stuck in.
Future Plans
So over winter I want to strip the underside and running gear, fully under seal the car and powder coat as many components as I can, also I'm thinking of upgrading the cooking system with Mishimoto rad and fans and while I'm at it I'll probably upgrade the oil cooler likes with Mishimoto braided lines.
Then I'll think about upgrading to a big brake kit, either ksport or Brembo callipers.
Groups/Club
RX8 Familia and all its members
The 8 scene is the best scene Iv ever been part of, the owners are some of the nicest most helpful people I've ever met, I've made some lifelong friends through owning this car, and honestly couldn't wish for a better community.
Dream Car
I think every 8 owners secretly wished they had RX7 FD but for me, the RX7 FC is my dream car.
Please leave your comments in the comments section at the bottom of the page
'The future is bright as long as we can still Smell the Fumes'
Stay Up to Date Check Out Our Google News and give us a Follow
All of our Magazines can be found on Amazon, they Print and Deliver worldwide, Stance Auto can not be held responsible for the final print, and all complaints and returns must be directed to Amazon.
UKTM no: UK00003572459
Best WordPress Hosting Get 25% Off!