2007 Bagged BMW 328i - Ramon Ramirez
He also has a 1939 Chevy that he custom-built himself that is running a corvette motor and used to take me on rides in when I was younger. My uncle Henry used to own a body shop and would build some of the nicest custom cars. He currently has a 1974 full custom Camero and a 1926 Chevy Superior K
2007 Bagged BMW 328i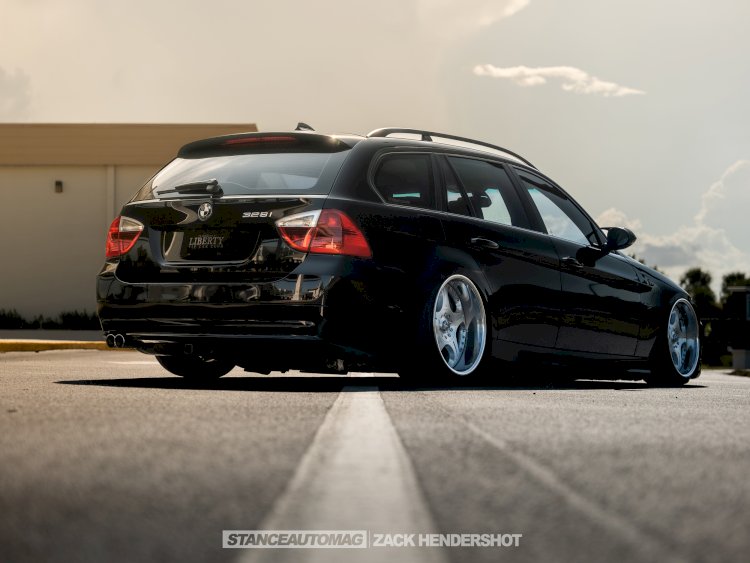 Join Our Stance Auto Mags Group, Give Our Facebook Page a Like, and Follow us on Instagram
These Photographs are supplied by the Photographer named, check their Link for Bookings.
Order the Printed Magazine HERE!!
More images are in the slider above, SLIDE LEFT>>>>>>>>>>>
2007 Bagged BMW 328i
Ramon Ramirez
Instagram: @Njboricuainpr
Photographer: @itwitchdaily
Website: 508productions.com
So I'm 42 years old originally from Wharton New Jersey. I have been in the United States Navy for 22 years and finally will be retiring on Halloween of 2022. When I first joined I was an aviation support equipment technician and for the last 11 years I have been a Navy Recruiter. I am also the owner of RazorSharpAutoDetail I love bringing cars back to life. For my hobby, I like to build cars. I have had well over 100 cars and always put my spin on each of them.
I have been into cars since way before I was able to drive. I started with customizing bicycles. I am Puerto Rican and cars are a part of my heritage. Ever since I was little I loved working on the cause of my uncles. My uncle Eddie used to own a gas station/ mechanic shop that I always used to hang out at.
He also has a 1939 Chevy that he custom-built himself that is running a corvette motor and used to take me on rides in when I was younger. My uncle Henry used to own a body shop and would build some of the nicest custom cars. He currently has a 1974 full custom Camero and a 1926 Chevy Superior K that he did a full nut and bolt restoration. My other uncle Hector has had his 1964 Corvette stingray for as long as I could remember.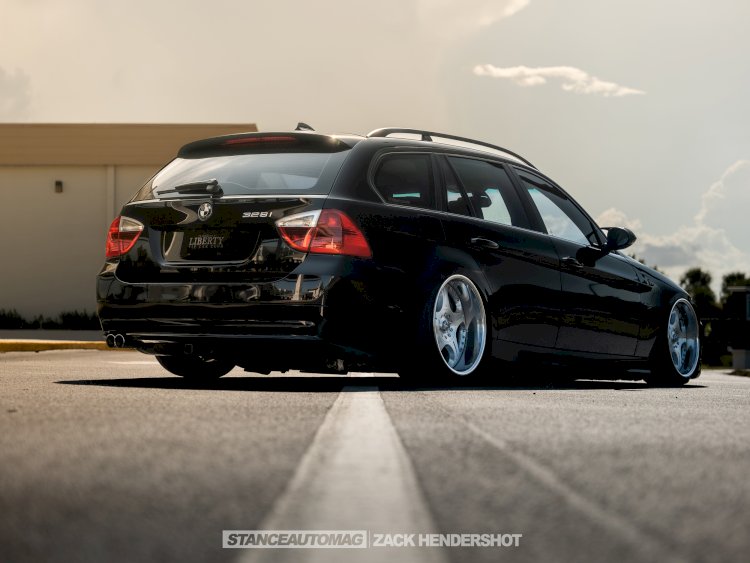 I have always been a fan of BMWs. I have owned many e46 convertibles a couple of e90s and before this one, I had two 335i convertibles. Something about the wagons has always been a car I liked. I am always looking for cars on the Facebook market place and one night while searching for another e46 convertible I came across this car and decided that I had to have it. It's very hard to find a RWD wagon all the ones I would find were AWD and this just came up for sale out of nowhere so I jumped on it as soon as I found it.
So why did I customise this car? This is not a car that you see customized too often here. They are a dime a dozen in Europe but rare to see done up correctly here. I also wanted something that you do not see every day so this was the perfect car for me. The black with the brown interior was a huge plus for me as well. Personally, I hate driving a normal car I always have to put my twist on whatever I own.
Out of all the cars I have had this is one that I honestly could not see myself selling. Every time I get in it it just brings an instant smile to my face. Every time I park I always have the urge to look back at it. Due to the rarity, I always have a lot of people asking about where I found it and always telling me how they hardly ever see the wagons let alone see them customized.
If I was asked what makes my car different from the rest, I would have to say I feel the thing that makes it stand out is that it's a wagon. It's just not something that people customize that much here in the states. Wagons are big in other countries but not so much here. The stance of the car and the body lines just stand out compared to other BMWs.
If you enjoyed this car story why not read this ONE HERE
As far as what I have done to the car it's not much in my book yet. There are definitely many future plans that I have.
What do you think?
Please leave your comments in the comments section at the bottom of the page
Spec List
Engine:-
Stock N52 straight 6 with the factory automatic transmission.
Exterior:-
DNA motoring projector headlights.
Morimoto led bulbs in my headlights and fog lights.
Ikon motorsports front lip installed.
Interior:-
Factory terra Dakota leather interior.
I had all the wood trim wrapped by Baesicperformance in black suede with orange stitching. They are currently wrapping my pillars and headliner in black suede as well. I also have a Bmw e84 steering wheel fitted.
Audio:-
Eonon Android 11-powered tablet radio
Interior speakers have all been swapped out for Skar Tx4 Elite Coaxial speakers, I swapped the speaker in the dash for a Skar VX4-ST 4" High Compression Titanium Bullet Tweeter. In the trunk I have 2 Skar DDX-10 10" subs all speakers are powered by a Skar RP-600.5 700 Watt 5-Channel amp.
Wheels:-
SSR VIELSIDE ANDREW D

Front- 18x9.5+10 -3.5" lips with a 225/35/18 tire
Rear- 18x10.5 +15-4.5" lips with a 245/35/18 tire
Suspension:-
Airlift front and rear bags
Airlift 3p management
2.5-gallon polished airlift tank
Dual Viair 444c chrome compressors
Brakes:-
Front brakes are upgraded to 2014 BMW 335i Brembo 4-piston calipers and 340mm rotors.
The rear brakes are 2008 BMW 335i calipers with 336mm rotors
All work on my car has been done by me. Thankfully I was shown at an early age to work on my own car so I make sure that I'm the only one that touches it. I have been working on cars all my life so I make sure that if it's something I do not know how to do I will read up on it and figure it out.
Future Plans
I am going to do a full twin turbo n54 6-speed drivetrain swap from a 335i soon. Currently on the hunt for a e91 rear Msport bumper. I'm going to do the lci front end on the car soon as well with an Alpina front lip and m3 e90 side skirts.
Advice/Tips
When looking at BMW wagons make sure that all the maintenance is documented. Don't be afraid to work on your own car cause if you take it somewhere it can and will get very expensive. BMWs are great cars if they are taken care of. If you are planning to bag one or even run is low static try and get a RWD model. If you have any questions you can feel free to reach out to me on Instagram.
If you enjoyed this car story why not read this ONE HERE
Shout Outs
I would like to give a shout-out to my club LibertyVip IG @Liberty_Vip and my interior sponsor Baesicperformance IG @baesicperformance.
The car scene has definitely brought me some amazing friends, especially all of my LibertyVip brothers. There is nothing better than being able to have so many like-minded people in my automotive circle many of them have become family.
Dream Car
Dream cars are a bagged out 64 impala and would also love to have a bagged 60s VW bug.
Please leave your comments in the comments section at the bottom of the page
'The future is bright as long as we can still Smell the Fumes'
Stay Up to Date Check Out Our Google News and give us a Follow
All of our Magazines can be found on Amazon, they Print and Deliver worldwide, Stance Auto can not be held responsible for the final print, and all complaints and returns must be directed to Amazon.
UKTM no: UK00003572459