Alex - 91'Honda NSX
currently drive a 1991 Honda NSX. Let's just say I own a couple of JDM vehicles but if I was to point out a favourite, I would say that the NSX is by far my favourite one.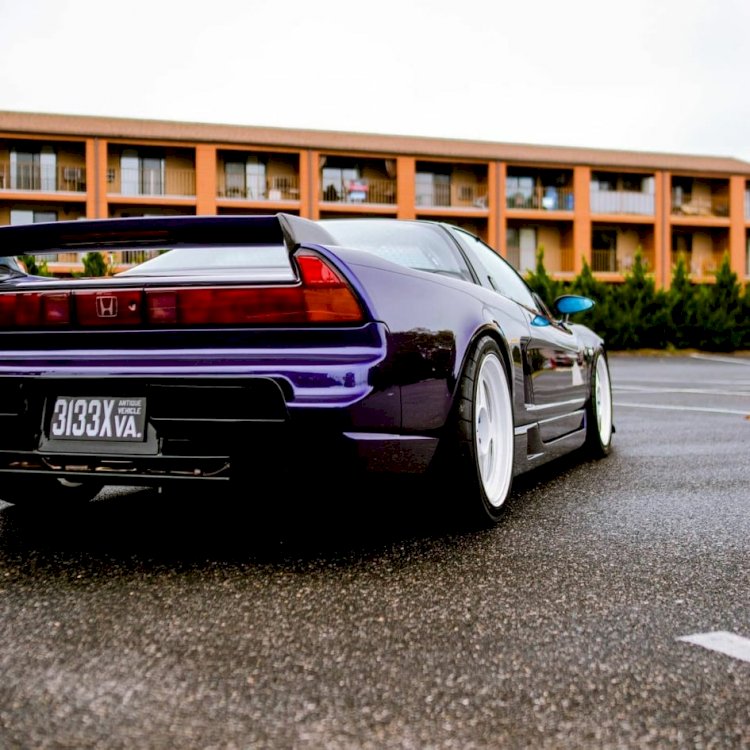 Join Stance Auto Mags Group Like our Facebook Page Follow us on Instagram
To Buy Our Printed Magazine Check out AMAZON and our MERCH STORE
More images in the slider above
Hi everyone,
My name is Alex and I am from Woodbridge, Virginia in the United States.
Instagram: @rpm__zen.
Photographer: @nightmare.media - @gingerbreadman
I currently drive a 1991 Honda NSX. Let's just say I own a couple of JDM vehicles, but if I was to point out a favourite, I would say that the NSX is by far my favourite one. Why would the NSX be my favourite well… because of its timeless looks, lightweight construction, rear-wheel drive/mid-engine setup, and it's amazing handling!
When it comes to modifications and specs, all I can say is that mechanically the car is pretty much stock apart from some extras, let's just be honest, they are amazing cars from the factory. The car has much more work done aesthetically and to the visual side of things.
The NSX spec list includes the following:
Exterior:
Downforce Carbon Fibre Rear Window Garnish;
Downforce FRP Stacy Side Skirts;
Seibon NSX-R Carbon Fibre Wing Spoiler;
Seibon VSII Style Carbon Fibre Hood;
Spoon Sports NSX-R GT Front Bumper (moulded to fit NA1);
Spoon Sports NSX-R GT Rear Bumper; and
Spoon Sports NSX-R GT Side Scoop.
Interior:
Honda NSX-R Mesh Shift Boot;
Momo Monte Carlo Steering Wheel with Horn;
ScienceOfSpeed 7" IPS LCS Screen and Mounting Kit;
ScienceOfSpeed Honda Display Pod, Duct and Tabs;
Pioneer Carrozzeria Head Unit;
Recaro Profi SPG Racing Seat x2;
Chasing JS Titanium Shift Knob;
Chasing JS Titanium Steering Wheel Bolts; and
Chasing JS Titanium Horn Button.
Performance:
Downforce Air Intake Scoop;
Downforce Carbon Fibre Stack Intake System;
MINE's ECU with Remap;
Pride V2 Titanium Catback Exhaust;
Spoon Bushing Kit;
Spoon VTEC Controller; and
Test Pipes (Unknown Brand).
Engine Bay:
Chasing JS Titanium Cover Kit;
Custom Titanium Coolant Tank;
Dress Up Bolts Titanium Engine Bay Kit – True Burned;
Spoon Sports Radiator Cap; and
Titanium M10x65mm Strut Bar and Roll Bar Bolt Kit.
Wheels and Tyres:
Chasing JS Titanium Valve Stem Caps;
Chasing JS Titanium Extended Closed End Lug Nuts;
Desmond Regamaster MP White Wheels (17x8 +35 / 18x9.5 +15);
Yokohama Advan Neova AD08 R (235/40/17 / 265/35/18).
Brakes:
EBC Rotors;
Hawk Pads; and
Spoon Sports Monoblock 4-Pot Racing Brake Callipers.
Suspension:
Foundry 3 Titanium 4 Point Brace;
Modified AirLift 3p;
StanceParts Cup Kit; and
Tein Flex Coil Overs.
Is my car an import? Well like the majority of the JDM vehicles, my car is indeed an import. The car was imported by Driver Motorsports in Virginia back in 2017 who then sold the NSX to its previous owner located in California, who actually undertook the majority of the modifications to the car. I then proceeded to purchase the car myself in May 2020 (I know; I haven't owned it for very long).
Since purchasing the NSX, all I can say is that the car has been super reliable, that is pretty much the biggest positive about owning a Honda and I can guarantee any Honda owner-driver would say the same!
Why do I like driving the NSX? Well for me it is the supercar looks that come with awesome handling and Honda reliability. Who would want more?
The future plans for the car are to upgrade the suspension and re-do the interior to make it look as equally as good as the exterior. Those are my current plans but that doesn't mean that more ideas won't crop up in the meantime.
The thing that has surprised me the most since owning the NSX is how awesome and great the NSX community actually is! A fellow local owner not only reached out to introduce himself but, he also organised a 'Welcome' event where 20 or so other NSX owners all came out for a meet and greet event. It was awesome and I had never experienced that kind of unity with other group owners before.
Well… Thank you all for reading my article.
Don't forget to give me a follow.
Thanks,
Alex
All the Cars in the Online Version of our Magazine will eventually appear in our Fully Printed Magazine, the cars with the most Views, appear sooner, the Magazine is sold the world over through Amazon, making it easier and faster for people around the world to get their copy. UK and Ireland use our store stanceautomag.com

If you would like your Car and Story or Your Business Featured like this, Please
Email: Carla, Shannon, Andz or Admin, they would love to hear from you.
Our site contains links to third party websites. We are not responsible for the privacy policies, practices and/or content of these web sites. Their use is at your own risk.