Cassandra Leal - 2018 Honda Civic Sport FK7
This car is the first-ever car that I bought on my own. The reason I picked it is that I wanted something reliable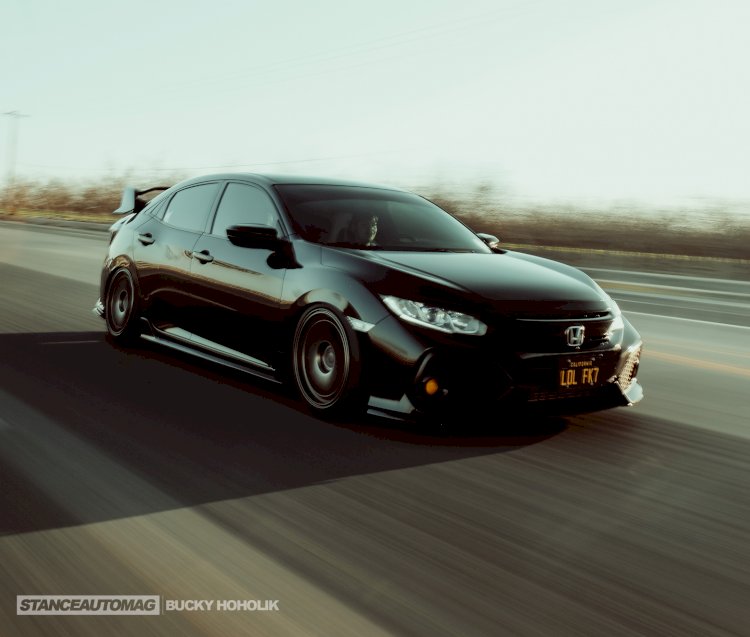 Join Stance Auto Mags Group Like our Facebook Page Follow us on Instagram
Join Our Facebook Group HERE
More Images in Slider Above
Cassandra Leal
2018 Honda Civic Sport FK7
Instagram: @lolfk7
Photographer: @buckys_photography
I'm 25 years old and I'm from Dinuba, CA. I drive a 2018 Honda Civic Sport Hatchback. It has a 1.5-litre turbocharged engine with a 6-Speed manual transmission. I'm currently a bartender/server at Ridgecreek Golf Course. I hope to one day become an Automotive Technician. I spend most of my days at work but outside of that, I love to hang out with my friends and cousins. I love to go to Burnyard Bash, Formula Drift and Car Shows/Meets.
I was always into cars but I definitely have to give credit to my cousins, Roberto, Jacob & Sergio. They've had the biggest influence on me. They're the ones that started taking me to car meets and car shows where I was able to fully get into the car scene. Being a girl, I never really knew anybody that was into cars so it was hard for me to know where to even start. They've taught me so much.
My first car was a 2004 Volkswagen Golf. It wasn't very reliable and lasted me maybe a couple of years. I didn't get the chance to do any kind of modifications because it was always in the mechanics. After I got rid of it, I didn't have a car for a few years. I finally bought my Civic and knew right away that I wanted to mod it.
Why This Car
This car is the first-ever car that I bought on my own. The reason I picked it is because I wanted something reliable. At the time of purchase, my family really needed a car to transport my little sister to almost daily hospital visits. Aside from needing something reliable for my family, I wanted something cute that was my style for myself. I loved everything about it when I first saw it. It was super cute and sporty and totally me! I didn't even test drive it! I saw it and got started on paperwork right away. I just knew it was the one.
It's so much fun both driving and owning this car. I absolutely love my car. I take pictures of it every day and just smile when I see it parked. My favourite thing about it is the daily props and thumbs up I get when I'm just driving around. I put a lot into my car, not for everyone to love it, but for myself. It's still really nice to get some positive feedback from people. It might sound silly but my car brings me so much happiness!
Advice/Tips
My only advice would be to take your time and have fun with it. Don't rush it and don't take the easy way out. Be good to your car and it will be good to you!
What Makes it Unique
So many people have these cars so it's hard to build one that doesn't look like someone else's. I'd have to say what makes my car unique is the glittery/sparkly theme I have going on. Mostly my glittery roof. It's definitely a neck breaker and it hasn't been done before on my type of car. People are always asking questions about it and taking pictures.
Spec List
Interior:
NRG Quick Release Steering Wheel,
NRG Prisma Racing Seat,
NRG Harness,
Cipher Auto Harness Bar with Custom Paint,
DC Sports Weighted Shift Knob
Engine:
PRL Cobra Cold Air Intake,
KTuner V1.2, Muffler/Resonator Delete
Exterior:
ABS Dynamics Type R Wing,
Custom Painted Roof
Wheels:
Suspension:
There's been a lot of people that have helped make my car what it is today and I'm so beyond grateful. I've had most of the help from my fiancé, cousins and tons of friends. I've helped with a few things but I mostly try to watch and learn. I'm fortunate to have great friends and family that take the time to not only help me install things but help me learn as well.
Future Plans
I'm definitely hoping to get some new wheels soon. I've had the same setup for some time now and I really want to change things up a little bit. I also want to get another seat for my passenger side. I don't have very many future plans because I'm not in a rush to build my car. I'm going to have this car for as long as I possibly can. These things take a lot of time, so I just try to have fun with them and give myself time to think about my next mod.
Groups/Clubs
I am currently a Prospect Member for Team NVUS. My chapter is the Origin Chapter (@nvus_origin). I joined a couple of months ago after not being a part of a car group or club for over a year. I saw that they give back to the community a lot and I knew that I needed to be a part of the team. I reached out and they welcomed me with open arms. They're a solid team and they're definitely family to me.
What I love most about the car scene are all the friendships that come out of it. You meet so many people and build the most solid friendships ever. If you ever need help with something or you're feeling bored and just want to meet up at a target parking lot, someone is just a call or text away! Most of the people you meet become family. Growing up, I never had a lot of friends and never really felt included in anything. I can definitely say that I found myself and found where I fit in with the car scene.
Dream Car
My dream car is a Nissan 240SX. I actually owned one for a short amount of time but had to get rid of it. It's the first car I fell in love with when I was first getting into cars. I hope that when I get one again I can build it and become a drift queen!
What do you think of this Motor leave your comments below in the comments section?
All the Cars in the Online Version of our Magazine will eventually appear in our Fully Printed Magazine, the cars with the most Views, appear sooner so keep sharing your articles with the share button.
If you would like your Car and Story or Your Business Featured like this, Please
Email: Admin, or Submit it through our Forms.
Our site contains links to third party websites. We are not responsible for the privacy policies, practices and/or content of these web sites. Their use is at your own risk.