Christian Blount - 2003 Mitsubishi Spyder Eclipse
I have always liked the car so the rest is history. It is like nothing I have ever experienced. Knowing that you took virtually a piece of junk and made something beautiful out of it, gives one the feeling of great accomplishment. 
2003 Mitsubishi Spyder Eclipse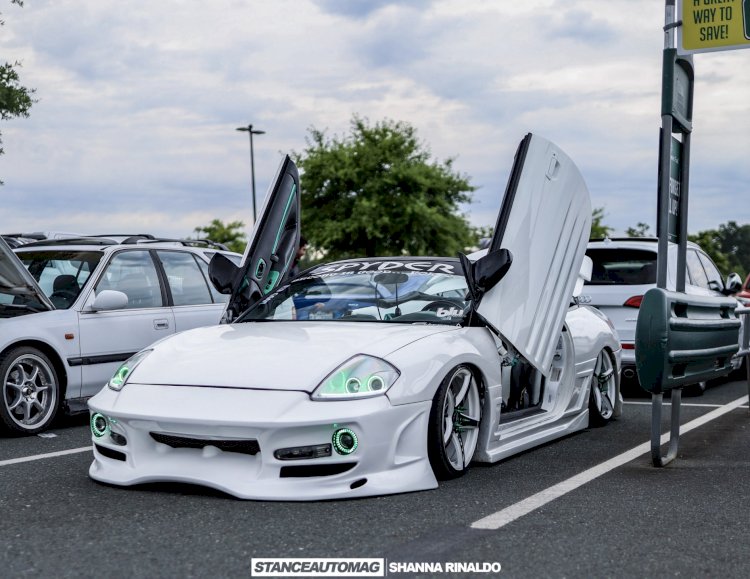 All the Cars in the Online Version of our Magazine will eventually appear in our Fully Printed Magazine, the cars with the most views, appear sooner so keep sharing your articles with the share buttons at the top of the articles, or copy the web link into Bios, Posts on Social Media and the Internet.
More images in the slider above, These Photographs are supplied by the Named Photographer, check their Link for Bookings.
Christian Blount
2003 Mitsubishi Spyder Eclipse
Instagram: @Spyder_Chozen
Photographer: @untilnexttime.photography
I am originally from Georgia but have lived in the Carolinas for the last 31 years. Currently, I am employed with the City of Charlotte. My hobbies include working on cars and fishing.
What got you into the car scene?
I raced cars online for several years. I basically inherited a broken down Mitsubishi spyder and decided to refurbish it. Jon Brown and Rob Cooling, close friends of mine, talked me into joining the "cruising" scene and from there, Rob and I completely refurbished my Mitsubishi spyder and began going to car shows.
This is the first car I have ever rebuilt with lots of help from my friends. I have always tinkered with audio but had never refurbished a car from top to bottom.
Why this Car?
Why not? It was ready for the junkyard and so I decided to save it from doom. I really liked this car from the day it was driven off the lot. I didn't really want to send it to the scrap yard. I'm so glad I didn't.
Why did you decide to build this Car?
I decided on this car because it was paid for and it was mine and just sitting gathering dust. I have always liked the car so the rest is history. It is like nothing I have ever experienced. Knowing that you took virtually a piece of junk and made something beautiful out of it, gives one the feeling of great accomplishment.
Advice/Tips
Basically, I would advise them to decide how much they want to spend to get this type of car. From there, I would tell them to make the car their own. In other words, don't listen to what others think you ought to do. Have a plan and go from there. Make a budget, then look for parts and electronics online that fit their budget. Take time.
If you're going to put a lot of time and money into a dream car, go to some car meets, ask questions! Get some sort of ideas for the mods you are wanting to do. You will learn tips and tricks for the mods you are wanting to do.
If you enjoyed this Car why not read this ONE HERE
What makes it Unique?
People are not used to seeing cars built like this anymore. Most "builds" these days are a set of wheels and springs. We took a base model and made it into a one of a kind car and touched every surface of this car.
This build wasn't just for me though. I built this for everyone to enjoy! There are so many people that I have allowed to sit in the car and take pictures with it. That feeling that someone will show the pictures to their friends and family! You've made someone's day…. That's an amazing feeling!!
Spec List
Engine:
2.4l DOHC,
Cold air intake,
Dual exhaust
Exterior:
Bomex body kit,
VDI Lambo door kit,
Custom headlights with RGB halos,
RGB halo fog lights,
Tinted rear lights,
GM pure white paint with 80 oz of green pearl
Interior:
Custom white/ black seats with smoothed headrests and green stitching,
Candy green accents,
JVC double din radio,
Soundstream 6.5 front components,
Soundstream 6x9s in the rear,
(4) jl 12w1s,
(2) Soundstream 800.1 on subs,
(1) 600.4 on highs,
Custom fibreglass enclosure
Wheels:
RGX 18x8 inch white/black wheels with green spiked lugs
Suspension and Brakes
Custom air ride kit with airbag it sleeves bags,
(2) Viair 444's,
(2) 4-gallon tanks,
Airmaxx valve body with 9 switches,
Airmaxx digital gauges,
Electric moisture release valve
Who did the work?
Some of the work with help from others but mostly Rob Cooling and I did it ourselves. Google and YouTube helped me alot and Rob was proficient in working on cars. I had assistance from my daughter, Ashli Martin, her husband Jay Martin, and his brother Chad Martin. The sub box was done by Rob Cooling, Trinity Redmond, Jay Martin, Chad Martin and myself.
Future Plans
At this time, I have no plans for any more modifications to the car. However, this does not mean that if I see something I think would make the car look or run better, I will not be shy to undertake the task.
Groups/Clubs
Yes. I am a member of the car club, Chozen. @chozen.tm Also Extreme Eclipses on Facebook they are also on Instagram @extremeeclipses.
It has given me the opportunity to travel with other car lovers, meet new lifetime friends and learn more about the car scene.
Looking for a new club? Have a look at the ones featured on our site HERE
Dream Car
Light green and white 57 Chevy. My grandfather owned one and my dad drove it to pick up his girlfriends! My dad always talked about that car.
Check out our Google News give us a Follow
What do you think? leave your comments in the comments section at the bottom of the page.
All of our Magazine can be found on Amazon, they Print and Deliver it, Stance Auto can not be held responsible for the final print, all complaints and returns must be directed to Amazon.
UKTM no: UK00003572459