Eduardo Perez - 2007 Infiniti G35 Coupe
Being surrounded by friends who were into drifting and later coming across pictures of the Falken's G35 coupe, he was set that his dream was to build a G35 one day. Also, going to local shows like BLOX Evolution and Wekfest and seeing both Nam Dinh's and Ray Prado's G35 modified coupes kept that inspiration alive to one day build his own.
2007 Infiniti G35 Coupe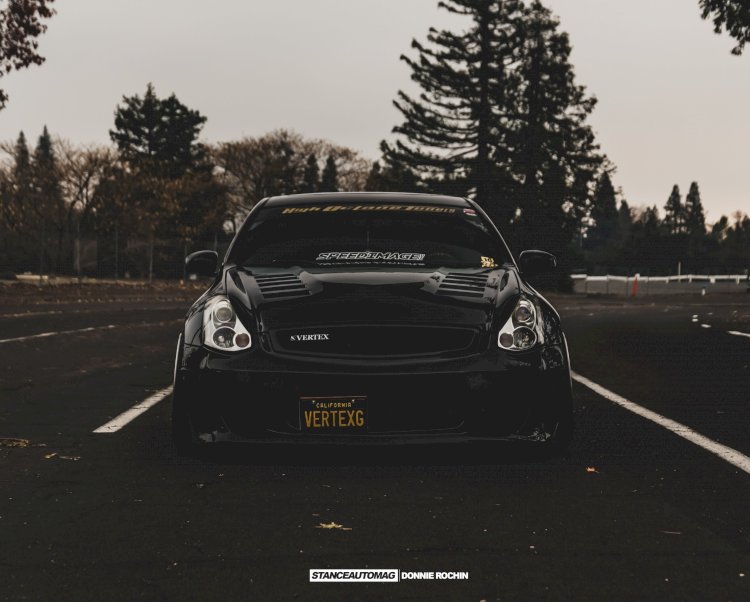 Join Our Stance Auto Mags Group, Give Our Facebook Page a Like, and Follow us on Instagram
More images are in the slider above, These Photographs are supplied by the Photographer, check their Link for Bookings.
Order the Printed Magazine HERE!!
Eduardo Perez (friends and family call me Eddie)
2007 Infiniti G35 Coupe
Instagram: @vertex_g35
Photographer: @r0cean11
Facebook: @r0cean11
"Don't be afraid to follow your dream and obtain the dream car you've always wanted."
Eduardo was born and raised in San Jose, CA. He graduated from San Jose State University in 2018 with a BA in Art Design Studies and is currently working for the County of Santa Clara as an Account Clerk at the ripe age of 32.
His love for cars all started back in middle school wanting to be an artist. He would try to mimic different murals from cars that he would see in the Lowrider Magazine. The attention to detail that they put in these cars from their exterior candy paint job to the custom upholstery work in their interior, to the engraving details in their engine bays. These cars really caught his attention. Moving forward to 2001 when the Fast and Furious movie made its debut in the movie theatres and the video game Need For Speed Underground for Playstation 2 in 2003.
Both of these are what geared him towards importing cars. What made the biggest impact and made his dream that one day he would have his own car was when he met two of his closest friends Victor and Ricardo. Seeing them modifying their Nissan S13's in their backyard and taking them out to the track really motivated him. It was crazy to think that these two young guys would modify and fabricate everything in these cars on their own.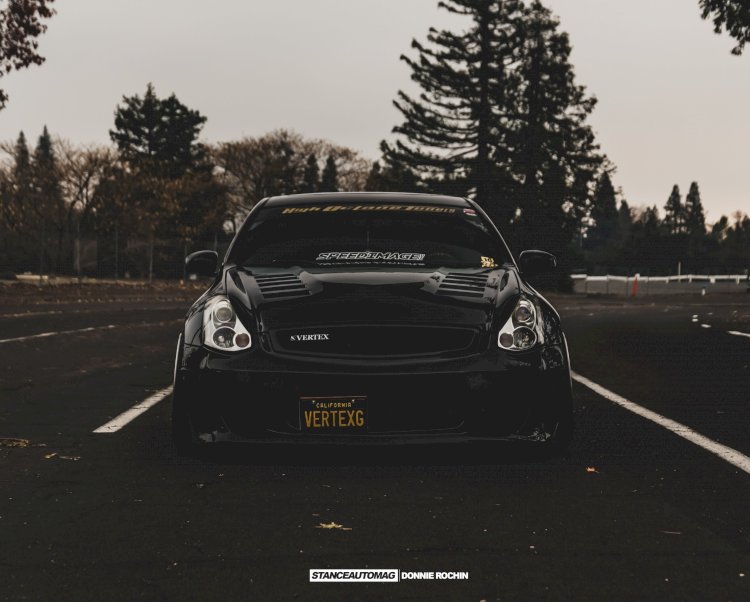 During the weekends, they would drive to Treasure Island near San Francisco to the Slamburglar car meets or at the cars and coffee meets at the Alameda Naval Base. The great vibes everyone brought to these events and the way everyone motivated each other on their projects is when figured out this was going to be his car scene.
If you enjoyed this Car why not read this ONE HERE
Being surrounded by friends who were into drifting and later coming across pictures of the Falken's G35 coupe, he was set that his dream was to build a G35 one day. Also, going to local shows like BLOX Evolution and Wekfest and seeing both Nam Dinh's and Ray Prado's G35 modified coupes kept that inspiration alive to one day build his own. To this day he still can't believe he's able to display his car at the same shows that one of his inspirational builds (Ray Prado) is at.
The first car that Eduardo owned was a 2003 Mercury Mountaineer. Being in college full time and barely working a couple of hours a week made it difficult to purchase a car. However, the opportunity came when a family friend was selling his SUV for a great deal that he couldn't pass up. When he was finally able to purchase his G35 back in 2013, he was determined to purchase the 6-speed transmission model. The funny story is that he didn't know how to drive a manual transmission at the time, so he had his cousin go with him to the dealership and test drive it. Driving through the crazy streets in San Francisco and driving up Lombard street, that's when he really got the hang of it.
It feels like a dream come true every time he parks his car next to the door at his shop; being able to build a car the way I wanted to. On top of that, being able to showcase the car at some of the biggest car show events including Wekfest in Seattle, Los Angeles and San Jose and being awarded is truly an honour and blessing. With that art/designer mentality, he always saw this car as a blank canvas and trying to add small details that tied the whole car together and show people what he's done makes him really proud of the hours of work he has poured into it. It's a passion that he shares with his friends. It keeps them motivated to help one another with their projects.
Some advice Eduardo would give to anyone wanting to buy the same car or any car in general is, go for it! If that's the car you really want, don't let anyone tell you otherwise and set your mind to it. Yes, every car has flaws, whether it's having oil consumption issues, or transmission problems or whatever the case may be. If you take care of your car, the car will take care of you. As far as modding the car, don't go for that "clout" on social media just so you can fit in. Instead, have fun in your build, modify the car the way you want, and don't be afraid to go outside of the box and be different. Just like he did with the rear bumper on my car. He wanted to be creative and do something different, so he made a Hyundai Genesis coupe bumper and diffuser to fit a G35. By adding the quad tips on the exhaust, the whole car really flows together and gives it an aggressive look.
Being creative with modifying his car and incorporating his own style into it, is what makes the car unique. For example, starting with the exterior, instead of buying the Work wheels VS-XX which the majority of G35 owners he would see growing up had, he decided to go a different route and went with the Enkei Intelesse II wheels. It has a similar design but the step lip finish on these old school wheels makes the car look good, in his opinion. As mentioned before, the custom Genesis rear bumper and diffuser makes the car look aggressive. People always think it's an aftermarket part that you can buy somewhere, but get surprised when he tells them that it's a one-off custom-moulded piece. The most compliments he gets are on the interior, believe it or not.
If you would like your Car Products tested and reviewed by our team Please Email us
Modifications:
Interior Modifications -
Custom Bride x Vertex Stradia II seats w/ carbon fibre backing

Custom rear Bride seats / door panels / quarter panels

Carbon fibre door handles

Custom suede headliner, A-pillars, rear speaker deck

Custom shift boot, E-brake handle, centre armrest

Tommy Kaira Hebi Bebi shift knob

Vertex "King of Vertex" steering wheel

Gold NRG quick release hub

Gold NRG harness bar

Willans harnesses

Custom one-off laser-etched door sills with RGB lighting

RGB lighting
Audio/Video -
JDM double din kit

Pioneer head unit

Pioneer speakers

Dual 10" Kicker subwoofers

2 channel & 4 channel Rockford Fosgate amps
Exterior Modifications -
Hikkatadori trunk

Outcast Garage hood

Gialla front grill

Custom G35 / Genesis coupe rear bumper

Genesis rear diffuser

Kuruma Z front bumper
Suspension Modifications -
Powered by Max toe rods

SPC camber kit

BC Racing coilovers
Brakes/Wheels/Tires Modifications -
Enkei Algernon Intelesse II (fronts 19x10.5 w/ 5in step lip / rears 19x11 w/ 5in step lip)

Project Kics R40 Iconix lug nuts
Exhaust Modifications -
Motordyne ART pipes

Motordyne TDX2 exhaust

Custom burnt quad tips
Engine Bay Modifications -
Custom black with gold flakes engine bay paint

Black with gold flakes timing cover/radiator support

Gold plated intake manifold

Gold plated VTC cam covers

Gold plated coil pack covers

Polished throttle body

Black braided hoses with Black fittings

Radium engineering oil catch can with black AN fittings

Mishimoto radiator

Black/gold Top Secret oil cap

Injen cold air intake

Chrome hardware

Polished Weapon-R coolant overflow tank
As far as acquiring parts, some of the distributors that helped him with his project are @speedimageusa, @japanauctionparts, @baidpolish, @outcastgarage. As far as the work itself and fabricating; he can't give enough credit to his close friend Victor (@vyktr). He helped with most of the suspension work when Eduardo first bought the car and the work was done in his garage. Moving a couple of years forward, they were able to lease their own shop and this is where most of the work was done by himself and his assistance. If you follow Victor on his Instagram personal page and his fabricating page (@murderfactory), his work speaks for itself. You can see his custom fabrication work on both of his track projects and his attention to detail. Without Victor's help, he wouldn't have as much knowledge about cars and be as inspired as he is today.
His future plans for the car are very minimal other than adding more small details to the interior and engine bay. One thing he would like to take care of for sure is respraying the whole car. Driving it up to Seattle, down to Los Angeles a few times and around the city, the paint has been pretty beaten for the 130,000+ miles it's had. However, his main focus right now is starting to work on his '79 Datsun 280zx which he bought off his cousin a couple of years ago.
So far, he has installed some Work Equip 40 wheels, Airlift 3P suspension, Classic air dam, Type 2 side skirts, and Victory spoiler from Motorsport Auto and Techno Toy Tuning lower control arms. It's been his daily driver for the past few months and it's been running solid for a 40+-year-old car. The main focus is to paint this Datsun and restore the interior which surprisingly, most of the trim and panels are there. I think that's about it. But as you know most car enthusiasts, it doesn't just stop there. So we'll see what the future brings.
Looking for a new club? Have a look at the ones featured on our site HERE
Currently, Eduardo is a part of the team High Octane Tuners (@team_highoctanetuners). Ed who is the team president/founder is a great person and well known in the Bay Area car scene for many years. He's formed a great team through the years and they all bring their quality show cars out to display at different events. Whether it's the well-known car shows, breast cancer awareness car shows toy drives or even a trip down to the movies or Dave and Busters. The squad is very united and motivates one another in their builds.
The car scene in general brought him, new friends. Overall, it brings people who are experts in different areas of a car build and can help out each other to build their cars. In addition to that, within the build process, you can find another hobby that you can become passionate about. Whether it is building a trunk setup, vinyl wrapping, to detailing, there are so many things to learn.
Growing up and browsing through the G35 forums, he learned a lot about these cars. He's always wanted a G35 and even though it's not the fastest car or the most expensive car out there; the fact that he has built it on his own and made it look the way he wanted without asking people on social media for the "clout", it will be a car that will be kept for a very long time.
"Don't be afraid to follow your dream and obtain the dream car you've always wanted." Even though parts may seem expensive and difficult to buy at times, don't rush it. With hard work and dedication, anything can be accomplished. Be creative and have fun with the build. After all, that's what keeps us car builders motivated.
What do you think? leave your comments in the comments section at the bottom of the page
'The future is bright as long as we can still Smell the Fumes'
Check out our Google News give us a Follow
All of our Magazine can be found on Amazon, they Print and Deliver worldwide, Stance Auto can not be held responsible for the final print, all complaints and returns must be directed to Amazon.
UKTM no: UK00003572459